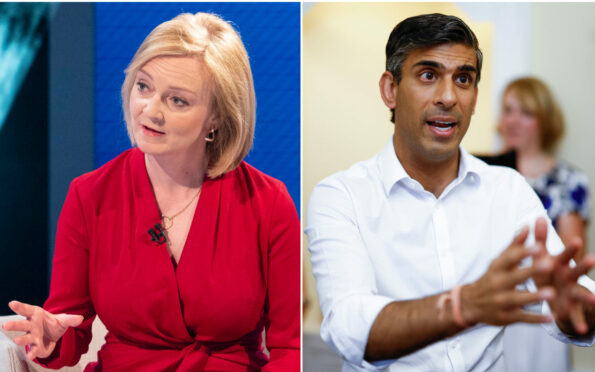 Business leaders yesterday urged Tory leadership rivals to take urgent action to support firms at risk of being crushed as the economy slumps.
Foreign secretary Liz Truss and former chancellor Rishi Sunak were warned firms and jobs are on the line as UK economic forecasts darken.
The calls for action came as research commissioned by Gordon Brown warns some families will be up to £1,600 worse off a year as promised government support is swallowed by cuts in benefits, rising inflation and soaring heating bills.
Yesterday, Truss ruled out any more direct help for families and said tax cuts were the way to bolster the economy, a claim dismissed by her rival for No 10, who said Britain "needs to get real".
Both outgoing Prime Minister Boris Johnson, who says he will make no major changes to tax and spending before his successor takes charge next month, and chancellor Nadhim Zahawi were on holiday last week as the Bank of England increased interest rates in an attempt to control inflation while warning the economy faces the longest recession since the financial crisis in 2008.
Yesterday, Colin Borland, Federation of Small Businesses director of devolved nations, said: "Action to help small businesses deal with spiralling overheads cannot come soon enough.
"While official processes to appoint a new prime minister need to be followed, we've got to see fresh thinking about the economy. As a minimum we need the candidates vying to be the next occupant of 10 Downing Street to detail how they'll help local firms weather the forecast economic storm."
Truss and Sunak are touring the country, attempting to win over the 160,000 Conservative members who will decide who will be the next prime minister. However, as Sunak spoke to Tory members in Edinburgh yesterday, the two candidates were urged to set out detailed plans to help support businesses through the looming recession.
Charandeep Singh, deputy chief executive of the Scottish Chambers of Commerce, said: "Soaring prices are the biggest challenge facing businesses in Scotland and across the UK.
"Our latest research indicates that most small and medium-sized enterprises are holding back or pulling back investment, which does not bode well for growth prospects and long-term business confidence.
"While monetary policy begins to step up its response to the current economic crisis, it must also come hand in hand with clear leadership from government and financial support to ease the upfront cost burdens facing businesses across the country."
The Bank of England increased interest rates from 1.25% to 1.75%, the biggest increase for 27 years, and forecast that inflation could soar to 13%. Ewan MacDonald-Russell, deputy head of the Scottish Retail Consortium, said: "Retailers can already see the impact of higher inflation in the approach being taken by shoppers.
"Last month's sales figures showed further evidence of shopper caution as sales of larger-ticket items such as furniture and electronic and electrical items were sluggish, despite further signs of improved stock availability on shop shelves.
"It is becoming clearer both the UK and Scottish governments will need to take significant action in their upcoming Budgets to keep down the cost of living and the cost of business if we aren't to see a very bitter winter."
Scotland's fishing industry also said businesses needed leadership from the government. Scottish White Fish Producers Association chief executive Mike Park said: "Issues of workforce and immigration need to be dealt with and hardline policies are not helping industry.
"We just can't get enough workers into the country. The fishing industry is trying to get workers in through the skilled visa route but can't get them through the English exam. They know it's a hurdle for us but they're not willing to help us.
"We seem to have this vacuum and one of the victims of that is business."
Sunak was in Edinburgh yesterday afternoon meeting party members after suggesting that Nicola Sturgeon and the SNP pose an "existential threat to our cherished Union" and that ignoring them was "dangerously complacent" in a jibe at Truss who last week described the first minister as an "attention-seeker who should be ignored".
Truss, who attended the Commonwealth Games in Birmingham yesterday, said she would order tax cuts if she becomes prime minister, despite concerns the move would fuel inflation.
Asked how she would help families with spiralling bills this winter, the Tory leadership frontrunner, who claims there is a danger of "talking" the country into recession, told the Financial Times: "Of course, I will look at what more can be done. But the way I would do things is in a Conservative way of lowering the tax burden, not giving out handouts." Sunak rejected the idea. He said: "As we heard from the Bank of England earlier this week, inflation is a major danger to our economy, particularly with energy bills now expected to be higher than we previously thought.
"We need to get real about this situation. It's simply wrong to rule out further direct support at this time as Liz Truss has done and what's more her tax proposals are not going to help very significantly, people like pensioners or those on low incomes who are exactly the kind of families that are going to need help."
Meanwhile, Johnson and Zahawi were urged to get back to work.
Labour MSP Neil Bibby said: "It is shocking that in the week that the Bank of England outlined the scale of the economic crisis, both the chancellor and the prime minister were on holiday. It's clear this Tory government is not taking this crisis seriously. That the chancellor and prime minister are both away from their desks while thousands are struggling to make ends meet will come as a slap in the face to thousands of Scots."
Meanwhile, a report commissioned by former prime minister Gordon Brown warns government support for low-income households amid the crisis falls short of offsetting the losses they face. Professor Donald Hirsch, of Loughborough University, who led the research, said the loss of the £20 a week Universal Credit uplift, inflation and energy price increases could leave some families £1,600 worse off.
In an introduction to the paper, Brown called on the government to take "immediate action" to bridge the gap. He said: "It is the urgent task of the next prime minister to ensure that families have enough to live, through this crisis and beyond."
The UK Government said: "We have acted to protect the eight million most vulnerable British families through at least £1,200 of direct payments this year, with additional support for pensioners and those claiming disability benefits.
"Through our £37 billion support package we are also saving the typical employee over £330 a year through a tax cut in July, allowing people on Universal Credit to keep £1,000 more of what they earn and cutting fuel duty by 5p, saving a typical family £100."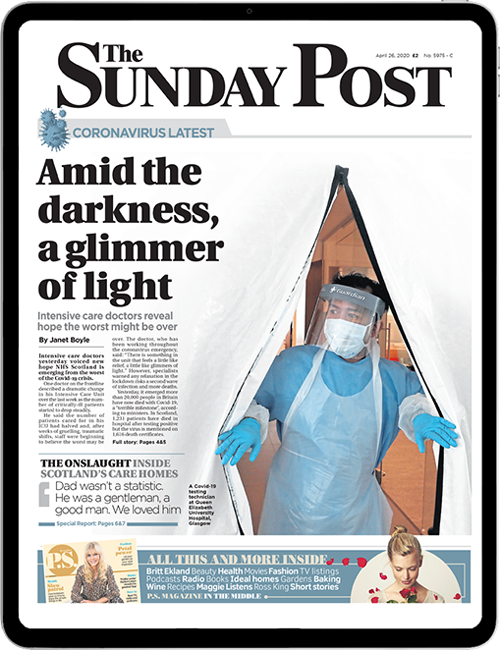 Enjoy the convenience of having The Sunday Post delivered as a digital ePaper straight to your smartphone, tablet or computer.
Subscribe for only £5.49 a month and enjoy all the benefits of the printed paper as a digital replica.
Subscribe