The Highlands are at risk of modern-day Clearances because the Scottish Government does not understand the region's needs, according to experts.
A failure to invest in infrastructure, including transport links, and encourage business is blamed for threatening to drive down the population in the Highlands and Islands.
Economist Steve Westbrook was one of the architects of a blueprint to reinvigorate the region's economy a decade ago but fears it has missed most targets because of a lack of funding and the impact of Brexit.
Westbrook, from Nairn, says some progress has been made but bold new strategy is needed, along with funds to make it succeed.
In 2017, a 10-year Inverness & Highland Regional Deal was agreed between the Scottish and UK Governments plus Highland Council, setting aside £315 million for projects to boost commerce. In January, a similar package worth £100m for Orkney, Shetland and the Western Isles was signed. Meanwhile, the Cromarty Firth was chosen to become a new freeport, expected to bring jobs to the area.
However, fears remain that, without serious investment in housing, schools and start-up businesses, any boom will become a blip.
Westbrook said: "The regional deal has funded a Northern Innovation Hub. But, of the £315m, only £90m of it is genuinely new money. The rest was going to happen anyway.
"The £100m for the islands deal will be very helpful. However, it's been estimated the Western Isles, alone, needs £1 billion over the next 10 to 20 years to stop population decline."
In 2012, Highland Economic Forum – a ­collaboration of public and private sectors – unveiled its Action Plan For Economic Development. Nine key policies aimed to regenerate the north, including installing superfast broadband, making the region a research hub for tech companies, and improving standards in the tourism industry.
But Westbrook said: "It's not that things haven't been done or worked. It's just there hasn't been enough money to get everything done. Now we've lost the money from the European Regional Development Fund and European Social Fund (worth £780m between 2014-20). That paid for projects like bridges and causeways in the islands. Levelling Up funds aren't being spent on projects like that. We need some sort of replacement."
Westbrook claims growth industries like ­offshore wind energy and forestry, as well as the explosion in home working, have created the ­conditions for a boom – as long as government now backs the north with more cash. He said: "People need to see a real strategy. Think of a young family considering living in the Highlands and Islands: maybe one parent will look for a well-paid job and the other for flexible, reliable hours in the tourism industry.
"But there must be a local primary school and affordable housing. Then we'll need people to build the houses, the roads, the water supply – and there'll be demand for further education to help provide the skilled workers.
"Schools stay open, local shops thrive. It's ­creating a virtuous circle of growth. But it's difficult to see how this can happen without a strategy at national level. If government sets a measurable population target for the north, everything will flow from there.
"I think Kate Forbes, if she became first minister, would get the Highlands & Islands higher up the agenda and be under pressure from her constituents. But I'd be worried about independence as I think there would be a push to target money at the Central Belt and deprived communities there."
Caithness independent councillor Matthew Reiss said: "The knowledge among Edinburgh-based experts of how a remote economy operates is rather flimsy. Policies are being designed for the Central Belt. What use is the £150m Active Travel pot to Caithness when we often have to travel long distances on roads riddled with potholes?
"The lack of progress on superfast broadband is lamentable. I live close to Thurso and I'm not due to get it till 2027, which will be six years late.
"They've downgraded the maternity unit in Wick, leaving women to travel 100 miles to Inverness to give birth, which often entails hazardous journeys and babies being born at the roadside. Officials in Edinburgh have told me they have no plans to improve the A9 north of Tain for the next 20 years.
"There are people who feel there is a form of Highland Clearances going on, as if large parts of the region are being abandoned. It seems it's in the SNP Government's DNA to centralise and control – but that's not how the Highlands & Islands works. They need to trust councils to spend money wisely."
Highland tourism ambassador Willie Cameron said: "Scotland can't operate without tourism, renewable energy and whisky, so the people of the Highlands & Islands probably contribute more to the central pot per capita than anyone else. But we have become an afterthought for Holyrood. Trains, buses, dual carriageways, better hotels, affordable housing are desperately needed. Unless this infrastructure is in place, projects like the freeport won't work long term."
The Scottish Government said: "We want the Highlands and Islands to be a thriving region, and we are investing significantly to help achieve that. This includes key initiatives such as the Inverness and Cromarty Firth Green Freeport and the Scottish Government's investment of £242.5m in four City and Regional Growth Deals.
"The R100 programme is also unlocking opportunities by delivering superfast broadband to some of the hardest-to-reach areas.
"The Scottish Government is working with regional and local partners to support a healthy and balanced population as part of the Ministerial Population Taskforce – however, the UK Government's imposition of a hard Brexit and its impact on immigration hurts our ability to grow the population.
"Independence will give Scotland the full range of economic and other policy tools to take decisions based on the country's needs."
At the soft play
By Dawn Thompson
With its bright jungle colours and thrilling rope tower, Frankie & Lola's soft play centre was bursting with children enjoying a day off due to the teachers' strike.
Just off Ivanhoe Avenue in Inverness, the popular attraction is a short hop from the Southern Distributor Road – the city's bypass – and access to the major roads into and out of the city.
For some, however, the journey there was anything but child's play last week as visitors revealed deep dissatisfaction with the area's crucial transport links.
Lack of dualling on the notorious A9 and the dangerous A96 to Aberdeen caused most frustration, with some believing that urban decision-makers don't understand or prioritise the Highlands' most pressing issues.
Their concerns are part of a wider complaint – that too often the Highlands finds itself overlooked by Scotland's Edinburgh-based government.
Retired Openreach manager Keith Young, 60, and wife, Tracy, braved the A96 from Elgin with their grandchildren.
He said: "The A96 is absolutely the worst, most dangerous, road. They need to sort it out – but it won't happen in my lifetime. I think we're a bit forgotten about in this area, we always have been."
He doesn't take ferries as often as he did but understands the impact of failing services.
He said: "I feel heartsore over the ferries. That's the one thing they've really messed up for the people relying on them. They don't seem to take it seriously. Why? Lots of people have been to Spain and all over but they've never been to Shetland, Orkney, the Western Isles. They don't understand it."
Living in the heart of whisky country, Young was sceptical about the proposed alcohol advertising ban. He said: "It's not going to stop people drinking – but it will be to the detriment of the whisky industry."
However, he didn't believe policy-makers were unaware of the area's problems, insisting: "I think they do understand but they're more swayed towards the population down there. They want to be popular."
His feelings were echoed by healthcare worker Cara Cooper, 37, from Lossiemouth, who had also negotiated the A96. Holding one-year-old Clemmie, she said: "I've seen me take 25 to 45 minutes to get through Elgin. Everyone thinks it's just a small place and not a problem – but it is."
The roads were also an issue for Rhona Martin, 64, who'd travelled from Maryburgh, Ross-shire, with four-year-old granddaughter Ailieh. The retired nursing assistant said: "I think the A9 dualling should go ahead. It's going on too long and there are too many fatal accidents. Nicola Sturgeon got money kept aside for her referendum – we could use that."
She believed different issues were important in the north compared to elsewhere in Scotland, adding: "If Kate Forbes became first minister, that would definitely be a good thing. She's all for the Highlands and she knows what we need up here – more so than Nicola Sturgeon did. She wasn't really interested in the Highlands."
Every table was taken as youngsters enjoyed climbing and racing around behind the model tiger which looms over adults sipping coffee or tucking into homemade waffles.
However, Frankie & Lola's manager Kamila Farry, 30, originally from the Czech Republic and now living in Drumnadrochit, took a break to share her perspective.
She believes an improved ferry service is vital after trying to travel to the Scottish islands last summer. She said: "My mum was visiting and we tried to go to Harris, Lewis, Barra – but the ferries were all booked until October. We tried Orkney but it was £250 one way. Both ways and you are already on £500, without a hotel. If I fly back home, it's usually £40."
Farry believes some people don't understand a car is essential for many places in the Highlands with limited public transport but reckons a Highlander in Bute House would help. She said: "Because Kate Forbes grew up here, she knows what differences we do have here and it would be more beneficial to have somebody who understands. I think, at the moment, it is probably too focused on urban needs."
Marian Paraschiva, 35, is originally from Romania but has lived in Inverness for eight years. He was there with his wife Ana and 19-month-old son Brian.
The forklift driver said: "There's not a good connection between the rest of Scotland and the Highlands. I don't know why. There should be, because we pay the same tax.
"The roads here used to be better and Romania was worse. Now they are about equal."
Retail assistant Gwendoline Crawford, 44, had come from just along the road in Inches, Inverness. She said: "I've only been driving for three years and I'm happy pootling about but I'm apprehensive at the thought of driving down the A9. Not a week goes past without an accident.
"If it was Edinburgh or Glasgow it wouldn't happen. I would say we're a lower priority, without a doubt."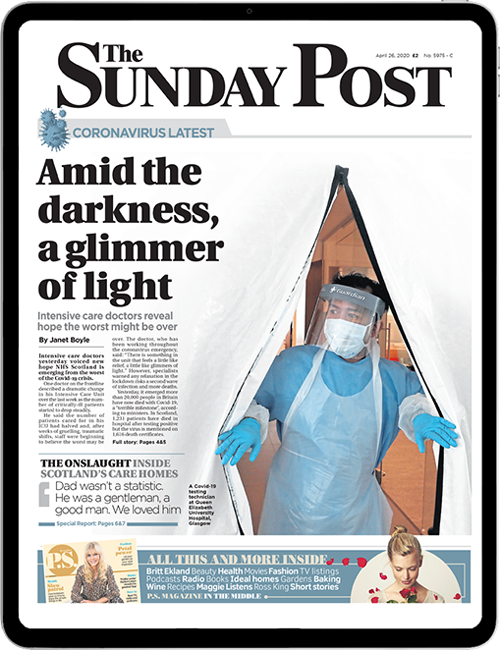 Enjoy the convenience of having The Sunday Post delivered as a digital ePaper straight to your smartphone, tablet or computer.
Subscribe for only £5.49 a month and enjoy all the benefits of the printed paper as a digital replica.
Subscribe