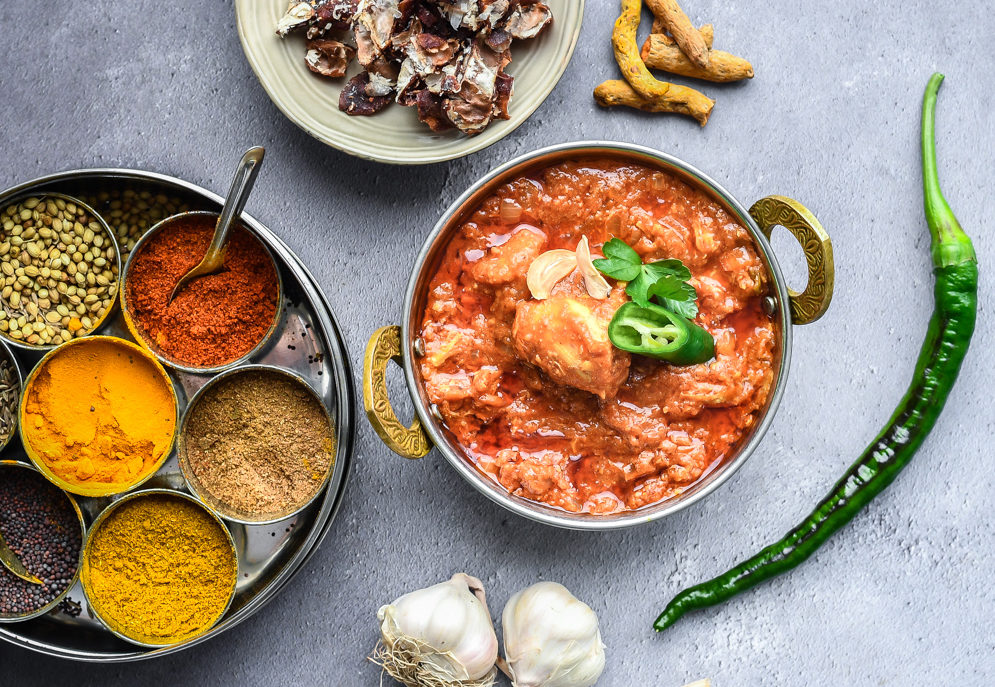 AWARD-LADEN chef Praveen Kumar has revealed the secrets of his acclaimed curries – the special soil of Perthshire.
The kitchen maestro, hailed world cuisine chef of the year at the Scottish Food Awards, says growing his own vegetables is the secret to his culinary success.
Praveen, 37, who owns Tabla restaurant in Perth, said: "We have a vegetable farm just outside Coupar Angus and have grown our own produce for a number of years now – and we have really noticed the difference. All of our ingredients are fresh off the farm.
"Perthshire is the perfect larder for Indian vegetables and herbs. It has a great climate and the fantastic, rich soil we use to grow our ingredients is beyond organic.
"It is suitable for Indian vegetables like okra, curry leaf, pink carrots, small aubergines, Indian beans, coriander and mint.
"The rain and sunshine in Perthshire provide ideal growing conditions for at least 10 months of the year.
"Our vegetable garden has definitely made the difference to our dishes.
"And, of course, we also use locally-farmed meat."
Praveen, the son of a farmer from a small village in South India, instinctively knew how to work the land.
"I grew up working in fields in India so it is very natural for me to grow my produce," he explains.
"In my village you either became a farmer or a priest. I didn't want to be a priest and, although I enjoyed farming, I wanted to do something creative with what I was growing."
Praveen is so smitten by Scotland he has even put a Tabla twist on traditional fare like haggis and also offers a Tandoori salmon dish.
He says: "I just love the Scottish people and the way they love curry. But we know our curries are different from other Indian dishes because we use the freshest Scottish produce."
In the last couple of months, the Perthshire chef has won cookery school of the year at Food Awards Scotland for his world-renowned Indian Cook School and regained his AA One Rosette, which he has held for five years.
Dad-of-two Praveen said: "It's been a great year for us so far.
"I have brought family recipes handed down to me from my village home in southern India, to Scottish tables; we really do serve the real taste of India using Scottish produce.
"And while it's great to win so many awards, for me it will always be about the cooking and about the food."
Praveen, who is married to Swarna Reddy, and has two daughters, Tanvi Iona, seven, and Tansi Isla, two, worked at Turnberry and Gleneagles hotels before taking his culinary adventure further.
He is now writing a recipe book packed with life stories and is busy making ready-made curries for you to heat up at home.
He said: "I always wanted to cook the kind of Indian food I grew up with and have my own restaurant, which I named after the musical instrument I used to play…a tabla drum.
"The cook school came after and now my own range of curries.
"We get people visiting from all over the world. I have made my home in Scotland because of the amazing friendly people here who have always welcomed me. Scottish people are very special."
South Indian Style Chicken Curry
For 4 people
1kg chicken breast
250g red onion
250g chopped tomatoes
1 tsp tamarind paste
1 stem, fresh curry leaf
½ tsp chili powder
¼ tsp turmeric powder
½ tsp curry powder
½ tsp garam masala powder
20g fresh garlic & ginger, chopped
30g ginger &
garlic paste
1 tsp cumin seeds
1 tsp coriander seeds
1 tsp mustard seeds
10g coriander leaf fresh
40g Oil
salt to taste
Marinate chicken with 20g of oil, ginger & garlic paste, salt, curry powder chili powder, garam masala powder, turmeric and tamarind paste.
Tip: Marinate day before. And don't cook from fridge to pan. Allow 1-2 hours for meat to come to room temperature before you cook.
Method: Heat 20g of oil in a dry pan, allow 10 seconds to heat the oil, then fry fresh curry leaf, chopped ginger & garlic, cumin seeds, coriander seeds, mustard seeds. Once spices crackle, add chopped onion, allow onions to brown and add chopped tomato and put the lid on. Stir and cook until tomatoes and onions take on a very soft, paste texture.
Tip: Do not add powder spices to heated oil. Powder spices will burn out in hot oil and generate a bitter taste.
Add chopped tomatoes, stir in and cook for five minutes. Add marinated chicken, cook for 20 minutes on a slow heat. Add coriander leaf as garnish.
Tip: Do not peel skin off ginger. The oil under the skin is a natural preservative and helps marinate the meat better by breaking down its fibres.