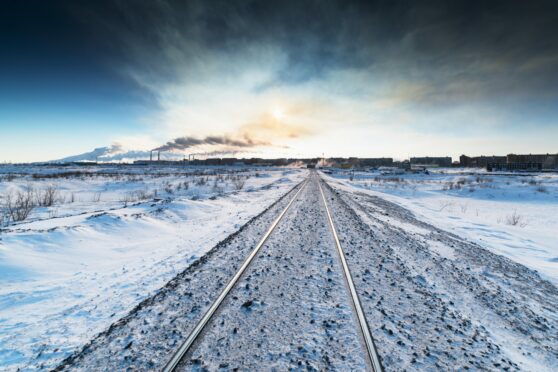 As young Conor Farrington joined his dad in the cab of an old steam train, it was the start of a thousand journeys and a lifelong passion.
"I used to go on old trains with my dad when I was a little boy and I think that had a big impact on me because it's so atmospheric," he said. "The smells, the sights and the sounds are so different to the kind of boring trains that trundle around the country today. I guess that's one of the reasons I'm slightly obsessed with them."
It's a fascination that followed him into adulthood, when he rode the rails across the globe while seeing the world and trains are still proving an inspiration, forming the basis of not one but three books.
Last year, Farrington published Death On The Trans-Siberian Express, a thriller inspired by a journey on the famous rail route in 2015. His second book, Blood On The Siberian Snow, in which a train derails, hits the shelves next week.
And the author, 44, has already started penning a third title which, not surprisingly, is also going to be railway-centric. "There's something about a train that's a bit like a wedding party," he said. "You chuck in all these people that you haven't met before and you're kind of stuck with them for however long it is. You can't choose them and you can't escape from them, and so you know it could be really interesting, or it could create tension. It's the perfect basis for a book."
Prior to starting a family the dad of three, who grew up in rural Aberdeenshire, loved nothing more than travelling. As a student, he took the railway around Europe and spent time in the States. After meeting Claire, now his wife, he rediscovered the travelling bug.
"Claire is from Cape Town so we did a lot of travelling in Africa – Ghana quite a lot, Malawi, Mozambique, Botswana, Kenya, Tanzania. And also to Russia and through Russia to places like Uzbekistan, down the Silk Route and then also beyond Russia down through China, and the Trans-Manchurian line, Beijing and then on by train to Vietnam," said Farrington. But it was the Trans-Siberian line seven years ago that left the biggest impression.
"It was totally different from travelling anywhere else," he said. "There's quite a high barrier to entry. You have to get a visa, there's a lot planning involved and then when you finally get there it's hard going. We flew to Moscow, which was fine but when we got to the railway station, nothing was in English so just to find anything is impossible.
"The first stop we wanted to go to was Yekaterinburg, where the Romanovs were murdered by the Bolsheviks, and there's a big church there with a shrine but we couldn't work out which platform it was for ages. We finally got there just before the train pulled out and jumped on board. It was easier after that because then it's just the one platform, one train all the way through.
"It was incredible but quite intense. It's not an easy journey. It's not luxurious or relaxing at all. You share a compartment with at least two other people and it could be many more if you go for the third-class option.
"People are coming in at all times of day and night because of the stops and the train keeps going permanently for seven days, so you don't get a lot of sleep."
It's cover reveal time! 🥳

Delighted to share the art for Blood on the Siberian Snow – pre-order here: https://t.co/PzAAI2kcYb

'Oh, Olga,' said Nevena, taking her hands, 'isn't it just like life, to find someone you've missed, and then lose them again? Isn't it just like life?' pic.twitter.com/1X9cX5CJsv

— C.J. Farrington (@ConorFarrington) August 30, 2022
Despite language barriers, the thing Farrington loved most about the trip was the people he met. A memorable encounter with one passenger inspired the protagonist in his Olga Pushkin series.
"It's safe to say we met a few characters," he said. "Most people actually were really nice. One person in particular stood out and it was a lady called Olga who actually inspired me. She was quite like Olga in the book. Blonde, no nonsense.
"We spent a couple of days with her in our compartment. It wasn't easy to converse but we just about managed to find out a little bit about her. She was going to this big city called Perm and that's where her family was.
"At the end she got up and said that she'd been told English people weren't nice but we were, which was a nice ending and stuck in my mind. I didn't actually think about writing the book then but it came back to me later."
Four years ago, while walking his daughter Acacia to sleep, Olga came to the forefront of Farrington's mind, and he began plotting a thriller set on a train in Russia. The next day, he started writing – and kept going until he had finished his debut book.
The notion of sinister crimes committed in confined spaces has inspired classics, with Agatha Christie setting one of her most famous murders on one of the world's most famous trains, the Orient Express.
"It was always a dream of mine to write a series of crime novels. I'm a huge Agatha Christie fan," said Farrington. "Of all the crime writers I've read, she could do more with fewer words than anyone else. I admire that very stripped-back kind of writing which isn't at all my own style but it's very inspiring insight into human nature.
"I grew up watching shows like Marple and Poirot with my parents. I wrote the first book while on parental leave with Acacia, the second after having Xavier the following year and I started the third after our son Irah was born in March this year…so it's a book per baby," Farrington laughed. "It's bizarre but they each have a book dedicated to them."
Juggling fatherhood with a marketing job for a green tech company and writing novels is no mean feat but he is relishing the challenge after landing a triple book deal.
"I learned how to type one-handed so that I could hold my daughter to sleep," he said. "Of course, this was my first child so I was learning how to be a parent at the same time. It was a lot easier not working, especially when you have one child to look after. The advice, of course, is when they sleep, you sleep but when she slept, I wrote. I'm lucky that I write very quickly and don't suffer from writer's block."
"I don't have a lot of the problems that other writers seem to experience. Maybe that's a quantity rather than quality issue. I just churn it out," he joked.
"Our son Irah doesn't really sleep as the others did. He's eight months now and he's not really sleeping much so most nights we're up about three or four hours. So it's much more challenging by book three!"
But revisiting his travels now that family life limits his opportunities to explore the world, makes the work all worthwhile.
"Russia holds a special place in my heart, and particularly the people," he said. "There's a real principled stance in Russia against America and England, which I think is seen as kind of a sidekick of the US, but the people easily broke down quite quickly once you spent some time.
"I grew up with the Cold War in the background. I can remember hearing the air-raid sirens being tested in Aberdeen when I was in primary school.
"There's this idea of Russia as being a threatening place and, of course, most unfortunately, it has become that again since I started the books.
"But during this journey it really was a chance to go beyond those stereotypes and find that they're basically the same as us, they just have a very different set-up.
"It's that mix of the exotic and the familiar that I find really interesting about travel. Humanity is the same but the setting is so different."
Addressing Russia's invasion of Ukraine, Farrington said: "I think this is Putin's war and not the Russian people's war. I'd like to believe that's largely true, just based on my experiences there."
Farrington, who now lives between Cambridge and Cape Town, loves nothing more than coming back to Scotland when time allows to visit his dad in Aberdeen and sister in Edinburgh and, unsurprisingly, he almost always takes the train.
"I love Scotland," he said. "I grew up outside of the rural town of Echt, 15 miles from Aberdeen, in a little house that stood on its own in a beautiful part of the world where we had the freedom to wander around that you don't have in the cities, and the Cairngorms on the doorstep.
"Travelling is amazing but, of course, it's always nice to come home."
---
Blood On The Siberian Snow, by CJ Farrington, is out next week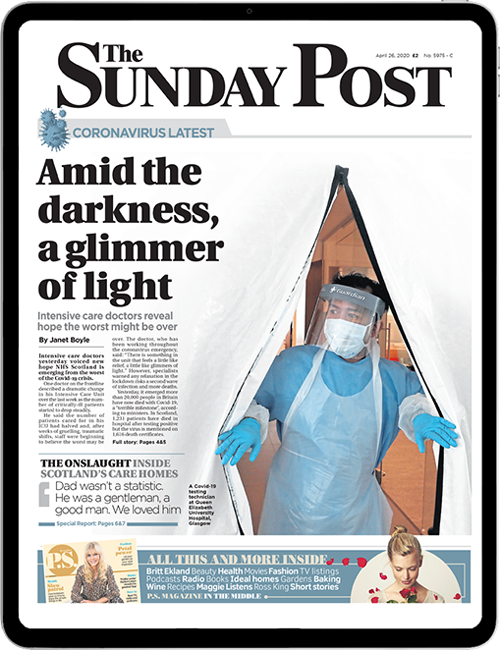 Enjoy the convenience of having The Sunday Post delivered as a digital ePaper straight to your smartphone, tablet or computer.
Subscribe for only £5.49 a month and enjoy all the benefits of the printed paper as a digital replica.
Subscribe