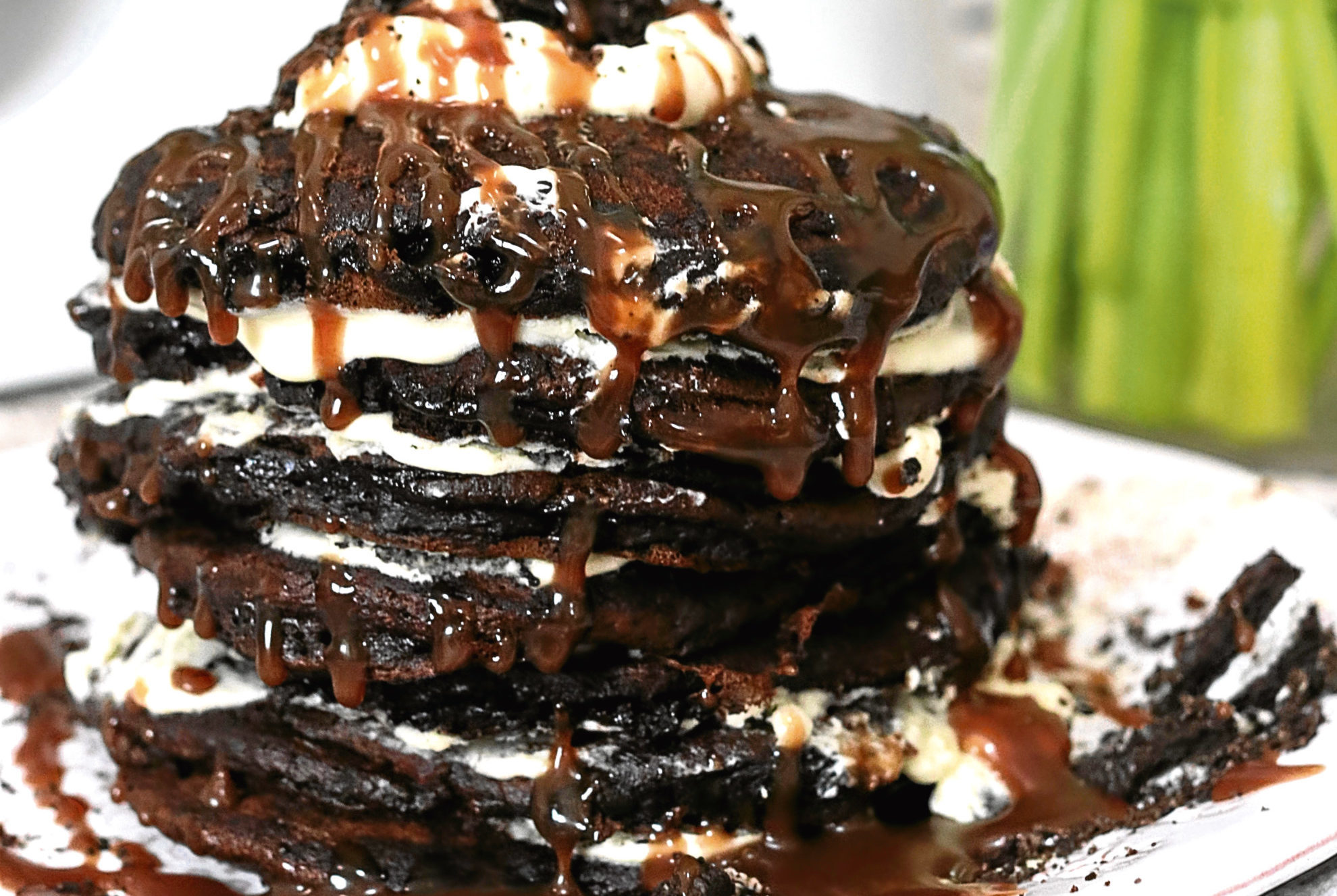 SHROVE TUESDAY has been and gone for another year, but when we discovered this recipe for two of our favourite things combined – that's pancakes with Oreo Biscuits – we just had to try it.
Readers, we only eat these treats to make sure they're good enough for you.
This pancake stack is the ultimate in indulgent Sunday treats. Don't mind if we do.
Thanks to ao.com/life for this week's treat.
You'll need
150g plain flour
40g dark cocoa powder
1 tsp baking powder
1/2 tsp bi-carb of soda
6 tbsp white sugar
1 large egg
1 cup buttermilk or milk
3 tbsp melted butter
6 Oreo Original Biscuits, finely crushed
Chocolate syrup
For the chocolate cream
500ml double cream
40g white sugar
2 Oreo Original Biscuits, finely crushed
Method
Add the dry ingredients into a mixer with a good pinch of salt and stir together.
Add in egg, buttermilk and butter. Whisk a few times until batter comes together, but a few lumps still remain. Gently stir in crushed Oreos. Let the batter sit a few minutes to thicken.
Grease your pan and bring to medium heat. Measure out 1/4 cup of batter. Pour batter into middle of pan.
Cook pancake until bubbles begin to break the surface, then flip to the other side and cook until pancake is done.
Repeat with remaining batter. You should have enough batter for about eight pancakes.
Pour cream and sugar into a mixer. Mix on high speed with a wire whisk until cream forms stiff peaks. Spoon cream out on to the pancake layers. Sprinkle some crushed Oreos over cream. You can mix the Oreos into your cream if you prefer.
Gently place a pancake on top. Repeat with cream, crushed Oreos and pancakes. Serve immediately with chocolate syrup, if desired.