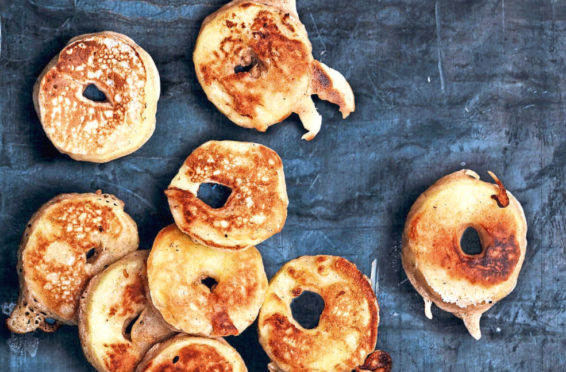 You'll need
125g white self-raising flour
1 tbsp light brown sugar
1 tsp ground cinnamon
250ml milk
1 medium egg
½ tbsp raw vanilla extract
Four sprays cooking spray
Three apples, peeled, cored and cut into 5mm-thick rings
125g natural Greek yoghurt
Method
To make the batter, combine the flour, sugar and ground cinnamon in a large bowl, make a well in the middle, then set aside.
Whisk the milk, egg and vanilla in a jug, then pour into the flour mixture and whisk until you have a smooth batter.
Heat a large non-stick frying pan over a medium heat and mist with cooking spray. In batches, coat the apple slices in the batter and fry until golden brown, about four minutes per batch, flipping halfway through.
Transfer to a baking sheet lined with kitchen paper to drain.
Serve four apple fritters per person, with the yoghurt spooned over.
Recipe published courtesy of WeightWatchers