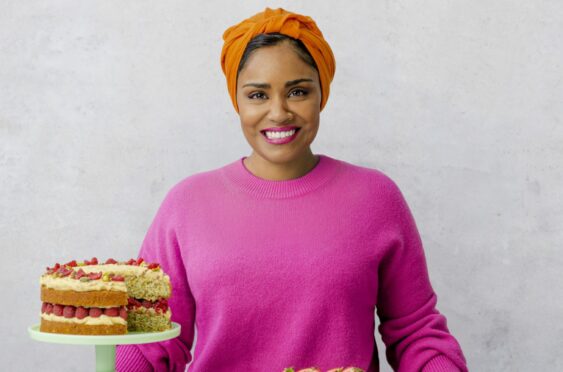 Waiting on Nadiya Hussain to appear on a Zoom call is a bit like waiting on a delicious cinnamon bun to emerge from the oven. The arrival will be sweet, but it's difficult to be patient; especially as she's a few minutes late.
Eventually Hussain appears with a smile so radiant I briefly consider turning the gamma correction down on my laptop screen.
Her new book, Nadiya's Everyday Baking, is a celebration of our ovens which, she says, can take the strain of cooking on your behalf.
Perhaps Hussain, who has published 14 books and fronted 12 TV series since winning The Great British Bake Off in 2015, is using these time-saving recipes to create even more delicious content for us.
"As a writer, you're constantly looking for inspiration," she says. "It's really weird because sometimes there are moments where I feel like I have nothing. And then suddenly I might be waiting for a Zoom call and have something in my head and I'll quickly have to write that down. Which is exactly what I was doing before I came on this call…"
She laughs when I ask her with mock outrage just what was it she was writing that kept her from a very important call with The Sunday Post.
"I write a poem a day, I've made it a habit," she says. "I was thinking, 'My goodness, you can be grateful and miserable and feel unfortunate, all at the same time'. And I wrote that down very quickly."
None of the misery is apparent with Hussain. The new series of Bake Off begins this week on Channel 4 but she's not looked back since delivering her triumphant "I can and I will" speech.
Despite having left Bake Off behind, Hussain is obviously returning to baking with her new book and, despite it seeming like her bread and butter, this one presented the type of challenge she tackled like, well, She-Hulk.
"What gives me the fire to write a book is the challenge," she says. "When I tell myself I want to write a book that just uses the oven, that challenges me as a cook.
"And that drive also comes from having a family, and their needs and changing tastes. My children are growing up and their wants change so that naturally steers me in another direction.
"For instance my kids love fish, in fact they love to eat a whole fish. So I came up with a sea bass recipe.
"And there's also this cookie pie which is an enormous bake. It's basically architecture! I've never seen my kids eat so fast…"
Baking architecture is as baffling as actual architecture, I tell her.
"Well, why don't we start with you, Stevie, and work out if we can help" she says, like a concerned GP.
Through a complex analysis and diagnosis from the most celebrated of Great British Bake Off champions, Nadiya deduces that my own rickety range is running a little cold, hence why loaves often emerge with sad, doughy hearts. She recommends an oven thermometer to gauge its real intentions, and one now sits in my kitchen, courtesy of Amazon.
"Consider yourself like a five-year-old, and start small with things like tiffin or rocky road and that will get you into baking with confidence. At the end you'll have something you get to eat and enjoy," Hussain says.
In terms of Scottish treats, Hussain is a big fan of tablet. "It actually works well when you chop it up and put it through cookie batter," her eyes raised to the heavens. "It's wonderful."
At the moment energy prices mean running even an oven isn't something everyone can afford. But Hussain believes recipes in her book can save thrifty cooks money.
"Let's face it: we have ovens, we have hobs, and people are going to use them because we have to cook and eat," she adds.
"With the hob you put it on, come back, turn it up for 20 minutes, and so on. With the oven, if you're measuring how much energy you want to use then you can do that, and make the most out of it."
That sounds like something else worth waiting for.
Nadiya's Chocolate Cookie Pie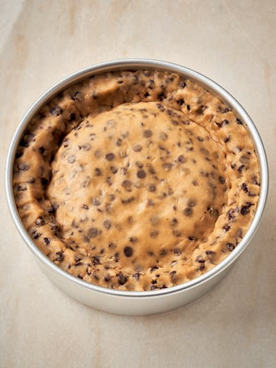 This cookie pie is exactly what it says on the tin: a deep-filled pie made with cookie dough 'pastry', filled with chocolate wafer bars, hazelnuts and chocolate spread.
It's indulgent, decadent, fun and all-round delicious. Come on, let's stop talking and make this thing already.
You'll need
For the cookie dough:
200g unsalted butter, softened, plus extra for greasing
325g soft brown sugar
2 medium eggs, plus 1 egg yolk
1 tsp vanilla extract
1 ½ tsp bicarbonate of soda
1 tsp almond extract
425g plain flour, sifted
½ tsp salt
400g dark chocolate chips
For the filling:
750g chocolate hazelnut spread
200g roasted chopped hazelnuts
200g chocolate-covered wafer biscuits, chopped into cubes
Method
Start by making the dough. Add the butter to a large bowl with the sugar and whisk till the mixture is light and creamy. Add the egg, egg yolk, vanilla and almond and incorporate well.
Now add the dry ingredients – the flour, bicarb and salt – and mix till you have a stiff cookie dough. Add your chocolate chips and make sure they are evenly dispersed into the dough.
Divide the mixture into two-thirds for the base and sides and a third for the top. Lightly grease and line the base of a 20cm deep cake tin or tart tin with a loose-bottomed base. Take the large ball of dough and gently roll out on a lightly floured surface so it is large enough to fit the base and sides of the cake tin, with a tiny bit of overhang to connect the top of the pie. Press it into the tin.
Take the chocolate hazelnut spread and mix with the roasted hazelnuts. Add half the mixture to the lined cookie dough tin. Top with the chopped chocolate- covered wafer biscuits, then top with the rest of the chocolate spread mix and level off.
Take the small bit of cookie dough that is left over and roll out to the size of the top. With a little water on your finger, just dampen the top of the cookie dough around the top edge. Pop the top of the pie on and pinch the edges to seal. Cut off any excess. Now leave the whole thing to sit in the freezer for 1 hour.
Preheat the oven to 190°C/fan 170°C/gas mark 5.
Bake the pie in the oven for 35–40 minutes till the dough is golden. Take out of the oven and leave to cool completely in the tin. I hate to say this to you, but you still can't eat this. We must wait for it to chill in the fridge completely overnight. I promise it's worth the wait. Loosen the pie from the tin before chilling or it becomes very difficult to remove.
Take out of the tin after your long wait, cut into wedges and enjoy with a cup of tea. Or even better still, enjoy on a picnic!
---
Nadiya's Everyday Baking is out now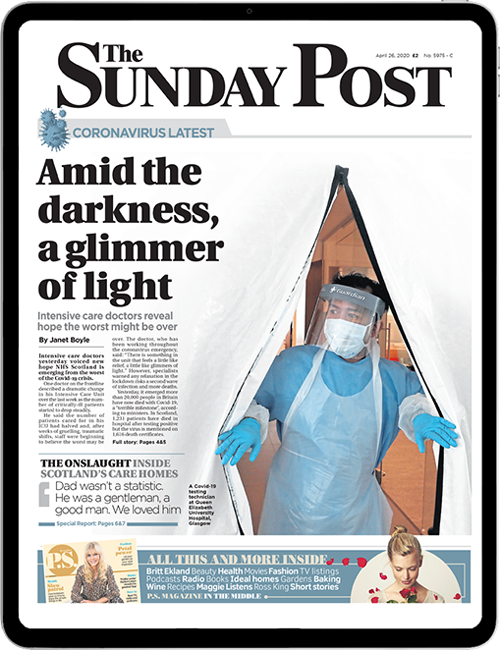 Enjoy the convenience of having The Sunday Post delivered as a digital ePaper straight to your smartphone, tablet or computer.
Subscribe for only £5.49 a month and enjoy all the benefits of the printed paper as a digital replica.
Subscribe