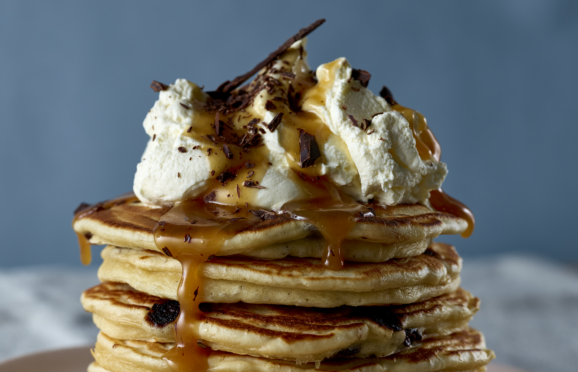 You'll need
2 med eggs
130g self-raising flour
1 tbsp caster sugar
1 tsp baking powder
1 tbsp unsalted melted butter
100ml whole milk
Pinch of salt
50g chocolate chips
Vegetable oil
25g caster sugar
½ tbsp unsalted butter
25g double cream
1 tbsp dark rum
Pinch of salt
25ml double cream
Method
To make pancake batter, combine the dry ingredients (flour, sugar, baking powder and salt) in a bowl.
In a separate bowl, mix butter, eggs and milk. Gradually pour the wet ingredients over the dry and whisk until batter is smooth. Fold in the chocolate chips.
Warm the oil in a small frying pan. When hot, pour two tablespoons of batter into the centre and shape into a disc.
Cook for two mins then flip and cook for another two mins until golden brown. Transfer to a cooling rack and cook the rest of the mix.
Whilst the pancakes are cooling, make the sauce. Put all ingredients (except the rum) into a small saucepan and bring to a boil over a low heat, stirring continuously. Simmer and stir for about five mins, until sauce is golden brown. Take the sauce off the heat and add rum. Whisk or stir vigorously until sauce is smooth. Using a whisk, beat cream to a soft peak consistency.
To serve, stack the pancakes, top with the cream and pour the rum sauce over the top.
Recipe from eggrecipes.co.uk