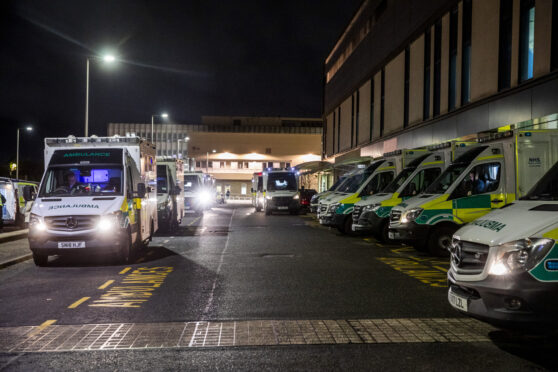 An escalating bed shortage in hospitals is causing logjams as A&E patients cannot be moved and ambulances queue outside, doctors have warned.
Just before 6pm on Monday, at least 15 ambulances were waiting to drop off patients at A&E at the Queen Elizabeth University Hospital in Glasgow but staff say that is not unusual and similar queues can be seen at hospitals across Scotland.
The number of A&E beds available has been reduced to curb the threat of infection during the pandemic but sources say staff shortages, caused by staff isolating and illness, means many wards are working under capacity.
Dr John Thomson, vice-president of the Royal College of Emergency Medicine (RCEM) Scotland, said: "The problem is worse at the Queen Elizabeth, there is no doubt about that, but it is happening across the country, including at Aberdeen Royal where I work. Infection prevention and control means unless there is a physical space for a patient, they have to remain in an ambulance outside.
"That means the patient is not receiving the right level of care and it means ambulance resource is not available for further emergency calls. Before Covid, we estimated Scotland was 600 hospital beds short but now it's 1,000 because of the need to physically distance."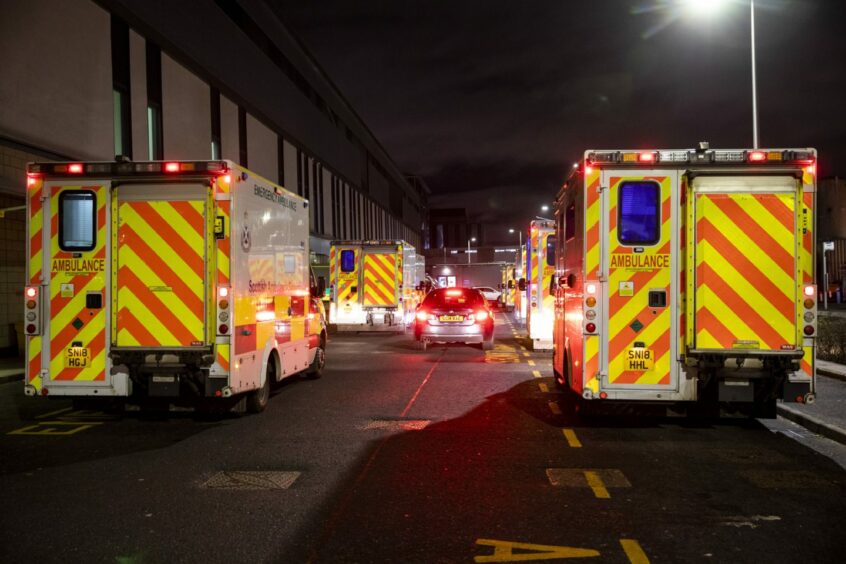 On Friday, a survey by RCEM of emergency departments found every hospital in the country had ambulances waiting to transfer patients every day. The survey, which included doctors in Scotland, found a third of clinicians reported the longest stay in their emergency department was between 24 and 48 hours.
One paramedic said delays mean 12-hour shifts can stretch to 16 or 17 hours, adding: "It's risking the lives of patients who are stuck in ambulances or who desperately need an ambulance which can't get to them because they're stuck in a queue at a hospital."
Another paramedic said: "I've been in the ambulance service for 20 years and I've never seen anything like it."
Lib Dem leader Alex Cole Hamilton called for an inquiry into avoidable emergency care deaths. He said: "If the service were a patient, then blue lights would be flashing now."
The Scottish Ambulance Service said: "Lengthy ambulance turnaround times at hospitals are significantly impacting on our ability to get to patients as quickly as we'd like. We are working with health boards to mitigate this."
The Scottish Government said: "The global pandemic has created the most challenging crisis in the history of the NHS. The Health Secretary has announced an extra £20 million is being invested in the SAS to help improve response times, alleviate pressures and improve staff wellbeing."
NHS Greater Glasgow and Clyde said: "We recognise the challenges, and we are actively working to address these. Our A&E teams work incredibly hard to see, treat, diagnose, and admit patients as quickly as possible."
It is brutal to know there are patients out there needing help
One A&E clinician said the scenes at the hospital on Monday evening were dismaying but no longer exceptional.
"Monday is usually a busy day, if not the busiest day of the week in any casualty ward," they said. "People have been getting hurt and ill over the weekend and end up with us on the Monday. Meanwhile, the hospital's full as no one has been discharged over the weekend. On top of that, staffing levels on most wards mean they are taking fewer patients anyway.
"We have more and more people arriving with nowhere to put them. They are with us until a bed is found and meanwhile, the ambulances start backing up outside."
"The point is that all these people need emergency treatment. The clue is that they are in the back of an ambulance.
"It's stressful for the patients, the crews, nurses, doctors, everyone. You are trying to give everyone the best possible care while knowing there's a queue of patients needing emergency attention outside waiting for hours. It is brutal, unrelenting.
"We need more staff, but they're not out there to hire. It's not just about more money. If you have a million pounds to buy a car but there are none to buy, then you will still be walking home."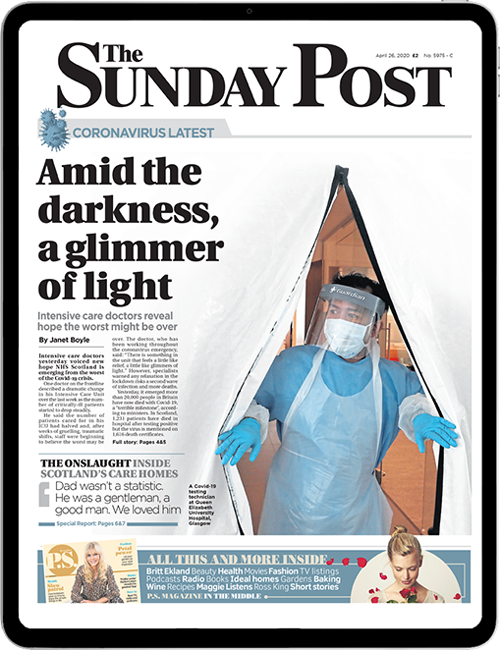 Enjoy the convenience of having The Sunday Post delivered as a digital ePaper straight to your smartphone, tablet or computer.
Subscribe for only £5.49 a month and enjoy all the benefits of the printed paper as a digital replica.
Subscribe