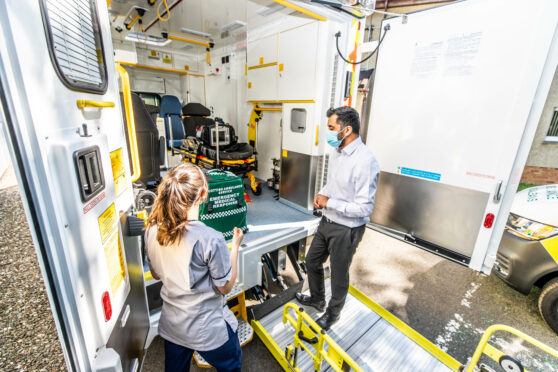 Hundreds of alerts over staffing levels have been logged at Scotland's flagship NHS hospital, we can reveal.
The official reports include 55 "near-miss" incidents where there was the potential for a patient to be harmed because of staff shortfalls.
Staff at Queen Elizabeth University Hospital (QEUH) in Glasgow have warned of under-staffing on the Datix system 339 times since 2019.
Yesterday, nursing leaders warned the escalating crisis meant patients and staff were at risk.
One clinician at the hospital said the reports were the tip of the iceberg as staff are reluctant to use the NHS system designed to report incidents. He said: "If you have been told about 300-plus then double that number, triple it. They are a drop in the ocean.
"If the Datix system is not deliberately designed to put people off filing reports, then it sometimes feels like it. Page after page, drop-down menu after drop-down menu, it is a complete faff and takes far too long. It is the opposite of user-friendly. People only fill out reports to cover their backs in case whatever has happened has repercussions. The idea that these reports might actually raise the alarm and prompt action is no longer even a consideration."
He said daily meetings assess the ratio of nurses on wards to patients, grading them green, for safe, amber and red. "I can tell you there are red wards every day. Two nurses for 28 patients when there should be six, seven or eight. I've heard of one nurse for 28 patients but it's untenable, a vicious circle.
"No one can cope working like that, so people end up going off sick, stressed and disillusioned, then we're even shorter of staff."
The Datix figures reveal how wards across the 1,100-bed hospital, including cardiology and assessment units, were short-staffed. Sources suggest the situation worsened dramatically during the pandemic but say the data, obtained under freedom of information legislation and detailing alerts from the beginning of 2019 to the end of August, reveals staffing levels were causing concern long before Covid.
In July, we told how accident and emergency wards were buckling under the strain of too many patients and too few staff, with waits of up to 12 hours for a bed.
Yesterday the first Army ­drivers – called in by the Scottish Government as the crisis deepened – began manning ambulances across the central belt.
Staff lodged their concerns on the hospital's Datix incident reporting system, used in health authorities across the UK to allow workers to flag up a wide range of problems and events of concern.
Understaffing of appropriate health workers was reported 70 times in a high-pressure cardiology ward where heart patients are fighting for their lives. Cardiology requires more nurses per patient, including one to monitor cardiac telemetry – a way of checking a person's vital signs, including their heart rate, breathing and blood pressure.
The highest number of near-misses – nine in total – took place in the Immediate Assessment ward, which deals with patients sent to hospital by their GP for urgent treatment. The figures relate to the adult hospital at the QEUH and not the attached Royal Hospital for Children and Maternity Hospital based on the same campus.
A source at the hospital said the understaffing problem was getting worse, saying: "Covid has undoubtedly made it worse but this crisis has been years in the making. We have not trained enough nurses, doctors and other health professionals and many of those that did enter medicine are now leaving.
"Some who worked through necessary degrees for a health career have left because they were worked to exhaustion, covering those staff shortages. Others emigrate or find work in other sectors."
Royal College of Nursing Scotland said nursing and midwifery vacancies are at a record high of 4,800 – 7% of available posts – and said the situation at the QEUH was far from unique in Scotland's hospitals.
The union's Scotland director Colin Poolman said: "The stories we are hearing from members across Scotland's hospitals and community services are deeply worrying. They are telling us that they have genuine concerns for patient safety and their own health and wellbeing.
"As a safety-critical profession, nursing has been undervalued and under-resourced for too long. The pandemic has compounded years of working under the pressure of staff shortages and with pay that has failed to keep pace with the cost of living."
He said Scotland needed a robust plan to increase the future workforce to a sustainable level and to encourage the existing workforce to stay.
"A fair pay rise for nursing staff and implementation of Scotland's safe staffing legislation – the Health and Care (Staffing) Act – would go some way to addressing the staffing challenges."
Scottish Labour Deputy Leader Jackie Baillie pointed to a failure to invest in an adequate number of staff to ensure safety levels in hospitals. "It is clear that there is insufficient staff to meet demands on the NHS," she said. "The level of vacancies is also far too high – from nurses to the most senior consultants.
"The Scottish Government has failed at workforce planning – and there have been three workforce plans published in the last parliament.
"Nurses and clinicians are not listened to and we now have a number of baby boomers retiring. One geriatrician told me they were forced to leave at 60 because their health board would not accommodate a lower-hour contract and fewer weekends on-call working in the early hours of the morning.
"Nicola Sturgeon reduced the number of nursing training places a decade ago and these people would be skilled now and able to work in the NHS. Warnings were given at the time.
"Staffing is the single most ­significant issue now. We have asked the government to ask newly retired staff to come back, even part-time, to cope with the oncoming winter pressure. I dread to think what it will be like with the current level of staff. Add to that the fact that many staff have no access to hot food or rest places for breaks, which would show we care for them.
"We need 1,000 more beds and the staff to care for those patients safely."
Hospital conditions were like third world country, inquiry hears
NHS Greater Glasgow and Clyde said: "Across Scotland there have been significant pressures on NHS Scotland. Any existing staffing issues have been exacerbated by Covid.
"We have taken steps to bring on board 670 newly qualified nurses. Of this total, 573 are already in post and the remaining 97 will start with us fully as soon as their registration is processed. We would like to thank those who agreed to join us early, to provide key support to our services, for which we are very grateful.
"In addition to these new nurses, we are pleased that around 500 more Health Care Support Workers (HCSWs) are joining our bank to support us during the winter.
"We accept, however, that ­challenges remain, and we will continue to look at solutions to support our staff and to ensure they can continue to deliver safe effective patient centred care. Datix reporting will play an ongoing role in helping us explore any concerns and respond appropriately."
The Scottish Government said: "Staffing levels in Scotland's NHS have reached a new record high after an increase of over 5,000 whole time equivalent staff in the last year. Thanks to nine consecutive years of staffing increases, we have an extra 25,000 staff working in our health service, an 11% increase in qualified nurses and midwives and a steady rise in places on pre-registration nursing and midwifery undergraduate training programmes.
"We recognise the acute ­workforce capacity challenges across NHS services and we are working hard to bring in new capacity and realign existing services to continue to provide timeous, effective and appropriately prioritised care.
"We have published our NHS Recovery Plan with more than £1 billion of targeted investment, including a commitment to provide £11 million for new national and international recruitment campaigns and to establish a national Centre for Workforce Supply."
---
First soldiers on the streets to drive ambulances and run testing centres
Soldiers will today start driving ambulances in Scotland to ease the pressure on the buckling emergency service.
The Ministry of Defence is providing 114 troops to carry out non-emergency driving work and a further 111 to help run mobile Covid testing centres.
Around two-thirds of the Army staff will work around Glasgow with most of the rest in Edinburgh. Troops will provide support to the Scottish Ambulance Service for an initial two months.
Liaison officers and military planners will also be placed in the service's regional hubs. Further drivers will also be provided by the fire service, the British Red Cross and taxi firms.
Military support was announced following a request from the Scottish Government and comes after warnings from health professionals and opposition politicians of a crisis within the ambulance service, with reports of patients facing lengthy waits for help.
A number of harrowing reports emerged of patients waiting hours, sometimes days, for an ambulance.
MSPs heard last week how dad Gerard Brown, 65, died at home in Glasgow, 40 hours after his family called 999.
And the trade union Unite revealed how one crew arrived at a hospital with a patient at 3.50pm and didn't manage to hand them over until 1.20am the following morning – a wait of nine-and-a-half hours.
Col Anthony Phillips, deputy joint military commander in Scotland, said: "This group of individuals, from 68 Squadron from 7 Regiment Royal Logistics Corps, have been doing this task in the east of England and north-east of England already. So there's a good degree of experience of this pandemic in amongst this bunch now going to support the Scottish Ambulance Service."
The MoD added personnel from 2 Scots, The Royal Highland Fusiliers, would also be among those carrying out the work.
Health Secretary Humza Yousaf said: "I expect the package of actions, supported by £20m in additional investment I announced at parliament on Tuesday, to have an important impact in improving response times for patients."
Pauline Howie, chief executive of the Scottish Ambulance Service, said: "As lockdown restrictions eased, we've seen demand start to rise. In the latest wave, unfortunately more of our staff have contracted Covid-19 again so we've lost some internal capability and that's been the case across all health and social care staff."
---
Surgery is put on hold amid NHS crisis
Children's operations have been postponed amid mounting pressure on NHS staffing levels and beds.
Non-urgent surgery and procedures have been put back at the Royal Aberdeen Children's Hospital.
NHS Grampian has said it has been forced to make the decision as a last resort so it can prioritise the children who are most sick.
It said: "You will all be aware of the current pressure on the NHS. Royal Aberdeen Children's Hospital is not immune from this.
"We are asking all families to be patient as their visit to hospital may take longer than expected – this applies to both appointments and unscheduled attendances.
"This also means some procedures or operations, which are less urgent, have been, or could be, postponed."
Patients across Scotland have also been urged to stay away from A&E unless they are suffering a life-threatening illness or injury.
NHS Lothian has been experiencing unprecedented demand in A&E, with 5,171 patients attending emergency departments in the week ending September 12.
The figure was the highest-ever in one week, and only 66.1% of the patients were seen within the four-hour target time.
NHS Lothian chief officer of acute services Jacquie Campbell apologised for the delays but said A&E departments are exceptionally busy.
She said: "Staff are working incredibly hard to deal with demand. However, waiting times are also part of wider pressures across our health and care system which can block the flow of patients from our emergency departments.
"We urge the public to please only attend A&E if it's a life-threatening emergency.
"If it's not life-threatening, or you think you need to visit a minor injury unit, please call NHS 24 on 111 first."
The warning came as Scotland recorded another 18 coronavirus deaths, and 3,261 positive cases of the virus.
There were 1,005 people in hospital on Friday with recently confirmed Covid-19, down by six from the previous day.
---
Criminal probe into deaths at hospital
Police have launched a criminal investigation into a number of deaths at a Glasgow hospital, including that of 10-year-old Milly Main.
The Crown Office has instructed police to investigate the deaths, which occurred at the Queen Elizabeth University Hospital campus.
While the investigation is understood to be at an early stage, it could potentially lead to a fatal accident inquiry or criminal charges.
The deaths being looked at include that of a 73-year-old woman at the campus as well as the deaths of three children.
One of those is Milly Main, who died in 2017 after contracting an infection found in water while being treated at the Royal Hospital for Children – part of the same campus as the Queen Elizabeth.
Her mother Kimberly Darroch last week told an inquiry looking into issues with the construction of the Glasgow hospital campus and the Royal Hospital for Children and Young People in Edinburgh that she believes "what happened to my daughter is murder".
Ms Darroch told the Scottish Hospitals Inquiry: "My view is that the hospital should be closed. I don't think it's safe. I feel like the health board need to be punished for all of this."
The Crown Office said: "The investigation into the deaths is ongoing and the families will continue to be kept updated in relation to any significant developments.
"The Crown Office and Procurator Fiscal Service is committed to supporting the work of the Scottish Hospitals Inquiry and contributing constructively to that work."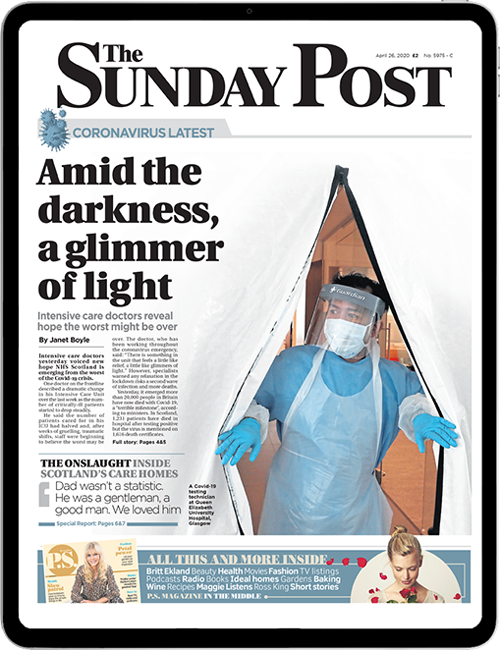 Enjoy the convenience of having The Sunday Post delivered as a digital ePaper straight to your smartphone, tablet or computer.
Subscribe for only £5.49 a month and enjoy all the benefits of the printed paper as a digital replica.
Subscribe