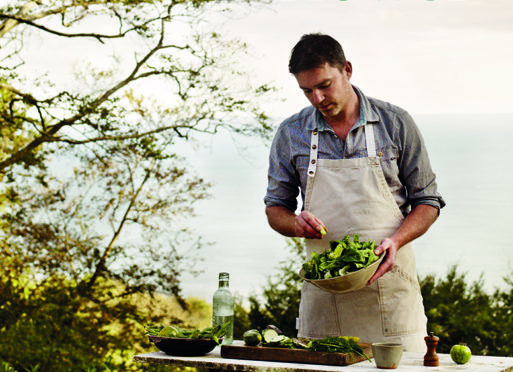 Just as the weather is starting to warm up, crops will be ready for harvesting, the likes of juicy strawberries, delicate new potatoes and vibrant, crunchy carrots.
Dug from muddy fields or picked from lush, green bushes, there's nothing quite like the taste of fresh, homegrown fruit and veg – a fact chef Gill Meller wants us all to remember next time we pop to the supermarket.
As a firm advocate for buying locally-grown produce, Gill believes there are many benefits to changing our meals to suit the season, and his new cookbook is devoted to showing home cooks how to make the best of what's available throughout the year.
With a chapter of recipes for spring, summer, autumn and winter, the beautifully illustrated Root, Stem, Leaf, Flower is a love letter to British produce, and proves there's much to learned from Mother Nature.
"Eating with the seasons used to be normal – everyone just ate what was available at any one time of year because there was no such thing as imports," explained Gill, part of Hugh Fearnley-Whittingstall's River Cottage team for more than a decade.
"It's only in recent years that we've had whatever we want, whenever we want it. When everything is at your fingertips, it's very easy to forget about seasonal eating.
"The reality is, if you are interested in food and cooking, and you're interested in the environment and the state and the natural world, something as simple as shopping and eating with the seasons can have quite a positive impact.
"If you can find produce grown organically or in a way that is sustainable and ethical, that's even better. The rewards are great in terms of taste and texture and colour and nutrition and wellbeing – it really does make a difference."
This newest collection of recipes is Gill's third cookbook and he says he wants to encourage more people to think about their food before it reaches their plate.
He explained: "If you're lucky enough to get hold of a bunch of fresh carrots just after they've been pulled out the ground, there's nothing better than biting into them raw. They are wonderful both in terms of texture and flavour.
"And it's not just about the point at which you put the food in your mouth – that carrot, for example, has a whole back story. It's taken months to get to that stage where it is perfect for eating. It has taken someone hours, days and weeks carefully tending the crops so that they are the absolute best when they're harvested.
"Someone has invested a lot of time and energy to produce our food, and that's very easy to forget when you are shopping in a supermarket, and things are being imported and wrapped in plastic with a shelf life."
With the summer season just about to bloom, Gill says there's lots to look forward to over the coming months, and he has been busy picking the first of his own home-grown spinach, lettuces, and radishes.
He said: "There's lots of delicious things on the menu right now, but what I'm really looking forward to is the first of the new potatoes, which are just around the corner – it's a real sign of early summer."
Root, Stem, Leaf, Flower by Gill Meller, Quadrille, £27, is out now.
---
Asparagus cooked on the fire with labneh, mint, almonds and seeds – serves two
"We tend to reserve smoky fires for cooking meat or fish – vegetables don't get much of a look in.
This is a real shame, as there are so many that work beautifully being cooked this way.
Onions, beetroots, leeks and artichokes all respond fantastically to the charring heat of an open fire, but few can match fresh asparagus.
Fire is one of the best ways to cook it."
You'll need
2 tbsp raw almonds, skin on
1 tbsp sunflower seeds
1 tbsp pumpkin seeds
2 tsp cumin seeds
1 tbsp tamari sauce
Chilli flakes (optional)
1 rosemary sprig
10-12 asparagus spears
1 tbsp extra-virgin olive oil, plus extra to serve
Sea salt and freshly ground black pepper
Flatbreads to serve
For the yoghurt
500ml natural yoghurt
½ tsp fine sea salt
handful of mint
1 tbsp extra-virgin
Olive oil
Freshly ground black pepper
Method
First, make the yoghurt. Place the yoghurt in a bowl, add salt and stir well.
Set a sieve over a bowl and line with a square of clean muslin or thin cotton cloth. Spoon the salted yoghurt into the centre of the cloth, then gather up the sides. Place in the fridge (still in the sieve and bowl) for 8-12 hours or overnight.
Turn out thickened yoghurt into a large, serving bowl. Pick the smaller mint leaves from the stalks and set aside. Pick the larger leaves, discarding the stalks in the compost, and cut into thin ribbons.
Stir the ribbons through the yoghurt with olive oil and some black pepper. Set aside while you prepare the asparagus.
Place almonds, sunflower and pumpkin seeds and half the cumin seeds in a pan with the tamari, chilli flakes and rosemary over a low heat.
Cook, stirring regularly, for a few minutes until the nuts and seeds are dry, toasted and fragrant.
If you plan to cook your asparagus over an open fire, make sure the fire is nice and hot. Snap the woody base from each spear, then place tender asparagus on a plate. Trickle with the olive oil and season with salt, pepper and the remaining cumin.
Cook the asparagus over glowing embers for 2-3 minutes on each side, or as long as it takes to char the spears nicely. Alternatively, you can cook the asparagus for a similar amount of time on a hot grill pan.
Arrange the spears over the yoghurt, scatter over the toasted nuts and seeds and reserved mint leaves. Serve with an extra trickle of olive oil and, if you like, some fresh flatbreads.