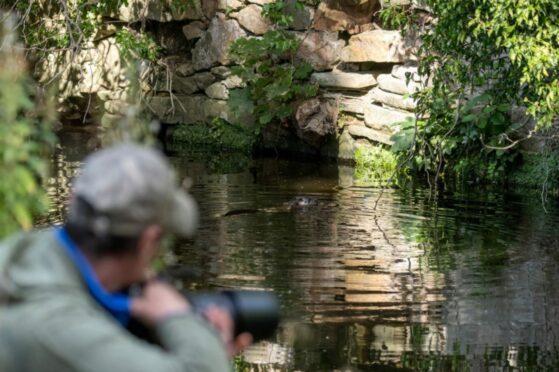 He was once crippled by agoraphobia, a prisoner in his own home, until a passion for nature opened the door to a new, happier life for wildlife photographer Ross Lawford.
Looking back on his struggles to bolster his mental health, he singles out a newfound love of nature as being the turning point in his recovery, particularly an otter called Squeaks.
He was unable to leave his family home in Worcester for a year during his 20s due to his fear of open spaces before a two-year fight with depression.
Yet a growing fascination with the natural world and the wildlife like birds and foxes that he could see from his bedroom window inspired him to take the first tentative steps to explore nature outdoors.
"I had agoraphobia and was in a very dark place. I ended up housebound in 2002 and my mental health was the lowest you can get," said Lawford, 41. "Nature was the thing that got me through. I've no idea where I'd be without it."
He slowly built up the confidence to spend more time outside his home and later took part in a placement through the Prince's Trust caring for an otter called Squeaks at a local wildlife rescue centre.
"I fell in love with Squeaks while I was volunteering and building an enclosure for her. I ended up getting a job to look after her. After she died, I started travelling the UK to photograph otters in the wild. It was while I was on the Isle of Mull I met my partner and moved with her to Edinburgh, where luckily they have otters."
The BBC's Winterwatch returns this week when the wildlife enthusiast will share his fascination with otters as the popular nature programme features a live broadcast from Edinburgh.
Lawford has been monitoring and photographing two families of otters that live along the banks of the Water of Leith for the past two-and-a-half years and will share his enthusiasm with presenter Iolo Williams who, alongside Gillian Burke, will explore wildlife around the capital for the show's two-week run.
The green corridor that lines the Water of Leith, the river that runs through Edinburgh into the Port of Leith, is home to not only otters but an abundance of wildlife, including kingfishers, herons, eels, badgers, foxes, stoats, and roe deer. Many areas have been identified as Local Biodiversity Sites and several protected species live along its course.
Winterwatch presenter Iolo Williams, who also speaks to Charlotte Neary from the Water of Leith Conservation Trust about the impact of urban waste and plastic pollution on local wildlife, said: "Over half the UK's population lives in an urban environment, and Winterwatch is the perfect opportunity to showcase the incredible variety of species that call our towns and cities home."
His co-presenter, Gillian Burke, also explores the plethora of insects that can be found in the city's Warriston Cemetery with entomology expert Ashleigh Whiffin. She added: "I'm very excited to be heading back to Scotland, this time to explore the urban wildlife of the glorious city of Edinburgh where we'll be on the trail of some familiar wildlife, as well as a few surprising animals that call the city home."
Lawford has been monitoring two small otter families living on the Water of Leith since 2020. As well as photographing them from afar, he has set up five remote trail cameras hidden on the riverbank to unobtrusively record their activity.
"I watch them every day either in person or from the trail camera footage so I've become really attached to them," he said.
"The main female otter I follow is about five years old and on her second lot of cubs. She has two that are about 25 weeks old. One recently disappeared but they've now been reunited. Getting that insight into what they get up to when you're not around or at night is really fascinating and beautiful."
Lawford checks his trail cameras in the dark so as to not draw attention to the otters, and can find himself riverside as early as 4am on a regular basis. "It can be strange being near a busy road with buses going past, horns beeping and fire engines blaring then you scramble down to the riverbank and suddenly it's all blocked out as you're in this idyllic, natural environment."
As part of a small group of wildlife enthusiasts who keep watch over Edinburgh's otter population, Lawford has seen their numbers swell in recent years and says the animals have adapted to their urban habitat, even changing some of their natural behaviour.
"It's hard to monitor them as they have up to a 10-mile territory but the trail cameras picked up seven in three days which is quite a lot moving through that area," he explained. "The habitat is perfect for otters. There's a lot of greenery, it's well-protected and there's plenty of food so it's a good space for breeding. There's been three or four females that have bred this year in Edinburgh, which is quite high.
"Otters are very territorial but there was an instance where the two females that had cubs at the same time shared the same holt (an underground tunnel or chamber used by female otters to sleep and raise their young) which is unheard of. Also, otters are usually nocturnal but we see them in the day more as the urban otters are not reliant on the tides to fish and can hunt during daytime."
In his research on the urban otters' behaviour and activity, Lawford works closely with the Skye-based charity International Otter Survival Fund and receives funding from ScottishPower and drilling company PBU.
"Otters thriving in an urban environment is relatively new so there's not a lot of existing research," he said. "But there are also more people and opportunities to observe them here so we can do more research and discover how they are adapting to being urban animals and the pressures being in an urban environment can have on them."
The photographer, who published the book Otter Tracks in 2020 and is currently working on a book about urban otters, said that observing the Water of Leith otters is an important hobby for many reasons.
"Being in nature is still important for my mental health," admitted Lawford. "If I went some time without it, that would affect me quite badly because I do rely on it. Listening to birdsong and seeing foxes and otters in the wild, nothing quite matches that. It calms me down and is almost like my version of meditation, a way to tune into something."
In 2021, Winterwatch saw a huge increase in viewers with 2.6 million tuning in for the programme's launch show, an increase of 1.7m from 2020. The growing popularity of the country's most-loved nature shows, Springwatch, Autumnwatch and Winterwatch, suggests that more people have sought solace in and appreciated the nurturing power of nature since the 2020 lockdown.
---
Winterwatch returns to BBC Two on Tuesday at 8pm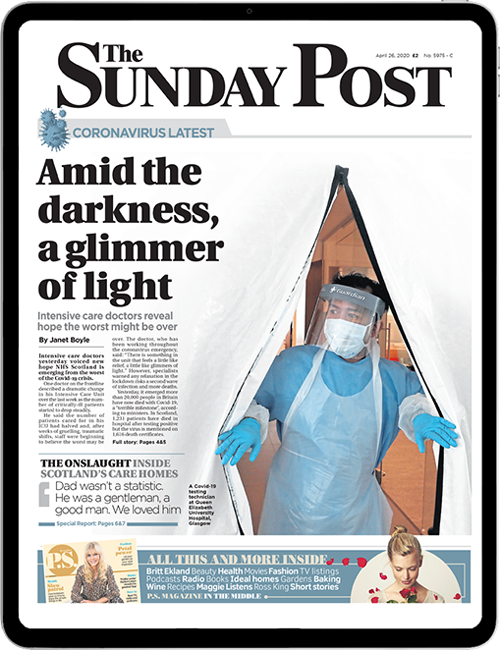 Enjoy the convenience of having The Sunday Post delivered as a digital ePaper straight to your smartphone, tablet or computer.
Subscribe for only £5.49 a month and enjoy all the benefits of the printed paper as a digital replica.
Subscribe