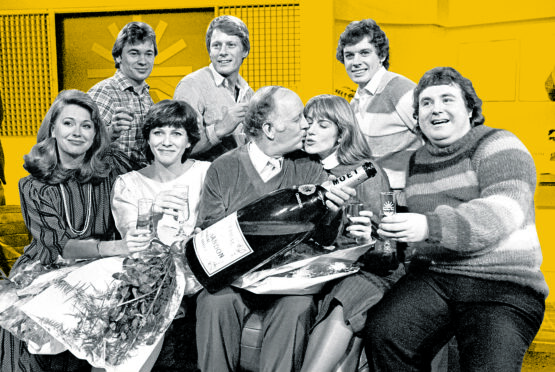 Most of the country was still asleep but, as she sat in the deserted TV studio, snatching a few minutes of solitude before her frenetic working day began, the 20-year-old admin assistant knew she had found her happy place.
BBC Breakfast weather woman Carol Kirkwood, one of the nation's best-known and popular broadcasters, remembers the start of her career clearly as she joined the team that was to transform how we viewed television forever.
The show celebrates its 40th anniversary on Tuesday when she will join current and former presenters to look back on the seismic moment when original hosts Frank Bough and Selina Scott threw open the curtains on morning telly. She had been a student, with her head buried in books about business, marketing and accounting, when she took up a post at the London studios.
Thanks to the secretarial skills, picked up after her mum urged her to have a back-up plan, Kirkwood blagged herself a summer job on what was then known as Breakfast Time, six months after launch.
"I remember it so well because I had always wanted to work for the BBC," Kirkwood said. "When I was a child I wanted to be a Blue Peter presenter.
"I have never forgotten in the early days going down to see the studio. It was in darkness with nobody there. I saw the set, with the red sofa and the Breakfast Time logo with the half sun made up of lines and I just thought, "Oh my goodness, I'm here! It's the set. This is where I want to be!"
On Tuesday, the BBC will remember 6.30am on January 17, 1983, when the show began. It was a new concept, running current affairs alongside lighter segments, like jolly stargazer Russell Grant and Diana Moran, aka The Green Goddess, clad head to toe in emerald lycra taking the audience through keep fit routines, in between news and celebrity guests.
Four decades on, the morning show, now fronted by Naga Munchetty and Charlie Stayt, is still going strong, albeit a slightly less camp affair. On Tuesday, it will host a special anniversary programme, featuring archive footage, viewers' favourites and some extra special guests. Kirkwood, who has been presenting the weather on the show for 25 years, is the longest serving member of the team and has seen a lot of changes.
She recalls putting in 12-hour shifts as a member of the production team, slogging through the night on scripts for the following day's shows. But she loved every minute of it.
She told The Post: "I remember going into work at 11 o'clock at night when everybody else was going home. My bike would be stuffed in a taxi for the cycle home in the morning. I would just get that feeling of 'Oh poor me!", but it was over as soon as you walked through the door because you were in an environment with all your friends and it was exciting.
"When I started, everything was paper and done on manual typewriters. You would have six pieces of paper with a piece of carbon paper in between, and you'd be furiously typing and putting in camera cuts and numbers and all the rest of it, and you know the presenter's name and the cue that they were going to say – and then you made the typing mistake and you would just think, 'oh no!' because we didn't have Tippex to start with.
"And then when you used Tippex, it was a disaster because the paper was like tissue paper and it was so thin you would get holes in it.
"Everything was paper in those days. It was a different life. You'd be whipping bits of these scripts out and collating them and giving them to a runner who takes them to the studio for the next part of the programme. It was all really frantic."
She added: "The studios were a bit like a rabbit warren and I was always getting lost in the corridors and the fire escapes.
"But on screen it was so relaxed. If the presenters had nerves up to the top of their heads, it never showed. It looked as like they were just having a good time. And, you know, having a conversation between the presenters and the audience. It was brilliant to be part of that and I'll never forget it."
Kirkwood was in awe of the stars of the show, especially Selina Scott, little knowing that within a few years she too would be on screen.
"Selina would come in in the morning and she would go off on her way to make-up or to maybe wash her hair and I remember thinking how impossibly glamorous she was, and what fabulous hair she had and what a beautiful voice she had as well," she said.
After graduating, Kirkwood returned to the show to work as a production secretary again and, later, production assistant.
"When I look back now, I don't know how I managed to live or rent in London on my salary," she said, laughing. "But being a student, I was used to not having any money. I bought a second-hand bike when I came down to London to do this job so that was my transport, I cycled everywhere."
After a stint on Breakfast Time, Kirkwood, born in Morar, Inverness-shire, met now ex-husband Jimmy, and came back to Scotland, living and working in Glasgow and Edinburgh, before returning to London where she ended up at the Weather Channel on the advice of her agent.
She said: "I was saying, 'I'm not a weather presenter, I don't know anything about meteorology,' but he said it would be good experience and I probably wouldn't be offered it anyway. So I went along and, oh my goodness, it was love at first sight."
When that folded, bosses at the BBC grabbed Kirkwood back and sent her for further training at the Met Office. In 1998, she joined News 24 – now the BBC News channel – and two and a half decades on, Kirkwood is advising viewers to pack a brolly.
While she admits the 2.45am alarms are a killer, there's no other job in the world she could imagine doing.
"I've been doing it for 25 years or so, but you never get used to getting up that early," she laughs. "I always equate it to if you had an early flight to catch, you don't actually sleep properly the night before. I've been with the breakfast show since it began 40 years ago, which is a long time, but I absolutely love my job. It's given me so many opportunities in my life to do other things as well as my job.
"People always ask me what I'm going to do next and I think, 'What do you mean what am I going to do next? I'm not going to do anything next. I love this. Why would I go anywhere?'"
Selina Scott: 'I won't bend the knee for laughable TV stereotypes'
One notable absence from Tuesday's 40th anniversary celebrating will be original Breakfast Time presenter Selina Scott.
Scott, now 71, co-hosted Breakfast Time from the launch in 1983 alongside Frank Bough. The talented young broadcaster, who began her career at The Sunday Post before joining Grampian TV where she was head hunted by ITN, quickly became a favourite with viewers.
However, soon after Bough's death in 2020, Scott spoke out, saying her co-host had been a "nightmare" to work with. He had left the BBC in 1988 after a newspaper exposed his cocaine and sex parties with prostitutes, blowing apart his family-friendly image.
Scott, who enjoyed a successful broadcasting career on both sides of the Atlantic, wrote an article claiming Bough's behaviour at work had also been questionable, saying he was a misogynist and would deliberately undermine her by interrupting mid-question, insisted on getting the last word in, and repeatedly told her how well endowed he was.
Scott also told how she had to fight for equal pay when both she and Bough – who was paid four times as much as her for BBC Breakfast Time – were invited to present the Baftas. She would later reveal Jimmy Savile had sexually harassed her during an on-air interview and said that incident was another example of sexism and misogyny in the industry: "In those days, there was immense pressure on young women in television to acquiesce to older men."
On Friday, her agent confirmed she would not be attending the celebrations on Tuesday as she told the Daily Mail: "The trouble with the BBC is that it no longer inspires women like me. We are of interest only if we are forever tripping down the Yellow Brick Road, reminiscing about the past or fronting cookery shows.
"It's got to be all memory or we're history to them. Many women who continue to live challenging lives refuse to bend the knee to these out of date and, frankly laughable, TV stereotypes."
Professor: Breakfast television pioneers changed the way we watch forever
Professor John Cook remembers watching the first Breakfast Time show…and realising it would change how we watched TV forever.
"It was a concept that came from America," he said. "Good Morning America was the flagship show – and it still is currently. It was very active in the 1970s. People like John Lennon when he was trying to fight extradition would appear on there.
"In many ways, breakfast television innovation really is part of the Americanisation of British TV, which really gets under way in the early-1980s.
"It had developed into 24-hour TV by the end of the 80s. By 1988, terrestrial TV started to offer an all-night service. Before that, it was the famous test card if you turned on before the TV schedule had begun.
"Also at the end of the 80s was the launch of Sky TV, Rupert Murdoch's introduction of satellite television. It was launched in February 1989, with just four channels, which wasn't a lot, but it doubled the number of channels available to view on top of the four existing channels – and it rapidly accumulated more with the addition of movies and sport.
"And then, in 1998, we have the launch of digital satellite, followed by streaming. Looking back, the introduction of video cassettes and recording, where people could divert from the schedule and watch what they wanted when they wanted was a very simplified, early version. Streaming is simply that on steroids."
Cook, professor of media at Glasgow Caledonian University, added: "Breakfast TV was really the first clink towards TV as a service more like tap water, that you could turn on and off at your will."
But, with so many channels and the ability to watch what you want, when you want…what's next for TV?
"The BBC is looking at becoming a digital-only service," Cook said. "It spells the end of the traditional linear schedule. The average age of the BBC 1 viewer is now 62. Young people don't watch TV any more – they stream and pick and choose what they want to view. There is more and more exodus to digital and that is the way TV is likely to go."
Kate Ngai, a media and journalism lecturer at Glasgow Caledonian University, added: "Breakfast television essentially replaced the radio in how people got their news in the mornings.
"The argument could be made that using TV as a main source to get information and having it available right as people wake up could have helped cultivate the expectation that not only is television the best way to get the news, but it's available at the push of a button.
"The success of breakfast television programmes inspired television networks to continue capitalising on ways to get more viewers to tune in."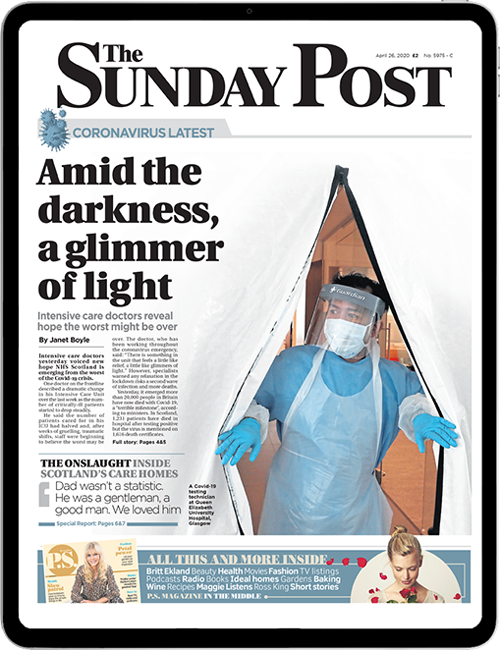 Enjoy the convenience of having The Sunday Post delivered as a digital ePaper straight to your smartphone, tablet or computer.
Subscribe for only £5.49 a month and enjoy all the benefits of the printed paper as a digital replica.
Subscribe