As the summer approaches, Glasgow's museums would normally be attracting locals and tourists in their thousands to gaze in wonder at the treasures contained within.
But, due to the coronavirus crisis, city attractions including Kelvingrove Museum, the Riverside Museum and the Gallery of Modern Art have had their doors closed for several weeks.
The lockdown measures have meant that staff have had to think of new ways to remain connected with people while they are not able to physically visit.
This has led to a concerted effort to create and share content online, from tutorials on how to make your very own Billy Connolly banana boots to singalongs for toddlers.
Clare Gray, learning and access curator with Glasgow Museums, explains: "Lockdown's obviously had a massive impact. We've had to close all of our venues which is completely unprecedented.
"We're used to welcoming about four million visitors a year and at the minute we're not seeing anyone face-to-face. It's a massive change for us.
"It was quite sudden, we had quite a short time to prepare for it so we didn't have time to put new processes and systems in place.
"We have been using social media for a long time, at least ten years, and over that period of time we've built up hundreds of thousands of followers.
"People are using social media a lot to keep connected, not just to us but family and friends. We thought that keeping connected with audiences that way was the best way to go."
Posts across the museums' social media accounts are targeted at various different audiences throughout the week.
On Mondays, they are geared towards those who are being home-schooled with a variety of topics and suggested tasks.
Tuesday's posts are more inter-generational, including images that spark memories of Glasgow in years gone by or parts of language and history to inspire discussion.
Wednesday videos are dedicated to the under-5s, Thursdays' for specific pieces within the museums' vast collections and Friday is dedicated to art projects to try at home.
The social campaign ties in with the city-wide #GlasgowLifeGoesOn initiative, which has also seen other sectors within Glasgow Life attempt to stay in touch with participants during lockdown.
It includes pre-recorded sports classes and live streams, while libraries share a range of e-resources.
Clare adds: "We're used to having lots of families in the museums, particularly at the weekends and during holidays.
"Glasgow Museums is really important to families in Glasgow, we see huge engagement so we wanted to offer something to the people of the city that they were familiar with and would be helpful in this time, keeping that connection with some of the organisations that they're used to visiting.
"We don't see families just as children. Families are any inter-generational group that are connected with each other, so that's why we have things like the Palace Patter, the Glasgow language and memories posts."
It's been a steep learning curve for staff, many of whom haven't ever made videos or created content for sharing online.
"It's a case of people picking up their smartphones and getting their partners or their mothers or children or whoever they live with to do the filming," Clare says.
"They've had to learn how to script, film, edit and present so that we can get it onto our social channels.
"I have to say that I've been so delighted and impressed by the way people have risen to that challenge. We have so many more videos to come."
Lockdown has also put exhibition plans on hold, with featured collections this summer postponed until further notice.
Clare adds: "We're continuing to work on the background on exhibitions. There are certain tasks that we can keep going with as curators and researchers.
"We can research, write texts, source images and designs, but there are other parts that we can't do, like physically preparing works for display and preparing gallery spaces with joiners, electricians and various people being in there doing physical work.
"We can't do those bits of the projects, which means we will lose some time.
"No-one knows what the government announcements are going to be and we have to just wait for those and act accordingly."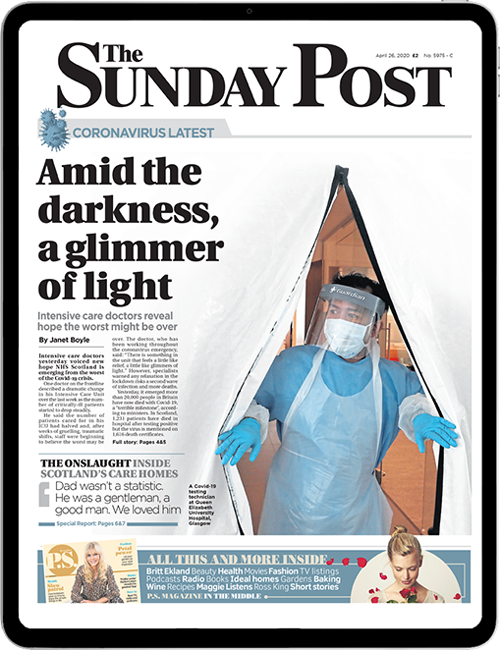 Enjoy the convenience of having The Sunday Post delivered as a digital ePaper straight to your smartphone, tablet or computer.
Subscribe for only £5.49 a month and enjoy all the benefits of the printed paper as a digital replica.
Subscribe