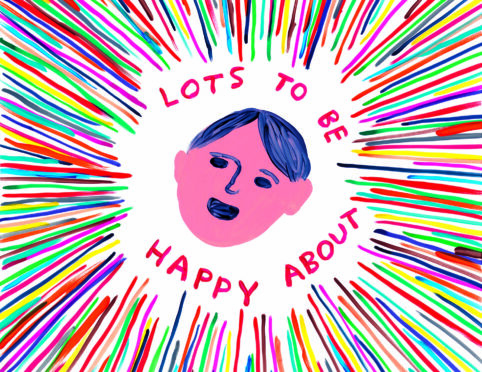 Combining surreal satire with mischievous, childlike cartoons, David Shrigley's art has found a home everywhere from galleries and lounges to gift shops and social media feeds.
Reaching beyond the world of art and into the public consciousness, the paintings are witty, philosophical and, perhaps most distinctively, drawn proudly like they should be attached to a parent's fridge door with magnets.
Born in Macclesfield, the acclaimed visual artist grew up in suburban Leicestershire before moving north of the border to study environmental art in Glasgow in 1988.
Despite the global success that followed, and the contentment of life in the English countryside, Shrigley admits his heart still firmly belongs to his adopted home. He fell so much in love with Glasgow that he stayed for 27 years as his career flourished and still considers it to be the funniest place in the world.
"It was bizarre – when I moved to Scotland I didn't realise I was English and then I moved back to England and didn't realise I was Scottish," he said. "I still don't really feel quite at home down here again. There's part of my heart that still resides in Glasgow in an odd way.
"It's not just an affection, it's to do with having spent a very formative part of my life there. I still see Glasgow as my home really. I feel more connection to it than I do to the place I actually grew up."
Sometimes absence really does make the heart grow fonder and it wasn't until leaving the city after almost three decades that Shrigley, 54, realised his affection for Glasgow. He moved away seven years ago and now lives in Devon with his wife Kim.
"We both gravitated to the south because we got old," he laughed. "It's not until you leave a place that you quite understand the effect it had on you and also the affection you have for it.
"Glasgow's a really culturally significant place and certainly the most interesting place outside the dark star that is London. I still think it's the funniest place in the world and I never really quite realised that until I left.
"Edinburgh isn't as funny as Glasgow and I know that's a really contentious thing to say. Glasgow is very funny in a way that you cannot possibly articulate. My wife and I watch Two Doors Down and I'm always trying to describe to people why it's really funny.
"You couldn't make that set in Edinburgh, it wouldn't be as funny. I can't really justify or articulate why that is but there's something just very deeply, ironically, wonderfully funny about that humour in Glasgow."
A firm believer that expressing creativity is good for mental health, Shrigley, who was nominated for the Turner Prize in 2013, co-founded Sidmouth School of Art in Devon to help nurture creativity, health and wellbeing in the area he now lives.
Its logo is heavily inspired by the classic Charles Rennie Mackintosh font, a tribute to Shrigley's studies at Glasgow School of Art, twice devastated by fires in the past decade.
He said the loss of the iconic Mackintosh building, where he made his first public artwork in 1989, following the second fire in 2018 was "tragic and mysterious".
"I remember when it burned down the second time. Ray McKenzie,  a very well-known teacher of art history there, said we should leave it as a ruin; it would have more resonance," said Shrigley.
"It'd absolve us of the responsibility of looking after a museum and would just have more of a utility building that served its purpose as a studio for young artists to work in. It's an interesting viewpoint but I still love that building and still mourn its misfortune. I'd love to see it rebuilt to cherish again."
In October, artist Lachlan Goudie told The Sunday Post that the building's restoration should be undertaken with the same urgency shown in Paris where Notre Dame Cathedral was on course to be rebuilt within five years of a devastating fire in 2019.
But while Shrigley would love to see the Mackintosh building returned to its former glory, he insisted the school amounted to more than just bricks and mortar.
"It's a huge tragedy to lose the Mackintosh building. Is there a more significant building in Scotland? I don't know. But, at the same time, the art school is about the students and giving them an opportunity to learn and become artists, creative people, and go out into the world," he said.
"That's what an art school is for and we shouldn't lose sight of that. The Mackintosh building isn't more important than all the students. The art school isn't a building. If all the students and teachers are intact then the art school hasn't lost anything."
Another Glasgow institution close to Shrigley's heart is Partick Thistle FC. He designed the Firhill club's unique and now-beloved mascot, Kingsley, who became an internet sensation in 2015 when the bright yellow character was unfavourably compared to a "demented nightmare sun" and "Lisa Simpson after an accident". He still keeps an eye out for the Scottish Championship side's scores and attends matches when he can.
"I'm very proud of Kingsley although I'm just an actor in that particular play," admitted Shrigley.
"It just all happened by accident. I made a small contribution as a fan but there are so many other people behind the scenes who have put blood, sweat, tears and a giant amount of money into the club to keep them where they are today. It's still a delight that that creation has become so synonymous with the club. I'm not Kingsley, it's a guy called Craig who gets his thermal underwear on and is out and about!"
Beginning with his self-published books in the '90s, Shrigley's work has made the leap from gallery walls to tea towels, T-shirts, mugs and posters sold around the world.
He has a shop in Copenhagen and more than one million followers on Instagram. He recently featured on Jimmy Kimmel's late-night US talk show, telling an audience of millions about being asked to draw on the bodies of fans who then get his work etched into their skin as tattoos. But it's in his home studio where he's most comfortable rather than under the bright lights of the television studio.
"It's not why I became an artist," he said of his TV appearances. "When you're in Hollywood on some TV show, I take it in my stride.
"It's for a reason, it's publicity for the book but I wonder what I'm doing there. It's so strange. I'm not particularly comfortable being on a chat show, I have to say.
"I like the fact you make a book, you try to make it as well as you can and it's gratifying if people want to have it but beyond that I'm slightly perplexed by all the glamorous, Hollywood Boulevard business. I'm just happiest when in the studio. I love going there.
"I've managed to acquire a little office in Sidmouth near where we live, and did it all up as a studio. I drive there in my little electric car most days of the week and do my thing. I can't speak for all artists but that's the joy and the privilege of being an artist."
Shrigley's work is laced with dark humour while his internet meme-friendly style has been described as "mischievous", "absurd" and "honest yet uplifting" and he embraces its childlike qualities.
"I'm just thinking about expressing myself the same way I did when I was five years old," he explained. "I suppose I try to make the paintings in the same way, they're very primitive.
"I don't try to overcomplicate it but that's not to say that, as an adult who knows about art and words and stuff, that it doesn't become something complicated.
"I have a process. I write lists of things to make pictures of and lists of words and something just happens in the studio. I still have to spend all day in there trying to get somewhere…It's a much more intuitive activity, I suppose, than the way other painters might go about making a painting."
Shrigley's latest book, Get Your S**t Together, is his first full-colour volume and he has noticed that, in recent few years, his work seems to be becoming "a bit more cheerful".
"Maybe that says something about the time in my life, enjoying the simple pleasures of walking the dog on the beach," he said.
"When I was 25, I wanted to watch noisy rock bands, go to New York City. Now I'm happy here with my dog."
Get Your S**t Together, Chronicle Chroma, £26, out now
---
'Art is part of our humanity. It can even save people's lives'
David Shrigley's work has become just as popular online as it has on gallery walls. The artist embraced social media during lockdown and regularly posts his work on Instagram, where he has more than one million followers.
"Social media is the most important forum to put stuff out there as it reaches the widest number of people," he said. "I realised that once you have a certain number of followers you have power, and you're like, 'wow, that's interesting'.
"It's a great place to put the work out. You realise other people see your work differently to you. You get that response through 'likes' and you're wondering, 'Why do they like that, why don't they like the work that I like?'
"Success is different to 25 years ago. When I first had success, it was about books, actual paper publications. Whereas now it's about Instagram. It's interesting but you don't want to talk too much about it or you start sounding like an old man.
"I embrace it but the critical thing is that I have a young person who helps. They have to explain certain things to me. Apparently it's women between 24 and 34 who live in London that are my demographic. If it was all middle-aged men that liked my work that'd be kind of disappointing."
Shrigley believes it's "massively important" to encourage people to embrace their creativity. He recently met people who talked about their experiences of being involved in the arts and how it had helped their wellbeing.
"It was in really extraordinary ways," he said. "Not just in terms of mental health but in terms of people with chronic pain who would get involved in singing or acting and it would really help them. GPs could prescribe participation in arts activities and it would be more beneficial than prescribing medication.
"I got involved in a community art project in Devon. It's nice to develop that understanding of the value of art, making it and participating in it, beyond just making a case for funding. It's actually quite elemental to people, and in extreme cases can save people's lives just having that connection with their creativity and understanding the value of it.
"When you talk about art education it's not about a fancy building that's part of that culture, and being a centre of excellence for education, it's something more about part of your humanity.
"In terms of our health, we need creativity, whether we're making or consuming things. You need to exercise, eat the right things, be sociable but you also need some creativity, some space in your world for creative things because that's healthy, it'll help you thrive and, if you don't have them, you'll wither to some extent."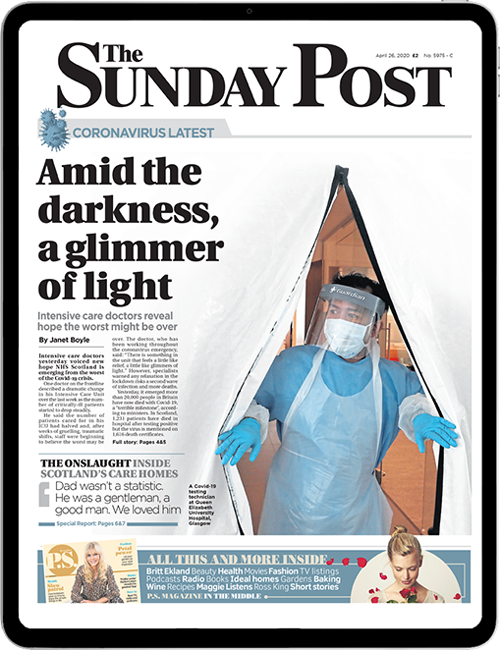 Enjoy the convenience of having The Sunday Post delivered as a digital ePaper straight to your smartphone, tablet or computer.
Subscribe for only £5.49 a month and enjoy all the benefits of the printed paper as a digital replica.
Subscribe