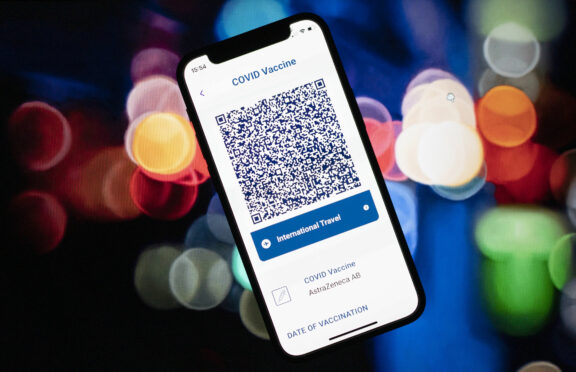 Scotland's Covid Certification Scheme will not be extended to further venues at this time, Nicola Sturgeon has said.
Ministers had been considering over the past week whether or not to add theatres, cinemas and hospitality settings to the list of places where proof of vaccination needs to be shown for entry.
The first minister said it was a "very, very finely balanced decision" but at this stage an extension would "not be proportionate".
The only change to the vaccine passport scheme is that, from December 6, venues and events will be able to be accessed with a recent negative test result.
Sturgeon said: "We have taken account of the fact that – although our situation is precarious – cases are currently stable and indeed slightly declining; and we have considered the inevitable impact vaccine certification has on the operation of businesses; and concluded that, at this stage, extension would not be proportionate.
"We were also mindful of the need over the coming weeks of getting across the message that it is important to be vaccinated and tested ahead of socialising in any setting – including in homes and shopping centres, for example – not just in those that might be covered by a certification scheme."
Sturgeon stressed that the situation would remain under review, adding: "If our situation does deteriorate, it may well be that extending Covid certification is a more proportionate alternative to the re-introduction of more onerous restrictions on, for example, hospitality."
Reaction
Scottish Tory health spokesman, Dr Sandesh Gulhane, said it was welcome that the vaccine passport scheme was not being extended – but he added the "uncertainty" that the Government had caused businesses while this was being considered was both "unnecessary and unacceptable".
He insisted the evidence paper the Government had published last week had failed to provide "clear proof of the scheme's effectiveness" as he claimed: "It seems more and more likely that they are making it up as they go along."
The Scottish Labour leader, Anas Sarwar, said ministers had introduced vaccine passports because "they were determined to be seen doing something, rather than doing the right thing".
He added: "I welcome the change to include a negative test but frankly we are in this position because the Government could not accept it was wrong."
Scottish Liberal Democrat leader Alex Cole-Hamilton said lateral flow tests had "always been superior to vaccine certification".
He criticised the Government for the "weeks of uncertainty and panic" it had given businesses, as he called on the first minister to abolish vaccine passports altogether and "build a scheme around lateral flow testing at large scale events".
Sturgeon, however, insisted the Government was "absolutely right" to have introduced Covid certification, adding that "equally it is right now we have vaccination rates at a certain level to move to a situation where it is open to testing as well as vaccination or as an alternative to vaccination".
The first minister said: "We were right to consider extending it further and we are right to keep that under review. In the face of this virus the most foolish thing any Government could do is rule things out."
The Covid Certification Scheme has faced opposition from the hospitality sector, who say it drives down trade at a time where they're still struggling to recoup losses from the pandemic.
The Night Time Industries Association who said: "Whilst NTIA Scotland remain opposed to the continued application of vaccine passports in late night settings, we are encouraged by Scottish Government's decision today that the scheme will not be rolled out further at this time."
A statement added: "It is a positive step in the right direction that Lateral Flow Tests will now be included as an alternative to double vaccination, which will safeguard late night venues in particular, and is something the trade body has advocated for from the inception of this scheme.
"This brings Scotland in line with other European nations, and partially alleviates at least some of the equalities and social exclusion harms that were previously the case. However the experience in Wales indicates that affected businesses, even with LFT inclusion, have still suffered a 26% decrease in trade.
"Our sector are working positively and constructively with government to increase public awareness and maximise Covid safety during the vital Christmas trading season."
Greg Parmley, CEO of LIVE, the live music industry's trade body, said: "The live music industry is pleased that the Scottish Government has announced that negative lateral flow tests will be included in the Covid certification programme in Scotland.
"While there is still no evidence of the need for such a scheme, and we believe that industry measures to mitigate risk are sufficient, the inclusion of testing will result in a great number of people being able to access live music and provide vital income for the industry."
Testing
Sturgeon asked Scots to start testing more regularly when attending social occasions over the upcoming festive period.
The recommendation has been to test using a lateral flow device twice a week, and to take a PCR if a positive test is returned, or if Covid symptoms are exhibited.
The first minister has now urged people to take a lateral flow test before any socialising.
Updating MSPs on Tuesday, she said: "Over the festive period, we are asking for extra effort – and so this next request is vitally important.
"On any occasion that you are socialising with others – whether that is going out for drinks or dinner, visiting someone at home, or even going shopping somewhere that might be crowded – please take a test before you go.
"And if it is positive, do not go. Instead get a PCR test and self-isolate while you wait for the result.
"This way, you are minimising the risk of inadvertently passing the virus on even if you don't have symptoms."
Sturgeon also reiterated advice given last week on mask-wearing and ventilation, as well as continuing to work from home where possible.
"Looking across Europe we can see very clearly that the COVID situation is deteriorating again"

Nicola Sturgeon says "the situation remains precarious" and stresses "we must not allow ourselves to be lulled into any false sense of security"

Read more: https://t.co/hFj1rTLXHs pic.twitter.com/J1XJqQLH7K

— Sky News (@SkyNews) November 23, 2021
Vaccination
Sturgeon said the current situation regarding the virus was "definitely more positive than we might have expected it to be at this point, but it is still precarious."
She told MSPs that the "most precious gift" that can be given this Christmas is to be vaccinated and tested before meeting loved ones.
"If you are meeting up with loved ones and you are not as fully vaccinated as you could be, you are putting them at unnecessary risk," she said.
"To be blunt, you could be putting their lives in danger.
"The most precious gift we can give anyone this Christmas is to be vaccinated – and also tested, which I'll say more about shortly – before we meet, hug or spend time with them.
"So, if you haven't had a first or second dose yet, it's not too late – please do so now."
The numbers
Scotland has recorded 17 coronavirus-linked deaths and 2,527 new cases in the past 24 hours, according to latest data.
It means the death toll under this daily measure – of people who first tested positive for the virus within the previous 28 days – is 9,495.
The daily test positivity rate was 11.6%, up from 11.4% the previous day, according to data published by the Scottish Government on Tuesday.
There were 743 people in hospital on Monday with recently confirmed Covid-19, down seven on the day before, with 60 in intensive care, up one.
So far 4,340,162 people have received their first dose of a Covid-19 vaccination, 3,940,314 have received their second dose, and 1,469,423 have received a third dose or booster.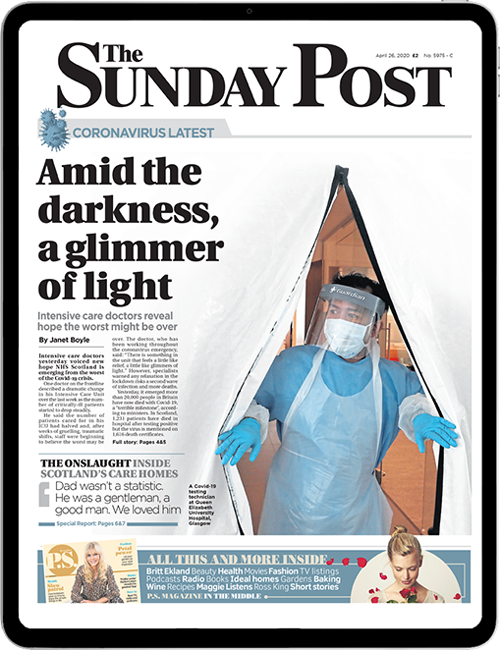 Enjoy the convenience of having The Sunday Post delivered as a digital ePaper straight to your smartphone, tablet or computer.
Subscribe for only £5.49 a month and enjoy all the benefits of the printed paper as a digital replica.
Subscribe