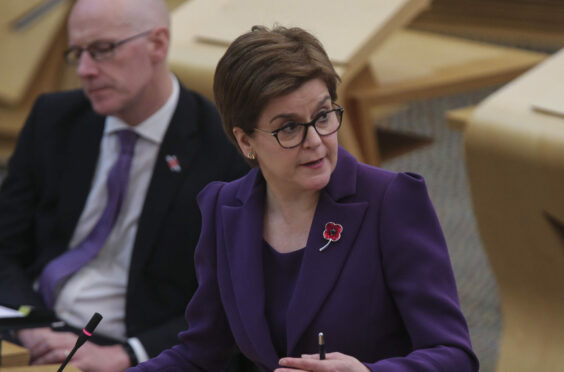 Nicola Sturgeon has not announced any further restrictions in her latest Covid update, but has said that the vaccine passport scheme could soon be extended.
The first minister told parliament that ministers were mulling the possibility of widening the settings in which proof of vaccination is required for entry.
Currently only required for large events and nightclubs, it could be expanded to include cinemas, theatres and some other licensed and hospitality venues.
A decision, she said, would be made next week and would likely take effect from December 6.
The scheme could also be amended to allow for proof of a negative test to be used instead of the vaccine passport app.
Further discussions and consultations with businesses will take place this week.
Sturgeon told MSPs: "I am acutely aware that many businesses want us to remove mitigations – including certification – not extend or tighten them.
"I understand that.
"But all of our decisions are motivated by a desire to get through what will be a challenging winter without having to re-introduce any restrictions on trade.
"We want, if possible, businesses to stay fully open over Christmas and through the winter, while also keeping Covid under control.
"If an expansion of Covid certification can help us do that, it would be irresponsible not to consider it."
Exemptions currently in place would be retained in any extension of the scheme, she added.
Parliament will have the chance to discuss and debate any proposed changes.
Sturgeon said: "We are considering whether an expansion of the scheme to cover more settings would be justified and prudent given the current state of the pandemic.
"Again, let me stress that we have not at this stage taken a decision to extend the reach of the scheme.
"However, to allow us to engage openly with businesses in the coming days about the pros, cons and practicalities, I can confirm that the kinds of settings that might be in scope would be indoor cinemas, theatres, and some other licensed and hospitality premises."
Restrictions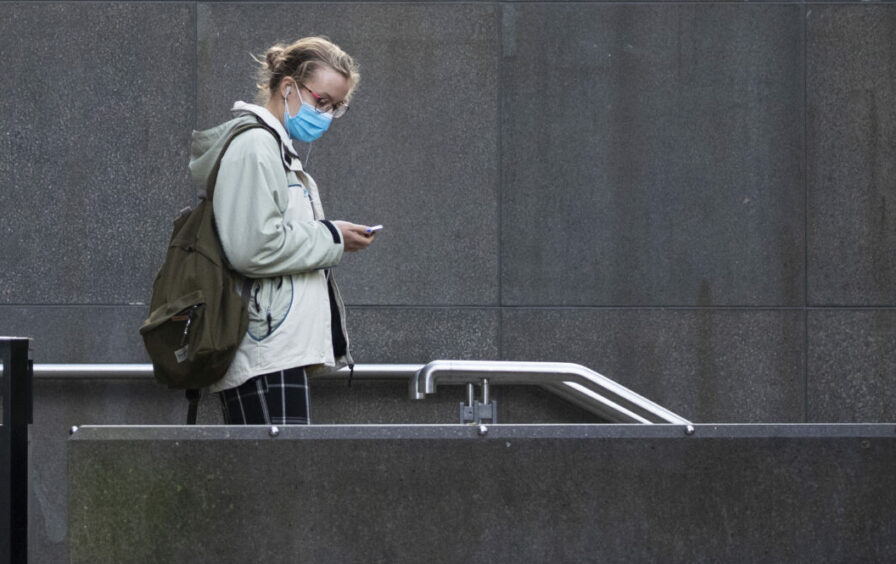 Today's update coincided with the latest three-week review point for Scotland's Covid regulations.
Sturgeon told parliament that no further restrictions would be introduced, but encouraged people to get vaccinated, test regularly and comply with mitigations still in place.
"Work from home when that is possible, and wear face coverings in indoor public places – such as shops and public transport and when moving about in hospitality settings," she said.
"Wash hands and surfaces thoroughly. Meet outdoors if you can. I know that this gets harder and harder through the winter – but outdoor environments are safer. And when you are meeting indoors, open windows – anything to improve ventilation will help.
"All of these precautions do still make a difference. They will protect us and those around us, and they will help to ease the burden on our NHS. So please – stick with them."
The first minister said the numbers reported in recent days in Scotland "illustrate the need for continued precautions", as does the "challenging situation" in Europe.
Infection rates in Germany have reached their highest level since the pandemic started, and countries including the Netherlands, Ireland and Austria have introduced further restrictions.
Sturgeon told parliament: "I can confirm that at our meeting earlier today the Cabinet agreed to keep the current regulations in place, with no immediate changes."
She added: "The threats posed by Covid are still with us – even though they have been mitigated by vaccination – and the race between the virus and the vaccines has not yet been won. The situation in Scotland also bears that out."
Cop26 impact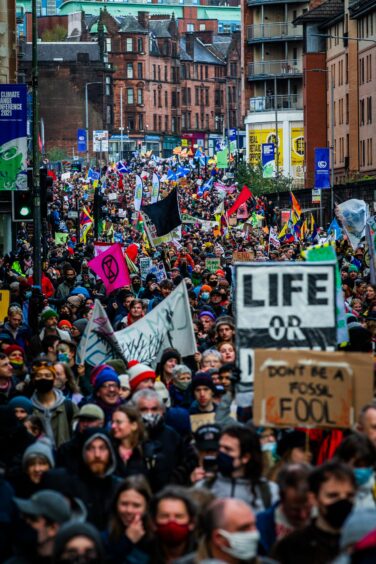 Sturgeon said that, while it was too early to draw conclusions, there was "no sign so far" of any significant spike in infections as a result of the Cop26 summit in Glasgow.
"Rigorous measures were put in place to minimise the risks of Covid transmission," she said. "For example anyone entering the main summit site – the Blue Zone – had to provide evidence of a negative lateral flow test result."
A report published today by Public Health Scotland suggests that, of the people officially affiliated with COP26, approximately 4 in every 1,000 tested positive for Covid through routine lateral flow testing.
That compares to survey data for the Scottish population as a whole which suggests that last week 12 people in every 1,000 had Covid.
The first minister said: "In total, since 15 Oct, 291 people with Covid across Scotland reported attending a COP-related event – including satellite meetings and demonstrations, and the summit itself. That represents less than 0.5% of all those who tested positive for Covid over the last month.
"All of this suggests that the mitigations put in place were effective. I want to put on record my thanks to delegates for their compliance and indeed to everyone who worked so hard in the run up to and during COP26 to secure the safest possible environment."
Vaccination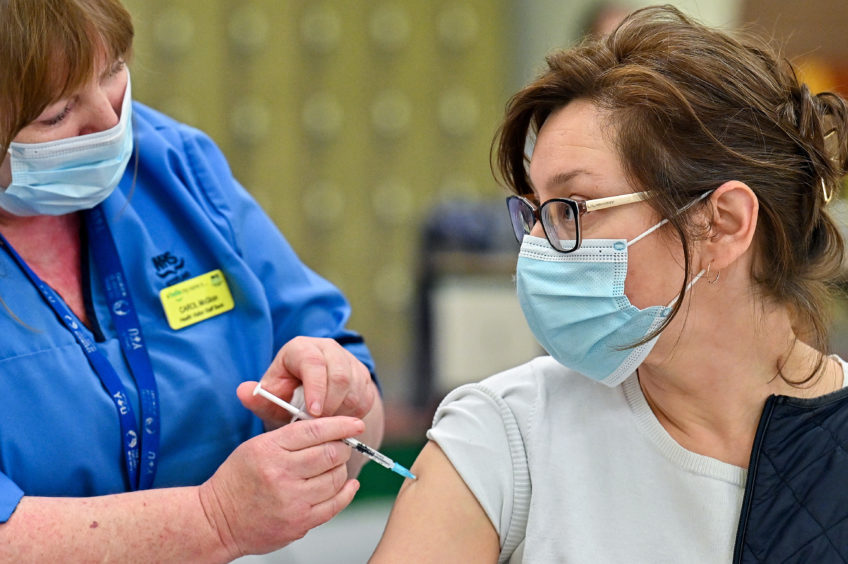 More than one million booster doses of the Covid-19 vaccine have been administered in Scotland, Sturgeon said.
"I can confirm that more than one million booster jags have now been administered and over 70% of over-70s have now had a booster," she told MSPs.
"We know that a booster jag significantly increases the effectiveness of the vaccine – so this high level of uptake is extremely important, and we will continue to push it up as far as possible."
An online portal which opened on Monday for other age groups to book booster jags has seen 54,000 people make appointments, the first minister said.
Sturgeon added that choosing not to be vaccinated is "deeply irresponsible".
She said: "You could be saving your own life or the lives of your loved ones.
"You will be reassuring others – including those most at risk – some of whom have clinical conditions which mean that they cannot get vaccinated themselves.
"You will be helping those working in the NHS.
"And you will be maximising our chances of getting through this winter without the need to re-introduce any restrictions.
"In my view, choosing, without good reason, not to be vaccinated is deeply irresponsible.
"Getting vaccinated, on the other hand, is a civic duty and the most precious gift we can give to others."
The numbers
Sturgeon said: "More generally across Scotland, we have seen a gradual increase in cases over the past two weeks – from just over 2,500 new cases a day, to approximately 3,000 cases a day. It is important to note that this headline figure masks some distinct variations between age groups.
"For example, cases amongst under 60s increased by 14% during the last week. Much of this increase was in people under 20. By contrast, cases in the over 60 age group fell over the last week – by 11%.
"The decline in cases amongst older people may also explain why – despite an overall increase in cases – the numbers in hospital with Covid have reduced slightly in recent weeks.
"Three weeks ago, 917 patients were in hospital with Covid. Today, there are 779. The number of people in intensive care has fallen very slightly during that time – from 59 to 57.
"However the number of patients in hospital with Covid is still extremely high. If cases continue to increase then, notwithstanding the age profile, we are likely to see hospital admissions and occupancy rise again."
Scotland has recorded 17 coronavirus deaths and 2,771 new cases in the past 24 hours, according to the latest data.
It means the death toll under this daily measure – of people who first tested positive for the virus within the previous 28 days – is 9,406.
The daily test positivity rate was 12.8%, up from 12.3% the previous day, figures published by the Scottish Government show.
There were 779 people in hospital on Monday with recently confirmed Covid-19, up eight on the day before, with 57 in intensive care, no change.
So far, 4,331,574 people have received their first dose of a Covid-19 vaccination and 3,930,317 have received a second dose.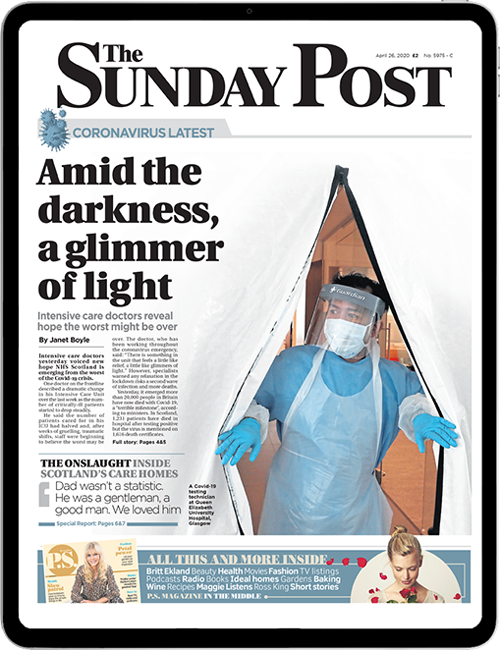 Enjoy the convenience of having The Sunday Post delivered as a digital ePaper straight to your smartphone, tablet or computer.
Subscribe for only £5.49 a month and enjoy all the benefits of the printed paper as a digital replica.
Subscribe