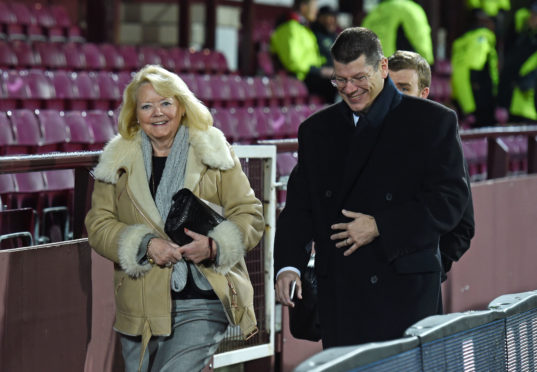 Eamonn Bannon has known that money talks in Scottish football ever since his days as a young player.
In February 1979 when he was just 21, Hearts sold him to Chelsea to help save themselves from financial ruin.
Then, in October of the same year, Dundee United paid what was a club-record fee of £165,000 to bring him back north.
It was to be the catalyst for the most-successful spell of the Tangerines' history, with the League Cup triumph just two months later, followed by a winning defence in 1980 then the Premier Division title in 1982-83.
Fast forward four decades, through a UEFA Cup Final appearance with United and a lengthy second spell at Tynecastle, and Bannon finds himself watching on as the two clubs he loves fight it out over a promotion/relegation tussle that has the potential to financially damage the loser.
"It is a strange situation," said Bannon, who now runs a guest house in Edinburgh, with a wry chuckle.
"I watch Hearts every other week, and around November last year, I remember thinking: 'This team are relegation fodder'.
"Craig Levein's point about them having a horrendous injury list was fair. Most of their best players were sidelined for a while.
"But you have to go by the ones who are on the pitch, and they were getting beaten week after week.
"You can get a winning momentum in football, a run where you always find a way to win. But the reverse is also true.
"You get teams who are beaten before they start because losing has become too much of a habit.
"I know because I have been there myself.
"When Hearts went to Hamilton and lost in December, I thought: 'That's it. Hearts are going to go down. Accies are fighters, and they will battle and scrap and pick up enough points to get it done'.
"So it proved.
"You can argue that Daniel Stendel did start to turn it around this year and important players were coming back, but chasing at the end of a bad season is never easy."
What Bannon did expect was that he would get the chance to see them try.
"When the lockdown came in and football went off, fans assumed the SPFL would make every effort to finish the season. That didn't happen," he continued.
"I don't buy the argument about players needing two months to get in shape. It could have been done in four weeks and, remember, everybody would have been in the same position.
"Plenty of other countries have done what it takes to get the outstanding games played – and I am not just talking about the Big Five.
"It is important because it ensures you have sporting integrity.
"Listen, I am sure if we had restarted, Celtic would have won the title and, quite possibly, Hearts would have been relegated.
"They key is that no one would have been able to complain about those outcomes because they would have been decided fairly and squarely.
"The argument seemed to be that it would cost too much.
"Then, however, we had a benefactor (James Anderson) come along with millions to donate, so you think: 'Right, now we will get it done'.
"But no, the SPFL – for whatever reason – seemed set on calling the season, and that is what happened.
"Since then, we have had Hearts and Partick Thistle take their argument to the law courts, and now it will be decided by an arbitration tribunal.
"Dundee United, Raith Rovers and Cove Rangers – the clubs adjudged to be league winners – have also been dragged into it.
"It doesn't look good for the Scottish game, and again it highlights that it would have been more satisfactory to play out the season."
As far as 62-year-old Bannon is concerned, it is just the latest of a series of own goals made by the administrators.
"I thought making Rangers go right to the bottom of the divisions back in 2012 wasn't so much us shooting ourselves in the foot, but blasting a toe clean off," he said.
"Eight years later, I think we are still trying to recover from the financial repercussions of that decision.
"At the time, I thought that was the biggest challenge to the game. But how we cope with the coronavirus is going to be even more critical."
While the former Scotland international says he has no notion how the tribunal will rule, he worries that, should their promotion be confirmed, Dundee United will struggle in the Premiership.
"I am not sure they are ready to make the step up," he said.
"Last season I saw them a few times and was not that impressed. They seemed Championship standard.
"If they don't strengthen, I fear it could be a long season for them.
"I think the reverse would be true if Hearts do go down. They should stroll the Championship.
"They have got Robbie Neilson back in, who was great there in his first spell as manager, and great experience on the pitch with Steven Naismith and Craig Gordon.
"But, of course, we still don't know which clubs will be playing where, do we?"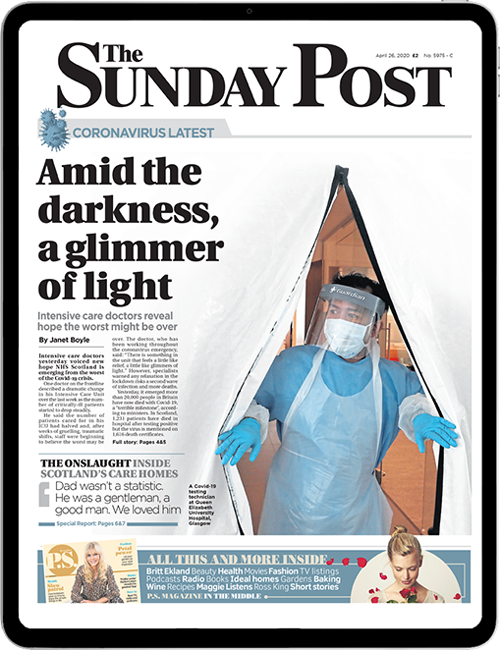 Enjoy the convenience of having The Sunday Post delivered as a digital ePaper straight to your smartphone, tablet or computer.
Subscribe for only £5.49 a month and enjoy all the benefits of the printed paper as a digital replica.
Subscribe