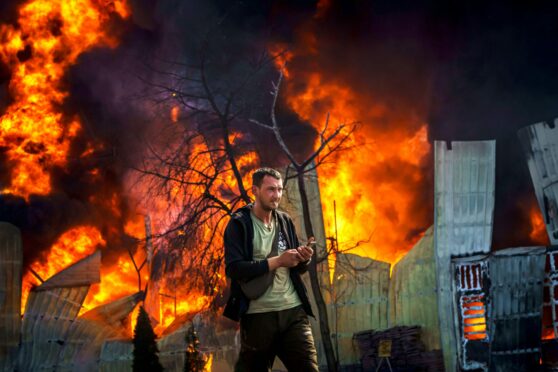 Ukrainians in embattled cities insist Vladimir Putin can never take their country and insist they will continue to step forward to resist his troops.
When we were leaving, everything was destroyed
Mariupol, by Haley Bader
Alla spent three weeks sheltering in a basement in the smashed city of Mariupol as Russian shells rained down. The 87-year-old slept on a wooden board, with no light or clean water. Instead, the basement's desperate occupants bled the building's central heating system.
"It was brown, this water. They filled up anything they had." Her grandson, Misha, had called her at five in the morning after the bombing started on February 24 and told her to get ready to leave. Alla did not imagine what was in store, did not even pack underwear. "How little you have," her grandson said when he saw her.
Now she is clad in another grandson, Vova's hoodie and sweatpants after her original clothes became unwearable. First they sheltered in a sports club. When the bombings got worse, they moved underground.
Over three desperate weeks, one woman died, others became sick, the fighting moved closer. Alla's family decided to flee. Taking three cars they made a gruelling 650-mile journey to safety in Gagauzia, in neighbouring Moldova.
Meanwhile, Denis Hulai, 24, fled Mariupol with his parents, brother and grandmother last week.Conditions in Mariupol are dire. "Prices soared for food and fuel, looting began on the third day," says Hulai.
"People literally collect water that flows down drainpipes, from rain and snow that had begun to fall from the beginning of March.
"They burned fires at the entrances of the apartment buildings and cooked food on them with the same dirty water, made tea and coffee from it. Those who managed to steal their own food in the early days or who had cash to buy it had supplies for at least two weeks. It was also possible to resort to bartering.
"When we were leaving, there were corpses in the streets and everything was destroyed. There were bursts of machine guns, the city centre was shelled by artillery."
Some families fled on foot, some in convoys of buses, some in cars.
"We drove in a column and a shell fell 100 metres from our car. There is a huge amount of destruction, a lot of homeless people, a huge amount of burnt military equipment, a crazy number of cars smashed," adds Hulai.
"You need to drive quickly and carefully so as not to run into anything sharp and be left without a car. And you need to be sure to hang white ribbons on the car and write that civilians are inside."
At checkpoints, men are forced to undress in case they are Ukrainian soldiers and are checked for bruises on shoulders – a sign that someone has been firing a rifle.
"They have a special dislike for the fighters of the Azov Battalion. If they see tattoos and symbols worn by nationalists, then this person is unlikely to be able to leave Mariupol," says Hulai.
The Russian soldiers, themselves short of food, made them hand over some of their supplies, and deleted any photographs of destruction from phones.
By Thursday Denis and his family had made it to Dnipro, in central Ukraine, but intend to move on today. Alla and her family are still in Moldova. When they arrived, they had only thought of fleeing; now, they must make plans for where they will go next.
---
I will not run, this is my land. Russia is fighting at the expense of people. We Ukrainians are not as such. We did not want war.
Kyiv, by Bennett Murray
Buzovaya Airfield lies in ruins. Near the frontline, 24 miles west of central Kyiv, the hangar has collapsed. Twisted bits of aeroplane parts were everywhere after an encounter with a Russian Sukhoi Su-34 fighter-bomber two weeks earlier.
Viktor Ponomarenko, 60, a security guard who watches over the site with his dogs and hunting rifle, explained that not a single bomb had been dropped – not intentionally. The enemy plane had been taken out by anti-aircraft fire, exploding in the middle of the facility when it came crashing down.
There had been nothing worth targeting anyway, added Ponomarenko, explaining there was only light aircraft at the airport.
Ponomarenko said the Ukrainian soldiers nearby were not impressed by the enemy's combat prowess. "They can't secure military targets, and they can only kill civilians," he said.
The countryside to the west of Kyiv is desolate, violent and unpredictable. Rural roads are guarded by soldiers at checkpoints, warning passers-by of the ever-changing battle lines as Russian and Ukrainian soldiers fight in the forests and pastures. The sound of explosions are frequent. Bombed buildings and vehicles are a frequent sight, but most residents have fled to Kyiv.
However, some civilians persevere in their homes. "I will not run, this is my land," said Yura Polishchuk, a 70-year-old farmer from his house in the village of Lyshnya. The son of a Second World War veteran who fought in Stalingrad and Berlin, Polishchuk himself once served in the Soviet army in Manchuria.
These days, Polishchuk is contemptuous of his former countrymen. "Russia is fighting at the expense of people, they do not regret the losses. We Ukrainians are not as such. We did not want war."
Polishchuk's home is 10 miles from a heavily contested highway that runs from Kyiv to the Polish border. While the nearby town of Makariv was declared "liberated" last week by the Ukrainian army, journalists trying to visit the area on Friday were warned of ongoing combat. The results of battle are visible: the charred remains of Russian tanks and rocket launchers.
Polishchuk said the enemy had been unable to hold onto Lyshnya. "Our territorial defence is chasing them, but the Russians had a thermal imager and they managed to fight," he said.
For the time being, Polishchuk's farm feels safe. His cows provide fresh milk he can sell to soldiers and civilians braving the roads. But he laments that everything his family had spent their lives building is at risk of being destroyed. "My children were raised well, we stood up on our own, we worked. About this war, why?" said Polishchuk.
With Russia's defence ministry announcing on Friday the war's focus would shift to capturing Ukraine's eastern Donbas region, the hope around Kyiv is the local combat intensity will subside.
While difficult to independently verify claims of Ukrainian victories, there is at least no indication Russia is gaining ground near the capital.
For now, the battle goes on amid daily barrages of artillery and rocket fire in the Kyiv region. Within the city, air-raid sirens sound at regular intervals, and skirmishes are the norm.
But Viktor Ponomarenko, the airfield security guard, said he had no doubt Ukraine would prevail. As he spoke, explosions could be heard a mile or so away as the battle for Kyiv raged.
"With help of God, and other countries of the world, we will cut off their head and build everything anew," he said.
---
My friends, volunteers, need help. I can't say I'm not worried about being shot. You can die
Kharkiv, by Jen Stout
Ivanna Skyba-Yakubova was one of the tens of thousands who fled Kharkiv as the Russians began bombarding the city, taking her relatives to safety in the west of the country. But a few days ago, she returned.
"I understand it seems a bit crazy," she admits, "but this is my home. My friends, volunteers, are tired. They need help."
Driving into the bombed city on almost empty roads was terrifying. "You don't understand where you are, which roads are destroyed. Your usual routes are broken. Sometimes you see familiar streets – then you turn your head, and the building has no roof, no windows."
The night before the invasion, February 23, Skyba-Yakubova and a friend stayed up late. "We decided everything was going to be OK," she recalls.
She'd only been asleep an hour when the invasion started, rockets hitting residential areas. She bundled everyone into the car – uncle, aunt, a friend – and set off. They drove for three hours that first day, stuck in long traffic jams as thousands tried to flee.
She managed two hours sleep, then drove another 21 hours, finally reaching Khmelnitsky in the west.
The 38-year-old is a project manager in the arts, but since war began in 2014 there have been no "normal times". Involved in the Maidan Uprising, which saw huge protests in Kharkiv as the city nearly fell to Russian-backed rebels, she has become a central figure in the huge effort to get aid to civilians and soldiers alike.
Skyba-Yakubova has not told her mother – safe in another part of Ukraine – that she's back in Kharkiv. "I called her today and prayed for it to be calm, because if she heard some explosions…Lucky me, it was 10 minutes of calm."
Skyba-Yakubova doesn't have a bomb shelter near her home and when out delivering aid doesn't stop for the sirens. "The doctors, medical workers are most heroic. The hospitals are bombed but they can't leave. They stay and help people. I can't go to a shelter and sit, being afraid, I have to do something."
On the day Skyba-Yakubova spoke to The Sunday Post, a big postal centre where people receive humanitarian aid was attacked. Six people, standing in line, were killed. It was not the first time. "I can't say I'm not worried about being shot. But this is our life now. You can die. And you know it."
Also in Kharkiv, Denis lives in a basement with his wife and 11 friends. It's near Freedom Square and he describes how, on March 1, the walls shook as a Russian missile hit the city administration building.
"The buildings around us, all the windows blew in," he recalls.
The sounds of war – of aerial bombardment – have become familiar to Denis. "It's awful, but we can tell who is firing from the noise. When we hear it's our soldiers, we can relax."
Like many others, he refuses to leave his city. "It's my responsibility to help," he says.
And his wife's grandad can't walk, so they couldn't leave. Every day, Denis delivers food across the city to hospitals, children, soldiers.
Sometimes he's caught out – air-raid sirens starting up. "We stop the car and run, find a hole to hide in."
Asked if he has any protective equipment – a helmet, a vest – he points at his beanie hat. "This is it."
Angry at the West for not implementing a no-fly zone, Denis says what's happening to Ukraine is a "crime against humanity".
"There's so much destruction, so many buildings destroyed. But we have to keep our spirits up, so we can work and believe in victory," he says. "I dream of rebuilding the city. With my own hands."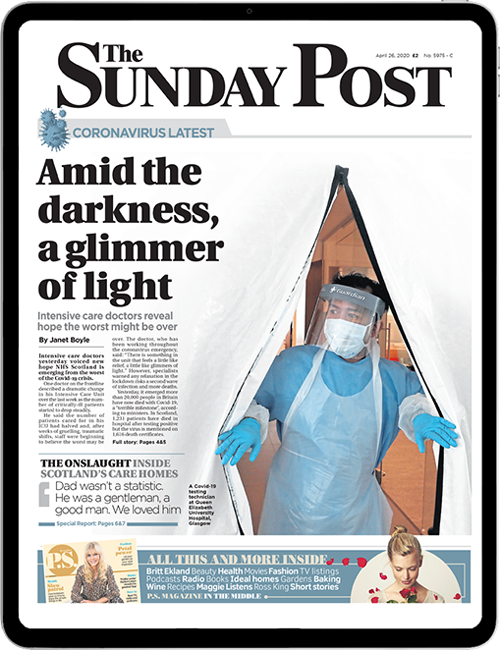 Enjoy the convenience of having The Sunday Post delivered as a digital ePaper straight to your smartphone, tablet or computer.
Subscribe for only £5.49 a month and enjoy all the benefits of the printed paper as a digital replica.
Subscribe