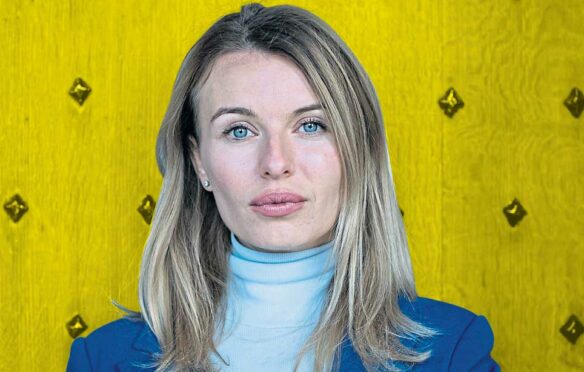 A Ukrainian MP visiting Scotland has urged the West to do more to help her country defeat Russia as a brutal winter looms.
Politician and human rights lawyer Lesia Vasylenko armed herself with an AK-47 assault rifle when Vladimir Putin's forces invaded her country eight months ago.
But the politician is now travelling around the world to make Ukraine's case for more support as its forces continue to push back the Russian invaders.
Yesterday Vasylenko, 35, received a standing ovation when she addressed the SNP conference in Aberdeen. She was also cheered by delegates when she and First Minister Nicola Sturgeon embraced and held aloft the Ukrainian flag at the end of her speech.
Vasylenko told delegates: "Ukraine is very lucky to have friends like you. Strangely enough, Scotland, at least for me, feels a lot like Ukraine. Freedom has meaning here. People understand it on a molecular level."
Raising the #Ukraine flag 🇺🇦 at @theSNP Conference stage this morning with @NicolaSturgeon. @StewartMcDonald thank you for this platform to speak on behalf of Ukrainians. #Scotland thank you for the continued support pic.twitter.com/dx7t2jfQle

— Lesia Vasylenko (@lesiavasylenko) October 8, 2022
Vasylenko also visited St Andrews University on Friday where she met Ukrainian students and took part in a round-table session with students and staff from the School of International Relations.
She told The Sunday Post: "The West needs to do more to support Ukraine until the very last Russian soldier leaves Ukrainian soil. Our military has proven over the last eight months now that we are able to take on the second-largest army in the world and a country with a nuclear arsenal."
Vasylenko said Ukraine was grateful for the weapons it had received but it needed more for the counter-offensives that have pushed back Russian forces.
Ukraine, where temperatures fall to -20°C in winter, also needs billions in humanitarian aid, she said: "We have seven million internally displaced people who are living in temporary housing, which is not fit for Ukrainian winters. The 90 days of winter will be the hardest, and it'll be a challenge to the partnerships that Ukraine has forged.
"Ukraine needs $5 billion a month to survive during the war. It seems like a lot because but it's really nothing more than an investment in a collective security structure. The faster this war is over, the faster the world can go back to focusing on economic stability and development."
Ukraine would be ­prepared to negotiate peace with Russia, according to Vasylenko, but on the conditions that Putin is tried by an international criminal court and Russia pays compensation for the damage caused by its invasion.
Vasylenko said: "The only kind of peace deal Ukraine will be prepared to accept is one where Russia hands over all of its criminals, and that includes Putin.
"Condition number two is Russia pays reparations for all the damage, all the harm that has been caused, not only to Ukraine also to all of the allies of Ukraine.
Condition number three, and this ­precedes the others, is that Ukraine is reinstated to its internationally recognised borders of 1991, and that means the return of Crimea." She also said Ukraine wanted ­guarantees of non-repetition of aggression, which would include a demilitarised and denuclearised Russia.
Following Russia's invasion in February, Ukraine's parliamentarians were issued with AK-47 assault rifles. Vasylenko, elected as a Ukrainian MP three years ago, said: "I had held guns, including an AK-47, in the past but I never had any shooting practice or been taught to handle a gun properly. I went to the house of a relative who said, 'OK, let's get you sorted. Let's teach you how to use this'.
"There was a lot of learning in that first month. We learned about ­ourselves, what we are capable of and what we are not capable of. It was a journey of self-discovery under the air raids, the gunfire and the explosions."
Vasylenko has been in the UK ­raising support for Ukraine's war effort. Her campaigning means being separated from her three children, including 16-month-old daughter Sophia, who live with a host family in England and whom she calls every day and speaks to on FaceTime.
She said: "I could have made the choice to say, 'I'm sorry, I have three children, my youngest is 16 months old, I'm going to go into safety and take care of them because I have a duty to my children.' That would have been the easy way. I have chosen to carry out the duty to my family in a more difficult emotionally, financially and logistical way.
"I have chosen to serve my country and to do the best I can by speaking to the media, parliamentarians and governments and sharing my story and the stories of so many Ukrainians.
"Hopefully it has encouraged politicians to think about what else they can do, financial institutions to think how much more they can give, and people opening up their hearts and their doors to the Ukrainians."
More than 18,000 displaced Ukrainians are being accommodated in Scotland, almost 20% of the UK total. But the Scottish Government has been criticised for temporarily housing hundreds of Ukrainians on two cruise ships, with critics of the scheme urging them to be quickly rehoused.
Vasylenko said: "I wish Ukrainian families would have proper accommodation wherever they seek refuge. The only thing I can say is if there is a capacity within Scottish communities and the Scottish people's homes to house Ukrainians for another six months or so, then please open up your homes.
"It's not going to be for long. There is nothing we want more than to return to our homes. We are not looking to settle here. We are looking to be able to go back home and open the doors of our homes of our ­apartments, our houses with our own keys.
"But really it is not safe for Ukrainian mothers to bring back their kids into an environment where there's air raids, where school is disrupted because children need to be taken to the bomb shelters, whether there's talk every day about a possible nuclear attack.
"We are doing the best we can, with your government's help, to end the war as quickly as possible, because ending the war will mean these families get to go back home as quickly as possible. But, until then, please just open your hearts a little bit more."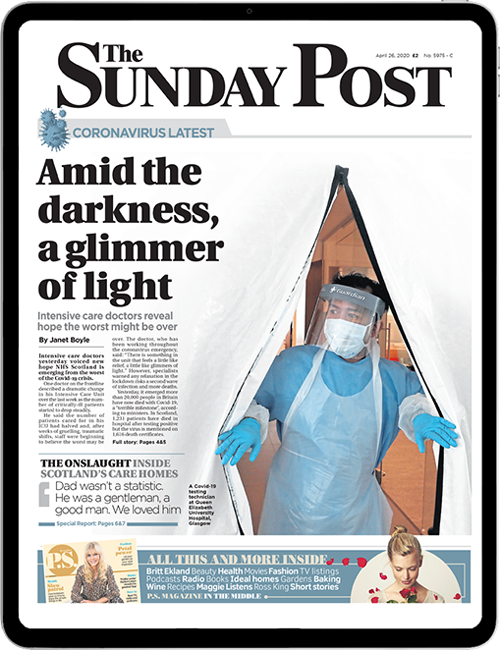 Enjoy the convenience of having The Sunday Post delivered as a digital ePaper straight to your smartphone, tablet or computer.
Subscribe for only £5.49 a month and enjoy all the benefits of the printed paper as a digital replica.
Subscribe