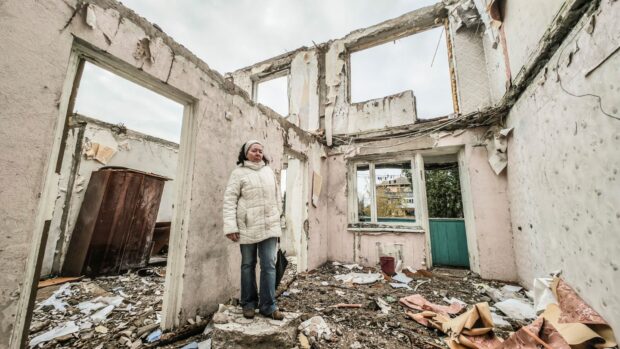 Despite having warned for years about the danger Russia posed to Ukraine, Stewart McDonald admits he could never have predicted the sheer brutality of Vladimir Putin's invasion.
McDonald, the SNP's defence spokesman, first visited Ukraine four years ago, travelling as far as Avdiivka in the eastern Donetsk region. There, just two weeks ago, in the city's crowded market, seven people were killed and eight were injured by a Russian missile strike.
But the Glasgow South MP also said that a visit to Kyiv last month had left him impressed by the resilience of Ukrainians despite the devastation and loss of life suffered in the Russian invasion.
He said: "There was still a curfew and there was a lot of military around. The government district of the capital was very heavily guarded and protected and air raid sirens would go off.
"But cafes, bars and restaurants were reopening and it felt as the city was creeping back to normal. The hotel I was staying in was right beside where there is a display of all the captured Russian tanks. People would come and take selfies in front of them. That kind of defiance is quite something.
"It felt safe but Kyiv has been targeted by Russian missile strikes, and the thing about these Iranian-made drones is that they are powerful but also quite inaccurate.
"They hit Shevchenko Park, right by the university in the civilian part of town. There was nothing military about it. It would have been like bombing Strathclyde University in Glasgow.
"But that park has been filled with sand and children are playing in it now. Ukrainians are pretty resilient people."
McDonald, who was awarded the Ukrainian Order of Merit in 2019 in recognition of his work promoting relations between the country and Scotland, said he had always believed that Putin would attempt to capture all of Ukraine.
"But the brutality of it was something I never predicted, bodies being found with their hands tied behind their backs, mutilated and shot in the head," he said.
"The Ukrainian forces have fought back much better than anyone thought they would do. They have performed incredibly and are now pushing Russian forces out.
"And in fairness to the government, under Operation Orbital, UK armed forces have been training Ukrainian armed forces since 2015. That combined with the use of high-end Western weaponry has helped the Ukrainian armed forces to massively outperform people's expectations, including mine."
As the war continues into its eighth month, McDonald urged new prime minister Rishi Sunak to help ease the cost of living crisis to ensure continued public support for help for Ukraine.
In his first week in office, Sunak promised to maintain Britain's "steadfast" support to Ukraine.
But McDonald said that as well as strengthening Britain's political, economic and military backing of Ukraine, Sunak must tackle the cost of living crisis to prevent public support for Ukraine weakening.
Polling suggests people in the UK are less likely to support sanctions against Russia if they have an effect on their cost of living, cause oil and gas shortages or if taxes are increased to cover defence costs.
Meanwhile, protests have been held in Germany and the Czech Republic demanding an end to support for Ukraine and economic sanctions against Russia.
McDonald said: "This is exactly what Russia wants. It wants to diminish public support for Ukraine and sanctions against Russia.
"If we are to maintain the public's support, then there's two things that governments have to do.
"One is to make the case for that support in public, explaining why we're doing what we're doing and what exactly is at stake.
"The second is to use every financial lever possible to insulate public budgets and household budgets from the worst economic excesses of the war. If you have, as a result of the war, higher food costs, energy costs and inflation, that's already bad enough.
"But what Liz Truss's government did was to put a bonfire under people's household budgets with mortgage prices going up and the announcement that the energy support package – only announced a few weeks ago – is to be withdrawn in six months' time.
McDonald said that the UK Government had to guard against so-called "Ukraine fatigue" setting in after nine months of war.
"Liz Truss's actions have made that harder by adding to all these additional financial pressures in people's households, and given what's at stake in Ukraine, that needs to be called out.
"The Tories don't like hearing that because they see Ukraine as the one area where they're getting it right, and I have supported them on Ukraine when they've been getting it right, but they're in danger of doing the opposite here."
In the United States, President Joe Biden has seen calls from Democrats to seek a negotiated settlement with Putin to end the war in Ukraine.
But McDonald said: "Whatever victory looks like can only be on Ukraine's terms. It's not for the West to dictate what that should look like.
"I think that Russia has already lost, and that in the not too distant future we could be looking at Ukraine getting back the territories it had before February 25 at the very least.
"Victory is clearly when every last Russian soldier has left Ukraine, including Donbas and Crimea, but the definition of that victory is for President Zelensky and the Ukraine people to decide."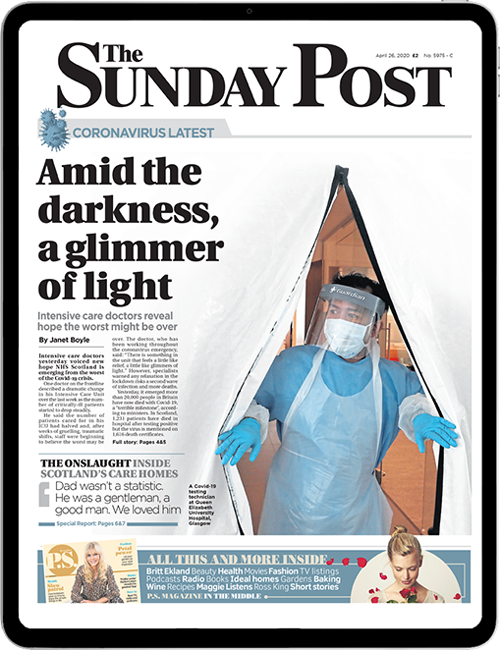 Enjoy the convenience of having The Sunday Post delivered as a digital ePaper straight to your smartphone, tablet or computer.
Subscribe for only £5.49 a month and enjoy all the benefits of the printed paper as a digital replica.
Subscribe