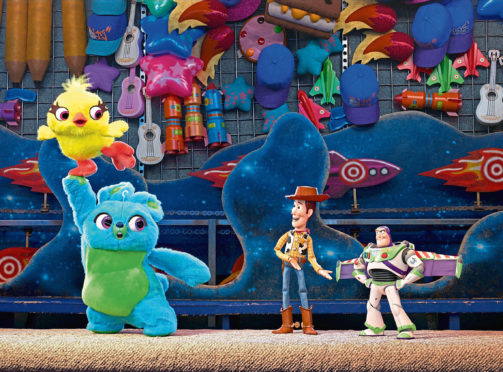 People were nervous when Toy Story 3 was announced.
The first two adventures starring Woody and Buzz were damn near flawless and there was anxiety about whether Pixar could pull off the same trick again or not.
But they did and, with the third instalment proving to have the biggest emotional punch of the lot.
Grown-ups were left blubbering wrecks by the final scene, in which college-bound Andy gives his beloved toys to his little cousin Bonnie.
The tale of growing up, letting go and moving on hit home that many a tear was shed by people old enough to know better – myself included.
And it sounds like those darned Pixar people aren't finished with making adults sob in cinemas.
As Tom Hanks, who voices Sheriff Woody for the fourth and final time, reveals: "When I realised what they were going for, I realised, 'Oh, this is a moment in history'.
"The emotional range of the movies has become more and more deep and profound and affecting.
"Here's the thing about those geniuses that are there at Pixar and everybody who has ever been involved in any of the Toy Story things – they invented something there.
"It is a very, very, very special collection of movies that have been put together that, I think, hits each one of us in a completely individual way."
Tim Allen, who voices spaceman Buzz Lightyear, admits he literally couldn't get through the new movie's final scene.
"It is so emotional. It's so funny. It's so big. The idea they've come up with, I'm startled," he says.
"Toy Story 3 was, I thought, amazing. This, I couldn't even get through the last scene. They've got great characters but a couple of scenes toward the end were really hard to get through. Hanks says it best – of course, he always says stuff best because, you know, he's Tom Hanks – the last scene of that movie, it's a 'Scarlett, I don't give a damn' moment.
"Yes, I gotta resist getting emotional, I don't want to give it away, but this is an incredibly great story.
"These guys are geniuses. It's so deep and meaningful."
While Woody and Buzz are the movie's heroes, Allen knows his "Space Ranger" really plays second fiddle to Hanks's cowboy – and he's noticed it in real life, too.
"The whole movie all I get is, 'Woody, watch out!'," he complains good-naturedly.
"We've become really good pals because of Toy Story. We go out to these weird old lady luncheons and people just recognise him, I'm just a guy with him!"
Pixar have kept their cards close to their chest about the plot.
As Allen says: "I would love to a be a Washington leaker. I just can't do it. I can't give any more away."
Not much is known about the fourth film but it will centre around Woody and Buzz on their search to find Woody's gal Bo Peep, who was notably missing in the last film.
"As we were looking around we came up with this idea because Bo Peep was not in Toy Story 3, and it actually worked beautifully into this," former Pixar Chief Creative Officer John Lasseter reveals.
"So Woody and Buzz Lightyear go out to find Bo Peep and bring her back, and it's a very special and emotional love story. But it's extremely funny, too."
---
Toy Story 4 (U) is in cinemas from Friday June 21.