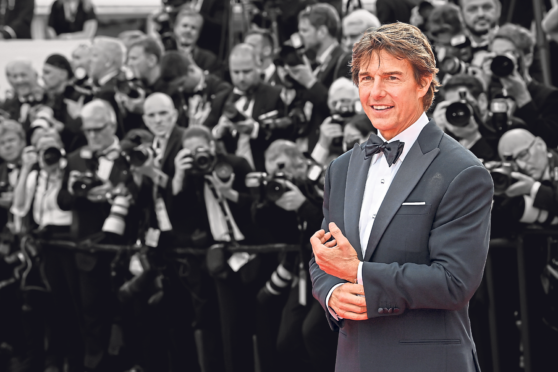 Tom Cruise turns 60 on July 3, a fact that really takes your breath away. It's an interesting age for your male cinematic superstars.
Certainly, most of his contemporaries like Kevin Costner, say, are no longer filling cinemas. Even the mighty Tom Hanks has recently shown some wear in his treads yet Cruise keeps motoring on.
It is exceptional in an industry that values youth over almost everything else. Even more astonishingly, audiences seem quite comfortable with him playing the same action man roles that he first played more than 30 years ago.
Top Gun: Maverick hits our cinema screens this week and sees Cruise back in the pilot seat, feeling the need for speed once again in a long-gestated sequel to his 1986 breakthrough hit. When the follow-up was announced in January 2016, three decades after the original, it sounded like a foolhardy exercise. Shouldn't the final title be Top Gun 2: Do You Mind If I Borrow Your Reading Glasses? And didn't Tom already do a sequel, but with race cars instead of fighter jets, 1990's Days Of Thunder?
However, Top Gun: Maverick is a big improvement on the first film in every respect. The story is weightier, the lines are smarter and funnier and the aerial stunts are more spectacular. Even Tom's teeth are better, suggesting that the US Navy offers its recruits not only the chance to see the world but also sign up to an excellent dental scheme.
Sure, Cruise has a few more wrinkles but his vitality, verve and Tom Terrific smile remain intact in a vehicle that, like most of his recent movies, is crafted to showcase the star's wholehearted commitment to physical daredevilry.
As he exits his 50s, this lends an extra frisson to those of us who count the cost of Zumba classes in terms of osteopath fees. Watching Cruise race across the tarmac on the big screen, some of us may wince, thinking: "Tom, those knees won't last forever." Maverick is shrewd enough to build this passage of time into the story, acknowledging the fading of youth and the shifting of its own status as a piece of pop culture. But mostly it is about Tom Cruise and a reminder of the time when superstars, not superheroes, drove films. "It's not the plane, it's the pilot," we hear more than once during the film's 130-minute running time.
But is the real Tom Cruise a movie maverick or conventional film star? He's certainly elusive, and full of contradictions. Like the sports agent he portrayed in Cameron Crowe's Jerry Maguire (1996), he can be both idealistic and unscrupulous. Cruise may not be versatile but he has appeared in a huge variety of movies and while audiences think they know him, he gives little away, even in the blaze of publicity that surrounded his divorces from Nicole Kidman and Katie Holmes. If he is our biggest movie star he is also our most mocked celebrity, especially after he sacked his long-term publicist and protector Pat Kingsley and appointed his sister to manage his image instead.
Before an infamous Oprah Winfrey interview in 2005, his rigorously controlled reputation was Teflon Tom. After the spectacle of Cruise jumping with joy on Oprah's couch over his newfound love for Katie Holmes, it was more like Cracked-up Cruise.
It didn't help that he later declared he would eat her placenta once she had given birth to their child. It was also hard to reconcile the strenuously upbeat all-American Tom with the figure satirised by South Park, preaching the glories of Scientology, criticising actress Brooke Shields for taking medication to deal with depression, and being portrayed in a sinister light in Lawrence Wright's 2015 book, Going Clear: Scientology, Hollywood And The Prison Of Belief.
There have also been film disappointments. He wasn't awful in Valkyrie, a 2008 historical war thriller about Colonel Claus von Stauffenberg's attempt to assassinate Hitler, but Cruise's Stars-and-Stripes intensity and boyish image seemed an odd fit for this mission impossible.
Surrounded by middle-aged British actors including Bill Nighy and Tom Wilkinson, Cruise came across in the role like a boy scout stuck in a geriatrics ward. His involvement with the Jack Reacher franchise ended more excruciatingly, with novelist Lee Child taking his fictional hero away from Cruise after two movies, saying, "He's too old for this stuff," then adding that the 5ft 7in movie star's casting had been implausible in the first place given that in the bestselling books Reacher is a blond, near-7ft man-mountain.
Maverick men in their flying machines? A lot of them were Scottish
Cruise, though, is nothing if not resilient. Whenever his films have failed he has always retreated, recovered, then rebooted; a few months after The Mummy lumbered towards a 16% panning on Rotten Tomatoes in 2018, Mission Impossible: Fallout received rave reviews and earned a fortune at the box office. What is less clear is how Cruise has developed as an actor over four decades. Performances in Magnolia, Jerry Maguire and Born On The Fourth Of July have earned him Oscar nominations but usually actors start out in blockbusters when they are in their prime, then seek out more challenging character parts.
Cruise has taken the opposite approach. Once he used his box-office clout to work with the likes of Martin Scorsese and Stanley Kubrick; now he makes safe-choice sequels to hits like Mission Impossible and Top Gun.
But there is no denying he still commands huge respect within the industry. The superstar received a hero's welcome when he presented Top Gun: Maverick at the Cannes Film Festival last week, complete with fighter jet, red carpet fly-pass and being awarded a surprise Palme d'Or, the highest prize given at the prestigious event.
Maverick and Cruise have a lot in common, in the sense that the actor is old-school: a movie star, determined to entertain, delight and draw in audiences, even if we sometimes groan at his professional, halogen smile, blandly genial small talk on the red carpet, and habit of laughing far too hard on talk shows.
Will Cruise still be jumping out of planes and riding motorbikes without a helmet in his 60s? Top Gun: Maverick suggests he wouldn't be unhappy about that. "You won't retire," sighs Rear Admiral (Ed Harris) to Cruise's ace fighter. "And despite your best efforts, you refuse to die!"
'My stunts? They're like Gene Kelly dancing'
Tom Cruise's insistence on doing his own stunts has been impressing his fans and terrifying his producers for 30 years.
Asked if he will continue to refuse a stunt double as he approaches 60, Cruise asked journalists: "Would you ask Gene Kelly why he does all his own dancing?"
Top Gun fans who felt the need for speed when it came to a sequel were forced to wait 36 years for the follow up. Cruise, who stars alongside Jennifer Connelly, below, has admitted that, unlike his cool fighter ace alter ego Maverick, he felt the pressure to stick the landing with the follow-up movie. "Taking on the sequel to Top Gun was a daunting task," Cruise said. "Fans all over the world – more than any other film for decades – have been saying, 'please do another one', and I was like, 'I don't know how to do that'. And I would go home and think about how to approach it, so to hear about how audiences feel about it, I'm so excited for them, I'm happy and I'm relieved."
In the film, Cruise's Pete "Maverick" Mitchell is pushing the envelope as a courageous test pilot when he is called upon to train a detachment of graduates, including his late best friend Nick "Goose" Bradshaw's son. The Top Guns are given a special assignment under the orders of Maverick's former rival, Admiral Tom "Iceman" Kazansky (Val Kilmer), who is now the commander of the US Pacific Fleet. Maverick must confront the ghosts of his past and his deepest fears as he takes on a mission that demands the ultimate sacrifice from those who choose to fly it.
Cruise was reunited with Kilmer, who was diagnosed with throat cancer in 2015, but Cruise was keen to involve his nemesis Iceman.
"I really rallied hard for him to make the movie," Cruise said. "The kind of talent that he has, and you see that scene, it's very special."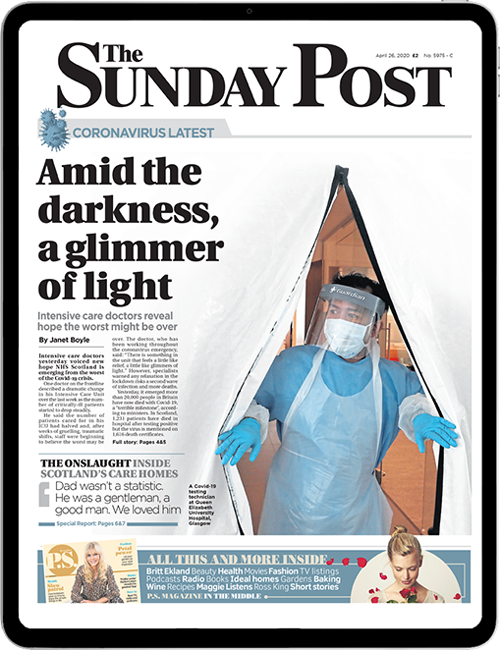 Enjoy the convenience of having The Sunday Post delivered as a digital ePaper straight to your smartphone, tablet or computer.
Subscribe for only £5.49 a month and enjoy all the benefits of the printed paper as a digital replica.
Subscribe