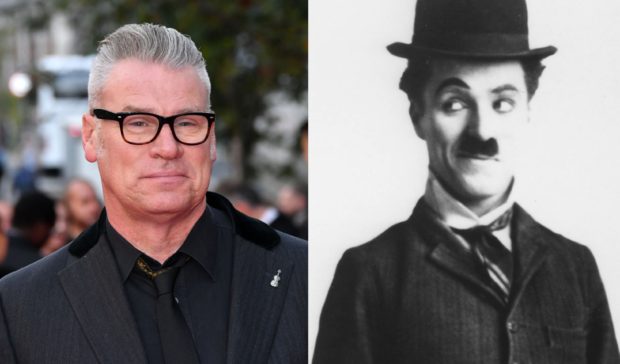 Movies may have been the soundtrack to his life but Britain's leading film critic would rather ­listen to less, not more.
Mark Kermode believes a facial ­expression or physical movement can tell far more of a story than the most passionate speech or intricate exposition.
The BBC movie critic and author, who was heading to a celebration of silent ­movies in Scotland this week until it was cancelled because of coronavirus, said: "Show don't tell is key to me.
"The more dialogue in a movie, the less I like it. I lose patience with people sitting around explaining the plot.
"People think of panto gestures when it comes to silent movie acting, but it wasn't. It was about telling stories through visuals and we still see that today in mainstream movies – the influence is there.
"Silent movies weren't about ­overstating gestures but transmitting emotions without spoken word."
Mark, 56, was meant to be at the Hippodrome Silent Film Festival in Bo'ness, near Falkirk, this week as part of skiffle band The Dodge Brothers, who perform improvised musical accompaniment to screen classics of the silent era. And he believes the popularity of silent movies is on the up.
"We've seen the audience numbers grow and grow," said Mark. "It seems to be attracting an all-new audience and the last time we were at the Hippodrome there were kids in the audience as well, which is great.
"It's getting people into a form of cinema they might not have got into otherwise.
"Silent cinema might sound a bit ­austere, but it's comedy, melodrama, action and romance."
The Dodge Brothers have been ­performing to silent films for several years, having been recruited by pianist and broadcaster Neil Brand.
"Neil had been accompanying silent films on his own for ages, but he'd been reading how it used to happen back in the silent era, when local pick-up bands would improvise the soundtracks, and he said he would like to do similar with us," he explained.
"The way we do it is to use playbooks, which have no music in them but rather the intertitles, so we know where we are in the film. We'll usually do a run-through in advance, but the best experience is when you're watching the film rather than the cue sheets."
The film Mark and the rest of the band were going to accompany at Hippfest was City Girl and the band hopes to play at the festival, now being rescheduled for late October.
"It's a really good film with very dark moments," he said. "It's about a young country man who goes to the city and meets a girl, who he brings home to the family farm. His father doesn't trust her, so she has to prove herself.
"We've been to the ­festival before and it was one place Neil told us we had to do.
"He showed us ­pictures of the cinema and it looked amazing, but it's not until you are there you realise how beautiful the building is."
The band was also due to play a gig in Edinburgh this week, their first time performing in the capital. That appearance is also in doubt but Mark's musical legacy goes back a long way with the city.
"In the early 1980s, I was in The Railtown Bottlers and we became quite big on the British skiffle circuit. We were in Edinburgh around 1986, busking in the streets and doing quite well. I'd just bought a double bass and my hands were sore from plucking the strings. This great big rockabilly guy came up to me and said, 'Can ye no' slap the bass?' and I said no, so he took the bass from me and showed me how to do it, because he was mortally offended that I was plucking rather than slapping it.
"He told me I had to work through the pain barrier. I spent the next two weeks in Edinburgh with bleeding fingers, rubbing surgical spirits into them. And that's how it all started for me.
"My friends even made up T-shirts with 'Will ye no' slap it' printed on them.
"I keep thinking he might turn up at a show. He might remember this little weedy southern guy, and I'd like to meet him again and shake his hand."
With the continued success of Hippfest, as well as growing audience numbers reported at last week's Glasgow Film Festival, and many more events coming up throughout the year – including the world's longest continually-­running movie festival in Edinburgh – the appetite for cinema in Scotland remains huge.
Mark believes being a successful ­film-maker isn't about whether the industry is doing well or not, but the determination of the individuals.
"It's about each film-maker staying true to what they want, having the self-belief in what they are doing, and the determination and patience to do what they want to get done. Those things are much more significant than where the industry is.
"I have a friend in Edinburgh, Hope Dickson Leach, who made a great movie called The Levelling. It took her a long time to make that first feature and now she has a couple of projects on the go.
"After she made The Levelling, she had meetings with people like Brad Pitt about future projects. The thing she has is boundless enthusiasm, and you need that as well as belief. Lynne Ramsay is another example. I met her after Ratcatcher premiered at the Edinburgh Film Festival. She then did Morvern Callar and had a long gap before making We Need To Talk About Kevin, because she wanted to do things on her own terms and not compromise.
"Both have had the same experience of it being an uphill struggle.
"Most people are defeated by that struggle. But the properly brilliant film-­makers, and both Hope and Lynne are in that category, don't stop or bend. They do what they want to do, and that's how they get their films made."
Custard pie fight on menu for launch of silent film festival
Custard pie fights, jeely jars and the original caped crusader – the 10th anniversary edition of the Hippodrome Silent Film Festival promises to be an immersive experience.
It has now been postponed until October because of coronavirus but since it was first staged at Scotland's oldest purpose-built cinema in Bo'ness in 2011, the event has stood out from a packed crowd thanks to its innovative approach.
This year will, hopefully, be no different, with a massive custard pie fight kicking off proceedings when it finally gets going.
With a focus on cinema of the 1920s, the Saturday morning jeely jar screening honours an old cinema tradition by offering two-for-one admission for those who bring a jam jar to the double bill of Behind The Screen, starring Charlie Chaplin, and Sherlock Jr, with Buster Keaton as the sleuth.
Festival director Alison Strauss said: "Pieing was a staple of silent comedy and Behind The Screen was the first of many films to include extended pie-throwing battles.
"Chaplin's Tramp character made his screen debut with Mack Sennett's Keystone studio, where they used so many pies they had to build their own bakery. We hope hordes of people will take part in our pie fight."
The gala screening will be The Mark Of Zorro starring Douglas Fairbanks, with audiences encouraged to dress up as the caped hero.
Doctor Who actor Paul McGann provides live narration to closing-night screening, L'Homme du Large, while UK-based Australian musician Meg Morlay will accompany the centenary restoration of The Sentimental Bloke, which only received its world premiere showing in Sydney last month.
Other highlights include Laurel and Hardy's recently restored Duck Soup.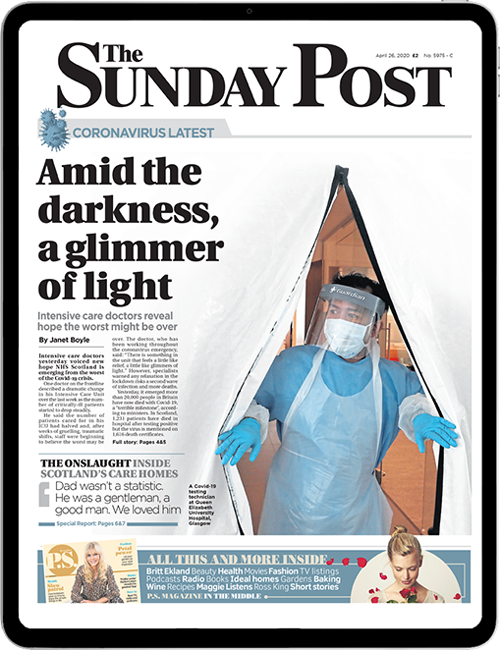 Enjoy the convenience of having The Sunday Post delivered as a digital ePaper straight to your smartphone, tablet or computer.
Subscribe for only £5.49 a month and enjoy all the benefits of the printed paper as a digital replica.
Subscribe