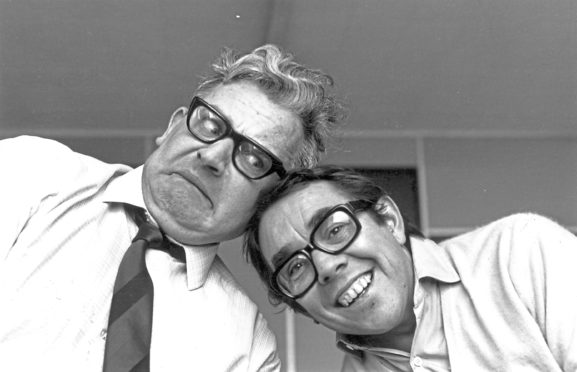 Just before 8pm on Sunday April 4 1971, an anticipative audience filed in to Studio 8 at Television Centre, excited about watching the first recording of The Two Ronnies.
Little did they know they would be witnessing the birth of a TV legend, a show which would run to 12 series, myriad Christmas Specials and be a staple ingredient in the schedules for more than 16 years.
Remarkably, over a quarter of the UK's population tuned in to watch the first episode and remained loyal followers of the evergreen comedy series. Even today, decades later, the series remains a firm favourite with viewers.
Over the years, Ronnie Barker penned an increasing number of sketches for the show, something which irked other scriptwriters who saw their own contribution suffer as a consequence.
However, it was a series which called on the services of many aspiring writers, some of whom were just starting out on their own road to stardom.
Among those who cut their sketch-writing teeth on The Two Ronnies were David Nobbs, of Reggie Perrin fame, John Sullivan (Only Fools And Horses), David Renwick (One Foot In The Grave) plus Ian Davidson and Peter Vincent (Sorry!). Other contributors included Barry Cryer, Michael Palin and Eric Idle.
Each programme followed a particular format – a structure formulated over two mornings in the office of Jimmy Gilbert, then head of BBC Comedy.
While holed up in the office, Ronnie Barker and Gilbert drafted out the style each programme would adopt, partially influenced by The Frost Report, in which both Ronnies had appeared.
"Ronnie Corbett was, as ever, happy for Ronnie B to represent his interests because he trusted him totally," recalled Jimmy Gilbert, who died in 2016. "So I dealt with just one person – Ronnie B, who I'd known for years and whose career I'd been involved in since he came into TV."
Gilbert, who was adept at spotting winning formulas, acknowledged the success David Frost had enjoyed on his shows using a news desk for comedy items and wanted to adopt something similar in The Two Ronnies.
"I thought we could use the double newsreader format of the old News At Ten to open and close each show. It was a great way of delivering jokes disguised as news items – and worked well."
As it transpired, the programme's format was not particularly original and, as Gilbert admitted: "Another pinch from The Frost Report was the party sketch, written by Michael Palin and Terry Jones.
"They became another constant and we did them, on and off, throughout the entire series.
"Also, we had a centrepiece. Ronnie B wrote send-ups of a classic serial, which we'd film, giving us eight 10-minute segments in the middle of each show.
"It would be useful on the night of recording when you could show the film to the audience while everyone was involved in scene changes and other such things."
Next, it was agreed that each Ronnie would do something solo. Barker wrote and performed elaborate bits of tongue-twisting wordplay while Corbett sat in a chair spouting humorous, rambling monologues, written initially by Spike Mullins and later David Renwick.
"Finally, we left space for any sketches submitted by other writers," says Gilbert, who was also responsible for, among other classics, Last of the Summer Wine.
Throughout the life of the series, the Ronnies were determined to retain their individuality, as Terry Hughes, the series' director recalls.
"Ronnie Corbett, in particular, was very anxious, understandably. At that point, I think it was more important to him than for Ronnie B. He did lots of work outside the Two Ronnies, such as summer shows and pantomimes and wanted to maintain that individuality."
The Ronnies, however, would never become a double act in the same way as Morecambe and Wise, Mike and Bernie Winters or Little and Large, who traditionally, performed as a unit.
With the Ronnies, each was funny in their own right and had established a successful solo career which continued, despite working closely together for more than a decade.
The agreed format for the first series proved popular and remained virtually constant throughout the show's history.
"The only thing that changed was that in the early days we had more variety acts, including jugglers and conjurors," says Terry Hughes. "That didn't last because we found we didn't need them and, also, we wanted to squeeze more material into the show."
Rehearsals and recording of the opening episode, back in 1971, went without a hitch.
During the day, the final camera rehearsals had proceeded according to plan before everyone stopped for dinner at 6.30pm.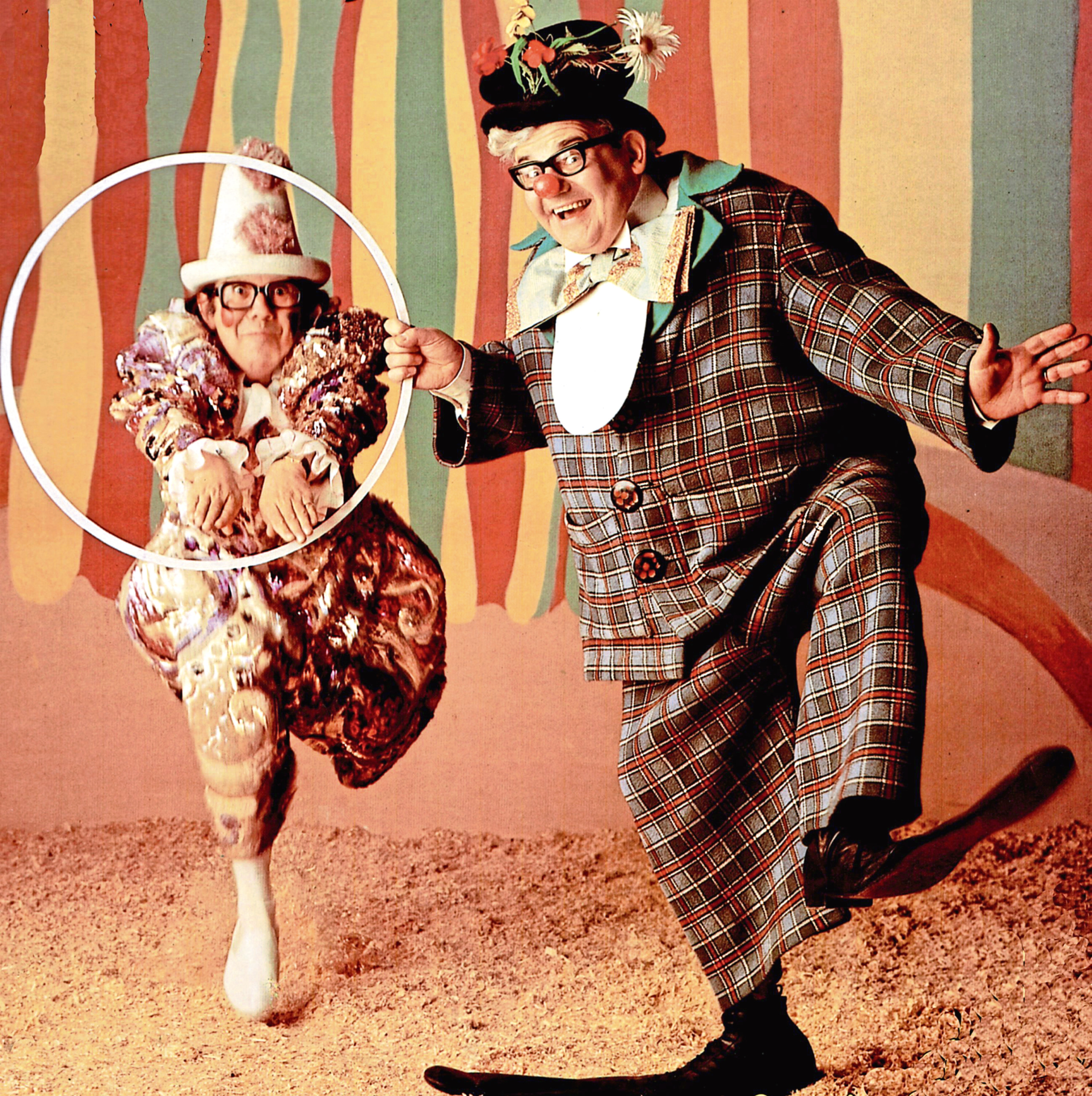 The two Ronnies and director Terry Hughes headed for the BBC canteen where Barker ordered what would become his regular pre-show meal – sausage, egg and chips.
As Hughes confirms, it became a ritual. "There were a lot of rituals and this was one. Every week, without fail, he'd have this meal – it was like a superstition.
"I'm sure he thought that if he didn't have it, it wasn't going to be a good programme. He'd make a joke of it but it was ritualistic, nonetheless, a kind of comfort food before the show."
Standing alongside Barker in the queue occasionally was David Renwick, who would become a regular writer on the series.
"There was something unreal about standing next to this towering celebrity as we slid our trays along the rail, while in accordance with his weekly routine, he ordered his egg, sausages and chips," he said.
Terry enjoyed the moments he shared with the Ronnies away from the pressures of recording and filming.
"Ronnie C was the performer, the song and dance man. Having said that, he was very much a thinking man's song and dance man. He had great instincts, good taste and would see a lot of theatre. He just enjoyed the business."
As for Ronnie B, Hughes knew he led a much less showbiz life.
"Ronnie would be home with his collections of postcards and books, doing a lot of the lonely work of writing.
"He wrote because, firstly, he wanted to and secondly, it gave him confidence that the right material would be there for the programme."
For the first year, experienced writers were used for all items in the programmes but once the show was up and running, submissions started being considered from other writers, especially for the news items.
The selection process was an exhaustive task, coordinated by a script editor. "Sometimes, we'd receive 60 or 70 a week and cull them down to the 18 or so needed," recalls Hughes.
"Sat around a table, sometimes at the rehearsal room in Acton, the two Ronnies and I would read them. All three of us had to agree before any were accepted.
"Something else which became a rule was that whoever read the item at the meeting, read it on the show."
Longer sketches were submitted by a string of writers and these were directed to Terry Hughes' desk, who would weed out any that failed to hit the spot before passing them on for the Ronnies to read.
Barker and Corbett were clever performers and extremely quick learning lines – a writer's dream, as one, Ian Davidson, says: "They were good and accurate with the material you gave them."
Davidson recalls a party sketch he wrote with Paul MacDowell in which the Ronnies' characters spoke in unison.
"It was about two men being introduced to each other at a party. They couldn't stop speaking in unison and, at the end, as they turned and walked away in opposite directions, they said, again in unison, 'boring bugger'.
"They did it beautifully and got it to work by Ronnie B having his foot on Ronnie C's and pressing when he was just about to talk, allowing them to synchronise their speech. It was an absolute joy and people were talking about it the following day."
Richard is the author of Remembering Ronnie Barker, published by Century