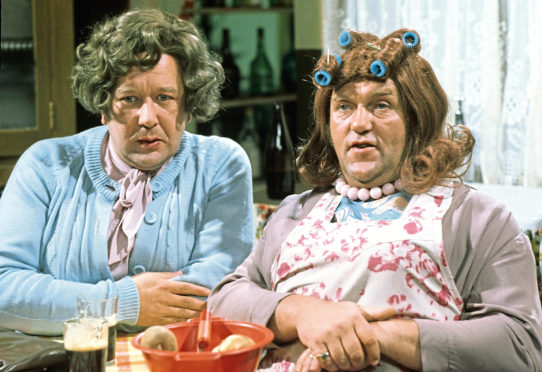 Comedy's pretty important at a time like this.
Just ask Terry Ravenscroft, who wrote for the great and the good of comics.
His CV includes Les Dawson, The Two Ronnies, Morecambe and Wise, Sir Ken Dodd, Frankie Howerd, Dave Allen and Terry And June.
"I did a lot of work for Les, four or five series, and I also did stuff for most of the people who were around at that time, like The Two Ronnies. When Not The Nine O'Clock news started I did that and its follow-up, Alas Smith And Jones," says Terry.
"And I also wrote for various others like Little and Large, I wrote quite a bit of Terry And June for television and The News Huddlines for radio for three years, and then two series of my own radio show Star Terk II.
"The very first job I had wasn't really a job, I was working in a factory and sent jokes to a comic called Colin Crompton who you might remember from The Wheeltappers And Shunters Social Club.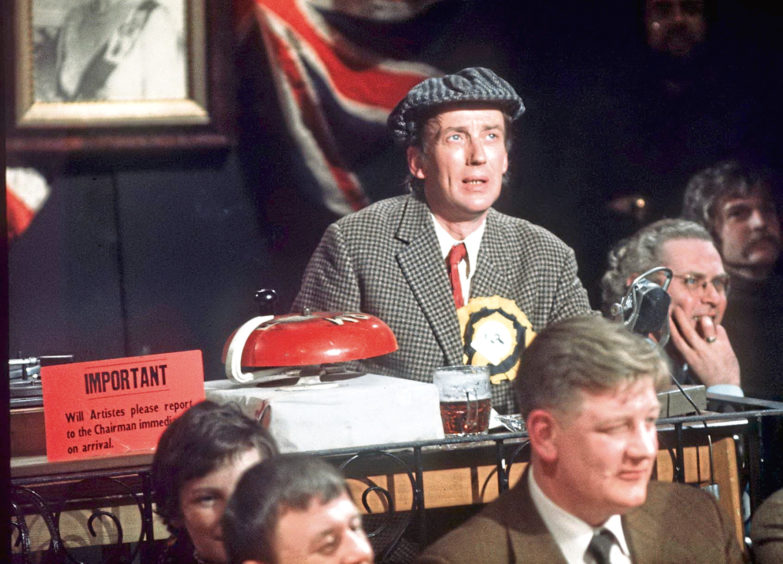 "The first big name I wrote for was Ken Dodd. I saw him at the Opera House in Blackpool when I was on holiday. I'd seen him before on TV and I wasn't over impressed to tell you the truth, but on stage he was a different man altogether, absolute magic on stage.
"I sent him a few gags and he liked one or two of them and it went from there, and eventually I wrote for his television series. He needed a lot of material because his live shows went on so long.
"I started with The Two Ronnies by sending in some of the news items at the beginning of the show and they used one or two, and eventually they asked me to try writing a sketch and they liked it and did it."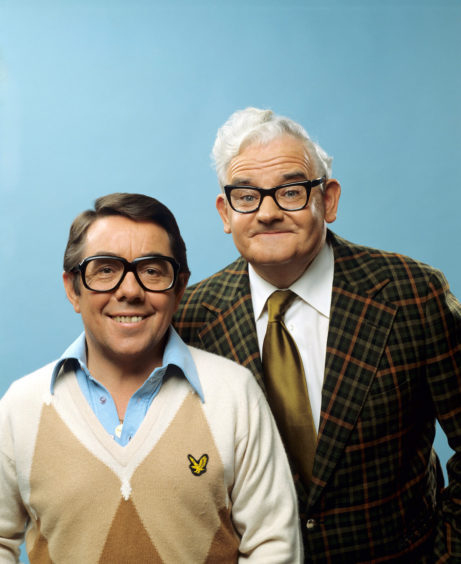 Ronnie Barker had a reputation of favouring stuff he'd written himself but Terry recalls: "I don't know about that.
"I know that he did do a lot of the stuff, and that he tended to favour his own stuff, which is odd really because he started contributing sketches for the David Frost YTV show.
"He sent them in under the pseudonym of Gerald Wylie because he didn't want people to judge them as being by Ronnie Barker, he didn't want any favouritism.
"So it surprises me that he has a reputation for selfishly wanting to put his own stuff on, though as I said quite a lot of the material was his, good stuff as well, but maybe some crept in that perhaps wasn't as good as some stuff that was turned down."
At the same time as writing for Ronnies B and Corbett, Terry was churning out most of the material for Les Dawson's show, including writing the much-loved northern ladies Cissie and Ada, as brilliantly portrayed by Les and Roy Barraclough.
"I wrote all of the Cissie and Ada sketches for the BBC," nods Terry, now 82. "I won't say it was easy, because writing comedy isn't easy, but a big help was that I grew up with women like this in my street, I lived midway between Manchester and Buxton in the Peak District.
"They used to stand out in the evening at the front doorstop, gossiping and criticising people across the road: ''Er next door, 'er bedsprings are going all hours, and 'er husbands on nights!'
"It was meat and drink to me. I loved doing Cissie and Ada, and it all came from Les and Roy just mucking about, having a bit of fun to themselves in rehearsals.
"The inspiration came from Norman Evans' 'Over the garden wall', he said everything to a neighbour you couldn't see over the wall and pretended he could hear his answers, and Les never made any secret of it.
"Barry Cryer said to them, 'Why don't you do it on the show?' and it grew from there, these gossiping old women.
"One recording night and, with the audience settled in their seats for the 7.30pm start, Les was nowhere to be seen. Search parties were sent out to all four corners of Television Centre.
"He was eventually run to ground in the BBC canteen telling jokes to two cleaning ladies. The PA who found him said, 'Les, for God's sake, there's an audience of 300 waiting for the show to start.'
"Les, without showing the slightest concern, said, 'Make that 302,' turned to the cleaning ladies and said, 'Follow me, girls.' And they did, to seats in the front row."
I've always loved Frankie Howerd, and Terry says: "I didn't actually do a great deal for Frankie. I contributed to a couple of his radio shows and the main thing I did was his series called Mr Churchill And Me.
"It was one or two series and there was a lot of bellyaching about the script form various people. It wasn't going well and I was called in as a script doctor to help out.
"I was also called in to work with Morecambe and Wise. Eddie Braben, their regular scriptwriter, had to take to his bed and they were desperate for scripts.
"I did a couple of scripts while Eddie was ill and they did perform them."
Terry also worked with the recently departed Roy Hudd, and he says: "Of all the comics I worked for, Roy was the nicest.
"For a laugh, after we recorded the Huddlines and the writers were still sat around, he'd adopt this comic persona called Ronnie Rednose and tell all the filthy jokes people had sent in but he couldn't possibly use.
"If we could have put it on, we'd have made thousands."
Turning to Terry And June, Terry recalls: "I got involved with the last couple of series, because the producer of The Les Dawson Show also produced this.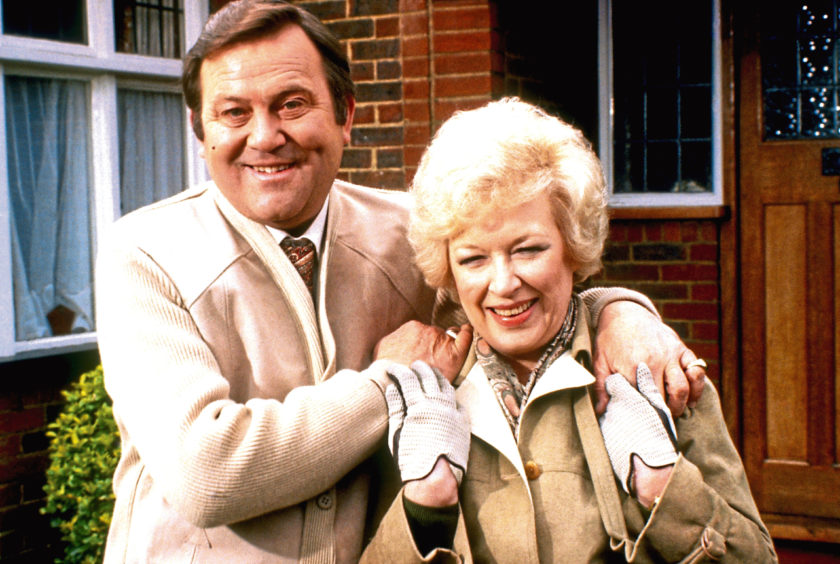 "We got to know each other, I wrote a Terry And June script, he liked it and it went from there.
"It was round about that time, though, that I stopped writing scripts altogether and turned to writing books.
"What happened was that I was writing a lot for Les as sole writer, as well as Terry And June and The Two Ronnies, and within 18 months Terry Scott died, Les died and Ronnie Barker retired.
"Ninety per cent of my income disappeared. I wasn't overly concerned but at that time comedy was changing, you were getting more stand-up writer-performers like Billy Connolly and Jasper Carrot who didn't need writers, and sketch shows just seemed to disappear.
"And then you got the shouty comics who won't tell a joke, it's all observation and politics – I like a few knee-slappers.
"I wrote a book, it was reasonably successful and I liked doing it, so I didn't bother with TV and radio any more.
"And I'm quite happy I did because I get more satisfaction out of writing books because it's all me. If it's no good it's my fault.
"Sometimes you could write a brilliant script and it wouldn't be performed right, and the converse of that was your script may not have been all that good but the stars brought it alive.
"Now, with many people self-isolating, after redecorating every room in the house, ripping out all the flowers in the garden and replacing them with fruit trees and vegetables, seen everything at least twice on Netflix, grown tired of the extra romance with their partners, one thing they might do to pass the time is read a book or two.
"So I've repriced all 20 of my books for the duration. There are autobiographies, novels, short stories and a book of Cissie and Ada scripts, I think there's something there to appeal to everyone."
Terry's books are available on Amazon. Visit www.amazon.co.uk/Terry-Ravenscroft.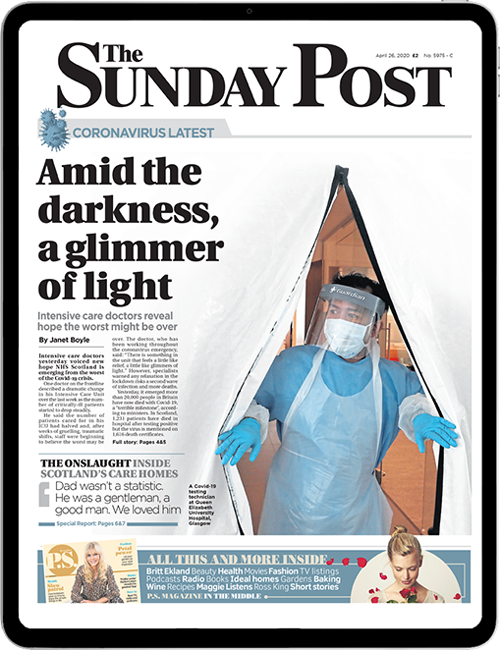 Enjoy the convenience of having The Sunday Post delivered as a digital ePaper straight to your smartphone, tablet or computer.
Subscribe for only £5.49 a month and enjoy all the benefits of the printed paper as a digital replica.
Subscribe