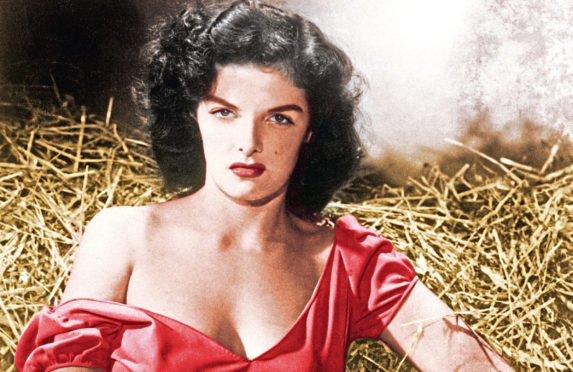 Not many women could star alongside Marilyn Monroe at the peak of her powers and steal the best scenes – but Jane Russell wasn't just any woman.
When she passed away aged 89 eight years ago, Russell was described by some as the most desired female of the 20th Century – not the blonde she co-starred with in Gentlemen Prefer Blondes.
Not Raquel Welch. Or Liz Taylor, or Ava Gardner or anyone else, but Jane Russell.
All of which was amazing, as she was a devout Christian who never thought of herself as a sex symbol, and would rather spend her time converting others, helping orphans and doing good, innocent things, such as founding Waif – the first international organisation for adoption.
Russell herself had been fortunate enough to enjoy an idyllic early life, as the eldest of five kids and the only daughter of Geraldine, an actress, and Roy, a US Army first lieutenant.
She was born Ernestine Jane Geraldine Russell on June 21 1921 in Bemidji, Minnesota, which is also one of the supposed birthplaces of Paul Bunyan, a giant lumberjack in US folklore.
There was nothing giant about the girl's ego. All her life, Jane would despise being treated differently because she was a female, even perhaps the most-adored female on the planet.
She was definitely not a radical feminist, insisting that "a man should be the head of the household and a woman should be the heart".
The heart of the Russell family was undoubtedly Mom Geraldine, who would become a lay preacher.
The family moved a couple of years after Jane's birth to San Fernando Valley, California, where she and her four brothers loved the ranch, the horses and the lifestyle as any kids would.
Her father, who had been born in Inverness, would later become manager of an office, and had very traditional plans for the boys.
But what to do with Jane?
Geraldine decided early on that a showbiz life, which she herself enjoyed, would be just the job. She began by arranging piano lessons for the girl.
Jane took to music and was already developing a keen interest in drama.
By her early days at the Van Nuys High School, she was enthusiastically taking part in stage shows, but she seems to have fancied becoming a designer, rather than the star who wore the designs.
Modelling jobs, however, weren't long in coming, and she was still in her teens when a very famous man came calling, seemingly bowled over by her looks and keen to get her seriously into the movies.
Howard Hughes, a hugely rich and successful aviator, film magnate and engineer, was mad about her.
Hughes offered Jane a seven-year movie deal in 1940, and by 1943 she was deemed ready for her debut in the big time as the name at the top of the bill.
The movie was The Outlaw, ostensibly a tale of Billy the Kid, but to all intents and purposes just an excuse to show Russell's voluptuous figure.
It had been completed two years earlier but ran into problems – not least the censorship folks taking exception to her cleavage being on prominent display in every other scene.
Even the promo posters, featuring Jane lying seductively on hay bales, pistol in hand, hair dishevelled and clothes just about covering her, drew criticism.
It would be 1946, a full five years after completion, before it got a full general release.
Howard Hughes, meanwhile, hadn't sat on his hands waiting patiently. He and Jane generated huge amounts of publicity, lots of it controversial, and she was already famous by the time The Outlaw came out everywhere.
He had even gone to the extent of designing a special bra for her, just to accentuate even more her bust, but Jane had refused to wear it.
Apart from anything else, she really didn't need anything to exaggerate it.
"There are two good reasons why men go to see her, and those are enough," said Hughes. Different times, indeed.
For the record, Jane Russell's measurements were 38-24-36, she was 5ft 7in, and her pal and co-star Bob Hope joked that "culture is the ability to describe Jane Russell without moving your hands".
During those war years, of course, all of this made her a huge pin-up with servicemen throughout the Second World War.
For Jane, however, all this sex appeal stuff was OK as long as it knew where to draw the line of decency.
"Sex appeal is good but not in bad taste," she pointed out. "Then it's ugly, and a star doesn't have any business posing in a vulgar way.
"I've seen plenty of pin-up pictures that have sex appeal, interest and allure, but they're not vulgar. They have a little art to them."
The Outlaw, which also starred Walter Huston, father of the great director John Huston, was produced and directed by Hughes.
The story centres around Doc Holliday finding Billy the Kid with his stolen horse, but the pair take a liking to one another anyway, baffling and annoying Sheriff Pat Garrett, Doc's pal.
They nevertheless try to steal the horse back, but Billy is expecting them.
Perturbed, he decides to simply sleep in the barn, only to find himself being shot at, by young Rio McDonald, Doc's lady friend, played by Jane.
Lots of nasty shootings happen and a dark storyline then emerges, and Doc flees with Billy to Rio's place, a posse in hot pursuit.
Rio falls for Kid while nursing him back to health, leaving Doc a tad annoyed that he has now stolen his girlfriend.
It's a decent enough tale even without the extraordinary, sensational full debut of Russell, and all in spite of her refusing to wear Howard Hughes' ridiculous cantilevered superbra.
Jane would later claim that she had attempted to wear it for just minutes but found it painful – she then padded her own one, to fool the man who had created it!
"I never wore it in The Outlaw, and he never knew," she said. "He wasn't going to take my clothes off to check I had it on."
The shunned piece of lingerie now sits, if that's the right word, in a Hollywood museum.
A side note on the movie that became Jane's breakthrough was Hughes' battles with the censors.
Having removed about half a minute of footage in which the camera focused too much on Jane's bosom, 20th Century Fox still disliked it and decided to cancel an agreement to put the film out.
Hughes, suddenly fearing the loss of millions of dollars, came up with a sly scheme to stir up a public outcry.
Like PR geniuses of the future, he then got his team to contact ministers, women's clubs and housewives and tell them about this dreadfully lewd, crude movie that was about to come out.
When the general public then campaigned to have it banned before its release, it actually just generated the huge amount of interest the studios loved.
Before long, it got a one-week theatre release, and when it came out everywhere later it was an instant box office smash-hit.
Howard Hughes might have made dodgy bras, but he was also a master of publicity.
Another rather odd footnote to the movie is that someone somewhere forgot to have the copyright renewed, and in the early 1970s The Outlaw fell into the public domain.
It was all a bit ironic, that the film that made her became one that some people seem to have forgotten all about.
For Jane, however, working with Hughes also became a little bit strange.
By all accounts, he was mad about her – personally, not just as a star for his films.
He tried every trick to get her into his arms, despite the fact she was now married to first husband Bob Waterfield – but Jane knew how to handle men.
Having grown up with four brothers, she promptly put Hughes in his place, and Jane later pointed out that, despite his financial muscle and fame, he was the sort of man who would back down if a woman challenged him.
Well, a woman like her, anyway!
As for Waterfield, that first marriage was a happy one, lasting 25 years – they never had children, however, as Jane's botched teenage abortion left her infertile.
Bob had been a huge sports star in the United States, a quarterback with the Cleveland Rams and later Los Angeles Rams, who he also coached.
A member of the Pro Football Hall of Fame, he was as crazy about her as she was about him, and it can't have been easy, being the husband of such a pin-up.
As he'd soon find out, if it had been tough being Mr Jane Russell during The Outlaw years, there was even bigger stardom to come.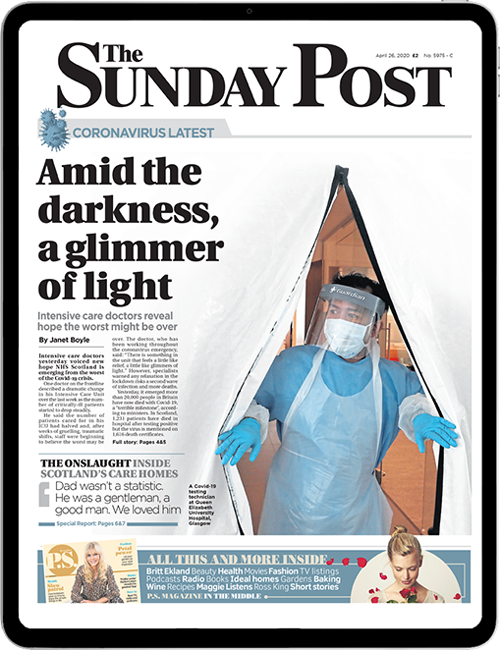 Enjoy the convenience of having The Sunday Post delivered as a digital ePaper straight to your smartphone, tablet or computer.
Subscribe for only £5.49 a month and enjoy all the benefits of the printed paper as a digital replica.
Subscribe