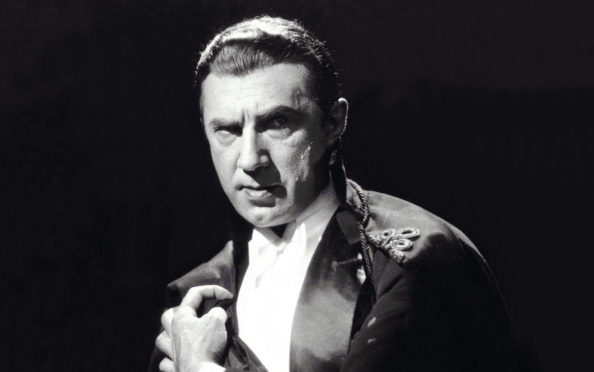 Born near Transylvania, we shouldn't have been surprised that Bela Lugosi grew into such a terrifying chap.
After all, Bram Stoker's Dracula came from those parts and to this day the locals pride themselves, if that's the word, on the dark history of Bran Castle, Vlad the Impaler and all manner of hideous dark goings-on.
When the boy named Bela Ferenc Dezso Blasko came into the world on October 20, 1882, it was in the Kingdom of Hungary, but is now part of Romania.
He would drop out of school at 12, started acting in his teens, and if his later claims to have been one of the country's top stars were exaggerations, he was certainly rather good in various small roles.
Bela also proved himself worthy on the battlefield. He served in the Austro-Hungarian infantry from 1914 to 1916, being awarded a special Wound Medal for his injuries on the Russian Front.
The Hungarian Revolution saw Lugosi, as he'd become known, forced to flee, eventually getting to New Orleans as a crewman on a merchant ship. It was there, in 1903, he changed the name, to honour his birthplace, Lugos.
He appeared as Count Dracula in 1927, in a Broadway version of Stoker's classic, and it would only gradually dawn on him that his background and accent would keep getting him such roles but not a lot of variety.
If he hated being typecast, it didn't show, as Lugosi put everything into each job and thrived on becoming one of the scariest men on the big screen!
When he appeared in the 1931 movie Dracula, neither Bela nor Universal Pictures had much idea how it would do. It became an instant classic.
Helen Chandler, his female co-star, didn't want to be in it, and was after Alice In Wonderland, a role she didn't get.
She played Mina Harker, who has put two and two together and worked out that Count Dracula can take different shapes and turn up, bloodthirsty, all over the place.
If Chandler thought it was all a bit silly, she must have changed her mind when she saw the chemistry she cooked up with Lugosi.
It was easily the biggest movie of its time, and the whole world loved it. In a hide-behind-the-couch sort of way, of course.
Tragically, the actress's life would begin to unravel in the later Thirties. Her alcoholism got worse, she was dreadfully disfigured after her cigarette started a fire, and she endured various illnesses before her death in 1965.
For Lugosi, the movie sent his budding career into overdrive. Nobody could put on that cape and bear those fangs and look quite as evil as he did.
He would often find himself working alongside Boris Karloff, knocking out more dark classics such as 1934's The Black Cat and The Raven the following year.
Behind the scenes, however, few guessed that Bela was developing deep problems, such as addictions to morphine and methadone.
You wouldn't have guessed it to see films like 1935's Mark Of The Vampire, in which he played another vampire noble, Count Mora.
Lionel Barrymore played Professor Zelen, a vampire and occult expert, who has rushed to Prague, where it was set, to save a young lady destined to be the Count's next victim.
This time, Lugosi's character had a daughter, Luna, played by Carol Borland. Her waist-length dark hair and spooky shroud would become the classic template for sexy, terrifying ladies in almost every horror movie from here on in.
Even today, you may espy young ladies in your high street wearing jet-black lipstick.
Despite the fame and financial success he now enjoyed, Lugosi still dreamed of proper, serious, non-horror roles.
True, directors lost a bit of trust in him as the grapevine was full of stories about his addictions, but now and again he got something a bit different.
Ninotchka, a 1939 MGM flick, saw Lugosi starring alongside the wonderful Greta Garbo and Melvyn Douglas.
His accent presumably helped him clinch it, as he played Commissar Razinin, in a movie that was outwardly a comedy but was also a portrayal of Soviet leader Joseph Stalin.
Banned in the Soviet Union and released a month after WWII began, it became a massive hit, and is quite unlike anything else Bela Lugosi ever did.
Son Of Frankenstein, the same year, was more like it — Lugosi was once again alongside Karloff, with Basil Rathbone along for the ride.
Lugosi was wonderful as Ygor, the hunchbacked assistant. At six-foot-one and having worked as a labourer, he was a big man and filled the screen. Karloff and Rathbone had to play out their skin just to get noticed!
Perhaps the big studios felt that the stress of wartime meant audiences needed even more escapism, but during WWII there was a new horror trend to throw various scary characters into the one movie.
Hence, for instance, the 1943 flick Frankenstein Meets The Wolf Man saw two terrifying chaps up against each other.
Lon Chaney, Jr was the Wolf Man and Lugosi was old square head himself. Ilona Massey supplied the helpless blonde beauty element.
Also from Austria-Hungary — Budapest — and known at one time as The New Dietrich. Playing Baroness Frankenstein was quite a jump from her string of Nelson Eddy movies, but she was perfect alongside Chaney and Lugosi.
All the while, Lugosi kept his feelings about other stars to himself. Not least Karloff, of course — they starred together five times, with Bela always given the lesser role.
Some reckon they were good friends despite this, with no sign of envy, but others believed the situation enraged Lugosi. What certainly annoyed him was the very English Karloff's insistence that they halt filming each day for afternoon tea!
Well, after drinking all that blood, old chap . . .
With later films like 1948's Abbot and Costello Meet Frankenstein, Lugosi saw even his horror acting turned into fun, and it must have irked a man who knew he could have been just as effective as a serious actor.
His last speaking role in a major film was Bride Of The Monster, which apparently took years to make and went through various problems along the way.
He would famously say that only choosing him for horror films had been "An error," and when he got a rare chance he actually was a very decent actor.
Bela Lugosi died of a heart attack, aged 73, in August 1956, having scared the living daylights out of millions.
He was buried wearing one of his famous Dracula capes.
He had five wives, one child, a remarkable career, a star on the Hollywood Walk Of Fame, and he set the standard for horror superstars forever.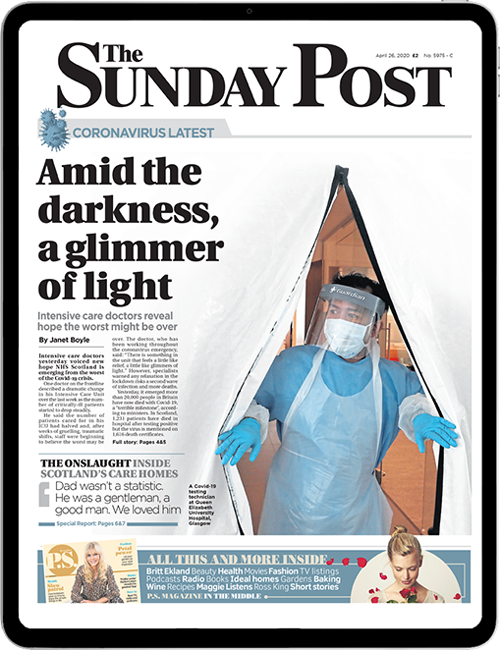 Enjoy the convenience of having The Sunday Post delivered as a digital ePaper straight to your smartphone, tablet or computer.
Subscribe for only £5.49 a month and enjoy all the benefits of the printed paper as a digital replica.
Subscribe