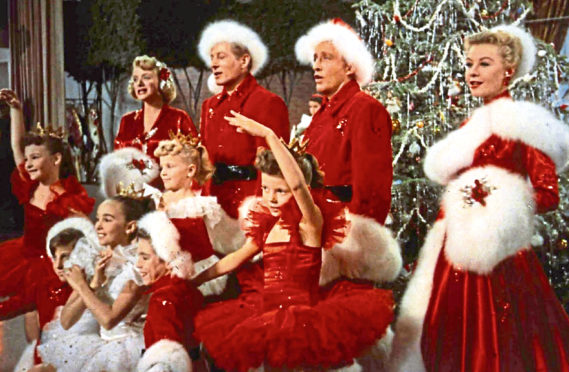 You could make a good case for claiming 1941 was the most important year of Bing Crosby's career.
Film-wise, he put out two belters, with November's Birth Of The Blues reminding fans that he didn't need Bob Hope or Dorothy Lamour by his side to have a cinema hit.
It would also showcase his singing talents again, as would a certain song first heard on Christmas Day, but it was earlier in the year that he had his biggest movie hit of the year.
Road To Zanzibar, the second in the series, did indeed feature Hope and Lamour and gave the trio another Road To smash hit.
It also starred a second actress, Una Merkel, a star whose own real-life story would be like something from a nightmarish movie.
A few years after Road To Zanzibar, Una's mother gassed herself to death, Una herself left unconscious by the fumes and only saved at the last minute.
Seven years after that, almost to the day, Una overdosed on sleeping pills and was again saved at the last minute.
There were no such dark moments in Road To Zanzibar, a lighthearted romp through the Sultanate.
A spoof safari, Bing Crosby is a con man who kicks it all off with the song You Lucky People, You at a circus. His mate, Fearless Frazier, played by Bob Hope, is a human cannonball.
Very silly, very enjoyable, and a great escape from the horrors of Europe at the time.
When a rich man sends them Champagne and invites them to see his yacht, things take a turn for the sillier, and it was such a hit that plans to make many more Road To films were inevitable.
On December 25 that year, as if to show he could outdo all this non-stop success, Bing let the world hear his new song for the first time.
It was on the NBC radio show, The Kraft Music Hall, that we heard the first public performance of White Christmas, and it has since sold more than 100 million copies, becoming the biggest seller of all time.
Bing would record it the following year with the John Scott Trotter Orchestra and the Ken Darby Singers.
He told Irving Berlin, the man who wrote it: "I don't think we have any problems with that one, Irving."
It would also appear in one of his 1942 films, Holiday Inn, but it was another Road To, this time Road To Morocco, that was released first.
Alongside the usual trio were Dona Drake and Anthony Quinn, a gun-toting sheik.
Drake, for her time or even now, was an extraordinary woman. Also known as Una Villon or plain old Rita Shaw, she sang, danced, played trumpet, drums, piano, clarinet and saxophone, led an orchestra and often got parts as a Gypsy, or a Mexican, Native American or Middle Eastern woman.
A few years before the film she had been questioned by the FBI about the murder of her mobster boyfriend, Louis Amberg, whom she had known as Mr Cohen.
With all that behind her, she certainly added some extra chemistry to the tremendous trio of Bing, Bob and Dorothy.
Another hit, another Road To success, another boost to Bing Crosby's superstardom!
Holiday Inn saw Bing with a different couple of sidekicks, but very impressive ones.
Fred Astaire and Marjorie Reynolds were Hollywood royalty.
Reynolds had, aged just five, made her debut in the 1923 film Scaramouche and Astaire, well, we all know about Fred Astaire.
Marjorie also popped up in Gone With The Wind and many more films, but Holiday Inn would become her best-known one and she duetted with Bing on White Christmas, later did it solo, and showed that she was a match for Fred on the dancefloor too.
Bing, as Jim Hardy, Fred, as Ted Hanover, and Virginia Dale, as Lila Dixon, play a New York City musical act doing their last show at Christmas.
Jim is planning to make it his last-ever show before retiring to a farm in Connecticut with his girl, Lila. Alas, she breaks the news that breaks his heart, revealing she has fallen in love with Ted.
Three's a crowd and all that.
Like Marjorie Reynolds, Virginia Dale demonstrated that she could dance and sing with the likes of Crosby and Astaire, and Holiday Inn remains an all-time great movie.
When you have four such stars and a song like White Christmas, it's bound to be pretty good, after all.
You might think that "pretty good" doesn't sound like we're going overboard about it, but you must bear in mind that Bing's 1944 movie hit put everything in perspective.
Going My Way was the biggest hit of the year, got 10 Oscar nominations and won seven of them, and basically just blew every other film right out of the water.
For this landmark movie, Bing played a priest, Father Chuck O'Malley, moving to a parish where the older priest is deeply traditional and less than happy to see him.
He sang a handful of numbers in this one, and the female singer starring opposite him was a bit special by anyone's standards.
Rise Stevens, playing a famous Metropolitan Opera star, was in real life the Metropolitan Opera's mezzo-soprano star.
She plays Jenny, who was Father Chuck's girlfriend before he decided to leave all that behind for the priesthood.
Jenny had believed he just dropped her like a stone, but when they meet again now, she realises that he had sent her a letter explaining his decision. She had been touring and never received it.
The other thread of the story is how the traditional old priest, Father Fitzgibbon, and the new younger man, with fancy ideas, struggle to get along with each other.
Fitzgibbon hates how O'Malley plays golf, not his idea of a priestly pastime, and hangs about with other casual, laid-back young priests.
Throw in a gang of juvenile delinquents being turned into a choir, and their church being burned, and it becomes quite a powerful story.
To the people who mattered, the audience, it was simply sensational and Going My Way remains many Bing fans' absolute favourite.
Clearly, as with the Road To movies, they couldn't fail to do a sequel.
The Bells Of St Mary's, released in 1945, came at a marvellous time for Bing.
He had more than done his bit during the war, and it had made him even more popular.
For one thing, he had learned German and read out propaganda broadcasts for German listeners, earning him the cheeky nickname Der Bingle!
US troops voted him as the person who had done most to boost GI morale, even ahead of President Roosevelt, General Eisenhower and Bing's sidekick, Bob Hope.
He was described in glowing terms, one paper stating: "America's number one star, Bing Crosby, has won more fans, made more money than any entertainer in history. Today he is a kind of national institution."
Back as Father Chuck O'Malley for The Bells Of St Mary's, his opposite number this time was a bit special, too – Ingrid Bergman.
It would, like the first one, become the highest-grossing flick of the year.
Bergman was a nun, Sister Mary Benedict, and the pair of them team up to save their school from being closed, despite their intense rivalry.
Both of them were nominated for Oscars, among a large handful of other nominations, and it won the Academy Award for Best Sound Recording.
It was around this hectic time that Crosby also made his mark on the worlds of recording and radio.
During America's golden age of radio, roughly from the 1920s right through the 1950s, many radio stars made their shows live.
Incredible as it will sound to today's young radio stars, they even had to do it all twice, the second show to cater for those on the other side of the States in a different time zone.
This led Bing to battle with his bosses to pre-record his shows so they could be played over the air again and again.
This, in turn, got him fascinated by the potential of tape, and as magnetic tape was evolving fast at that point, he got deeply into it.
"By using tape," he would explain, "I could do a 35 or 45-minute show, edit it to 26 or 27 minutes, and that way could take out jokes or situations that didn't play well and end with the prime meat of the show."
Friends, of course, joked that he just wanted even more time to enjoy his favourite golf courses, but Bing really did get involved, to the extent of making very large investments in tape and tape recorder technology.
Frank Sinatra was a pal who also invested in such studio gear, helping the careers of many a future star as well as improving their own working lives.
Crosby then turned his attention to video, reckoning that he could pre-record TV shows just as easily as radio ones.
And he was right. When we eventually got video recorders – please explain to the grandkids what they were – we owed part of their development to Bing Crosby.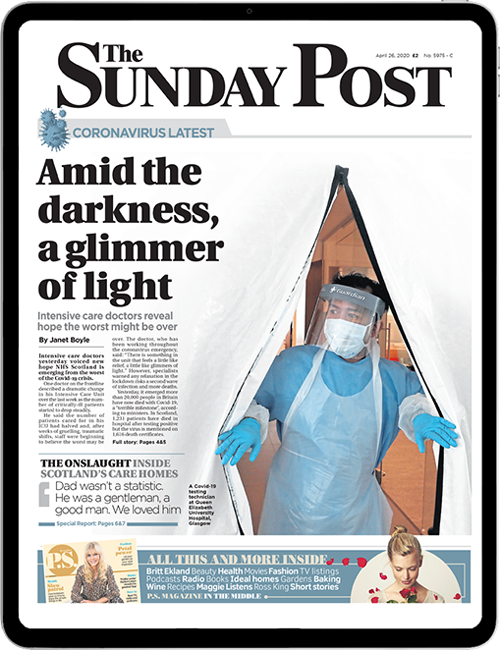 Enjoy the convenience of having The Sunday Post delivered as a digital ePaper straight to your smartphone, tablet or computer.
Subscribe for only £5.49 a month and enjoy all the benefits of the printed paper as a digital replica.
Subscribe