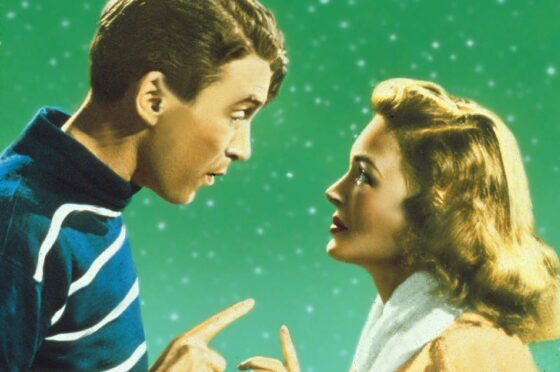 With the news outside so frightful and the fire inside so delightful, there's little option over the coming weeks but to curl up on the couch and watch a classic Christmas movie.
Yet with more channels available than there are sweets in the jumbo tub of Celebrations from your Auntie May, choosing a small screen festive classic can be a tortuous business.
Spare a thought then for Mark Cousins. The writer, director and critic not only has an encyclopedic knowledge of movies from around the world, he wrote one of the encyclopedias with his acclaimed book and documentaries The Story of Film.
He has a piece of paper longer than Santa's naughty list filled with the Christmas movies he's planning to watch in 2021. Well, he would have if he could find it.
"I want to watch a Christmas film that gives me that glow," he says on Zoom, while ransacking his bookshelves for the note. "But I don't have the desire to watch the same ones again and again.
"I'm not a very nostalgic person, I don't look backwards all that much and I'm always wanting a new experience at the movies. I will watch a lot of films at Christmas but it'll be stuff that I haven't seen, like the ones on my list if I can find it."
Eventually he pulls a piece of paper from between two books. On it are a list of movies Jeff Bezos' Prime Video would struggle to match: The Preacher's Wife (the 1996 remake), a Polish dramedy called Cicha Noc (Silent Night), and Carol, Todd Haynes' story of forbidden romance.
An odd combination but Cousins specialises in drawing together seemingly disparate movies and showing how they in fact belong together; like turkey and stuffing.
It is an approach he used successfully in his epic The Story Of Film: An Odyssey, which examined no less of a grand topic of the history of movies over 15 hours.
This week another chapter of Cousins' ambitious, sprawling opus is released. The new instalment is called A New Generation and covers recent classics like Thailand's Cemetery of Splendour, Joker and Disney's Frozen.
Asking a man who has watched thousands of films to choose his Christmas favourites takes Belfast-born Cousins, who now lives in Edinburgh, on another odyssey; from modern blockbusters to blood-soaked horror to his own childhood in Belfast connecting with his dad.
"In Italy, there are Christmas movies called Cinepanettone, as in panettone, the sweet bread," he ponders. "What do you notice when you look across the breadth of Christmas films? You see the optimism and hope of It's a Wonderful Life and White Christmas. There's the coming together, the pure joy of family, both real family or metaphoric family.
"You know, White Christmas is about metaphoric family, It's A Wonderful Life is metaphoric family. When you cross to the other side of the spectrum, you get so many horror movies about Christmas, and that kind of nightmare of Christmas. Krampus from a few years ago was fantastically good.
"All American Christmas films are sort of about families. But then similarly the Christmas nightmare films are about loners – Krampus is a loner. So many of the scary Christmas films are about loners… or jokers."
In the new chapter of The Story Of Film, Cousins, perhaps mischievously, teases out parallels between Disney's icon of empowerment, Princess Elsa, with Joaquin Phoenix's murderous villain in Joker. Neither are strictly festive films; but that doesn't stop a movie from becoming a Christmas classic.
"There are films that are always shown at Christmas and have very little to do with Christmas, like Wizard of Oz, for example," he adds. "There's a film called Fools on the Hill in Scandinavia, which is the biggest Christmas film directed by Edith Carlmar, but it isn't about Christmas. It's about a bunch of very silly people who are on a skiing trip and everything goes wrong.
"Often Christmas films are not really centred on a Christmas story. It's more about something that you saw in your childhood with your mum and dad.
"And you want to revisit that feeling of sitting on the sofa and your dad's falling asleep. Often a favourite is about invoking a moment in an adult's past, I think and that's why they're often held so close to the heart."
Cousins, as reluctant as he is to indulge in nostalgia, has his own Cinepanettone; a sweet and comforting festive movie memory originating from his home in Belfast and the only time he saw his father, Nat, cry.
"It was late one Christmas night at the ending of It's A Wonderful Life," he says. "I just looked out the corner of my eye and he was sitting on the sofa and I saw a little tear running down my dad's face.
"That does something, you know? In general, that's what Christmas tries to be. It isn't always successful but it tries to be a lightning rod where it pulls in lots of feelings and focuses them for a few days."
Nat died young, aged only 56. Cousins admits feeling shaken by the fact he himself turned 56 this year.
"As you get a bit older you get moved by timelines," he says. "I used to wonder why my grannies cried at Christmas. That might have been to do with a few wee sherries but there's that sense of time passing. That's the reason why one of the most moving Christmas songs is Have Yourself a Merry Little Christmas, from Meet Me In St Louis. The line is 'next year all your troubles will be a mile away'; it is about looking back."
Frank Capra's It's A Wonderful Life is the story of a man driven to the brink of suicide whose guardian angel shows him how valuable his life has been; Jimmy Stewart's George Bailey is moved by his community who show him unexpected and heartwarming generosity.
It was a cinematic Christmas miracle; one to which Cousins can now relate after a difficult battle with Covid last month.
Stricken in his Edinburgh flat, and barely able to move out of bed, he began to, like George Bailey, hear a bell ring. It wasn't on a Christmas tree but on his phone. "Recently I got really bad Covid. All my neighbours were messaging asking if I needed anything, saying they'd go to the shops for me; they would then ring my buzzer and leave food.
"The ending of It's A Wonderful Life when they're despairing, I could tear up talking about it… when they're just despairing, and all these invisible people in their community who they didn't really know, love them, or at least the love is kind of buried in everyday life.
"Suddenly, in crisis, the love comes to the top and it combines to help them. And that's an extremely moving idea. You know that you're not alone."
---
My top five
Mark Cousins on why he loves these festive favourites
White Christmas (1954)
That ending, when Rosemary Clooney, Bing Crosby, Danny Kaye and Vera-Ellen are putting on a show, and the backdrop lifts and it's snowing outside.
Fanny and Alexander (1984)
Gorgeous family saga by Ingmar Bergman, seen through the eyes of two Swedish children. The Christmas scenes are visually stunning.
Fools on The Hill (1957)
Classic 50s Norwegian comedy set in an alpine lodge. Mistaken identities, silly jokes, and directed by one of the great female filmmakers Edith Carlmar.
Christmas in Connecticut (1945)
Brilliantly entertaining movie starring Barbara Stanwyck as a single New York food writer who pretends she's a perfect rural family mom – until she has to lay on a classic Christmas for a returning war veteran.
It's A Wonderful Life (1946)
It does stand up, except perhaps in one way. There's a sort of nightmare version of town which has jazz music and women expressing their own sexual identities. That's a little bit dated, that's not a nightmare. But it's a profoundly brilliant piece of filmmaking. It's against banking, against selfishness, greed, and avariciousness. These are strong values and I think as the world has become more commercial then It's A Wonderful Life starts to look more relevant.
---
Mark Cousins' The Story of Film: A New Generation is in cinemas and on demand from 17 December. Tickets & Info: https://www.the-story-of-film.com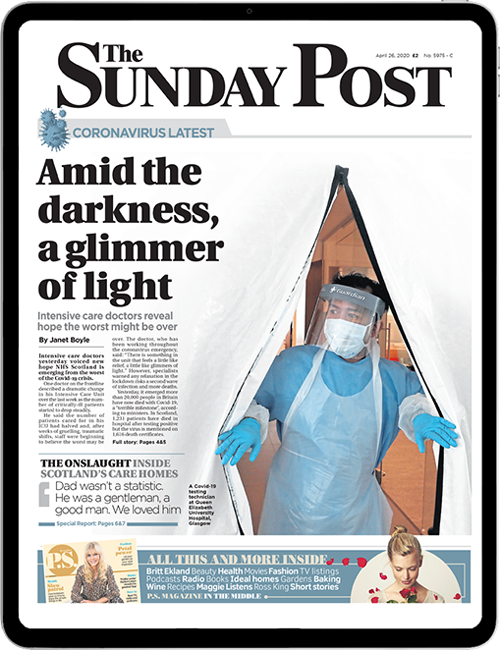 Enjoy the convenience of having The Sunday Post delivered as a digital ePaper straight to your smartphone, tablet or computer.
Subscribe for only £5.49 a month and enjoy all the benefits of the printed paper as a digital replica.
Subscribe