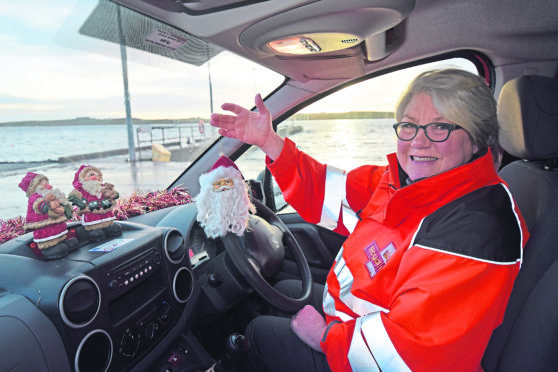 Before Big Brother, before Love Island and before all the others, came Castaway, the first reality show to have Britain glued to the sofa.
Exactly 20 years ago, Castaway 2000 turned 28 adults and eight children into Britain's first TV reality stars after stranding them on Taransay, an island off Harris in the Outer Hebrides.
Compared to the reality shows to come, Castaway and Big Brother which started three months later seem serious-minded and intent on charting a social experiment.
The castaways tackled hardships and problems, played power games, suffered broken bones and braved the waves to smuggle booze onto the island. There were clashes, romance, and even the conception of two new lives.
Two decades on and the castaways are still in touch. Two are sadly no longer with us: fun-loving Trevor Kearon, and Hilary Freeman, the woman with a heart of gold.
Ben Fogle went on to become a famous broadcaster and adventurer, while Edinburgh-based Mike Laird is also a global explorer. Glaswegian Trish Prater found her replacement paradise on another tiny Scottish island where she still lives.
Here, Sally McDonald talks to some of the people involved in the TV landmark from the castaways to the creator and show psychologist.
---
Mum-of-four Trish Prater is still living the Taransay "dream" – this time on the tiny island of Rousay off Orkney where she spends her days delivering the post and tending her land and polytunnel.
"It's my piece of paradise," says the 57-year-old, but her dream has been hard won.
Four years ago, Trish battled an advanced and aggressive cervical cancer that came close to claiming her life.
Trevor Kearon, the islander she fell in love with and with whom she conceived "Castaway baby" Erin, was the rock who helped her through the ordeal.
They moved to Orkney together to run a pub after their Castaway experience, but parted in 2009. Yet the bond they formed on Taransay meant they remained close. His death from a heart attack while on holiday in Spain left Trish, originally from Dennistoun, in Glasgow reeling. Now she lives life not only for herself but for Trevor, with whom she captured the hearts of a nation.
"I can't believe it's 20 years since Taransay. I'm an old woman now, a cast-off, not a castaway," she jokes.
"Erin our Castaway baby has just turned 18. She looks so much like Trevor and her sense of humour is just like her dad's. His loss is still very painful because he was such a big character. He was a big part of our lives. He used to visit with his new partner. We reminisced a lot about Taransay and got on better after we split."
In 2015, Trish discovered she had advanced cervical cancer. "Trevor was with me all the way through it," she says now. "He was my rock. I had been ill for eight months and repeatedly went to the doctor who put it down to the menopause.
"The cancer was discovered only after I found a growth. I was flown to Aberdeen Royal Infirmary for a major operation that December. The surgeon said that if the cancer had been left another 18 months I wouldn't have been here."
Trish, who said she was given the all-clear in April last year, adds: "Trevor was a brilliant dad. He had just bought a house in Wales and Erin was going to live with him and go to veterinary college there. She spoke to Trevor on the Monday he died. He was abroad on holiday and she was going to move in when he got back. Her bags were packed. They were so excited.
"He sent photos to Erin of him and his partner in the hot tub on holiday. He looked really happy. He had lost weight and had got himself fit. His doctor said he was fine. But he came out of the hot tub, bent down to lovingly kiss his partner on the cheek, and dropped to the sunbed. She thought he was joking. But he was gone, he died in seconds.
"He would not have wanted to leave the people he loved like that. He was so looking forward to having Erin live with him, looking forward to teaching her to drive, to show her life, to fill her head full of positive, clever stuff, because he was a clever man."
Erin is continuing to follow her dream at veterinary college in Thurso. "Her dad would be proud of her," says Trish. "Trevor was robbed, we were robbed. I did go downhill after he died but I had to get on with it. I survived."
Now, Trish works as the main postwoman on Rousay and bought a new house earlier this year.
She explains: "It is a captain's cottage dating back to 1877. She is draughty, has leaks in the roof, but she is mine, bought and paid for. The house came with an acre of land and a 60ft by 20ft polytunnel full of mature fruit trees and grapes. I have just had the duck pond dug out.
"I absolutely love my work. I make scones and cake and I give them out to the old folk on my round. I take a wee tool kit in case they need doors and things fixed.
"I am living the dream. I have my own little slice of Taransay on Rousay. I think about Taransay every day. It was just such a wonderful experience. When I do my postal round it is in my van with me.
"I feel guilty because Trevor is not here to enjoy it, so I have to live it for the both of us.
"I will never leave this island. Life is good. I have a wee piece of heaven."
---
THE CREATOR
Castaway creator Jeremy Mills put its concept to BBC Studios chief Peter Salmon, later to become a global boss at Big Brother creators Endemol, over a prawn sandwich.
And he revealed that they dropped "posh" Ben Fogle into the social mix as an "irritant".
Jeremy, now 60, said: "It started as a social experiment and took on its own life. I wanted to put a group of people together who represented society in a remote location where they were cut off from the rest of the world.
"I wanted to see what kind of society they would create, and what they would reflect on as we went into a new millennium; what was important to us as individuals and group. We were looking at getting a cross-section of people and Ben came in, this really
good-looking chap and charming, but posh as hell.
"Chris and I thought he would irritate everybody so much because he was so posh, so, quite cynically, we put him in for that. He was to be the grit in the mix but he turned out to be the oyster, because everybody absolutely loved him.
"You get what you see with Ben and he became the star of the show when we thought he might be the irritant. He became a household name. He was an amazing character, and he deserves everything he got as a result. I'd like to think Castaway positively changed the lives of the people who took part."
But Jeremy admitted that while Castaway was "ground-breaking" and "reputation-making", it was also "bonkers."
"It was dangerous, difficult, costly, and mad," he said. "I don't think it would be commissioned today."
---
THE PSYCHOLOGIST
Cynthia McVey is the former head of psychology at Glasgow Caledonian University and was crucial in the selection of the Castaways.
Around 4,000 people applied to take part in the programme. Of those, 200 were interviewed, given psychometric tests and a series of challenges to assess their suitability. The final participants were chosen from those. Cynthia says: "The programme makers wanted a psychologist in Scotland. They wanted a microcosm of society – a proper range of people.
"I looked at the basic psychometric testing of the applicants to see how they were and I did a big talk with them to let them know what they were getting into. We selected from that.
"Every single Castaway had something special to give to the project."
BEN FOGLE
Two decades after he left Taransay, the island he later unsuccessfully tried to buy with the community of Harris, Ben Fogle reveals it was his love of his Scots heritage that drew him to the Outer Hebrides experiment rather than a hunger for fame.
Next year for the first time, he plans to take his family – wife Marina, 41, son Ludo, 10, and daughter Iona, eight – to the island that "launched" him.
Ben, 46, said: "My grandfather and his family were all from Scotland and I have always loved the Western Isles so it seemed perfect.
"Taransay showed me the importance of living with a minimal footprint. I love Scotland – we named our daughter after a Scots island and we have family all over. I visit often.
My wife and I honeymooned on Taransay in 2006 and we hope to visit as a family next year – it will be the first time for my children."
Ben Fogle's Wilderness Tour: Dunfermline Alhambra Theatre, January 31; Aberdeen Music Hall, February 1 and Edinburgh's Kings Theatre, February 2
---
MIKE LAIRD
Mike Laird, 50, was a pensions' legislation expert by day and an explorer outside the office, venturing into danger zones in Syria, Iraq and Afghanistan, where he was a war photographer.
Castaway was the kind of challenge on which he thrived. Mike and Ben Fogle were together at Ben's family home in London when they got the phone call confirming they'd been accepted.
Post-programme, he is still a global adventurer. Mike, who in March this year completed a solo, 640km trek across frozen Lake Baikal in Siberia, the world's largest and deepest fresh water lake, said: "My time on Taransay brought that adventurous spirit out more in me.
"Since then, among other expeditions, I've skied 565km from Resolute in Canada to the North Pole, and cycled across Australia."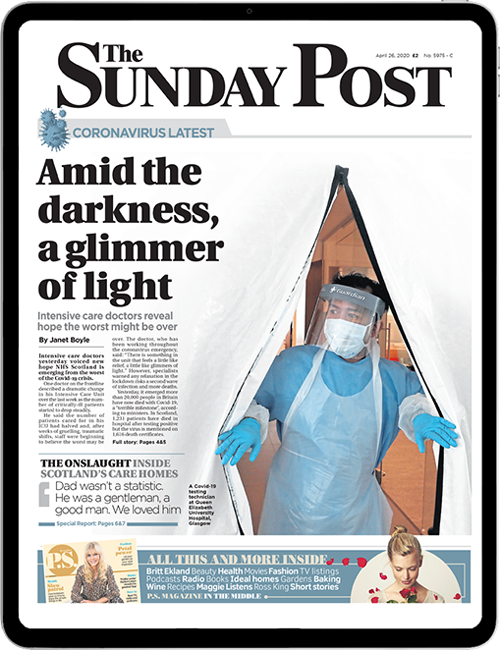 Enjoy the convenience of having The Sunday Post delivered as a digital ePaper straight to your smartphone, tablet or computer.
Subscribe for only £5.49 a month and enjoy all the benefits of the printed paper as a digital replica.
Subscribe