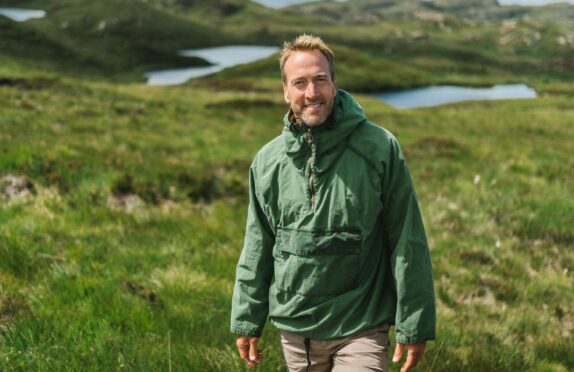 He was, by his own account, the uncool kid struggling to get noticed in the classroom or the sports pitch, so Ben Fogle is as surprised as anyone to have grown up to be a celebrated adventurer.
He has rowed the wild Atlantic, scaled Everest, raced to the South Pole and run across the Sahara and become one of the UK's best-known presenters.
As the New Lives In The Wild star announces dates for Wild, the new tour that will see him return to his beloved Scotland where he had his big break in 2000 on the island of Taransay with the TV reality show Castaway, he reveals he has two big dreams he hopes to fulfil in the year ahead – to return to Ukraine where he delivered aid and security vehicles in September and to recreate "the spirit of Castaway" this time on remote mainland Scotland.
Fogle – tickets for whose show at Edinburgh's Usher Hall in May are now on sale – will also be north of the border in June to film another BBC series of Scotland's Sacred Islands. And viewers will see him later this year following in the footsteps of historic Antarctic explorers, Scott, Amundsen and Shackleton, using kit and eating food from the Edwardian era for the Channel 5 show Endurance: Race To The Pole.
Fogle, 49, is on the hoof when we Zoom for a chat but is "running errands" closer to home on the outskirts of London.
"I cannot wait to get back to Scotland, it's one of my favourite places in the world," he said (Fogle has been to more than 40 remote locations around the globe). "I am part Scottish, as my grandfather was Scottish, and I've spent a great deal of time in Scotland. It was where I did my first big adventure on Taransay, so to be on tour again will be really exciting.
"I would love to find a plot of land in Scotland for a new Castaway, where different kinds of people get to live an off-grid life of their own interpretation in a beautiful location. What I have always loved about New Lives In The Wild is that it involves such an eclectic mix of people living so many different lifestyles in so many different types of buildings and structures.
"So that would be my ultimate dream; bringing together all the things I've done over the past 25 years and giving other people the opportunity to experience it. It's something I've wanted to do for many years."
Fogle, 49, who, while filming another show in the Chernobyl exclusion zone, made friends with Ukrainians who had returned to live there following the 1986 disaster, admitted on social media he had watched Russia's invasion "with a mix of horror and frustration" at his inability to help. So, with the blessing of Marina, his wife of 16 years and their children Ludovic, 13, and Iona, 12, he returned, this time to a war zone, to deliver vehicles and food his family had donated.
He said: "It was a very moving trip. As a family, we made a donation of some vehicles to help protect the exclusion zone. I hope to make another visit sometime this year."
Do his family fear for his safety? "It's what I have always done. My work takes me to interesting and sometimes dangerous places and I think they have trusted me to take the right precautions. In the same way that climbing Everest comes with its own unique dangers, the same comes with going to a place like Ukraine where there is an active war. My family trusts me to make sensible decisions."
Could Fogle, as a public schoolboy and only son of actress Julia Foster and vet turned author Bruce Fogle, have foreseen his adventurous future?
"Not at all, I could never have imagined it," he said. "I was a bit of a failure as a child. I wasn't very good at sport, or at my exams. I was not one of the cool children. There are always kids who are good at everything, who are super sporty and handsome, and I was never any of those things. So, to be able to do some of the things I have done like climbing Everest, while I always dreamed of doing it, I never believed I would be able to have the opportunity, let alone complete it and be successful. If I went back to my childhood, I don't think I would believe you if you told me some of things that I would go on to do."
He puts his success down to grasping opportunity and luck. "There was no goal, no specific target that I set myself. It was always about following my heart and seizing all the opportunities that came my way. I have always been very proactive rather than reactive. Too many people wait for things to happen."
Remembering his successful audition for Castaway, he said: "I've heard before that they chose me because I was the really annoying posh bloke. My life has often been about trying to disprove people's assumptions, trying to get away from that stereotype of that slightly dim, posh bloke. It is one of the big things that has driven me to push myself on different challenges.
"In the TV I make now, I love taking myself out of my comfort zone, whether it's going to Chernobyl, or whether it is to Slab City in Southern California and spending time with people who have been ostracized by others because of what they do or how they choose to live."
On the 20th anniversary of Castaway, the programme's creator Jeremy Mills said: "We thought he would irritate everybody so much because he was so posh, so, quite cynically, we put him in for that. He was to be the grit in the mix but he turned out to be the oyster."
Fogle's open-minded, easy-going charm and integrity sealed his success. Mills said: "Everybody loved him. You get what you see with Ben. He became the star of the show and a household name."
Fogle smiled at the reflection: "If there is one word I would like to be associated with my name it is 'integrity'. I have a very strong moral compass that I got from my parents."
---
Ben Fogle brings Wild to Edinburgh's Usher Hall on May 28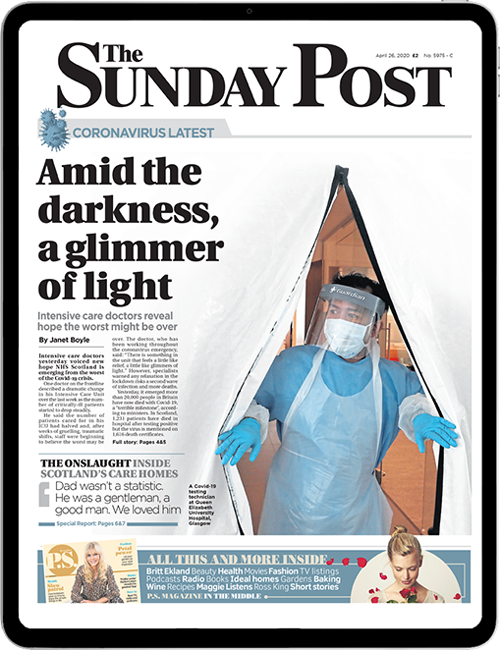 Enjoy the convenience of having The Sunday Post delivered as a digital ePaper straight to your smartphone, tablet or computer.
Subscribe for only £5.49 a month and enjoy all the benefits of the printed paper as a digital replica.
Subscribe