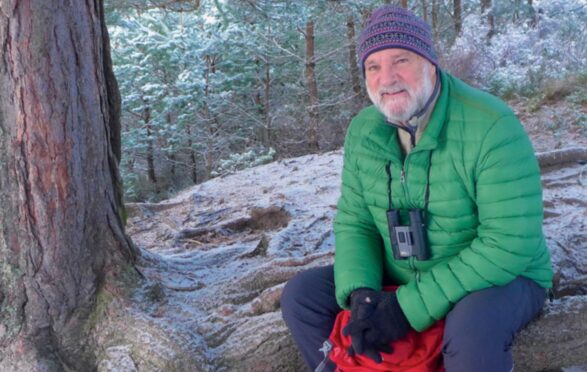 From highest mountain peak to deepest glen, Cameron McNeish spent his life exploring about Scotland's wild places – before his big toe almost forced him to hang up his boots.
An excruciating condition, hallux rigidus, stiffened the cartilage and left him unable to walk four years ago but McNeish, 73, has told how surgery has put him back on his feet and back on his beloved hills.
"I couldn't walk the length of myself, never mind a Munro," he said. "It wasn't just the loss of going to the mountains that affected me but the fact that almost all my friends were mountain-going people.
"The possibility that I wouldn't climb hills again was like a bereavement. It really affected me mentally. Fortunately, that wasn't the case now but it really hit home just how important mountains and wild places are in my life."
His latest book, An Eye To The Hills, celebrates his "mountain memories" amassed over four decades, recalled through old diary entries, newspaper columns and recollections of his favourite walks and experiences in Scotland's great outdoors.
The author and presenter says the people he's met along the way, from famous actors to blind hillwalkers, have left just as deep an impression on him.
"I've got to know some amazing people over the years, from well-known actors who have become good friends to neighbours and friends I climbed with," said McNeish, a former editor of multiple climbing and outdoors magazines and regular contributor to The Scots Magazine.
His TV appearances, which include Wilderness Walks and The Adventure Show, have seen McNeish share his passion for Scotland's hills and mountains with famous actors, including David Hayman and Outlander star Sam Heughan.
McNeish will host the launch of Heughan's autobiography, Waypoints, in which he recounts his life story while following the West Highland Way, next week in Edinburgh.
"Sam joined me on a trip up the Monadhliath Mountains (west of Strathspey) for The Adventure Show because, as well as being a brilliant actor, he's a bit of a hillwalker and a keen outdoors guy," said McNeish.
"We talked about how his love of adventure began at a young age and how he's so passionate about Scotland. He's the nicest guy, really down to earth and not influenced by his fame. When I wrote my first autobiography, I asked Sam to write the foreword and said at the time if acting didn't work out he'd make it as an author because he is a very skilled writer. Then his first book, Clanlands, is an instant bestseller while I'm still waiting to get on those lists after 23 books!"
McNeish also recalls a bittersweet walk along The Cuillin on Skye with singer Donnie Munro in 1998. He said: "This was when Runrig was auditioning for a new singer. I was a huge fan of the band so it was bittersweet for me to hear their old vocalist talk about life away from Runrig.
"Yet it was also a huge privilege to walk with Donnie on his native Skye and listen to his plans to move into politics."
Another memorable encounter was rock climbing in the Peak District with pioneering mountaineer Alison Hargreaves, who died on the perilous decent of K2 in Pakistan in 1995.
"She was ambitious but faced much criticism because she had a young family," he recalled.
"She told me she saw her mountaineering as a job, she was a commercial mountaineer, and knew if she climbed Everest and K2 she would be set up for life through sponsorship. She said: 'I love my family dearly but I've been given this ability to climb mountains successfully and do well so why shouldn't I use that talent to earn a good living for my family?'"
McNeish was proud of joining fellow mountaineer Chris Townsend on the final ascent of his challenge to summit all the Munros in one continuous expedition. "I've known Chris for 40 years. He's done some phenomenal things. In 1996 he became the first person to climb all the Munro summits and all their subsidiary tops in one go. I was able to join him on his final climb up Ben Hope in Sutherland, which was wonderful. "
Among the members of the hillwalking community NcNeish has spoken to over the years, a few stand out as truly inspirational, including hillwalker and poet Syd Scroggie, from Strathmartine, north of Dundee.
"Syd was one of the great characters I've met," said McNeish. "He lost his right leg and was blinded when he stepped on a landmine during World War Two so he put an advert in The Courier for somebody to take him hillwalking.
"What was remarkable about Syd was his awareness of the hills. As we walked along the Angus Glens he'd point out different birds he recognised because his other senses were heightened. He spoke as if he could see everything around him."
Another colourful character is Davie Glen. McNeish said: "He had a long white beard that went down to his waist and I used to sit with him in bothies to enjoy a dram and listen to his many stories. The hills used to provide great characters like that."
Yet McNeish cherished the memory of one faithful walking companion above all others – his black Labrador, Bess. "Bess was my constant companion in the hills for 12 years and had an uncanny ability to find her way up through craggy hillsides," he said. "I've been happily married for 50 years and I've never known the extent of love as I did from that wee dog. She was something special. Her last mountain walk was A'Chailleach in Monadhliath. I get emotional thinking about her."
Now in their 70s, McNeish and his wife Gina, 75, may not be tackling any more of Scotland's 282 Munros – "I've done them all three times over now," he points out – but they are still passionate ramblers with future plans to attempt the Fife Coastal Path, one of the few Scottish routes left unticked on McNeish's bucket list.
Reviewing decades of his commentary on hillwalking and mountaineering in Scotland highlighted a general shift in attitude towards the outdoors and nature, said McNeish, who lives in Newtonmore within the Cairngorms National Park.
"It's a pity that we couldn't get doctors to recommend people go for a walk in the hills when I was writing 40 years ago," he said.
"Particularly since the pandemic, people have become much more aware of the value of going for a walk or being in the natural world. With that comes an awareness that it is so valuable – we have to look after it when it comes to things like climate change.
"The mountain community is much wider now, which is good because the more people who climb the hills and get to know and love them, the more people there will be to protect them."
'Replace £17m white elephant with better ski lift and facilities'
Cameron McNeish has criticised the glacial progress to fix the funicular railway at the Cairngorm Mountain Resort, describing the ongoing repair project as a "white elephant".
"It's frustrating. They've been pumping millions into a funicular train that has failed spectacularly and has been nothing but a white elephant," said McNeish.
The Cairngorm funicular railway, which connects a restaurant with a base station and a ski area, has been closed since 2018 due to urgent, ongoing repairs.
According to Conservative Highlands MSP Edward Mountain, a Freedom of Information request established that the total funds for repair works stood at £17.22 million.
Highlands and Islands Enterprise (HIE), the owner of Cairngorm Mountain resort, has said it expects operations will restart in early 2023.
McNeish has been a long-standing critic of HIE's ownership and management of the Cairngorm Estate.
"For the past 30 years I've said that HIE should not own an estate on Cairn Gorm yet they've remained landlords to various ski companies that have come and gone," he said. "I think four have gone bust in my lifetime."
McNeish has previously backed a community buy-out scheme, stating that: "Local folk interested in taking on the running of the estate insist that a funicular train would simply be a financial burden and that new and improved ski-lift facilities would be a far better investment than repairing a broken train track."
HIE said: "We're on schedule to have the funicular back in service for snowsports enthusiasts and other visitors to Cairn Gorm during the coming winter season.
"Strengthening works along the 2km viaduct are nearing completion and a new control system is being installed, part of which was delivered by helicopter to the top station last week.
"Once the control system is installed, there will be a period of testing and safety certification, after which we expect passengers will again be welcomed on board.
"The exact timing depends on a range of factors, not least the mountain weather."
The Scottish Government announced in August 2020 that it would provide about £16.16m to reinstate the mountain railway.
The funicular was completed in 2001 at a cost of £26.75m, up from the original estimate of £14.8m.
---
An Eye To The Hills by Cameron McNeish is published by Sandstone Press on October 20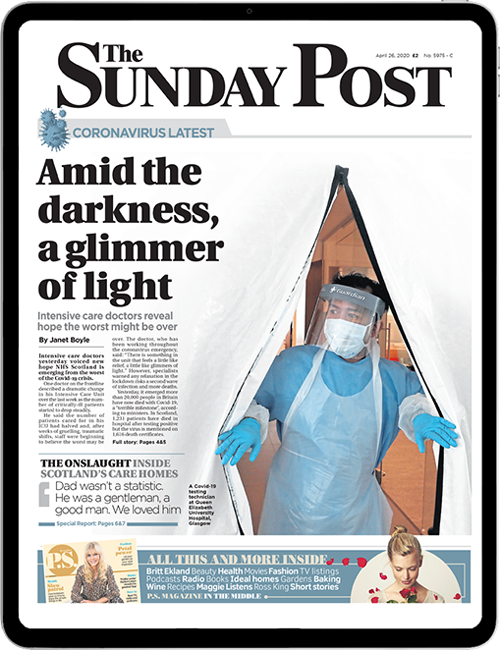 Enjoy the convenience of having The Sunday Post delivered as a digital ePaper straight to your smartphone, tablet or computer.
Subscribe for only £5.49 a month and enjoy all the benefits of the printed paper as a digital replica.
Subscribe