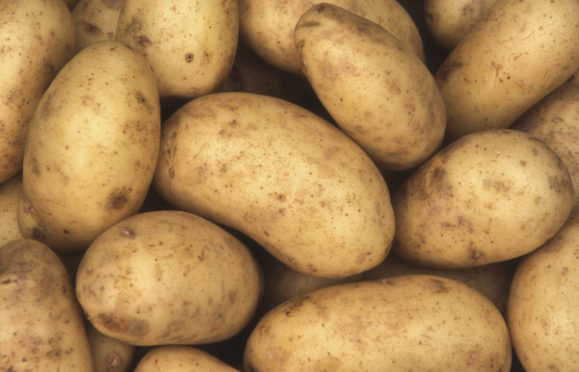 The tatties are small, ­knobbly and tasteless but a rare breed of potato has been revealed as a super-spud.
Scientists hope the Solanum x ­edinense – or Edinburgh potato – can help the worldwide battle against blight because it has a genetic immunity to the disease.
Experts at the Royal Botanic Gardens in Edinburgh have now discovered the potato that survived the famine of the 1840s played a key role in developing techniques to create modern blight-resistant potatoes.
They have also spent a year pain­stakingly recreating the Solanum x edinense and this month it flowered in Scotland for the first time in 100 years.
Now its tubers will be studied by scientists who are developing new varieties of potato to tackle the problem of blight evolving to become resistant to pesticides.
But, while the Edinburgh potato has an important place in history, one thing it is lacking is taste.
Max Coleman, science communicator at the RBGE, said: "It's certainly not good to eat. It's small and won't taste very nice
"But the creation of the Edinburgh potato has been the first step on a path to disease-resistant new potato varieties currently grown by farmers."
Scientists are increasingly turning to traditional methods of cross-breeding potatoes to create resistance to blight.
The Sunday Post revealed in March that spuds like Maris Piper and King Edward are under threat as they are vulnerable to the disease.
But new research has revealed the Edinburgh potato was the first known example of a hybrid that has a natural immunity.
The disease-resistance is down to it having a Mexican parent plant, which only produces pea-sized tubers but thrives in the wild.
It was named after Edinburgh in 1911 by famous French botanist Francois Berthault, who studied specimens from the RBGE's collection.
He believed the tubers he was ­supplied with by Scots seed merchant Sutton & Sons were a hybrid of a domesticated potato and an unknown wild variety.
But the full story behind the potato did not emerge until this month after the project to recreate it at the botanic gardens prompted a study of archive records. Researcher Graham Hardy discovered that, in 1896, Arthur Sutton – a senior partner at the seed merchant – had published a Royal Horticultural Society paper about the species.
He established that the spuds had been growing in beds at the RBGE for more than 30 years in the period immediately after late blight had ravaged crops and led to widespread famine.
Sutton wrote: "When left in the ground all winter the tubers appeared to be quite unaffected by frost, and no disease had been observed."
A second paper dating back to 1908 was also found where Sutton recognised the potato's economic potential because of "its remarkable exemption from disease".
But Sutton was mistaken in his belief that the plant was a domestic hybrid. Scientists have now established the Edinburgh potato is a cross between a domesticated potato and a wild Mexican species called Solan um demissum.
It is unclear how the species first arrived in Scotland but its resistance to disease is down to its Mexican genes.
Scientists at the RBGE led by Dr Tiina Sarkinen, the South American biodiversity researcher, decided to recreate the Edinburgh potato as part of a display of wild varieties.
They sourced the Mexican mother plant and used cultivated domestic potatoes known for their fertility.
Volunteers from the Edible Gardening Project then undertook the work of cross-pollination.
But, despite interbreeding happening naturally in Mexico, the Edinburgh potato proved difficult to reproduce with only two attempts out of every 20 or 30 producing healthy hybrids.
A crop of flowering plants finally emerged this month, marking a successful end to the project.
Some of the healthy plants will be studied at the James Hutton Institute to establish whether they have inherited the genetic resistance to blight from their Mexican parent.
Blight is caused by a fungus-like organism that spreads rapidly, particularly in humid weather, and causes potatoes to rot.
New strains of the disease have evolved that are resistant to ­common pesticides. So scientists are working to create new varieties of potato which have genetic disease-resistance.