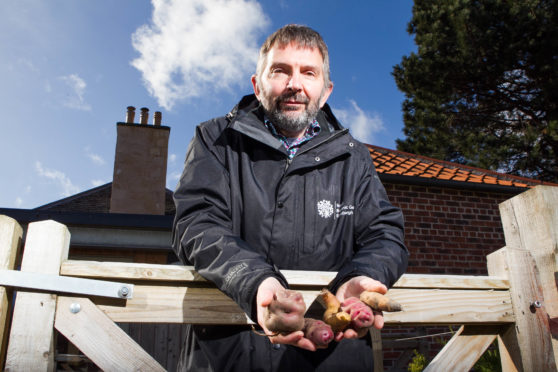 Scotland's favourite potatoes are under threat as experts warn Maris Piper and King Edward potatoes could soon be impossible to grow.
Diseases such as blight have been ravaging traditional types of potato popular with shoppers because they are tasty and easy to cook.
But experts in Scotland are working to create new breeds of blight-resistant potato by crossing them with the native South American ancestors of the original varieties.
Scientists then send their creations to taste panels to make sure they will be popular with customers.
The challenge they face is that consumers remain determined to buy traditional varieties such as King Edwards.
Max Coleman, a potato ­scientist at the Royal Botanic Gardens in Edinburgh, said: "People are familiar with King Edward potatoes and like them but don't realise they're no longer a viable crop.
"We can guarantee that in 20 years' time we won't be growing Maris Piper because they won't be viable.
"Even now King Edward is one you don't see so much. But they have this reputation so people still want them.
"It's disappearing because of the disease problem we face."
Scotland is a major ­producer of potatoes for eating, growing on for future crops and export.
But all potatoes are a ­replica of each other and of the previous year's crop as they are grown from tubers that are left to sprout.
This makes them vulnerable to diseases such as late blight, which can spread through crop.
The potato project is aiming to create sustainable ways of growing tatties without the need for stronger and stronger pesticides.
Dr Coleman, the RBGE's science communicator, added: "Potatoes are a really big, important part of the food industry in Scotland.
"But there's no genetic ­variation. Across big areas you might find very little variation.
"That way of growing is ­vulnerable. Every plant is identical – that's the problem.
"Blight is a living thing and it evolves.
"You can have a potato ­variety that is resistant now and won't be in 10 years' time.
"The blight organism can evolve so a pesticide that works now might not work in 10 years. We have to run to stand still.
"These problems are never truly solved. We manage them."
Now Scientists from the Royal Botanic Gardens and the James Hutton Institute in Dundee have begun crossing modern varieties of potato with their traditional wild ancestors from South and Central America.
Potatoes originate from the Andes area but one ancient variety in Mexico was even named Solanum x edinense in the early-1900s after the Latin name for Edinburgh.
Wild varieties have a natural resistance to blight but often don't resemble the potatoes customers are used to buying as they can appear knobbly or have different coloured flesh.
Gordon Stark, who runs a potato import and export business in Perthshire, said retailers are reluctant to replace familiar potatoes with varieties that are not guaranteed to sell well.
He said customers are also a barrier to change as they want to stick with what they know.
Mr Stark said: "Blight is a problem.
"The chemicals farmers have in their armoury are becoming fewer and fewer. But there's a barrier for change from customers because of their familiarity with old varieties.
"It's very difficult for new varieties to break into the market – very difficult.
"There are new varieties coming to the market but 80% of the market is 20% of the varieties. Maybe even 90%. None of them is particularly blight resistant.
"To get a substantial new variety is going to be very hard.
"The customer and the retailers don't want to change."
Mr Stark says the consumer is not particularly worried about blight and whether a variety is resistant to blight.
And he believes their main concern is whether they are happy with what is on their plate and the cooking and eating experience.
He added: "Consumers aren't bothered about how it got there.
"We think we are but, in general, we're not."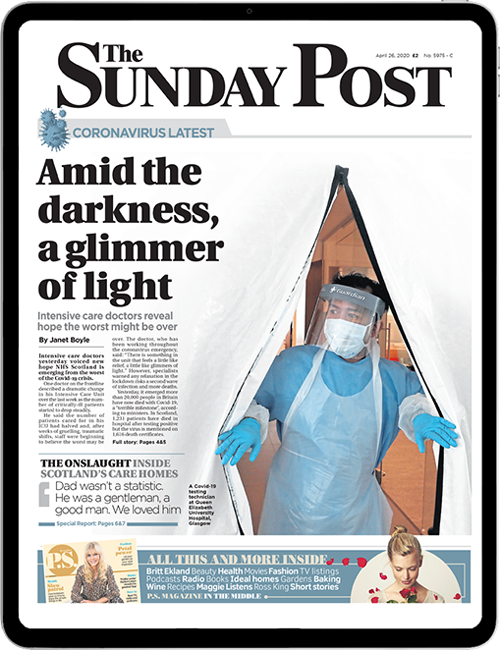 Enjoy the convenience of having The Sunday Post delivered as a digital ePaper straight to your smartphone, tablet or computer.
Subscribe for only £5.49 a month and enjoy all the benefits of the printed paper as a digital replica.
Subscribe