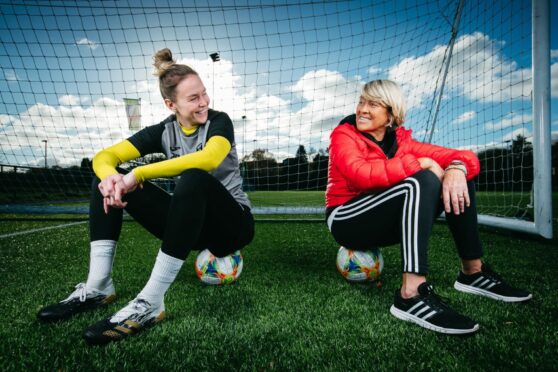 The surging popularity of women's football makes it difficult to believe, not so very long ago, the idea of girls and women playing the game seemed far-fetched to many.
Rose Reilly remembers it. The trail-blazing pioneer of women's football once had to cut her hair and pretend her name was Ross to play for her school, the first games in a pioneering career that took her to Italy and a World Cup winner's medal.
She will look back on how far her sport has travelled when she is guest of honour at the Scottish Women In Sports Awards this week and hopes her experience can encourage more young women to get involved in sport.
Today's stars know they stand on the shoulders of giants like Reilly, and today, we speak to her, and Scotland goalkeeper Lee Alexander, to discuss the distance travelled by the game and society and the miles still left to cover.
Meanwhile, Maureen McGonigle, founder and chief executive of Scottish Women In Sport, is looking forward to this year's awards at Glasgow's Grand Central Hotel on Friday.
"Women in sport have been adversely affected more so by the pandemic, for various reasons, and it has taken them much longer to get back up and running," she said.
"With most sport on hold for months, the default in terms of visibility in the media once again focused on male sport, with very little or none at all available on women's sport.
"However, the volume of nominations received for our awards shows the passion held by those involved in sport to recognise and celebrate the many who have delivered, whether as an athlete, coach, team or organisation during this past year and it is the intention of Scottish Women In Sport to ensure that the success of our athletes and the stories of those supporting them are heard."
---
The Star
Stars like Rose paved the way but we want more
Football is life for Scotland goalkeeper Lee Alexander.
She plays every day, represents her country and gets paid to boot but she admits it has been hard work getting to where she is today.
"I've had to make a lot of sacrifices, but I wanted to work as a footballer and be paid for it and I got here so it has all been worth it."
Alexander, now 30, first started playing football when she was five: "I'm not sure where it came from. My parents are quite sporty, but they liked basketball, golf and netball. There were no footballers in the house.
"When I was at nursery, I was friends with the boys and we loved playing football. When I got to primary school, my class had 27 boys and six girls. By the time we got to Primary 7, there were only three girls left.
"None of the other girls played football but I would play with the boys. I was the one who brought the football in, so I was the one who picked the teams.
"None of the boys seemed to bother that I was a girl. They just accepted it.
"There was no girls' team so I joined the boys' team. I was the first girl on it.
"It didn't bother me, but there was always a bit of a stigma that because I was a girl, I wouldn't be very good. I used that to show that I could play – and I could do it well."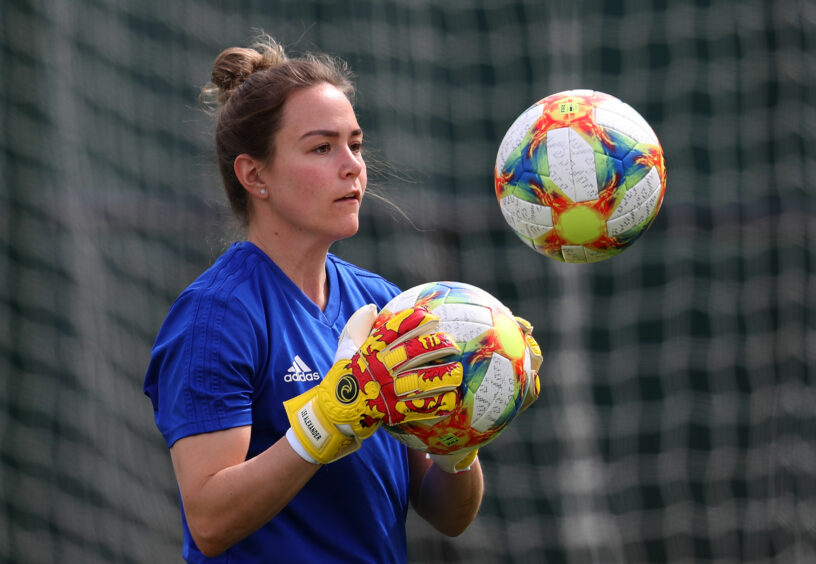 Up until 20 years ago, there were few opportunities for girls to pursue their interest in football.
"It wasn't until fourth year that there was a girls' section," said Alexander.
"I eventually started playing with a girls' team that, for a long time, I didn't even know existed. They were few and far between. Now there are so many girls' teams and leagues."
Alexander, who plays full-time for Glasgow City, was first called up for Scotland in 2015.
"There have been some great moments," she admitted. "Euros 2017 was the first major tournament Scotland women's team ever qualified for, then qualifying for the 2019 World Cup.
"Following my football dream is the best thing I have ever done. Never in a million years did I think I would ever get to this level but here I am.
"I love seeing how much the game has grown. And attitudes are changing. It is now so much more accepted that girls can play football.
"It's a sport. And it doesn't matter what sport you choose as long as you enjoy it.
"There is still a stigma around women's football in the sense that we are not as good as men. But it's different. Professional boys have been playing competitively since they were about 15 years old, and in teams where they train almost every day. They are paid a salary.
"Women's physical capabilities don't compare and, even at national level, teams tend to only train two or three times a week. Many aren't paid and have to juggle training with day jobs. It's only in the last couple of years that I have been paid more than a part-time wage.
"So much more investment is needed – and promotion. We are filling more of Hampden with every game but we want to get to full capacity. And we need more initiatives to get girls involved.
"Playing with boys was second nature to me, but mixed football can be daunting for girls.
"When I think back to the time when girls and women weren't allowed to play football, it seems crazy.
"People like Rose have paved the way for me and the generations before me.
"But we still want more for the generations to come. And hopefully we can be the women to drive that campaign forward."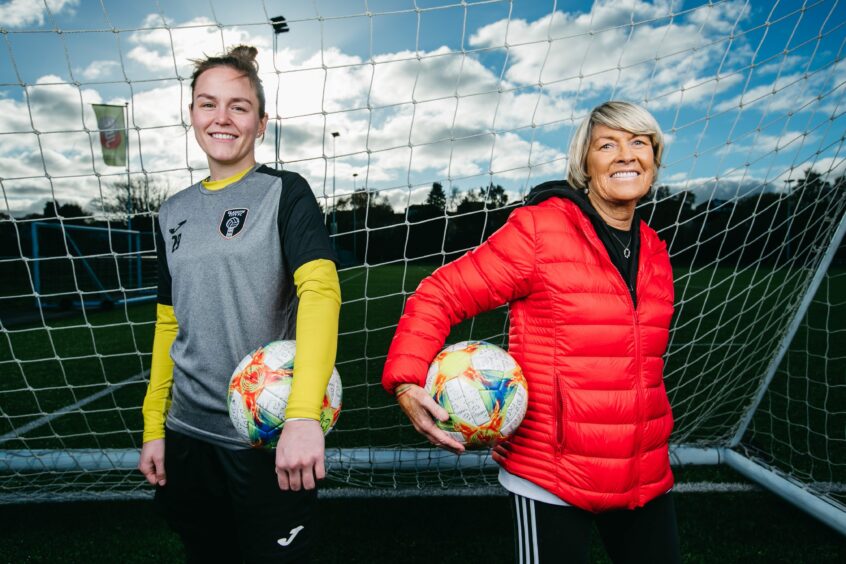 The Legend
I was passionate about playing. Nothing would stand in my way
She had to cut her hair like a boy and pretend her name was Ross to get on a team but Rose Reilly would have done anything if it meant being able to play football.
That was almost 60 years ago, when Reilly first started out on a career that would lead her to acclaim at both domestic and international level and pave the way for women on the pitch.
It's only now, as she prepares to be made an MBE for services to women's football, that the 66-year-old is starting to recognise her place in Scotland's sporting history books.
"I was passionate about playing and prepared to do what I needed to do," she said. "I was going to be a professional footballer and nothing was going to stand in my way."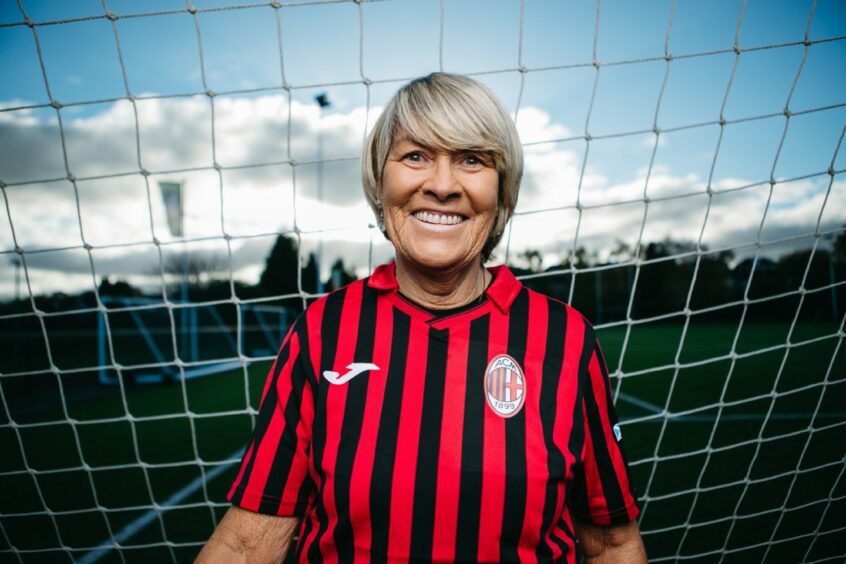 Ayrshire-born Reilly is set to pick up the accolade at Holyrood Palace in January. Covid restrictions meant the ceremony had to be delayed until 2022.
"When I heard I was being honoured, all I could think was 'Wow!'," she said. "I'm so proud, but it's not a personal honour. I have accepted it on behalf of everyone involved in women's football. That's really who it's for."
Reilly – who now goes by her married name Peralta – worked her way up the ranks during a 30-year career to play for AC Milan and Scotland but getting to professional level at a time when females weren't accepted was tough.
"People say it must have been a hardship fighting for recognition in women's football, but when you have fire in your belly and it's your passion, you do what you have to do," said Reilly.
Watch: Runner Kathrine Switzer remembers the day she gate-crashed the Boston Marathon… and the Scot who did his best to stop her
"I was physically punished, expelled from school, sacked from my job for playing football in my lunch break but life is all about choices.
"I made that choice and I was standing by it, no matter what. I didn't care whether I was a girl or boy, I just wanted to play football."
Reilly's love of the game stems from when she was a toddler. "When I was about three, I wandered away from home. My parents found me at a football pitch. I was young, but I think I already knew my way.
"I didn't just have a connection with football, it was a passion, a love.
"My parents didn't want me to play because, at that time, girls just didn't. I was one of eight children and the weirdo of the family. All my siblings did as they were told and followed the rules.
"My mum and dad couldn't understand why a wee lassie wanted to play football."
In the '70s there was no way for a woman to become a professional footballer in the UK, so Reilly, at 17, quit her home and headed to Europe to follow her dream.
"I never thought twice," she said. "There were challenges. I had to learn a new language and stay in a hotel by myself for a year.
"My team-mates didn't speak English and I didn't speak Italian. And my family didn't have a phone, so we communicated by airmail.
"I used to talk to myself in the mirror every night, because that was the only person I could have a conversation with.
"But I was determined. I bought a dictionary and learned three words a day and just embraced this time in my life. I never look on these things as difficulties. They helped make me the person I turned out to be."
A huge hit in Italy's Serie A, she was asked by the country's president to play for the Italian national team, a move that led to Reilly winning the 1984 Women's World Cup, being named female world footballer of the year, and becoming a household name in her adopted homeland.
Despite retiring from football more than 20 years ago after a career spanning more than three decades, Reilly still champions women's football. Visiting schools across the country, she shares her story in a bid to encourage young girls to try the sport.
"Even now, women's football is like a big tree someone planted – but with no roots," she said.
"There are still stereotypes. It shouldn't be that football is for boys and dancing is for girls. Kids should be allowed to do whatever they want to do.
"We need to enforce this at a young age by telling girls they can play football too, get into primary schools, get football coaches in there and introduce it at an early age, when the passion grows.
"When they opened the sports centre in my name in my home town of Stewarton, there were 40 wee eight-year-old girls signing up for coaching.
"This is the generation that women's football can change for."
Reilly – who ruefully admits her daughter Valentina, 21, chose ballet rather than follow in her footballing footsteps – says the key is to stop comparing the women's sport to the men's game.
"I remember when Valentina was about four. I bought her an Italy strip and took her to Little Kickers," she recalled. "After about five minutes she came over and said she didn't want to play football any more as the boys were too rough.
"That's why mixed teams don't work. Boys football and girls football are two different things. The physical abilities are not the same.
"Girls and women's teams should be treated as separate."
She added: "Things are progressing but there's still work to be done. We need women in the boardrooms as that's where the decisions are made.
"For so long, it has been men who have decided our fate, and I don't think that's right. Women should decide their own destiny.
"We need a women's SFA. And an injection of money."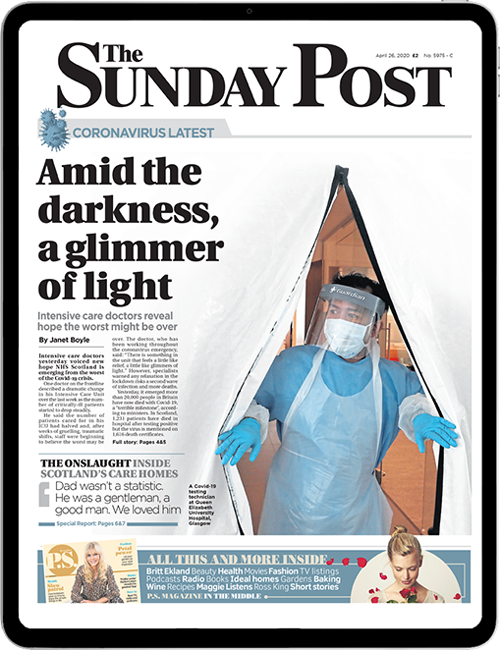 Enjoy the convenience of having The Sunday Post delivered as a digital ePaper straight to your smartphone, tablet or computer.
Subscribe for only £5.49 a month and enjoy all the benefits of the printed paper as a digital replica.
Subscribe