Long-distance runner Kathrine Switzer was only 20-years-old when she was infamously, and literally, manhandled off the course of the Boston Marathon by a burly Scot.
It was 1967 and she had become the first female to enter the race in its 70-year history, signing up using just her initials. She set off in a sea of men but a mile and a half in she was stopped in her tracks by angry race official Jock Semple, who tried to throw her out of the competition, simply because she was a woman.
Images of Jock grabbing Kathrine and trying to rip her race bib off shocked the world and left her visibly shaken. But more than half a century on, the American says she's now glad Jock tackled her because not only did it pave the way for her successful running career, it was a catalyst for change in the sport.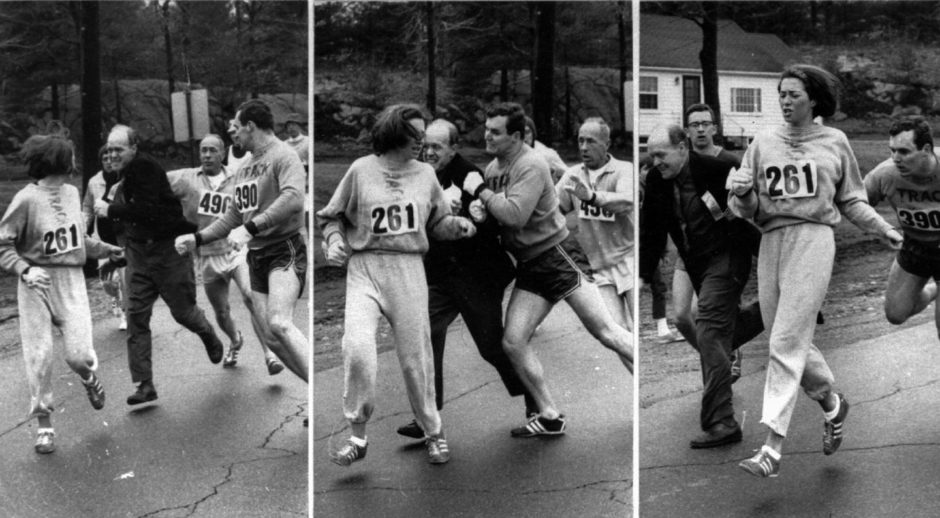 "Jock was mad – and I was absolutely terrified," Kathrine said. "Never in my life had I been manhandled, never even spanked as a child, and the physical power and the swiftness of the attack stunned me. He was out of control.
"I could have walked off the course in humiliation and fear but I decided to finish the race and that's what cast my destiny. Jock had me disqualified, I was expelled by the Athletic Federation for fraudulently entering the race with my initials even though men had entered with only their initials, and for running without a chaperone.
"I realised that if this was how women were treated in running, it would be the same in education and on the career front, so it became a real crusade to get women official in running because it reflected everything else in society."
Kathrine, now 73, will share her reflections this week when she is guest of honour at the Scottish Women In Sport Awards and she hopes her experience can inspire women across the country to get involved with sport, despite the current pandemic.
"I always say the worst things in your life can become the best things in your life," Kathrine said. "And that was true of Jock. He wasn't only the man who changed my life, he changed the world of women's running. In fact, he did more for women's running than anyone else in the world."
In an unlikely twist, Kathrine, who spends half of her year living in New York and the other half in New Zealand, and Jock went on to become friends.
"Forgiveness is really important so I had forgiven Jock by the time I finished the race," she said. "He was the overseer of the race and he protected it through the war years. He nurtured it and kept it alive. He thought I was a joker, a clown, another prankster. He was tired, the weather was terrible, he was trying to get the race off on time and he just lost it. He overreacted. He defended himself for five years. During that period women got together and we won official status in the Boston Marathon in 1972.
"I showed up again, officially this time, and won third place. Jock had steam coming out of his ears.
"He had to present me with the trophy. It was broken when he took it out of the packaging so he was embarrassed to have to give it to me. He said they would get it fixed for me but I kept it broken as a reminder.
"The next year, Jock came up to me at the start line. I thought he was going to hit me again, but he put his arms around me.
"He realised I had spent five years working my tail off and he knew I was serious. He never said the word, but I'm sure that was his way of saying sorry. That was the picture in the New York Times the following day with the caption 'The End Of An Era', signalling that times had changed. The poor winner never even got his photograph in."
Kathrine added: "I helped Jock launch his book and I flew him to New York when I launched my race there.
"When he fell ill I had to see him. I flew to Boston just two days before he passed away. After the impact he had on my life, it was important."
Kathrine, who still runs every other day, has dedicated her life to tackling inequality in the sport and campaigned to bring the women's marathon to the Olympic Games by organising a series of races in 27 countries around the world.
"In 1980, we closed downtown London for the first time in history for a sports event," she said. "They said they had only ever done that for the Queen. I wanted to spread the word and encourage women into running, because it's empowering.
"I have been running for 62 years now and every day I run I have a victory under my belt that nobody can take away from me. It's magic.
"I feel I am limitless, I am fearless. I feel on top of the world.
"Women's sport has come on massively. And it's not just about the sport, but a social revolution. Sport has historically focused on speed, power and strength. But what we are finding is that women have more endurance, stamina, balance and flexibility than men. It isn't a question of being better, it's that women are different.
"Until as recently as 40 or 50 years ago we were victims of our own biology. We have a lot going for us now. We have birth control, so we can control our biology, we have nutrition, we have equipment, we have our health – and these are the things previous generations never had. I think it's our own response to limitation.
"For thousands and thousands of years we have been the nurturers and we have stayed at home to have kids and a career and didn't have the time to do sport. But we're mastering that balancing act."
Three years ago, Kathrine, who has spent decades working in TV and sports broadcasting and launched her own charity 261 Fearless (named after her 1967 bib number), returned to the Boston Marathon again to mark the 50th anniversary of that epic first race.
"It was the happiest day of my life," she beamed. "I had trained for 18 months to get back up to marathon distance and everything came together. I only ran 24 minutes slower than I did when I was 20. It wasn't about the finishing time. It was saying thanks to a city that has given me and women so much. But it was proof you can get it back at any age!"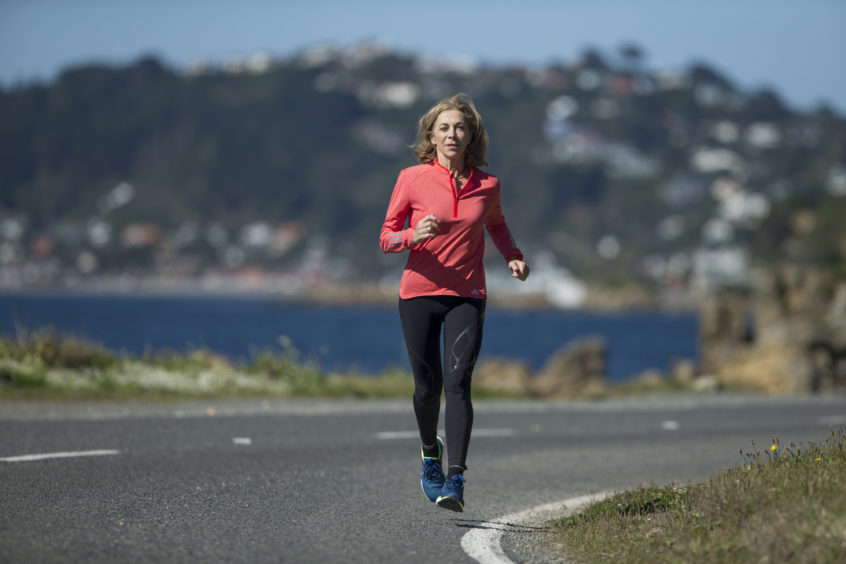 She added: "There's no age barrier to running and it's never too late to start – and always too soon to quit. I meet women in their 60s and 70s who have only just started out and they're running marathons and ultras. There are no limitations.
"Running is cheap, easy and accessible and is the basis for almost every female sport.
"It has given me everything in my life, my health, my career, my husband, my vision and most of all it has given me myself.
"Every time I run I get close to myself and learn more about myself," she said. "You don't need to be beautiful or talented to run, but it can bring a sense of empowerment and when you feel that you can do anything."
---
Inspirational: Courageous trio saluted on the award shortlist
Determination and resilience of Danielle McKinnon, Mekala Osborne and Kayleigh Haggo earn nomination for the prestigious Inspiration in Sport honour.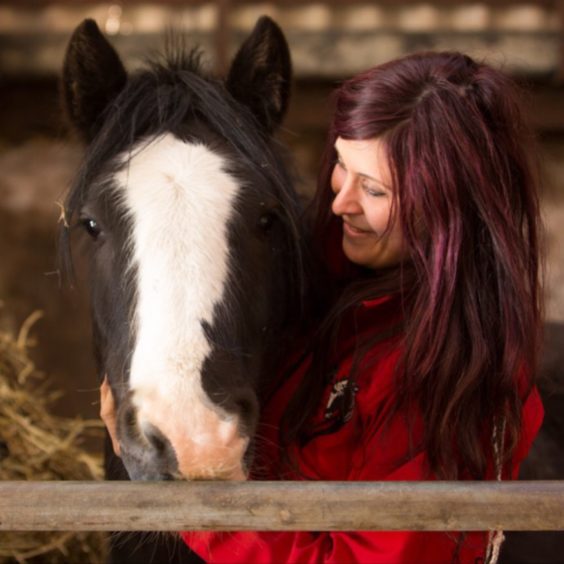 Growing up Dani, 35, from East Lothian, suffered physical abuse and by the time she was a teenager she was placed in a children's home – she then ended up homeless.
But, after working at a local stable, she set up a grooming business before opening a riding centre for those dealing with mental health problems and disadvantaged young people. Eat Sleep Ride, based in Eyemouth, takes referrals from schools and social services.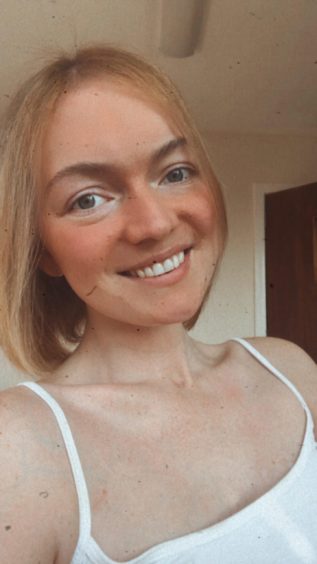 Hockey player Mekala was given a 5% chance of survival after contracting a deadly virus while travelling in Cambodia a year ago – with doctors saying she may never walk again. But the 23-year-old, from East Lothian, has defied all odds and is not only learning to walk again, she is aiming to return to the pitch with her club Preston Lodge Ladies in East Lothian. She has also joined Scottish Hockey's skills development programme for young leaders.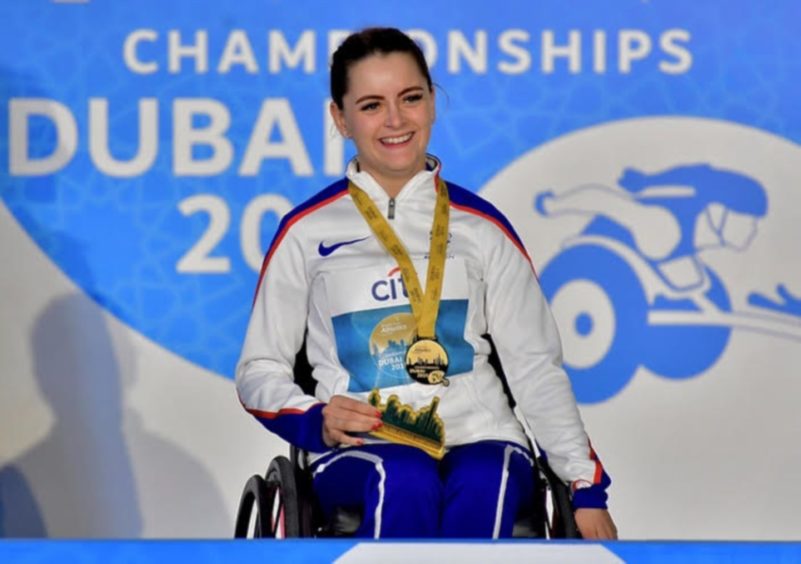 Kayleigh, 21, from Maybole, South Ayrshire, is a Scottish runner, who, despite lockdown and severe restrictions on her ability to train, has set her fourth world record in 2020.
She recorded a time of 37.75secs in the 200m at 4J Studios National Open Series event in East Lothian this summer, adding to her other world records in 100m, 400m and 800m.
She recently ran a two-day Inspire Athletics festival in Girvan, giving child with disability an opportunity to try athletics, including wheelchair racing.
---
This year, of all years, is the time to salute our wonderful sports women
By Maureen McGonigle, founder and chief executive of Scottish Women in Sport
These are our seventh annual awards and it is certainly going to be different this year. The ceremony will be virtual for a start.
And instead of serving up a fancy meal and cocktails, we've drafted in the professionals to show people how to do it at home instead. We can still dress up in our finery and have a good time, it will just be a new experience.
The fact is, if there was ever a year to celebrate women in sport and bring them to the forefront of everyone's attention, 2020 is it.
While there hasn't been much sport played during the Covid-19 crisis – and where there has been, the majority has been male sports at top level – there has been so much going on behind the scenes for women. Athletes, clubs and sporting organisations across the country have pulled out all the stops to help each other – and the wider community – since the pandemic hit.
And that merits cause for a celebration. Every year, we aim to recognise the hard work, determination and commitment that enables young girls and women to participate in every aspect of sporting life.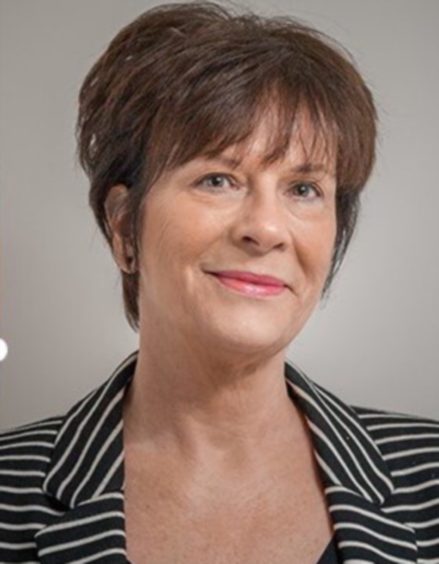 In 2020, we have awards for website for example, so it's all about innovation and preparing for the future. And role models.
They show young girls what can be done and where they can go – and there are plenty of them in Scotland and featuring in the awards.
The role that Kathrine Switzer has played in bringing equality of opportunity to women cannot be underestimated and in Scotland we have some trail blazers who continue to break down barriers.
In football, we have Shelley Kerr the first woman to be appointed as manager of a men's club in the United Kingdom and Hannah Rankin, Scottish professional boxer and classical musician.
She held the IBO female super-welterwight title in 2019 and is ranked as the fifth best active female middleweight.
Also, we never forget the day-to -day inspirational women, mothers, sisters, aunts, cousins, who inspire others through their commitment, dedication and passion to keep themselves and their families fit, healthy and happy.
It feels like the biggest impact of Covid in sport has been on women – but there's a part of us that wants to give people inspiration for fitness and let them know that life goes on.
---
You can watch the Scottish Women in Sport Awards on Youtube on November 26, here: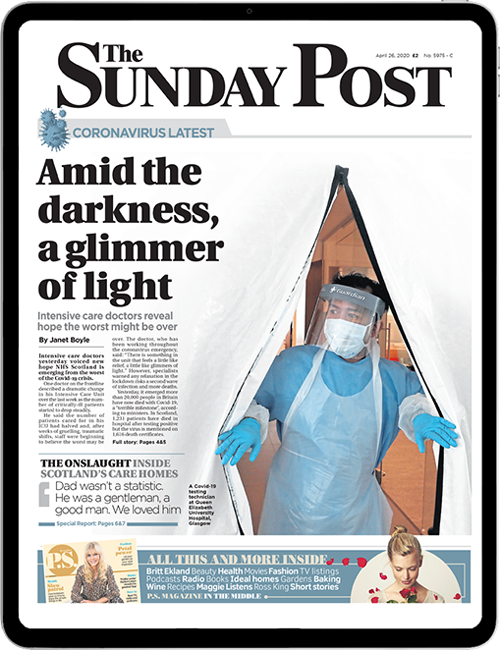 Enjoy the convenience of having The Sunday Post delivered as a digital ePaper straight to your smartphone, tablet or computer.
Subscribe for only £5.49 a month and enjoy all the benefits of the printed paper as a digital replica.
Subscribe