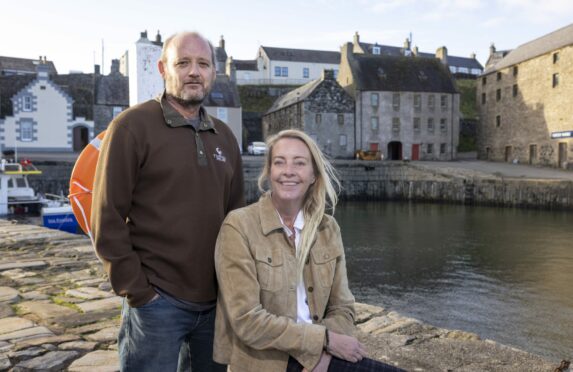 Growing numbers of properties in Scotland are being purchased remotely without being viewed in person, as the market continues to boom.
According to estate agents, some properties are seeing many offers made by people who haven't even stepped foot inside the home yet, as buyers rush to secure homes.
The trend comes as Scotland's swelling property market persists, with reports of homes selling for upwards of 30% over the asking price.
Average house prices in Scotland reached a record level of £207,877, with July this year seeing the largest increase in average price in a month since March 2015, according to a recently published price index by the Office of National Statistics (ONS).
Jonny Dickson, who is a director at Scotland's largest estate agent Slater Hogg, said the buying without viewing trend is being driven by the booming market and by moneyed buyers from the south of England.
He said: "We have seen a lot more people willing to put offers in without seeing the property because they are either overseas buyers or from the south east of England and don't have time to come up to view.
"We  sold a 70s-style loch side villa a few weeks ago. It was on at offers over £250,000.
"It got 23,000 hits on Rightmove which is among their highest ever. The staff in the office fielded thousands of calls from all over the UK.
"In the end we had 15 offers and I'd say about half of those were from buyers in the south east, many of which hadn't physically seen the property."
He added: "Since the pandemic people can work from anywhere, all they need is their laptop, so more and more people are looking for a Scottish retreat where they can work from.
"For someone who works in The City, say in London, they can buy a bolthole with what they make on their bonus, so they can afford to take a risk."
Sandra Hill, director at Manor Estate Properties in Uddingston has also noticed the growing phenomenon, which she believes began due to people being unable to physically view homes during the pandemic.
She said: "The stamp duty holiday and low interest rates have helped lead to a surge in people wanting to buy, as well as people being able to work from home and change their lifestyles.
"As a result, the market is highly competitive at the moment, and we are witnessing huge levels of offers on homes, with some not being viewed before purchase.
"People will swoop in as quickly as they can to secure properties, so will bid highly and remotely before a lot of other people have had a chance to view.
"I had a really unique situation recently where we had put a for sale sign outside a house in Anniesland – it wasn't even up online yet – and someone phoned saying they wanted to put an offer in.
"They hadn't seen any of the details on our website, never mind seeing inside the property in person, so it just shows how crazy the market is right now.
"But for most people, thanks to videos and virtual tours of properties on our website and other estate agent's sites, people are able to get at least a sense of a home without actually stepping foot in it.
"The pandemic has meant a shift in the way people want to live and I do think there has been a great number of people wanting to move from England or abroad to Scotland, who are happy to buy and take a risk because they're really desperate to get a property.
"Covid-19 also meant people weren't able to come and view properties the way they had been able to in the past due to social distancing restrictions."
She added: "There are of course risks that come with not viewing properties before purchase as with fast sales, structural surveys or other checks are impossible, or people might not quite understand certain areas or access to amenities.
"There's only really so far a photo can go and sometimes they don't give a proper representation of the property.
"So for that reason we would always advise coming to see the property in person but with the market the way it is right now we do understand this isn't always possible."
Jamie Osborne, associate partner at Rettie & Co said their online viewing systems have been getting far more hits than usual, fuelled in part by the pandemic, but this has also meant people are physically viewing properties less before buying.
He said: "We've definitely noticed a rise in virtual traffic through our websites, and people who maybe would view properties more times in person in the past aren't needing to do so because they can just check information online."
---
When you really want a house, it's worth the risk of buying it unseen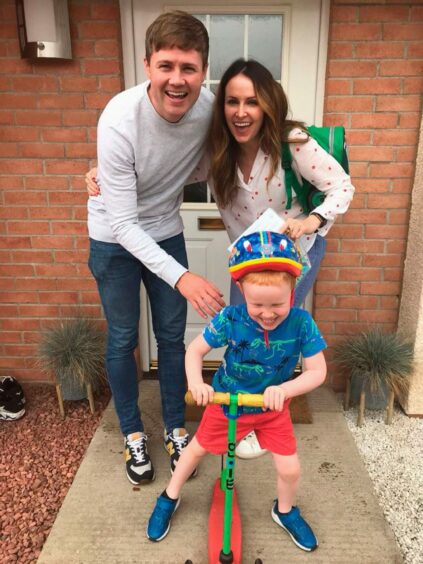 Elaine Fotheringham, 37, lives in Falkirk with partner, Mark Laird, 37, and son, Joseph, three.
We bought our house last summer and did it all without having been to actually view it ourselves.  We hadn't actually seen inside the building until they'd taken the house off the market.
Because the pandemic had meant we were unable to leave Scotland for so long, we were on our first trip away to Ireland at the time, so were unable to view the property in person.
We had viewed a couple but they'd gone before we'd had a chance to offer and then we did put an offer in for one but it was rejected.
Things were starting to take off in the market by this point and our solicitor had told us that things were starting to heat up so to act quickly. So when we saw this one that was in the particular style and type of what we were looking for, we thought let's just go for it.
Thankfully my parents were able to pop round to have a little look for us and I do trust their judgement, but the vendors were a little nervous we hadn't seen it in person understandably.
It is risky definitely not seeing it yourselves. There could be dodgy neighbours with four loud Alsatians or it might be further than you think from shops or schools or the garden might look big in photos but actually be really small.
But for us, we did know the area quite well already so we thought it was worth the risk and when you really want a house, with the market being so competitive, it's a viable option.
It's not really different from people who are buying properties off plan – I think in that sense it can actually be more risky – because you don't even have photographs as the property isn't built yet, so you can't get a sense of the space.
We knew the risks, but it meant we could get our home and that's the main thing for us.
There was something special about this itty-bitty cottage. To move in was like coming home

– Home buyer Liz Thorpe
by Sally McDonald
They met over a pint in a Scottish pub in Colorado and had their first date on Burns Night before embarking on a life sailing superyachts for millionaires.
But boat captain Gareth Thorpe, 48, and his chef wife Liz, 45, an American, chose to swap life on the azure waters off glitzy Cannes, St Tropez and Monaco to lay down roots in the country they had come to love best – Scotland.
The couple, who stayed in Turkey, decided to settle in historic Portsoy, the Aberdeenshire home of the Traditional Boat Festival, after holidaying there and later falling in love with a little stone cottage, buying it online in August 2019 without ever being inside it.
Six months later, before they'd had a chance to move in, the world locked down. With Turkey on the UK's travel red list and hampered by quarantine and work commitments, they were stuck – until now.
Last week, the Thorpes collected the keys to their new home and stepped over the threshold for the first time, more than two years after they bought it from owner and Amazing Results estate agent, Judith Mackie.
Now finally in the first home of their own, they are planning to launch the Port House restaurant overlooking the old harbour that dates back to the 16th Century when Mary, Queen of Scots signed the charter that established Portsoy as a burgh.
Liz, 45, said: "I fell in love with the cottage immediately. We bought it, sight unseen, online. There was something special about this itty-bitty cottage. To finally
move in was like coming home."
Sold out: Surging property market leaves young Scots out in the cold as flats and houses continue to sell for over 30% above asking price
Gareth, who learned to sail as a child, gained his Yachtmaster qualification after studying maritime technology at college in Southampton.
He later became a holiday flotilla skipper in Turkey and Greece in the sailing season and in winter worked as a snowboarding instructor at the Nevis Range Mountain Experience, and abroad.
Liz, who was also a frequent visitor to the Highlands, was a co-owner of the Celtic-themed Cala Inn at Colorado's Keystone resort where Gareth worked as snowboard instructor.
Liz said: "We met in 2005. We were the only pub in the country that was serving steak and kidney pies and Gareth came for the pies. We met over me pouring him the best pint of Guinness in the county."
Their first date was on Burns Night – an anniversary they still celebrate – and when Gareth returned to Turkey, Liz visited him. Pretty soon she was working alongside him on board, initially with a Turkish media mogul and his 56ft Grand Soleil yacht, sailing local waters.
Liz said: "But I got tired of local sailing and we moved on to superyachts."
They included a 115ft sloop designed by architect to the jet-set, Andre Hoek, and a prize-winning 140ft gulet cruising to Italy, Malta, France and Croatia.
Adept at nautical knots, the couple took a brief break on land in 2011 to tie the marriage kind at Hoscote House Estate near Hawick.
"We chose Scotland because we had got together on the back of our mutual love for the country," said Gareth.
Liz said: "Two years ago we were on holiday in Scotland and Portsoy was our first stop. It stuck with us.
"We got on so well with the locals they called us 'honorary Scots' and said we should come back. We wanted to put down roots and be part of a community, so we did. We're finally home."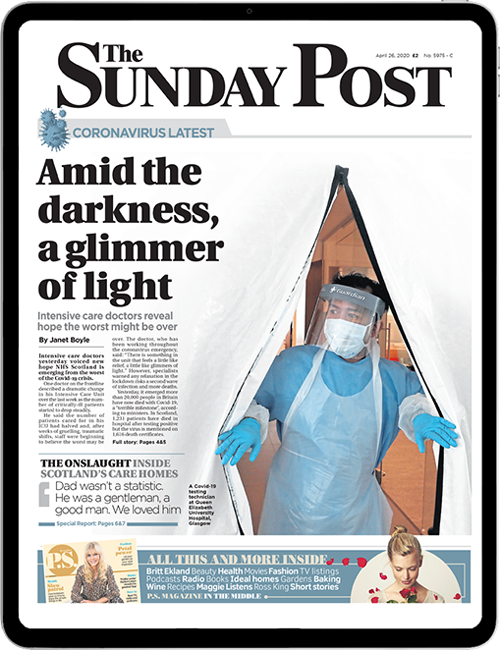 Enjoy the convenience of having The Sunday Post delivered as a digital ePaper straight to your smartphone, tablet or computer.
Subscribe for only £5.49 a month and enjoy all the benefits of the printed paper as a digital replica.
Subscribe