Three weeks from today, Scotland's women's team kick off their first World Cup adventure, taking on the Auld Enemy in a much-anticipated match in Nice, France.
We speak to two Scottish players who have already enjoyed their own European adventures.
The trailblazing Rose Reilly, who defied convention in the 70s to move to Italy to become a professional footballer, win the golden boot goal-scoring award and lift the World Cup while representing the Italians.
And Lana Clelland, who is following in Rose's footsteps by also making a name for herself in Italy, winning the golden boot and preparing to lead the line for Scotland at this summer's tournament.
They talk about their journeys to the top and being role models.
---
The World Cup icon: I'm proud if people think I'm a pioneer but all I wanted was to be a professional
Rose Reilly's story is an inspiration to anyone who was ever told no.
Not so much Roy of the Rovers as Rose of the Rovers, her career is one packed with incident.
From cutting her hair short and calling herself Ross to play in the local boys' team in Stewarton, Ayrshire (where the Celtic scout tried to sign her before realising she was a girl), to moving abroad at 17 to turn professional, being banned by Scotland and winning the unofficial World Cup for Italy, Rose's story is the stuff of legend.
Having turned down repeated attempts to take part in a documentary about her life, Rose has finally relented, feeling the forthcoming World Cup and the rise of female empowerment makes the timing right.
Now 64 and retired almost 25 years, Rose's film is broadcast on June 2, one week before the Scotland v England match.
Yet, despite her incredible achievements, Rose reckons the current crop of players will have no idea who she is.
"I'm very proud if people think I'm a pioneer," said Rose. "But I don't know if the players these days will have heard of me. I think they take inspiration from themselves."
With women's football not recognised in Scotland at the time, Rose played a trial match in France, won a contract, and quickly played her way to AC Milan in Italy.
"I was never afraid. All I wanted was to be a professional. It's only now I'm older and a mother of a teenager that I realise what I did was quite surreal.
"I stayed in a hotel for a year on my own and I talked to the mirror every night as it was the only person who could talk back to me.
"My parents didn't have a phone at the time, so I couldn't even call them. We sent letters back and forth.
"I bought an Italian dictionary and learned three words a day."
She wonders if it was her decision to turn professional that saw her sine-died by Scotland in 1974.
The opportunity then arose to play for the Italian national side and she went on to win the World Cup in 1984, scoring in the final.
But, as the documentary reveals, she beat the odds yet again by overcoming serious illness to continue her career.
After contracting severe hepatitis, Rose was told she would never play again.
"After a match the girls bought raw seafood. I ate just one piece. That's how I got it.
"I was seriously ill. The doctor said I'd never play again and I thought, aye, that'll be right.
"At first I had so little energy I couldn't walk to the toilet. But I made myself walk a little further every day and, after six months, I was close to normal again."
Rose retired at 40, having won eight Serie A titles, a French title and four Italian cups.
She opened up a sports shop in Bari, met her husband and had a daughter, Valentina.
"My mum had a stroke and I was told she only had a week left, so I came home to care for her. Nine years later she was still here.
"I was happy to come back and I gave my mum the joy of having a granddaughter, which she never would have dreamed of from me."
Inducted into Scottish football's Hall of Fame in 2007, Rose has no bitterness about how she was treated in the past. Instead, she is looking forward to how the women's game can grow.
"The fact we've qualified is fantastic and it's great the girls are getting all of this publicity," Rose added.
"Money has to be injected into the Scottish league. Right now it's a big beautiful tree but with no roots, so it could easily fall over.
"Sponsorship is needed, as is getting more and more youngsters interested."
Rose Reilly is produced by purpleTV for BBC Alba. It will air on Sunday, June 2 at 9pm and thereafter on the BBC iPlayer for 30 days
---
The World Cup star: She's an icon and everyone in the world should know her story
It was with a sense of embarrassment that Lana Clelland admitted she had never heard of Rose Reilly.
The Perth striker was being interviewed by an Italian journalist and comparisons were made of their similar career paths.
"I had no idea, but I've since dug into the details and I think it's incredible what she achieved," said the 26-year-old.
"I spoke to her recently and hope to meet her one day. She contacted me and congratulated me on everything I've been doing out here.
"It was a pleasure to speak with her, because she conquered everything over here and it's a massive honour when people say I'm following in her footsteps.
"She's an iconic person and I think everyone around the world should know about her story."
Lana remembers kicking a ball around at home, but it's when she went to primary school and all her friends were boys that she developed a passion for football.
She played for the boys' team until she was 12, then Letham Girls, St Johnstone, Rangers and Spartans before an unexpected opportunity arose.
"An agent contacted me and said he was looking for a striker to go to Italy," she explained.
"The Scottish season had just ended, so it was good timing.
"It's been an unbelievable experience. The language was the most difficult part but the biggest difference has been the recovery time, not having to work another job, like at home."
Lana played for Bari and Tavagnacco before signing for Fiorentina last year. She recently played in a derby against Juventus with a record crowd of 39,000.
"It felt like a turning point for the game in Italy. We lost the match but women's football won," she said.
After being named in the squad for the World Cup, she's counting down the days to a moment she never thought could happen.
"When I was a little girl I never believed it would be possible to play in a World Cup. It's incredible to see how far the sport has grown.
"We're confident in ourselves as a squad and as individuals, and are aiming to get out of our group.
"The success of the national team can help push forward interest in the game in Scotland.
"It's nice to be told I'm a role model and have younger girls look up to me.
"If you work hard enough at your dreams, you can make them come true."
---
Young star: I loved playing Rose. She is my inspiration
Playing Rose Reilly is a dream come true for Brogan Baird.
Nine-year-old Brogan plays Rose in flashback scenes for the documentary about the ex-player and hopes to one day emulate the World Cup winner's career.
The primary five pupil, like Rose, is from Stewarton and is already turning heads with her own football skills.
When Elsie Cook, the inaugural secretary of the Scottish Women's Football Association and Rose's friend, heard about Brogan she suggested her to the producers.
She shot her scenes earlier this month. Brogan's mum, Debbie, said: "Being from Stewarton, Brogan knew all about Rose's story and is inspired by her.
"She was so excited about getting to play her and loves the wig so much she wants to wear it all the time!"
Brogan began playing football when she went to Lainshaw Primary School and joined the local mixed team, Stewarton Annick, in February last year.
"Her coach calls her their own Rose Reilly. She's just won the club's player of the year and personal achievement awards.
"Stewarton Annick recently had the opportunity to go to Rangers for training and the next day the coach received a call saying two girls had stood out, one of them being Brogan, and Rangers would like to bring them both up for personal development training."
Brogan's school, Lainshaw Primary, is across from the football pitch where Rose used to play as a child.
Brogan said: "I'm totally inspired by her and want to be the next Rose Reilly."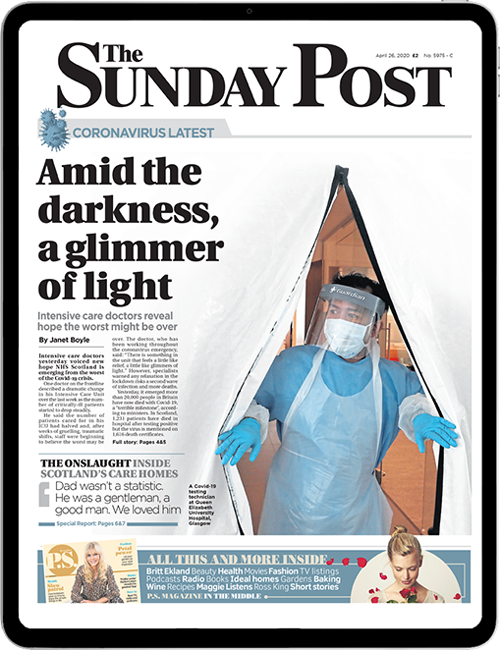 Enjoy the convenience of having The Sunday Post delivered as a digital ePaper straight to your smartphone, tablet or computer.
Subscribe for only £5.49 a month and enjoy all the benefits of the printed paper as a digital replica.
Subscribe