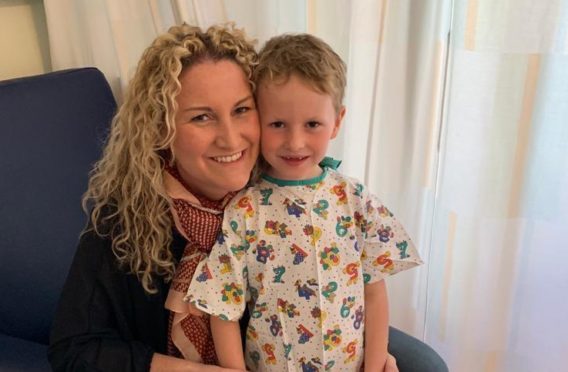 A singer-songwriter is thanking her local hospital for their care of her son by raising money with a new charity single.
Elaine Lennon hopes to help fund Covid-friendly toys and games for the University Hospital Wishaw paediatric unit, which helped five-year-old Chris recover from a benign tumour last year.
The song, titled Uncharted Waters, features a host of big names from the Scottish music scene, including Karine Polwart, Boo Hewerdine, Findlay Napier and Siobhan Miller.
It was initially inspired by the world coming to terms with the uncertainty caused by the coronavirus pandemic.
But as she delved deeper into the writing process, Elaine was thinking back to her personal experience last year when Chris was in hospital.
She had found a lump on her son's back that was causing him pain and discomfort. Doctors originally thought it was a cyst, but discovered it was a growing tumour and quickly referred him for surgery.
"Writing the song, I was pulling on emotions of how no-one has the map that tells us what we should be doing next," she said.
"I started thinking about last year when Chris diagnosed with the tumour. It was exactly the same feeling, a sense of 'what do we do now?'
"As I was writing this song about Covid, that was the same emotion I was including, that feeling of being a bit all at sea but trying to find the positives."
When Chris was admitted, Elaine said the porters, surgeons, doctors and nurses were "amazing" at taking care of patients and worried families, but noticed that distractions for children spending long days in wards were few and far between.
"Chris had his surgery at 2pm, but was in from 7:30am nil by mouth," she recalled. "He had to spend all that day in a ward knowing that he was going for what he called a 'big sleep'.
"The games and the distractions in the ward were what kept him from getting more anxious in the hours you have to wait.
"It's horrible for a parent to watch a child go through any sort of operation but when they are distraught and under a lot of stress it just makes it so much worse.
"Chris was desperate to get out of recovery so he could have his shot on the Xbox.
"There was only one console for four beds in that ward, so they had to all take turns of it. I remember at the time thinking about doing something to help with that."
With Covid, things have changed again for the hospital, with the playroom out of action.
Elaine is hoping that the money raised from her song will help provide things like handheld consoles, TVs and toys that can be wiped down.
"My mission is to make sure that the kids have enough things on the ward to keep them in a place where they're relaxed.
"They need things that can be taken to beds rather than having kids in a playroom.
"Covid is obviously horrible, but other treatments and illnesses are still going on too.
"This felt like a way we could help and actually make a difference. So many people right now are feeling helpless, and that's what the emotions in the song touch on.
"With it, I'm giving you a way you can help, something tangible. All of the money goes to me going to Argos or wherever and buying these products and taking them to the hospital."
As well as raising money to help make a positive impact of children's experiences in hospital, the song also serves as a personal thank you for the care Chris received.
"It's just absolute gratitude, not just for their medical ability to treat these brave patients, but they also give that feeling of putting us all at ease," Elaine said.
"They've got the medical stuff covered but it's the Covid-friendly toys, games, that can help take these little brave patients' minds off their illness and treatment.
"For myself and my husband, we really went out of our way to make going into hospital almost like a game for Chris, because he didn't really understand what was going on.
"It was about taking interest in everything going on around us and making it almost an exciting experience.
"I know how mad that sounds, him having a tumour, but you just have to try and relax them as best you can and it totally worked. He was happy, smiling going in, waiting for his big sleep and looking forward to the Xbox when he came out."
The song originated in a mentoring session with fellow musician Boo Hewerdine, who challenged Elaine to write a song about the pandemic – without mentioning Netflix or boxsets.
When Uncharted Waters came to life, he loved the track and contacted some of his friends to add their talents to it.
"Boo said it felt choral so he decided to ask some of his buddies if they'd like to add to it with guest vocals," Elaine said.
"You and I have buddies, and Boo Hewerdine's got buddies at a different level!
"It's been an incredible effort. I'm so proud of the track and so grateful for these amazing artists.
"These folk are really well established and have been so generous donating their time and talent to this song. They've bought into the importance of the cause and it'll make the difference.
"I could've raised a little bit by myself but to have these amazing artists involved raises the kudos of the song.
"Many of them felt that they wanted to be able to give their time to help others. It's even more generous in this time where we're all scrabbling for the scraps on the table."
Jane Thomson, paediatric senior charge nurse at University Hospital Wishaw, thanked Elaine for putting the project together.
She said: "This is a fantastic endeavour by Elaine. The lyrics of the song are so emotional and it is great to see Chris is thriving in the video.
"It is always very humbling when a family want to make a contribution which will help others who are going through a similar experience.
"Playtime and games are really important in the paediatric ward, helping the children to take their minds off their illness and treatment.
"I am sure I speak on behalf of all the staff when I say that we were all very touched and we hope the song is a huge success."
---
Uncharted Waters will be available to buy on Friday 21 August from streaming sites, Bandcamp and elainelennon.com. Further donations can also be made on Elaine's website.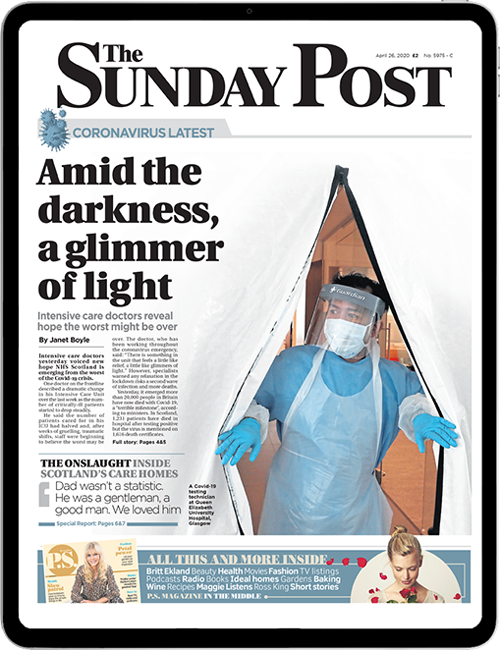 Enjoy the convenience of having The Sunday Post delivered as a digital ePaper straight to your smartphone, tablet or computer.
Subscribe for only £5.49 a month and enjoy all the benefits of the printed paper as a digital replica.
Subscribe