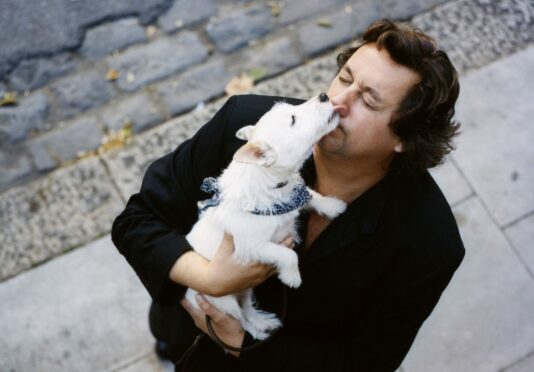 We start with regret. "Jackie was one of those people, I suspect, who will be known much more after his death," Deborah Greenwood believes, "which is a really sad thing for him because he would have enjoyed it".
Greenwood is sitting in her car somewhere between Winchester and Southampton, stuck in a traffic jam while remembering the man she loved, Jackie Leven; the good times, the bad times, the talent lost. Leven, as his name might suggest, was a Fifer.
He was also one of Scottish pop's nearly men. Emerging in the febrile post-punk era of the late 1970s with the band Doll by Doll, a ferocious, by all accounts even intimidating, live act at the time, he survived a brutal assault and heroin addiction in the 1980s to become a cult singer-songwriter much loved by critics and his loyal fans (who included crime writer Ian Rankin), but sadly ignored by the wider world.
Leven died of cancer in 2011, aged 61, leaving behind an impressive legacy; more than 300 songs, Greenwood, Leven's life partner, reckons, and a bookful (maybe more than one) of tall tales attached to his legend, some of them even true, taking in everyone from Princess Di to the Dalai Lama.
This year sees a special event at Celtic Connections in honour of Leven's memory. Postponed from last year, when it was "Covided", as Greenwood puts it, Leventime: A Tribute to Jackie Leven sees the aforementioned Ian Rankin join forces with the likes of Boo Hewerdine, Jinder and Malcolm Lindsay, on stage to celebrate the talent that has been lost. (Sadly, if it had gone ahead last year the late, great Rab Noakes would have taken part.)
Greenwood, herself no mean singer, will also be involved.
It follows the release of The Wanderer, a cover album of Leven's songs which included performances by Ralph McTell, Kathryn Williams and Tom Robinson among others and a compilation album Straight Outta Caledonia, both of which came out in 2021. Greenwood is also hoping to pull together a collection of his lyrics as a book of poetry.
"I think he's a Scottish poet, I think he's a real pastoral poet as well. I think he really got the landscape. That Scots landscape is in his bones."
Too late for Leven himself alas, but he is having a moment.
To those who met him, Jackie Leven seems to have the status of legend. A big man (in every sense) who was both charming and alarming, funny and fierce. A drinker, who for a time published the names of his favourite pubs on the back of his albums for those who wished to get in touch with him, and a poet. Someone, in short, who left a distinct impression on all who came into his orbit.
And on no one more than Greenwood. She first met him in the mid-1990s in the 12 Bar Club in Denmark Street in London where she had gone to see him perform.
"I was expecting this tall, cool Celtic genius and I got this slightly wild-looking man in shorts and a torn denim shirt, a little larger than life, with a very battered guitar. And I think the whole audience fell in love the minute he started playing. He was just phenomenal. And he got off the stage, came to the bar where I was standing, feeling a bit like an idiot, and said, 'did you enjoy the show? What's your name?' And I told him.
"And he went, 'Goodness, not the Deborah Greenwood who wrote me a letter a couple of months ago?' To my great embarrassment I had written the only fan letter of my life, care of one of the inns in Oban. He got it and he said, 'I kept that letter'.
And he proceeded to tell me everything that was in the letter.
"He basically said, 'We need to talk. Meet me tomorrow at the Lamb & Flag'. Unfortunately, we were both in partnerships at the time. But I couldn't say no really, and that was it.
"We basically ran away together at that point. Which is probably not a very sensible way to start or end a relationship, but it was just one of those things.
"I think the French call it a coup de foudre."
Who was the man she met? "He has always been larger than life, which is an easy thing to say. But genuinely a physically huge man, very tall, very broad. You felt very safe with him, but you could also feel unsafe with Jackie, especially when I met him. I don't think that's an unfair thing to say. I think most of his friends and people who knew him very well would say he was mercurial at that point. Could be a bit of a brawler. Definitely a man you wouldn't want to cross, I think, but with this ridiculous other side of the utmost tenderness and gentleness. The kind of man who would sit in the garden and watch the ants or watch the buds come out.
"He really loved humankind. He was a collector of lost souls, as well. So yeah, big, handsome, looked like he liked a drink, looked like he could like a bit of trouble. But a real warrior poet when I first met him. A hell of a personality."
He mellowed slightly over the years, she says. As he got older he could still give someone the "Leven stare", if required, she says. "But I think as he got older he went through a couple of big sorrows. He lost his parents. He unfortunately lost his brother. Those things hit him quite hard."
In his later years Leven and Greenwood lived in the Hampshire village of Botley. But the legend of Leven begins in Fife. Born Alan Moffat, he went to the same high school in Kirkcaldy as Gordon Brown, though he left early, already greedy for life (or maybe expelled for drug-taking).
A dreamer and a fighter and an autodidact, he worked in manual jobs and would go from telling dirty jokes one minute to quoting Russian poetry the next. "He just soaked up life, he ate up life," Greenwood suggests. "You could have a conversation with him about absolutely anything."
After the Celtic soul of Doll By Doll, he signed to Virgin as a solo artist. But in 1984 he was violently mugged in London. There was a story put around that he had his throat slashed, but the reality – strangulation – was bad enough and he could hardly speak, never mind sing, for a couple of years. Heroin took over for a while, but he weaned himself off it using acupuncture and "psychic healing". These unorthodox methods led him to set up the CORE Trust to help addicts. It garnered the support of Princess Diana, no less.
"Oh, he was desperately flattered," Greenwood says, laughing. "He was an incredibly good looking man in his younger days, and no question his ego was massively flattered. The fact that a world-famous woman was actually saying, 'Well done, Jackie, fantastic. And would you sing for me?' He loved it. He absolutely loved it. Who wouldn't?"
Leven also championed the Men's Movement instigated by the American poet Robert Bly, author of Iron John. Masculinity, sometimes strong, sometimes fragile, was central to his work. (In 1997 he released an album entitled Fairy Tales For Hard Men).
He had returned to music in the early 1990s and though his voice was damaged by the attack it was still a limber, beautiful thing. He wrote and recorded and toured incessantly.
"When I first met him he was just coming back into work," Greenwood recalls. "The first few years together, he did about 200 gigs a year. That's a lot. And he didn't drive, which didn't help. He always told me he didn't drive because he tried to run over his first wife when he was on a driving lesson. Again, whether that's true or not…"
It is more than 11 years now since Leven's death. He remains a very present absence in Greenwood's life. "It's very strange. What do they say? 'The greater the love, the greater the loss.' It was tough for a few years because you've lost the individual."
And it isn't always easy to be surrounded by his work, she says. To have that constant reminder can be good and bad. But perhaps she can see the good more these days.
"Now, nearly 12 years on, it's a very beautiful thing. And I can see the joy in it and enjoy every minute, and love working with people like the guys we're going to work with in Glasgow who love the music and want to talk about the music and are passionate about his work."
The man has gone, the music remains. Maybe some day soon we will all realise how much it matters.
'He was savage, brooding, and tender. Sometimes in the same song'
Here, music journalist and BBC Radio 6 presenter Stuart Maconie, a long-time fan, hails Jackie Leven:
He was an extraordinary and complex talent. I have loved his music since I was a teenage fan of his terrifyingly intense band Doll by Doll to his later magnificent solo work.

His work could be both brooding and savage and then sweetly, lyrically tender, sometimes within the same song.

At the heart of it all is the voice, a thing of wonder. Once the falsetto had gone, the baritone remained, rich and dark as porter or single malt. I was lucky enough to meet him a few times and he was bracingly good company.

He would talk and write about many things but at the core of his work is, I think, masculinity which he wrote about better than anyone, unafraid of the difficult, dark issues it involved. Listen to his version of Aretha's I Say A Little Prayer in which he quite deliberately does not change the references to dresses and make-up and get a flavour of the man's unique character.
---
Leventime: A Tribute To Jackie Leven, Oran Mor, February 4, is part of this year's Celtic Connections festival which begins on Thursday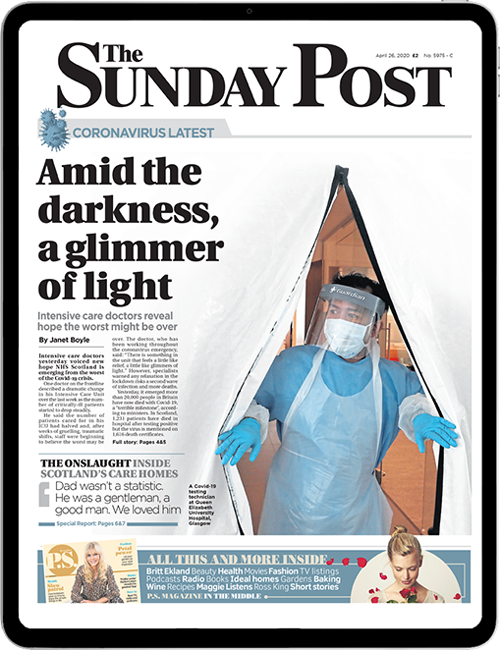 Enjoy the convenience of having The Sunday Post delivered as a digital ePaper straight to your smartphone, tablet or computer.
Subscribe for only £5.49 a month and enjoy all the benefits of the printed paper as a digital replica.
Subscribe