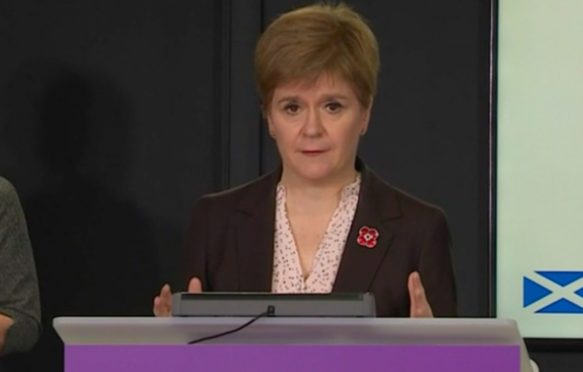 Families of residents lost to Covid demanded answers yesterday after the health secretary finally admitted discharging positive NHS patients into care homes was a mistake.
Jeane Freeman, who is ­standing down at the election in May, was speaking on a BBC podcast on Thursday, eight months after The Sunday Post revealed the scandal.
In October, the first minister insisted a report ordered after our story revealed no evidence linking NHS bed-clearing to outbreaks in Scottish care homes where 3,000 residents have died. That claim was later rejected by watchdogs.
---
August 16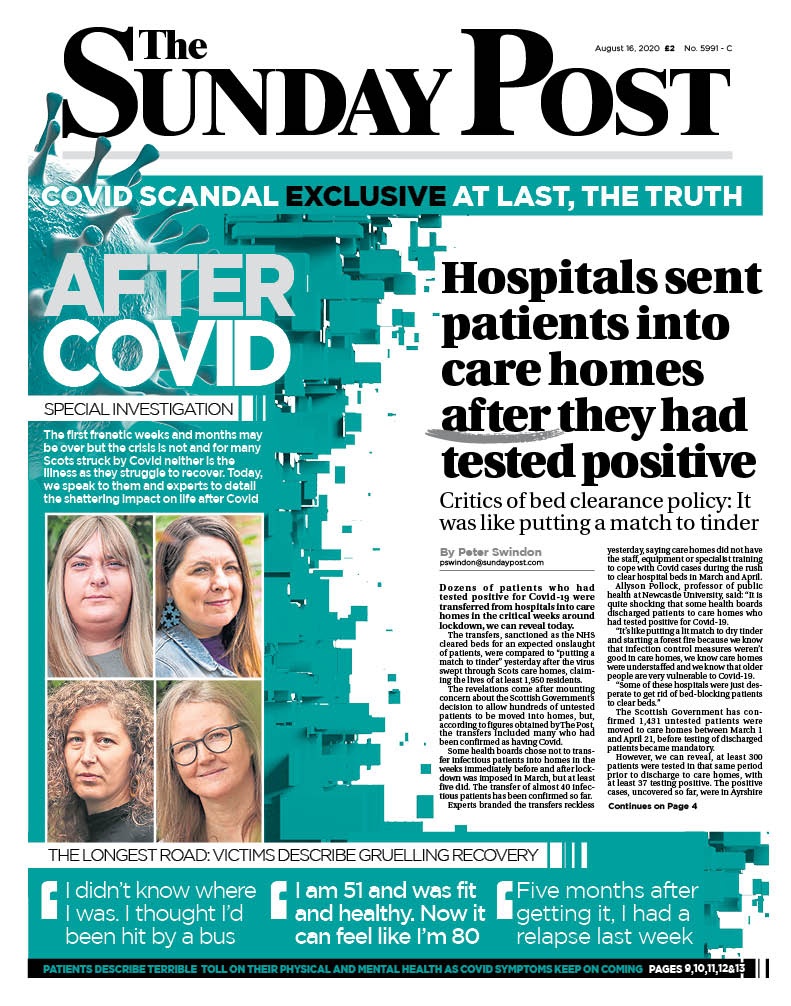 We reveal how hospital patients who had tested positive for Covid were being sent into care homes
October 28
The analysis does not find statistical evidence that hospital discharges of any kind were associated with care home outbreaks

– Nicola Sturgeon claims report does not link the rush to clear NHS beds to catastrophic outbreaks in homes
---
Yesterday, a grieving son said the death of his father in a home was needless and shamed the authorities. Bobby Gold's father William, 89, died last year after being infected at a Paisley care home at the centre of an investigation into the number of deaths and infection control concerns.
Mr Gold, from Arbroath, believes his father's death and others would have been prevented if public health and infection control services had been adequately prepared and inspected.
He said: "Thousands died ­needlessly as a result of the failure to properly regulate care homes, hospitals and workplaces where Covid was allowed to spiral out of control.
"After Jeane Freeman finally ­admitted last week what we've long suspected, that mistakes were made, the government cannot be allowed to continue kicking this scandal into the long grass. Thousands died because of those mistakes. The government and agencies who failed us must be held to account, and without further delay."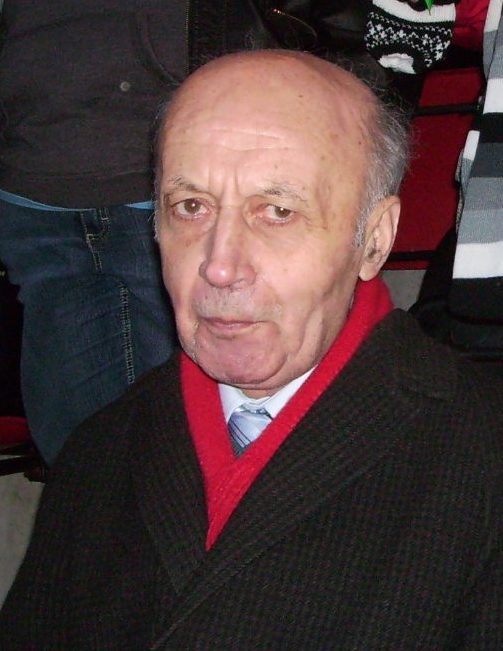 Bobby said his father, who was an engineer, had only been in the Braemount care home in Paisley for a matter of months before he died.
The Angus man was shocked to receive a phone call last November telling him his father had the virus and was fading. Bobby said: "When I arrived at the care home, there was chaos. I wasn't immediately offered PPE and I watched an outside cleaning firm employee going in and out of the home unchallenged, without PPE."
Bobby said he was not surprised when it was revealed in January that almost half the staff and two-thirds of the 85 residents had been infected with Covid, with 16 deaths.
A Care Inspectorate report ­identified areas of weakness and an investigation, currently ongoing, was launched by Renfrewshire Health and Social Care Partnership, which said: "Improvements have been noted and there are currently no residents with Covid-19."
Care home firm Advinia Health, which runs Braemount, said it was continuing to co-operate with the investigation and said "significant improvements" had been made, both in terms of infection control protocols and staff training regarding the optimal use of PPE.
MSP Neil Findlay said Freeman's admission of mistakes was "shameful" after, he claims, ministers stonewalled questions for months. Yesterday, he demanded a specially convened session in parliament tomorrow is extended to allow ministers to face new questions over their handling of the Covid crisis.
He said: "Month after month in ­parliament we have attempted to pursue the truth on the policy to discharge thousands of patients into care homes and, for this, we were attacked, criticised and dismissed by Freeman and the first minister, who consistently denied any wrongdoing or involvement in this policy. Instead, they claimed people were being discharged for clinical reasons.
"Now she finally admits the truth – mistakes were made. Why didn't she accept accountability when we questioned her?"
The Sunday Post View: Only a public inquiry can lay bare catastrophe in our care homes
The first minister said: "The Scottish government did not get everything right in our response to the pandemic. I do not think any government did. It is vital we reflect on that and learn lessons, which is why I also confirmed that establishing a statutory public inquiry will be a priority for this government if we are returned at the election. It is also why we are working to establish a new national care service. We must consider, reconsider and reimagine how we support our care workers and look after our older citizens."
The family of Rodger Laing, 80, who was among those moved from the safety of a hospital bed at Midlothian Community Hospital in Bonnyrigg, into a care home in Lasswade where he lost his life 22 days later to Covid, are also angry after Freeman's interview on BBC journalist Nick Robinson's podcast.
The former gamekeeper's family say their dad was moved on May 5 last year despite them having a legal power of attorney which they believe the government breached by moving Rodger, who was being treated for dementia.
Rodger's daughter, Gail Law, said: "We've always believed dad was sent like a lamb to slaughter when they turfed him out of hospital, and if Jeane Freeman thinks she's escaped the consequences of her actions by making this admission as she retires and leaves office, she is mistaken."
The lawyer for both families, Bruce Shields of Thompsons Solicitors, said: "This tragedy was preventable. Strict regulations have been in place to prevent such an occurrence since 1989."
Shields said that not only was Thompsons pressing ahead with claims for families who have lost loved ones, they are determined to see Covid-19 classified as an industrial injury so frontline workers are given far more protection.
The Care Inspectorate said it ­continues working with "other clinical specialists to provide an enhanced system of assurance around each care home in Scotland during the pandemic as requested by the Scottish government".
---
Expert: Watchdog is more of a lapdog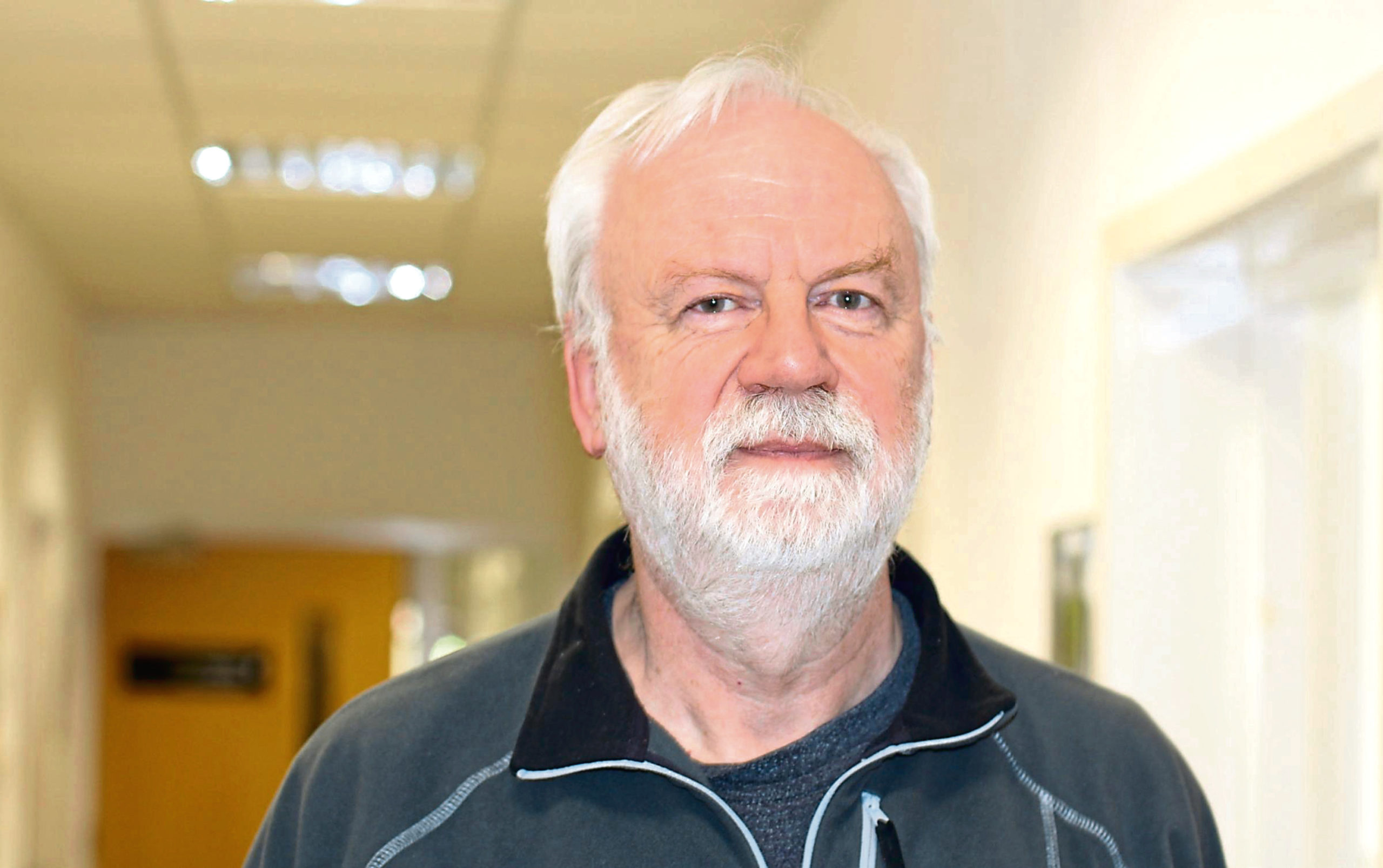 Regulators with responsibility for keeping homes safe have been branded "lapdogs not watchdogs" by experts.
Professor Rory O'Neill of Liverpool University School of Law and Social Justice accused the Health & Safety Executive (HSE) of outsourcing investigations and downplaying risks.
He said: "The HSE deferred to public health agencies, outsourced investigations, downplayed risks, abandoned transparency and embarked on a near complete enforcement holiday.
"Concerns raised by workers have been routinely ignored or resulted in victimisation of whistleblowers."
University of Stirling's professor Andrew Watterson claims government failures during the pandemic have led to deaths. He said: "The failure to recognise Covid as a serious hazard continues to have serious repercussions, but still the government drags its feet on prescribing it, and long Covid, as an industrial disease.
"In Scotland, the lack of an effective occupational health and safety regulatory body to control Covid has been devastating."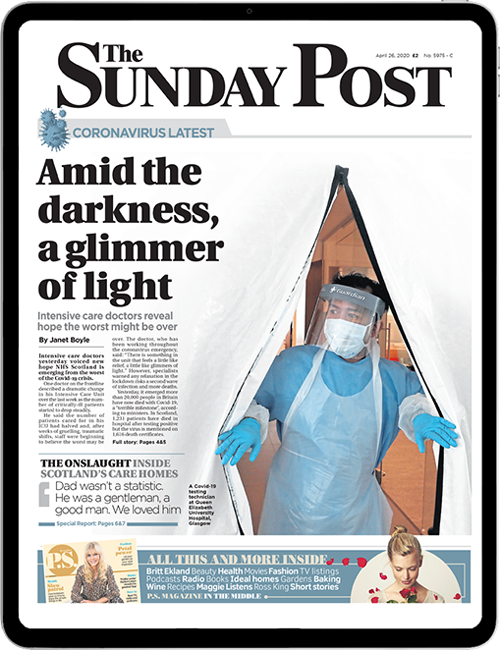 Enjoy the convenience of having The Sunday Post delivered as a digital ePaper straight to your smartphone, tablet or computer.
Subscribe for only £5.49 a month and enjoy all the benefits of the printed paper as a digital replica.
Subscribe