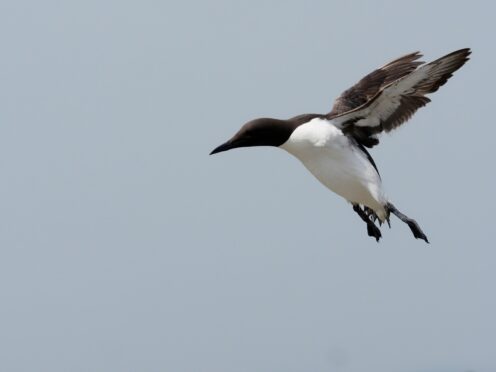 The mysterious deaths of an "unprecedented" number of seabirds being washed up on the east coast of Scotland are under investigation.
Seabirds, mainly guillemots and razorbills, have also been reported feeding far closer to shore than usual and moving up rivers. Many birds found by members of the public on beaches appear to be starving, at half their usual body weight.
No specific cause has yet been found but climate change has been implicated in reductions in seabird prey fish, and also increasing extreme weather events.
A number of guillemots have been tested for avian flu, all with negative results. It is thought toxic algal blooms may be responsible. People have been advised not to handle dead birds.
Serious situation
The phenomenon comes on top of an already serious situation for Scotland's globally important seabird populations. The latest NatureScot indicator, which tracks 11 seabird species, showed an overall decline of 49% since 1986.
Dr Francis Daunt, seabird ecologist at the UK Centre for Ecology & Hydrology, the research institute leading the investigations, said: "We are seeing unprecedented numbers of guillemots dying, over a huge area of the eastern coast from Norfolk to Orkney.
"We are also seeing very unusual behaviour. Birds have been seen feeding very close to beaches among swimmers, when normally they steer clear of people, and have been observed up to 20 miles up rivers, which is unheard of for this marine bird.
"These are signs that the birds are getting desperate in their search for food. The dead birds are little more than skin and bone with many half their usual weight, which is catastrophically low. So it appears that the birds are dying from starvation.
"This suggests there is a lack of their fish prey in the sea, but people are seeing a lot of feeding flocks by our coasts, so perhaps starvation is being caused by something else.
"We are now looking at the possibility of toxic poisoning from algal blooms."
Algae form the phytoplankton basis of the marine food chain but some species are toxic if they undergo major blooms. RSPB Scotland says a large algal bloom is currently off the north-east coast where there are some key seabird feeding hotspots, and beached birds have been feeding there and picking up algal toxins. These can be lethal or disorientate birds and affect their behaviour.
Climate change
Studies have predicted that climate change could increase the frequency of toxic algal blooms in the North Sea and in oceans around the world, though toxins can be difficult to detect.
Paul Walton, RSPB Scotland's head of habitats and species, said: "Extreme weather, pollution, disease and toxins can all kill seabirds. If prey fish are scarce, seabirds can then be weakened through starvation.
"We don't know the exact cause here but we know climate change is driving prey fish numbers down, creating more extreme weather events and generating more blooms of toxic algae in our seas.
"The world is in a nature and climate crisis with humans and wildlife already experiencing the impacts. We need urgent action from governments to help revive our world."
NatureScot said it was monitoring the situation while the Scottish SPCA said it had seen an increase in call-outs to sick guillemots in areas such as Aberdeen and Fife in recent months.
Steven Gray, manager of the Scottish SPCA's National Wildlife Rescue Centre in Clackmannanshire, said: "We have taken in a number of sick birds, mainly guillemots and razorbills.
"The majority seem underweight with no obvious injuries. Many have seemed lethargic and haven't flown away when our animal rescue officers have approached them.
"Unfortunately, we don't know the reason behind the high number of deceased and sick birds. Anything we say at this stage would be speculation."
Anyone who finds a sick or injured seabird, or any wildlife, in Scotland is urged to contact the Scottish SPCA on their dedicated animal helpline, 03000 999 999.
Dead seabirds should not be handled but can be reported to Defra on 0345933 55 77 (option 7).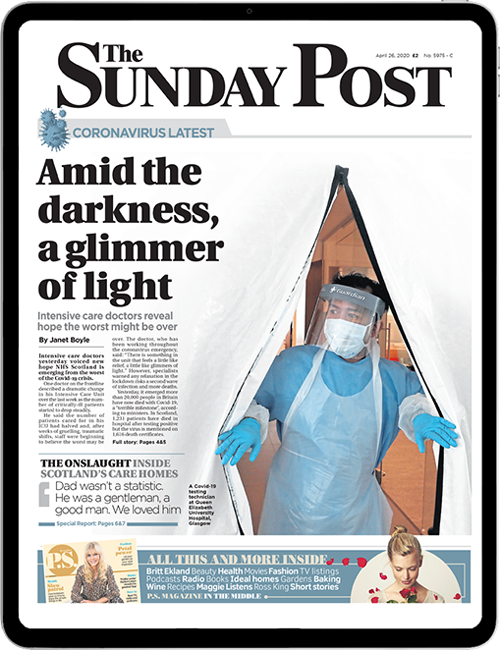 Enjoy the convenience of having The Sunday Post delivered as a digital ePaper straight to your smartphone, tablet or computer.
Subscribe for only £5.49 a month and enjoy all the benefits of the printed paper as a digital replica.
Subscribe