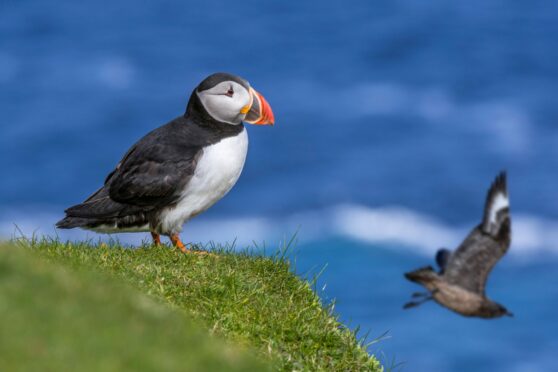 The northern end of Fair Isle is bonxie territory. These huge, hulking brown birds rule the roost up here in the hills, circling lazily with a beady eye on any potential invader, anyone foolish enough to venture near to their nests, ready to swoop and hit – hence the great skuas' Shetland name, bonxie.
Now, at midsummer, they should be right in the swing of the breeding season, guarding their fat fluffball chicks.
Instead, the hills are littered with corpses of these big predators, their glazed eyes and sharp beaks daubed in yellow spray paint – marking them out as victims of the devastating avian flu epidemic sweeping through Scotland's seabird colonies this summer.
Across Scotland 490 wild birds, in 24 species, have now tested positive for H5N1. But pictures and anecdotal evidence suggest numbers hundreds of times higher than this already. Here in Shetland it's the impact on gannets and skuas that's worrying people most.
Great skuas are rare. Of just 16,000 breeding pairs globally, more than half are in Scotland. And, of those, most are in Shetland, and around 500 pairs come back each year to tiny Fair Isle, halfway between Shetland and Orkney.
The risk to human health posed by bird flu is considered very low but those working in conservation, watching the rafts of dead animals washing ashore round the country's coastline, have been voicing concerns that this disease could push species like the bonxie over the edge.
Fair Isle ranger Holly Pickett said: "For the last couple of years the bonxie population has been completely decimated by bird flu. This year we've counted over 200 dead, and that's only within dense colonies – just a small sample."
We're talking outside the lighthouse at the island's southern tip, watching gannets and fulmars glide over the breaking waves. This is the 23-year-old's first season on Fair Isle, a dream job, but the severity of the epidemic has meant monitoring work is now suspended.
"It's demoralising," she admitted. "Our work is to research and protect the species from threats like climate change, and we can't even carry out that work."
Emotionally it's been tough, too. She said: "Seeing these birds go through this, dying in huge numbers, is hard. You see them looking distressed, making jerky head movements as if they're losing motor skills, or just dead. It's bleak." Pickett is worried that not enough attention has been paid to the crisis.
She added: "The minute it gets into domestic and commercial farming there'll be a much bigger effort from the government to research it."
There were warning signs of a bigger wave to come, last year – like the 16,000 dead barnacle geese on the Solway Coast – and evidence that the disease was spreading from wildfowl over to seabirds.
David Parnaby was previously the warden of the bird observatory, and is now a crofter here. He said: "Seabirds are supremely well adapted for life at sea – the only thing they can't do is breed. They need to come ashore for that, and the number of locations is relatively small: close to feeding grounds, predator-free nesting areas. But Fair Isle is perfect – no rats, foxes or stoats.
"What that means though is seabirds tend to breed in large concentrations, in small areas, which means unfortunately a disease like this can spread rapidly throughout the populations."
Gannets and auks spend the breeding season crowded together, clinging to the tiniest of rock edges on Shetland's towering cliffs. Once the disease is in the colony, it seems there's little chance of escaping it, and we don't know yet how many birds are surviving infection. Great skuas, nesting up on the land, gather in 'clubs' around lochans. Parnaby said: "They share pools for bathing and drinking so I don't think there's anything anybody could have done. That's pretty horrible because you just have to watch it happen. Seems like it's just unstoppable."
Asked how the mood is among conservationists and birders, he paused then said: "Grim."
Parnaby previously spent years undertaking seabird monitoring in Fair Isle, as part of the survey work done by bird observatory staff. In the summer this becomes an intense job, constantly returning to the nesting sites to check on the progress of every chick. Fair Isle, like other sites, saw years where lack of food or bad weather killed off nearly every single chick in some species.
But the longevity of seabirds means this is manageable, so long as things improve again – just two fledged chicks in a lifetime will maintain the population.
But to lose adult birds, in large numbers like this, is a whole other matter.
It's ironic for this catastrophe to hit after so much work has gone on here to protect the birds, on over-fishing and the impacts of climate change. Islanders finally achieved a Marine Protected Area around Fair Isle in 2016, after a 25-year campaign.
Off mainland Shetland, on the Noss nature reserve, large numbers of dead and dying gannets have been filmed in recent days. Parnaby said: "Gannets have a big foraging range, take larger prey, so have done better in recent years. The population was rising, there were new colonies. It's one of the few success stories – now it's one of the species being hit the hardest (by bird flu). It seems particularly unfair."
Like Pickett, he finds the disaster personally hard to deal with. He said: "You visit the same sites year on year and you get to know some of the individual birds."
He explained that bonxies – which can live for more than three decades – will actually recognise the survey workers who come back each year, singling them out for more vicious treatment as they dive-bomb anyone coming close to the nests. Being hit in the head by a hefty bird with a 50-inch wingspan is a memorable experience.
Parnaby said: "You want to be able to do something about it, to stop the spread, to save the ones who've got it. But, realistically, I don't think there's anything that could be done."
It only makes it worse that we are responsible – bird flu having spread originally from domesticated poultry, often kept in unsanitary conditions in large numbers, and spreading from them to the wild animals.
He added: "It means it's not something the wild bird populations are even designed to deal with – that's why it's had such a rapid and devastating effect. There's never been anything of this scale in seabirds that we know of."
Some, like ecologist Peter Stronach and writer Jon Dunn have been urging the government to carry out more testing and to bury all the dead birds to prevent contamination.
Asked at Holyrood by Shetland MSP Beatrice Wishart about the Scottish Government's plan, Rural Affairs Secretary Mairi Gougeon said current veterinary advice was that the carcasses should be left in situ, adding: "It is too soon to determine with any certainty the impact of the current outbreak on seabird populations".
She said action was being taken to minimise the spread, and to reduce stress on affected birds in colonies. Last week the reserves on the Isle of May and Noss were closed to visitors. In Fair Isle, Pickett and her team are urging visitors to scrub their boots after trips and to avoid touching dead or sick birds.
While talking to Pickett, a furious Arctic tern – a beautiful, flighty little bird with a sharp red beak – swoops repeatedly over our heads, screaming its warning to keep away from the nesting sites. In Fair Isle, the seabirds are never far away – the island is so small and the cliffs so near that their calls and chatter are often there in the background, a comforting reminder that this place supports much more than just 50-odd people.
It makes the scale of seabird losses all the more vivid and impossible to ignore. Parnaby said: "It's easy to get bogged down by the numbers and percentage declines."
"But there's more to it than that," he added, looking out at the tall cliffs a few fields away from his croft. "It's not just birdwatchers getting upset about this. The seabirds are part and parcel of everybody's life. It's like going to your local park and finding all the trees have died."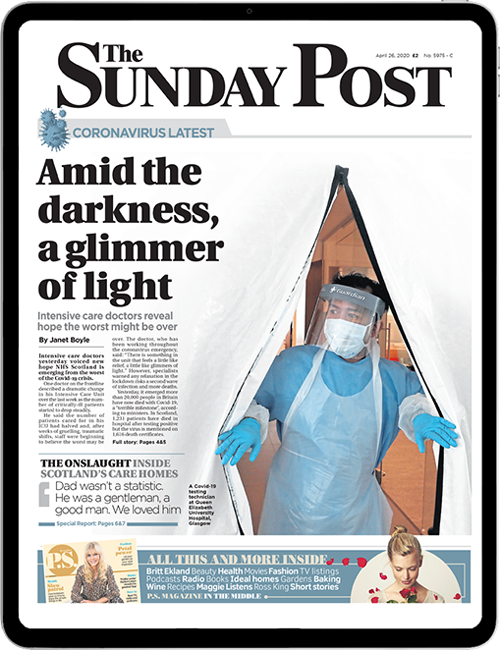 Enjoy the convenience of having The Sunday Post delivered as a digital ePaper straight to your smartphone, tablet or computer.
Subscribe for only £5.49 a month and enjoy all the benefits of the printed paper as a digital replica.
Subscribe