Situated in Scotland's safest Tory seat, Selkirk has one of Scotland's last remaining Conservative Clubs, though members are more likely to be playing snooker than discussing politics.
The walls are adorned with old photographs of the Borders town, leaving no space for portraits of Conservative leaders such as Margaret Thatcher and Winston Churchill but, on Friday afternoon, as he awaits the evening rush of members, club steward Martin Scott is more than happy to discuss who the next prime minister should be.
The 59-year-old lifelong Tory voter has worked at the club for 34 years, during which time Britain has had five Conservative prime ministers. He believes Foreign Secretary Liz Truss will be the next one but would rather have Rishi Sunak for his experience as chancellor.
He said: "I'm a bit of a betting man and Truss is the favourite, but she wants to borrow money to lower taxes. Sunak is trying to get the money which was lost through the pandemic back through higher taxes. The position I'm in at the moment, I would probably go towards Sunak. I'm fortunate that I've got my house paid for and I don't have any borrowings so I can afford that wee bit more tax to try to get things back to where they were.
"There are a lot of people who are going to be absolutely crippled this winter by rising fuel bills. I do think Sunak would get the country back to an even keel quicker.
"He was flung into the deep end as chancellor with everything that was happening but because he's now experienced, his election as leader would be more of a natural progression.
"I think the whole of the country is the same but I think the priority for Scotland should be the NHS, which is really struggling. A lot of people are getting private healthcare to skip waiting times but it's only a minority of people that can afford that."
Margery Inglis, 68, helps out at her daughter's cafe, the Peony Rose Coffee House, in Selkirk's High Street.
She admits to having liked Boris Johnson as prime minister and said she would back Sunak to be his successor. She said: "I liked Boris Johnson but he was a bit of a buffoon. But he did get things done and we need to follow on from that. Sunak is my preferred choice. The UK Government should prioritise the Union and keep Nicola Sturgeon in check."
Joiner Peter Forrest, 31, said he wasn't convinced by the remaining two candidates to be Conservative leader but felt Truss may appeal more to voters.
He said: "I think Sunak will win but perhaps having a woman prime minister would offer something a bit different. It would make the Conservatives a more approachable party for people to vote for. Whoever wins should make trying to stop an independence referendum their priority."
Rodney Propps, 81, who moved to Selkirk from South Carolina last year, said he was backing Truss. He added: "She's a tough negotiator, conservative and anti-woke, what else do you need?
"She should prioritise a tax cut to get the economy rocking. If you're working, you don't want someone to take your money and give it to somebody else. She should also can independence, the economics are frightening."
Selkirk forms part of the Berwickshire, Roxburgh and Selkirk seat at Westminster, held by John Lamont in the 2019 General Election with the largest Conservative majority in Scotland of 5,148. He had backed Penny Mordaunt to replace Boris Johnson in No 10.
He said: "I was at the heart of her campaign team and was excited by everything she had to offer. I think she would've been an exceptional prime minister but she hasn't made it to the final two, so I am now reflecting and looking at what the other candidates have to offer."
He said the biggest issues for his constituents was the cost of living crisis: "They want both the Scottish and the UK Government to be doing everything they can to address that, and that's why they are also very frustrated about Nicola Sturgeon's constant push for an independence referendum. My constituency was one of the strongest No-voting areas in 2014. We're right on the border and understand the importance of both countries working together. Reopening that debate does fill them with a lot of fear."
Rachael Hamilton, MSP for Ettrick, Roxburgh and Berwickshire, had backed former levelling-up minister Kemi Badenoch, who was eliminated in Tuesday's ballot of Conservative MPs. She said: "I was disappointed that Kemi didn't make it to the last two but I'm sure she has a bright future in either Rishi or Liz's cabinet.
"I've met Rishi and Liz and they're experienced, convivial and both have supported me in the Scottish Borders.
"I've yet to make up my mind, and will take counsel from local members and weigh up the tax-and-spend policies of both candidates in the face of a cost of living crisis."
Scottish Borders Council leader Euan Jardine, a Tory councillor, said he had still to decide which candidate to back but urged the next prime minister to help revitalise the region: "The Borders is a low-wage area and needs initiatives to help us level up. We need more economic stimulus to encourage people to stay here. I'd be keen for the Borders rail link to be extended."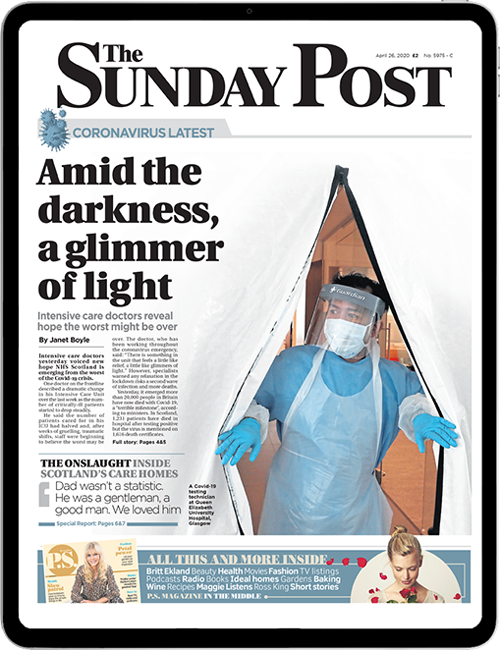 Enjoy the convenience of having The Sunday Post delivered as a digital ePaper straight to your smartphone, tablet or computer.
Subscribe for only £5.49 a month and enjoy all the benefits of the printed paper as a digital replica.
Subscribe