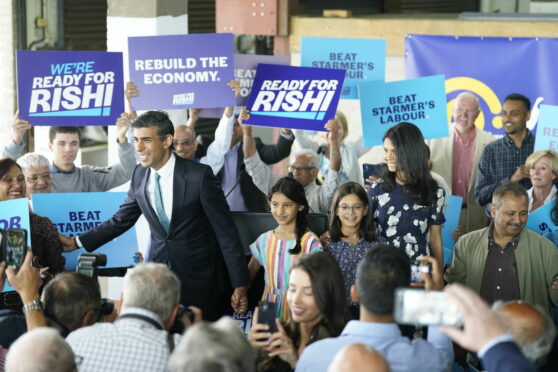 Rishi Sunak attempted to invoke the spirit of Margaret Thatcher as he vowed to crack down on illegal immigration and crime in a campaign speech in her home town yesterday.
The former chancellor, who is trailing Foreign Secretary Liz Truss in the race to be the next prime minister, has already pledged to "govern as a Thatcherite".
The influence of the former prime minister has loomed large over the leadership campaign so far, with both candidates seemingly bidding to claim the mantle of the Tory grandee.
Calling himself the "underdog" and accompanied by his wife, Akshata, and their two daughters, he gave a speech in the Lincolnshire town of Grantham, where the longest-serving British PM of the 20th Century grew up.
He remains far behind Truss among Tory party members, who will vote to choose the leader, with a result expected at the start of September. In what observers suggested was a move to win support among the right wing, he visited the former prime minister's home town yesterday to announce on crime and immigration.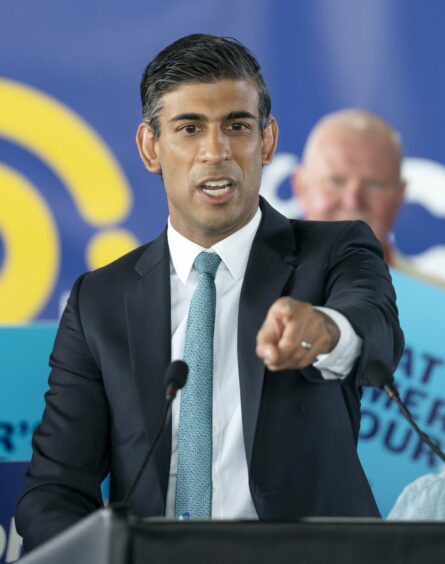 Sunak, who is still backing the government's controversial policy of sending asylum seekers to Rwanda, said: "We have to tell the truth about immigration because our system is still not working."
Meanwhile, some observers believed he may have been referring to his former boss, Boris Johnson, when he said Conservatives believed in "honesty and fidelity".
Johnson, who has been ­married three times, was forced to announce his resignation earlier this month after losing the support of his MPs in the wake of sexual misconduct allegations against MP Chris Pincher.
Yesterday, wearing camouflage gear, the prime minister was taking part in a training exercise at an Army base in Yorkshire, trying out weapons.
In Grantham, Sunak said the NHS backlogs were the most pressing public service emergency: "We need a fundamentally different approach. We will take the best of our Covid response and apply those lessons to clearing the massive backlog in the NHS."
He claimed there were "forces" in the Tory party who wanted a "coronation" for his rival but insisted: "All the evidence is clear, I am the only person who can beat Labour."
Tax cuts have become a major dividing line in the campaign, and yesterday Truss hit back at criticisms by Sunak that it would be wrong to increase government borrowing to fund tax cuts.
Tax cuts have become another major dividing line in the campaign, and yesterday Truss hit back at criticism saying it would be wrong to increase government borrowing to fund rate cuts.
She said: "I think it is wrong to be taking money from people that we don't need to take, when people across the country are struggling with the cost of living crisis.
"We know fuel bills are higher. We know that food bills are higher. And what my changes would do is help people with the cost of living, but also drive growth in the economy that's going to lead to higher tax revenues so
we can pay back that debt."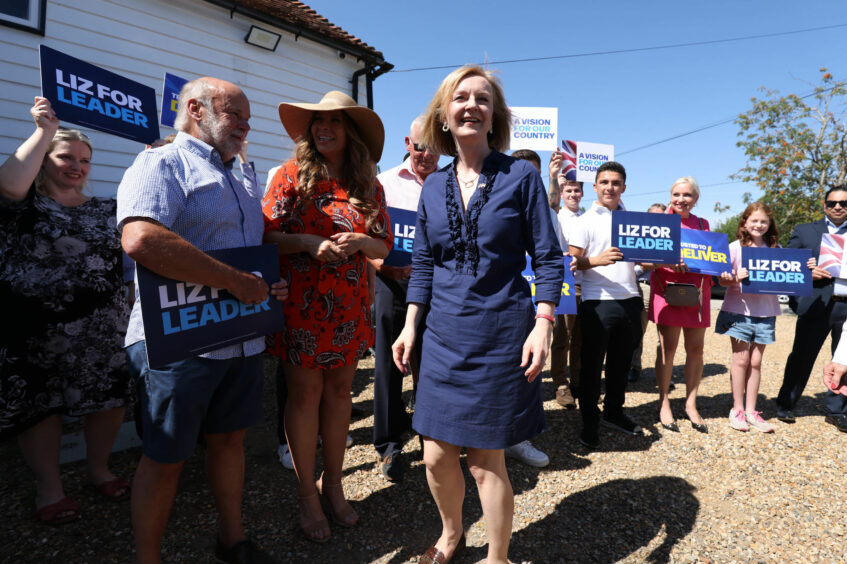 She insisted she was being "honest", hitting back at suggestions that her plans were unrealistic. She said: "We face the ­biggest economic crisis we have for a generation and now is not the time for business as usual."
She added: "What we need now is bold action. That's why I would make sure that people who work hard are rewarded."
Asked about Sunak's visit to Thatcher's birthplace, and if she was a Thatcherite, Truss said: "I think we need to move on. You know, we're in the 2020s. We're facing a global economic crisis. And what we need now is bold action. That's why I would make sure that people who work hard are rewarded, I'd make sure that businesses have those incentives to invest in Britain so that we can get the jobs and growth we need to succeed at the next election and to drive Britain forward in the future."
The Conservatives' 160,000 members will decide the next PM when they receive voting papers from August 1.
Truss is more popular with the party membership but last night, a poll suggested neither candidate is impressing voters as a prospective prime minister with only 43% believing Sunak would be a good PM compared to 36% who believe Truss would perform well.
Sunak is hoping to convince more Tory members in a head-to-head debate with Truss on BBC1 tomorrow night. Hustings are also to take place around the country, including one in Perth on August 16.
Yesterday the SNP said the candidates' right-wing rhetoric was "ringing alarm bells across Scotland".
SNP Westminster leader Ian Blackford said: "Scotland still bears the scars of Thatcher's damaging policies which hammered Scotland and increased inequality in the UK."
Meanwhile, Scottish Tory leader Douglas Ross, who is both an MSP and MP but is not saying who he is backing for leader, returned to his third job as a football referee yesterday when he was a linesman for the League Cup match between Elgin City and Queen of the South.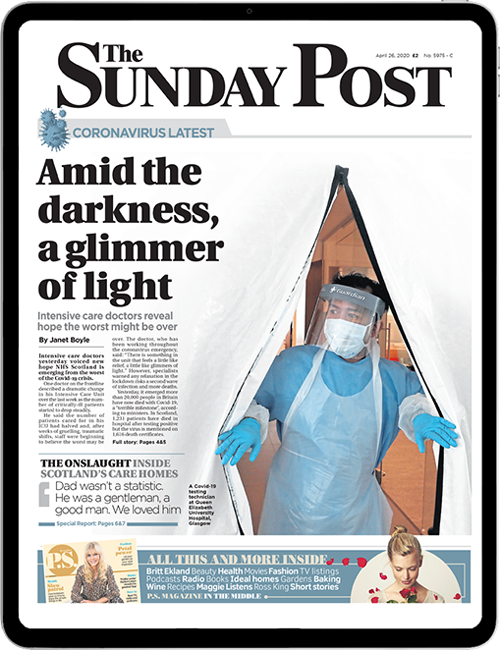 Enjoy the convenience of having The Sunday Post delivered as a digital ePaper straight to your smartphone, tablet or computer.
Subscribe for only £5.49 a month and enjoy all the benefits of the printed paper as a digital replica.
Subscribe