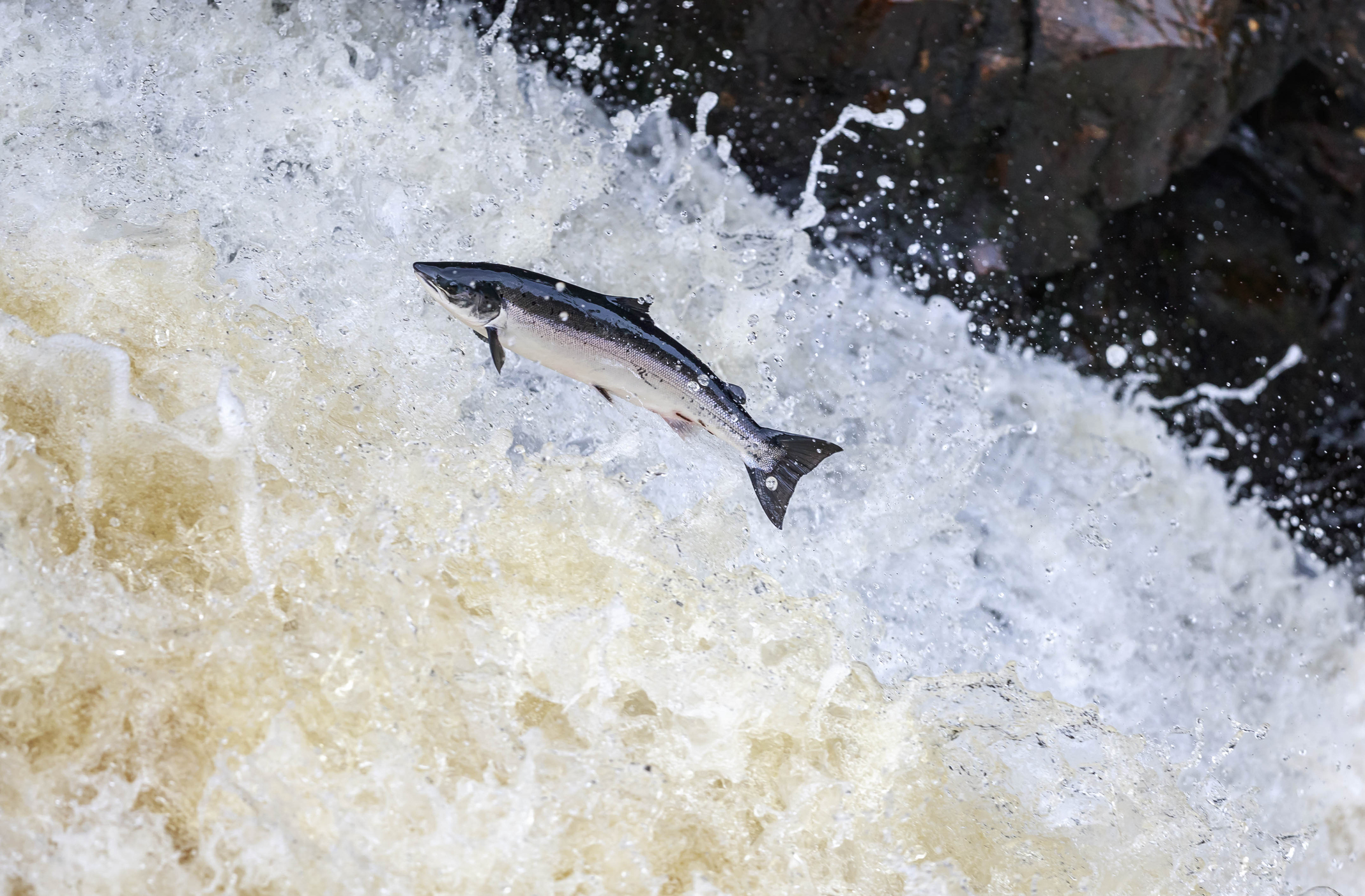 ONE of the world's leading experts on Atlantic salmon believes the iconic fish might be lost to Scotland unless emergency action is launched – including a ban on fishing.
Scientist Carlos Garcia de Leaniz, a professor in aquatic biology, warned that fishing for salmon – even on a catch-and-release basis – is contributing to its decline.
He said this generation's grandchildren may grow up unaware that salmon was once wild rather than farmed.
Salmon are already extinct or critically endangered in rivers in Spain, Portugal and France and the professor said governments are "deluded" if they think current safeguards are working.
Prof Garcia de Leaniz compared the plight of wild salmon to critically endangered species such as the black rhino.
He said: "It's a scandal, an absolute scandal. To think that something that has been part of our culture for perhaps 100,000 or 200,000 years can disappear in a matter of a few decades is just tragic. It is absolutely tragic.
"We meet with resistance from governments who just refuse to see it. They delude themselves with catch quotas of five, 20, 30 fish.
"Can you imagine a conservation programme for, say, the tiger, cheetah, or black rhino where hunters are allowed to catch five or 10 individuals? Or even to engage in catch-and-release? How can we contemplate a scheme where we catch fish simply for fun and put them back in the river in the hope they are going to survive? Of course they are damaged by it.
"Catch-and-release is just like shooting black rhinos with darts, and only for fun. Would you do it?
"The problem is that, regardless of the direct and indirect mortality it may cause, it masks the real problem and distracts people from the real issue, which is that wild populations are going extinct across the range, particularly at the southern edge.
"Catch-and-release is perhaps a cynical way of saying it's business as usual, and it allows anglers to keep at it – since fish are 'released' they can be caught again.
"It is shocking – it does not happen with any other conservation programme."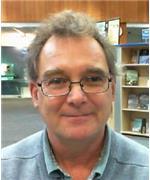 Last year in Scotland, 90% of rod-caught salmon – and 98% caught in spring – were set free.
Marine Scotland announced in August it has commissioned a three-year study in collaboration with the University of Glasgow and the Cromarty Firth Fishery Board to examine whether catch-and-release has a negative impact on salmon.
Researchers will focus on the River Blackwater north of Inverness in a bid to establish the mortality rate and whether the surviving salmon are able to reproduce.
Studies carried out elsewhere in the world indicate a mortality rate of around 10%.
Archie Ferguson, president of the Scottish Angling National Association, acknowledged catch-and-release is a "difficult" and fiercely debated topic in fishing circles.
He said anglers strive for best practice but called for more research to provide definitive answers to whether it harms fish.
But he also argued that the potential harm is offset by anglers being "front-line observers" of the river environment and banning fishing is not the answer.
---
SCOTLAND'S NATURAL DISASTER – READ MORE:
---
It has been estimated the catch-and-release of a single salmon can be worth £2,000 to the economy through tourism and permits.
"There is an ongoing debate at the moment about the best practice for catch-and-release. I don't think we have a definitive answer for the best policy," he said.
"Catch-and-release is a difficult one and, if I'm honest, the hooking, playing and releasing of any creature would be hard to justify to the layman, but angling goes well beyond just catching fish.
"We are the front-line observers of the river and water environments.
"We have a vested interest in ensuring that fish stocks, pollution levels, abstraction, hydro schemes et al are kept at healthy levels.
"Until we have an honest debate with stakeholders, where everybody takes an introspective look at the part they play, the situation will never improve. Asking anglers to stop fishing for salmon is like trying to heal a life-threatening wound with a sticking plaster.
"And we must not only protect wild migratory and non-migratory fish stocks, we must also protect the anglers' right to fish."
Last year, an Environment Agency report on the catch and release of salmon stated there are "high survival rates".
The main factors found to reduce their chances of surviving were the fishing method, deep hooking leading to bleeding, abrasions from poor and excessive handling, being kept out of the water for too long and high water temperatures.
Salmon can also become exhausted and suffer a build-up of potentially harmful lactate and stress hormones if they are "played" for too long while being reeled in.
Most make a full recovery within two to 24 hours so long as they have not been injured.
The report stated: "The survival rate for salmon is greatly increased if proper angling techniques and gears are used and best practices for catching, handling and releasing angled fish are adopted."
Guidelines for safe catch-and-release include using barbless hooks and avoiding natural baits like worms as salmon can ingest them and be injured by the hook.
Anglers should also handle the fish gently and only lift it out of the water briefly to remove the hook and pose for a photograph with it.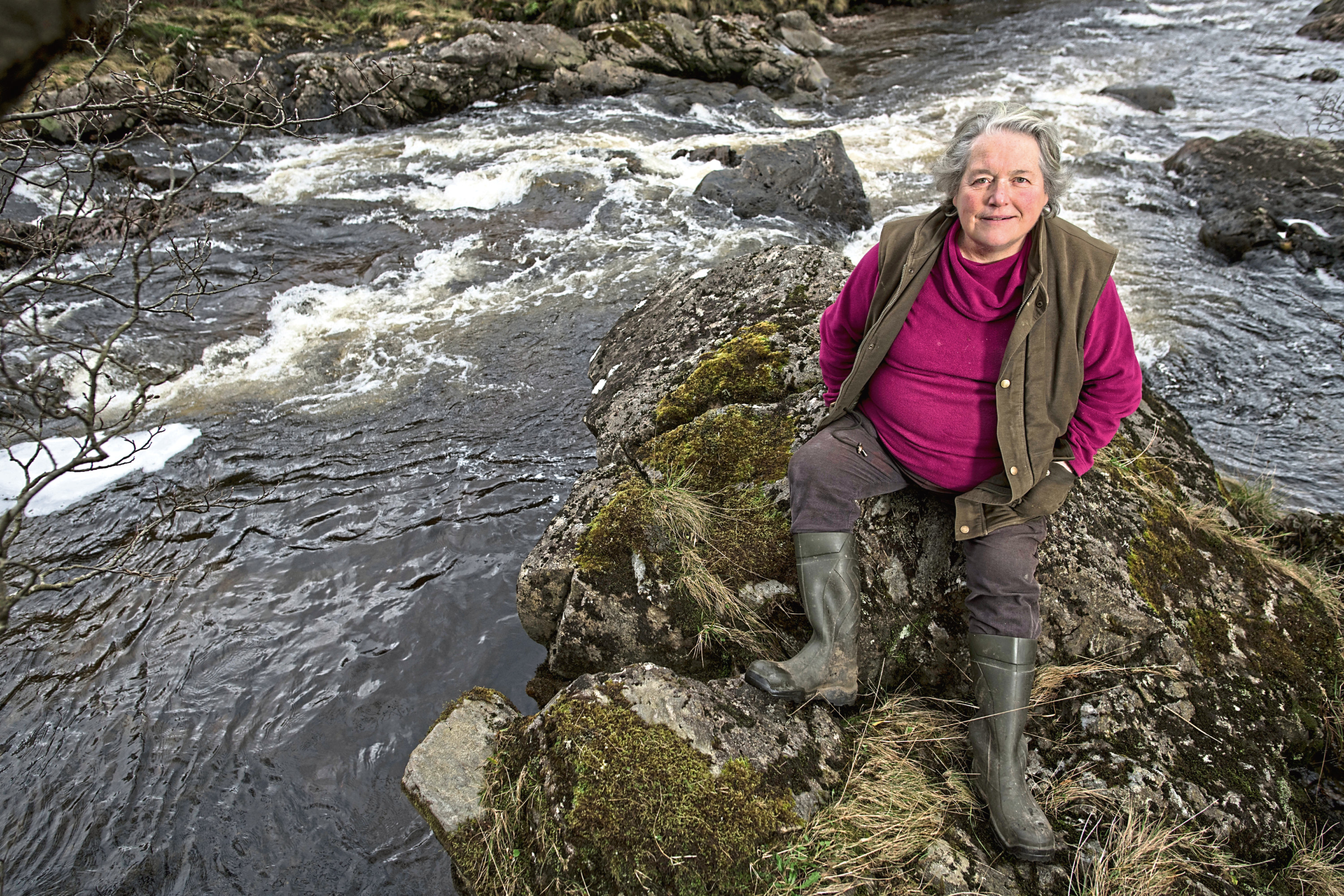 The Sunday Post revealed last month that 2018 was the "worst in living memory" for salmon fishing.
Landowner Tuggy Delap told us that in her childhood more than 700 fish would be caught on the River Fyne. Last year four were caught. This year, only two.
She said: "It's been the worst year I can remember and I was born and brought up here and I'm now 70. This year we caught two and when I was a child we used to catch 700.
"It was always my husband's ambition that his grandchildren would catch their first fish in the river, but it's just not going to happen."
Experts have said there are multiple reasons behind the catastrophic decline, including climate change, predation, river barriers and problems associated with fish farms, such as sea lice and escapes.
Prof Garcia de Leaniz is director of the Centre for Sustainable Aquatic Research at Swansea University and is undertaking a comprehensive assessment of the conservation status of Atlantic salmon in 5,000 European rivers.
Research has shown Atlantic salmon populations are most endangered at the southern-most limit of distribution, on the Iberian peninsula.
A century ago, 46 rivers in Spain teemed with salmon but now just six have numbers of "any significance".
Local authorities in Spain have established catch quotas of just a handful of salmon per year.
The professor added: "If the situation is so bad that you have to tell fishermen that they can only catch five individuals surely there must be an argument for saying catch zero then?
"To think this so-called king of fish is now one of the cheapest fish you can buy and that our grandchildren may not remember this was once a wild fish and think it comes in these cages, I think it's tragic.
"It's very sad."
Expert: Too much spent attracting visitors to Scotland and too little protecting its wildlife
SCOTS have cared too much about attracting tourists to the countryside and not enough about the threatened wildlife living there, according to one leading expert.
Jim Crumley believes the country's national parks should be focused on conservation while private landowners must have a legal responsibility for conserving wildlife habitats.
The leading nature writer, who has penned more than 30 books, also believes Scotland should follow the example of Yellowstone Park in America by reintroducing wolves.
He said: "There are some decent initiatives going on in Scotland but these are relatively limited responses to a huge nationwide problem.
"I think crisis-point is behind us, it's over our shoulder.
"Instead of a policy that regards the landscape almost as sacred, we have one that is determined to bring in more and more tourism and development opportunities.
"We have Loch Lomond and Trossachs talking about Flamingo Land for heaven's sake.
"The Trossachs is a fabulous area and the possibility for making a wildlife conservation showpiece out of it is limitless but nobody is doing it.
"We have huge problems in Scotland with the way our land is used, especially in the Highlands and the uplands in the south of the country where there is a big focus on deer forest and grouse moor.
"These are huge areas of land where the specific use that landowners make of the land is obliterating possibilities for biodiversity.
"Habitat is everything. If the habitat is there then the wildlife will be there."
Mr Crumley also advocates reintroducing the wolf and giving legal protection to beavers as measures to boost biodiversity "have to start at the top".
By putting the top predator back in place, it creates a "trophic cascade" which benefits every species further down the food chain.
He said: "Between them, a healthy wolf population and healthy beaver population create huge opportunities for diversity for almost all the other species.
"The most studied example has been Yellowstone Park where wolves were reintroduced in 1995 after an absence of about 70 years.
"The problem they had in Yellowstone at that time was over-grazing by huge numbers of elk.
"We have a comparable problem with red deer.
"Putting the top predator in place needs to come in tandem with doing everything we can to improve habitat.
"Once that process starts then nature grabs every opportunity imaginable.
"The best thing we can possibly do is to encourage nature to do the job itself."
Still hope – the species saved
Red kite
The red kite was driven to extinction in Scotland in the 19th Century by human persecution. RSPB Scotland and Scottish Natural Heritage ran a joint project between 1989 and 2009 to reintroduce the birds to Scotland. By 2012, there were 214 breeding pairs.
Pine marten
The weasel-like pine marten suffered dramatic population declines until it was given full legal protection in 1988. It has also benefited from the re-planting of forestry areas. Since then, numbers have begun to recover and there are now around 3,700 adult martens in Scotland.
Flutter-wing fly
The rare flutter-wing fly, Palloptera laetabilis, was thought to be extinct as there had not been a single sighting in 100 years. But in 2015 it was found in a woodland in Angus during a scientific monitoring survey. Conservationists described the find as "very exciting."
Beaver
Wild beavers were extinct in the UK for 400 years until they were reintroduced to the Knapdale Forest in Argyll in 2009. The beavers were granted native status in 2016 and there are currently around 400 in the southern Highlands and Tayside.
Osprey
The osprey fell victim to egg collectors in the Victorian era and its return to the Highlands was billed as "the major conservation success story of the 20th Century." Records show that a pair of ospreys bred successfully in 1954 and by 2011 there were 202 breeding pairs.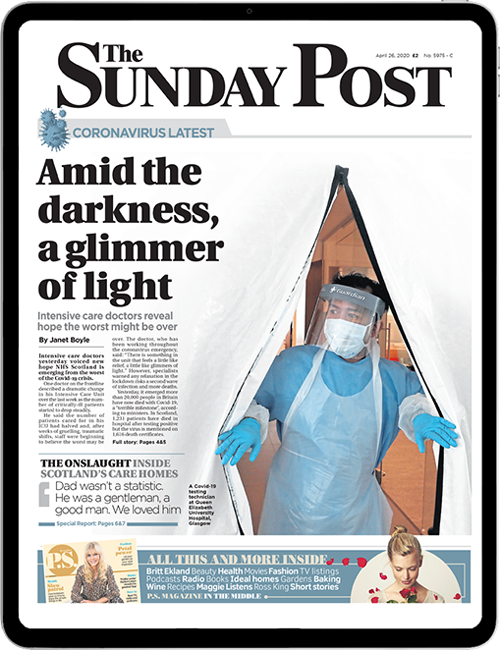 Enjoy the convenience of having The Sunday Post delivered as a digital ePaper straight to your smartphone, tablet or computer.
Subscribe for only £5.49 a month and enjoy all the benefits of the printed paper as a digital replica.
Subscribe