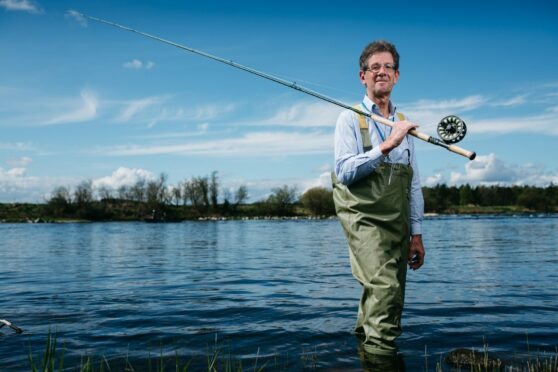 No one can step into the same river twice, according to the ancient Greeks, but Andrew Douglas-Home who has been stepping into the Tweed all his life believes one thing remains forever constant: the thrill of catching a salmon.
He has been fishing the river since boyhood and says the excitement of landing the King of Fish remains undimmed: "There's nothing like it. People always say they would go fishing anyway because of the surroundings – the water, the birds, being out in the fresh air and being immersed in nature – but really if there were no chance of catching one, I probably wouldn't do it.
"There is only a remote possibility of catching a salmon as so much of fishing is up to the salmon. They don't really want to take your fly but the fact that they do is part of the excitement and that moment you make contact is the drug that gets everybody coming back."
Sadly some things have changed on Scotland's rivers and while spring has seen the salmon return, the numbers journeying heroically upstream against the rushing currents to reach spawning grounds are far lower than generations ago.
In his gentle but impassioned memoir, A River Runs Through Me, Douglas-Home recalls fishing as a boy in the 1960s on his family's beat with his father, a gentleman farmer, as some of the happiest days in his life.
"My mental scrapbook of memories includes the first 20-plus-pounder caught, with my father hanging on to my wader straps, in a big water in November 1966, thinking I would never get it in; catching a fierce, vicious-looking 20-pounder in October 1969 and swearing it growled at me as I pulled it on to the gravel."
Now aged 71, he fishes less but with, if possible, more enjoyment, spending an hour in the evenings wandering down to the riverbank on his doorstep.
"When you get on in life you take a much more relaxed approach and in many ways it's more enjoyable. When you're younger you tend to sort of thrash away trying to catch as many fish as possible whereas now I'm very relaxed about catching one."
Tracing the shifts and moods of four seasons along the River Tweed, Douglas-Home writes about his close relationship with nature and one of Scotland's most iconic creatures. As well as his lifelong love of river fishing, he offers his views on preservation and conservation, and looks forward to what we must do to secure the future of the diminishing numbers of Atlantic salmon.
"Most of Scotland's salmon farms are on the West Coast and when the young salmon come down the river into the sea, that's when the sea lice from the fish farm cages set upon them, and they have very little chance of survival," added Douglas-Home, who was made an OBE in 2012 for his services to fishing and his work to secure the environment of the River Tweed.
He believes the solution is for fish farms to use close-contained onshore tanks rather than sea cages but realises it's an expensive one.
"Fish farming is only one of many reasons that the total population of Atlantic salmon coming back to Scotland has gone down from 1.5 million in 1971 to around 250,000 in 2020. It's a terrifying decline and nobody quite knows why it's happened," he said.
"We fishermen throw them back so they can spawn and to give them every possible chance, rather than kill them. And our rivers are clean and in better shape than they ever were because we look after them.
"None of these things applied 40 years ago, when there was commercial netting everywhere and all the rod fishermen killed every salmon they caught, and yet we have this decline."
Predation is another problem for the noble salmon, with cormorants and goosanders more likely to come inland to seek out their favourite fish in Scotland's freshwater streams and rivers. According to the Scottish Wildlife Trust, the wild salmon and trout numbers across Scotland have declined by 70% in just two decades, while goosander numbers are on the rise.
Since one breeding pair was introduced in the 19th Century, the RSPB estimates there are now 3,100 to 3,800 breeding pairs and more than 12,000 wintering birds. On the Tweed, there are reports that flocks of goosanders 50 to 100 strong are regularly seen hunting together.
Douglas-Home is in favour of a campaign being run by the Angling Trust to increase the national limit on the number of cormorants that can be shot each year and for a reduction in evidence requirements to control goosanders but predation is only part of the jigsaw.
"Probably the only game left to blame is climate change with the seas getting warmer, which doesn't suit the cold-water-loving salmon. They travel as far as Greenland but the ice cap is melting and there is much more freshwater in the sea where they find their food.
"But in truth, I don't know why the rivers in Scotland that used to teem with salmon when I was a boy now don't. There are many theories and we've all been trying to do the right things for years now but it's still a mystery as to why the decline continues."
He believes that Scotland should do more to preserve this unique fish which attracts anglers from around the world.
"We are lucky to have retained our fantastic salmon rivers even in these reduced times. The Atlantic salmon is associated with Scotland; it's one of our great advantages and iconic assets," added Douglas-Home, who believes the Government should be spending more on conserving salmon and the rivers they swim in, and that urgent action must be taken to mitigate global warming and the other existential threats to salmon.
However, the salmon have returned this year, albeit in smaller numbers. The adults have not eaten since they returned from their years at sea, gorging on smaller fish in the cold northern waters to fatten themselves up for their long journey back to their birthplace. They won't eat for six months, until after they reach the head of our rivers to spawn.
Why they snap up the flies cast by anglers when they are not looking for food is one of the mysteries about salmon that Douglas-Home ponders in his memoir, recalling a life spent fishing on the Tweed.
"I don't know why they go for the fly. It may be an instinctive, aggressive reaction to dangling it in front of them," said Douglas-Home, who is the nephew of former Prime Minister Sir Alec Douglas-Home and has a beat on the Tweed where he lives in the Scottish Borders.
"Salmon are remarkable – there are almost no other fish that can exist in both fresh and salt water. You would think the transition would be painful but somehow they have developed a mechanism in their skin to achieve that.
"Salmon swim upstream because it helps them get enough oxygen. They can survive in a loch but they're much happier in streaming water.
"They will meander about in the main stem of the river for the summer months and go straight through to the top of the river to spawn in November or December.
"The ones we are catching now are absolutely beautiful, weighing up to 30 pounds. They are completely silver and the nicest thing you could ever see."
---
From the book: These were the days of plenty. We assumed they'd never end
As one does at my age, I got talking to an old friend the other day about whether we have seen the best of it. He recalled being sent to fish at Upper Floors on February 1 in the 1950s or 1960s. He caught 10 sparkling bright spring salmon and many more kelts. He killed all the salmon. It is what we did in those days; we never gave it another thought. They were days of plenty, we thought, and if we thought about it at all, we assumed that the plenty would never end. Had you mentioned the words "catch and release", nobody would have known what on earth you were on about.

Have we indeed seen the best of it? Will those days of plenty ever return for our children and grandchildren to enjoy, as we and our parents' generation did?

We were gloomy at the prospects for our salmon rivers. Just as our forefathers destroyed so many rivers with the Industrial Revolution, with impassable dams, with pollution and with over-fishing, now we are doing exactly the same with runaway global warming and the massive proliferation of fish farming in the sea. Whenever we humans have to choose between saving our wildlife – in this case our incomparable salmon – and profit, we opt for profit.

Ninety per cent of the rivers known to have salmon populations are now in the four northernmost countries of Norway, Iceland, Scotland and Ireland. Yet so myopic are we that the Scottish Government is even now, despite all the history of salmon destruction, guilty of presiding over almost every river on the west coast of Scotland being in the most endangered category. Why? Because of fish farming and its appalling effects on the wild salmon population: sea-lice proliferate and spread beyond the cages, killing wild fish, and massive numbers of fish also escape, leading to diseases being passed to natural salmon stocks and genetic mixing between the two. It is a matter of the utmost despair that we never learn the lessons of the past.
---
A River Runs Through Me by Andrew Douglas-Home is published on Wednesday by Elliot & Thompson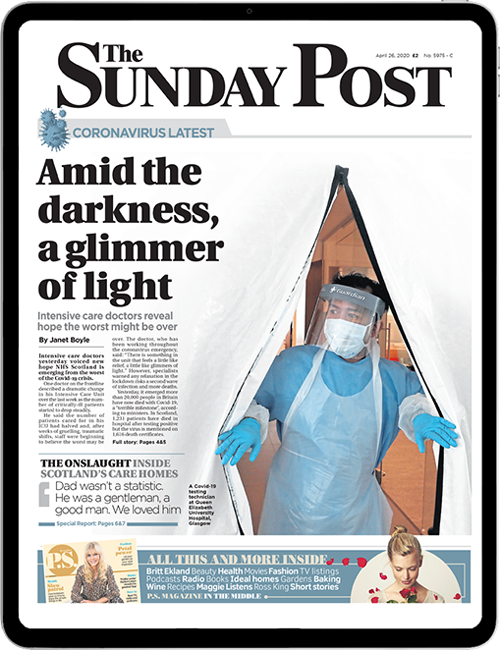 Enjoy the convenience of having The Sunday Post delivered as a digital ePaper straight to your smartphone, tablet or computer.
Subscribe for only £5.49 a month and enjoy all the benefits of the printed paper as a digital replica.
Subscribe