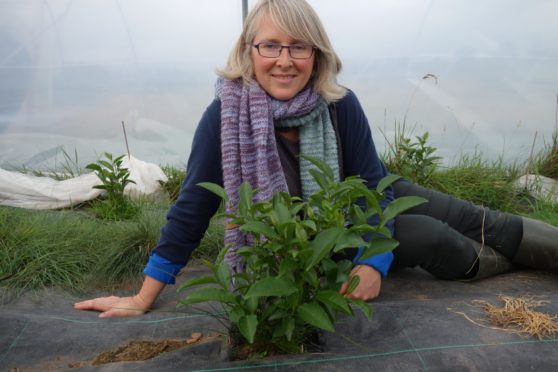 In a little wooden shack, a light breeze tinkling its wind chimes and tousling tea bushes nearby, Islay man Les Wilson sips fine China tea served with simple ceremony in tiny cups.
But the award-winning writer and documentary maker is not in China. He is closer to Perth than Peking. Les is at the Windy Hollow Tea Estate, just north of Scotland's Ochil Hills, where artisan tea producer Monica Griesbaum makes tea so good she is selling it to the Chinese.
Two hundred years ago, all tea came from China. Its cultivation and preparation was a jealously guarded secret, with infringements punishable by death. But China's global monopoly was broken by pioneering Scots of the British Empire who risked everything – including their lives – to produce tea in India, Africa and beyond.
Fast-forward to today and the tea pursued by those early Scots has now taken root in their native land. Scotland's 40 or so independent growers who have emerged over the last two decades include descendants of those pioneers; people like Susie Walker-Munro, who planted tea bushes on her farm near Forfar long before she realised tea cultivation ran in her blood.
In his new book, Putting The Tea in Britain, Wilson, 71, traces the epic trajectory of tea – whose history is as ruthless and exploitative as it is dramatic. Wilson told The Sunday Post: "The seed from which the book grew was planted in Darjeeling, in the foothills of the Himalayas. A few years ago, when my wife and I were visiting the region I discovered that the man who first planted tea in Darjeeling was Archibald Campbell from Islay where I live. I had never heard of him, he is a forgotten character."
A medical graduate of Edinburgh University and keen botanist, Campbell joined the East India Company to set up a sanatorium at a hill station and went on to plant tea bushes in the garden of his Darjeeling estate. Wilson said: "That got me into the history of Robert Fortune, from Duns, who was employed on two expeditions to China; the second was basically to steal quality tea. That was because we got all our tea from China and the Chinese wanted paid in silver."
With silver stocks running low, Britain had to come up with an alternative. The author explained: "The Chinese did not want any of our manufactured goods, so some British companies were selling opium to an intermediary that was smuggled into China and paid for in silver. The British could then buy tea with the silver they had just got for selling opium." But the action was to spark two opium wars. Fortune – a Chinese speaker who passed himself off as Mandarin to carry out industrial espionage, had his first mission to China for The Royal Horticultural Society at the end of the first war in 1842. His second for the East India Company in 1848 led to Chinese tea bushes being planted in India.
Wilson said: "Meanwhile Robert Bruce, an adventurer and ex-soldier discovered a plant in the Brahmaputra Valley in Assam, India, being used by hill tribes. He was sure they were tea trees."
No one had realised that at 30-40ft tall, the trees were the wild version of the little bushes cultivated in China. The discovery was to turn the tea industry on its head. "Robert Bruce was absolutely correct that the plant – Camellia Assamica – was a wild version of the Chinese tea tree Camellia sinensis," said Wilson. "Ten years later his brother Charles had developed Assam tea. These Scots were responsible for the two most famous teas in the world, Darjeeling and Assam."
Other Scots who put the tea in Britain included James Taylor of Kincardineshire who first grew tea commercially in Ceylon (now Sri Lanka) saving an economy on the brink of disaster and Glasgow grocer Thomas Lipton who "bought-up tea estates". Said Wilson: "He popularised the idea of stack it high, sell it cheap." Lipton took tea from "being a drink of the aristocracy to being a working man's cuppa."
But it was also an inglorious era in British imperial history. The author dug out "shocking" letters in the British Library sent during the period from the Indian plantations by brothers John and Alick Carnegie to their parents in Scotland. Wilson said: "Clearly to them the coolies (workers) were not human beings. The conditions were such on some of the tea plantations that these coolies were prepared to run away at night into a jungle where there were bears and tigers. It is a stain on the British Empire."
The journey that for Wilson began in Darjeeling, ended in Angus with a visit to Charles Bruce's descendant, Susie Walker-Munro. Bruce – who won The Royal Society of Arts Gold Medal for his pioneering work – left the earliest practical advice on tea growing in a letter to a government official in 1837. Wilson writes in the book: "How extraordinary that Bruce's advice might benefit his own great-great-great granddaughter nearly two centuries later."
---
The organic grower
Monica Griesbaum grows award-winning organic tea at her off-grid home, the Windy Hollow Tea Estate at Trinity Gask, Auchterarder, just north of the Ochil Hills.
President of the European Tea Growers Association, her seasonal teas Black Gold and Green Wander are bought-up faster that she can produce them, especially by her Chinese clientele.
She said: "My clientele is very international. I have sent my tea to customers in Hong Kong and Taiwan and to Chinese clients in Germany. My tea is sold in Eteaket Tea Shop in Edinburgh and there is always demand from tourists, especially Chinese tourists. Most of my customers are tea geeks – many from the US, and across Europe."
From the moment she planted her first seeds she felt a responsibility for them. And because tea bushes can live for up to a century, she thought hard about where to put them. "I am passionate about the wilder side of tea growing so I tend to not prune, and I have organic certification. I am into biodiversity and making our growing areas more robust in the face of climate change."
"I have planted a lot of native trees because I am establishing a really biodiverse 24 acres. My tea plants are all over. I have tea in the young emerging woodland of birch and wild cherry and I have tea plants in the meadow grass. I am comparing them. I want to see if one grows better."
Griesbaum, who has travelled to tea estates across Asia to further her craft even studying under master organic tea maker she calls "Teacher Gao" and learning the ancient art of hand rolling, said: "With every batch of tea you want to be the best you can be."
---
The family grower
Susie Walker-Munro bought her first 20 tea bush cuttings in 2007, planting them at Mains of Kinnettles near Forfar where she and husband Euan have a farm.
She discovered her great-great-great-grandfather was tea pioneer Charles Bruce. Susie, who cultivates cold-hardy tea bushes from Georgian and Nepalese stock, has 4,000 bushes in a walled garden, 2,000 on a hillside, and 300 in a polytunnel modified to simulate Himalayan conditions resulting in a tea reminiscent of Darjeeling. Now, her Kinettles Gold orange pekoe tea sells for £2,500 a kilo. Her top-quality product is produced in tiny quantities, around two-and-a-half kilos a year. Scotland's home-grown tea is a high end, niche market. But Susie also offers educational tours and tea tastings.
She was the first client of Scotland's "go to" consultant for tea-growing, Beverley-Claire Wainwright whose knowledge was honed in Sri Lanka and Myanmar. Behind Scotland's first small-scale tea factory at Comrie Croft near Crieff, she is a licensed trainer for the UK Tea Academy and teaches that developing a new tea is a slow process. And she says that Scottish soil and weather means that only certain bushes can be cultivated.
It's these three elements, she says, that conspire to make Scottish tea unique.
---
Putting The Tea In Britain: The Scots Who Made Our National Drink, by Les Wilson, Birlinn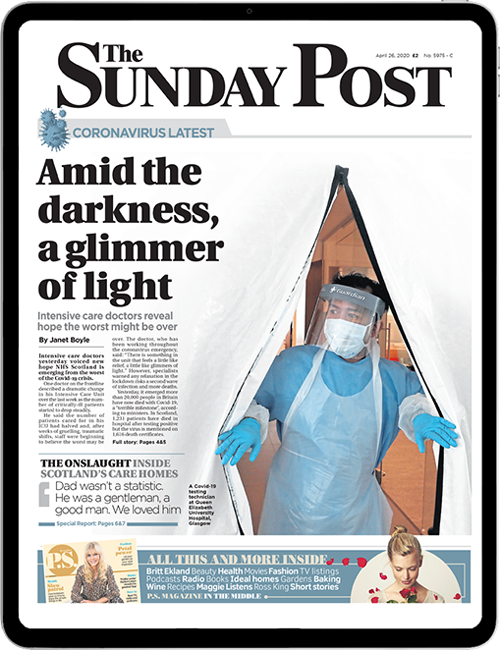 Enjoy the convenience of having The Sunday Post delivered as a digital ePaper straight to your smartphone, tablet or computer.
Subscribe for only £5.49 a month and enjoy all the benefits of the printed paper as a digital replica.
Subscribe