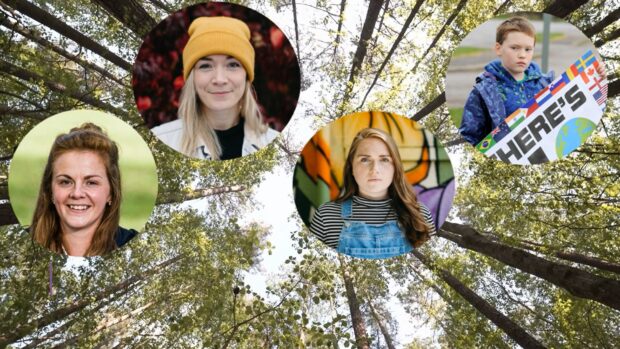 As the world's leaders converge on Glasgow to discuss how we deal with climate change, there's an important voice that must be heard; that of our young people.
After all, their future is what's hanging in the balance as decisions are made on preventing further damage to the environment and future catastrophes.
Here, we speak to a number of young Scots who are doing their bit to change our world and save our planet.
---
All of us must rise together. If we don't or if we can't then we'll fall apart

– Katie Gallogly-Swan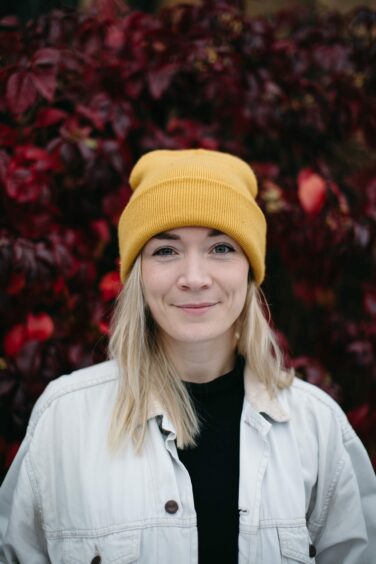 By Paul English
Katie Gallogly-Swan crossed an ocean to learn more about where she came from and now she's hoping her home can become a seedbed of change all around the world.
She was just 17 when she won a scholarship to Harvard in the US. She left her home in Coatbridge, crossing the Atlantic to study social anthropology, the study of human cultures.
"It's one of the strangest things that happened in my life, but has had a massive impact," she said. "I thought I'd have a wee punt at it. I'm an aberration. None of my family finished high school. I was precocious and book-smart and wanted to take the US entrance exam to see what happened. I got in. It was absolutely mad."
Gallogly-Swan posted one of the highest scores in the UK and months later, she was living in the US, on a journey towards a role helping the fight to slow climate change.
"I went to study sciences, but discovered I was more interested in life sciences. I don't know if it was by virtue of leaving Scotland that I became aware of that – my own class background and Scotland's position within the world. That's maybe when I became more of an internationalist. I ended up doing my thesis on Scottish politics and Scottish constitutional issues. I went 3,000 miles to study Scotland."
The carbon miles are, arguably, well spent. Katie returned to Scotland in 2014, to a country energised by political soul-searching, and a city hosting the Commonwealth Games. She worked on a variety of grassroots projects including at Govanhill Baths, the community-driven initiative to restore a historic city asset to public use, as well as the public think tank Common Weal.
Now she's a key figure in a global collaboration between the United Nations and Boston University's Global Development Policy Centre, connecting countries in their approach to implementing sounder climate credentials.
She said: "It's anchored in a broad idea of the global Green New Deal, which is recognising that nationally orientated approaches to climate change can only function if a global architecture allows that to happen."
In other words, the imperative is not just to encourage us to recycle our tins and bottles but to help facilitate change where the big decisions are made – at government levels.
"At the moment it still feels like a winner-takes-all scenario – who's going to make the most ambitious announcement. But what we really need is coordination across economies.
"There's currently a system that prevents many ambitious climate policies from happening. An example is the Energy Charter Treaty which many countries are party to, including the UK, and that treaty protects fossil fuel investments.
"Essentially if a government makes a decision which impacts on the profits of an investor, the investor can sue the government. It essentially puts a policy kill on being able to decommission fossil fuel and prevent drilling." She points to UK oil and gas firm Rockhopper taking the Italian government to court over the country's refusal to grant it drilling rights in the seabed.
"It's just one example of global economic architecture which holds back climate action. We need to build something better. We made these rules when we didn't fully know about climate crisis. Private interests trump public priorities. The project I'm involved in is about asserting public priorities over private profit, at a global level," she said.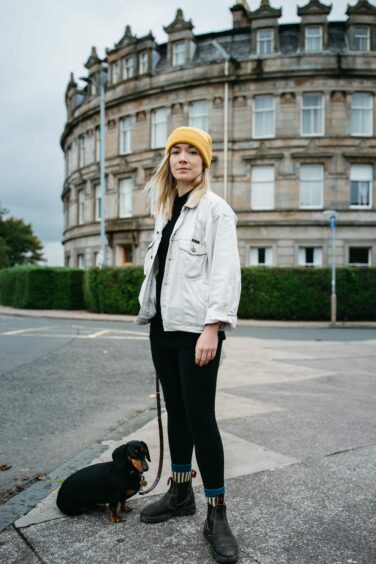 Gallogly-Swan is currently renovating her home on the southside of Glasgow. In the process, she found some old newspaper cuttings from the 1970s, referring to the oil crisis.
"Things really haven't changed in some ways," she said. When asked about the default position of many Scots suspicious of the international will for change – "Why should I bother recycling when countries like China are such huge polluters," – Katie points to our own past.
She said: "Most wealthy countries used very carbon-intensive industrialisation. America has a quarter of all emissions ever, and the UK has a significant proportion as well. It's not about the fact that Nigeria is pumping lots of oil now, or that India is still using coal. It's about realising that countries whose wealth was built on carbon have a debt."
Another popular myth – that climate change will mean an improvement in weather in Scotland – can get in the recycling bin, too. "The climate impacts Scotland is going to experience is intense rain at tropical levels, and we're just not set up for that. It's not going to be some balmy future," said Katie.
"But people can only do so much if they're not helped to do it. An electric car is £20,000. Try to convince someone who is struggling to feed their weans to care about the environment on that level. Governments need to make it easier for people to make better choices."
---
Sustaining the future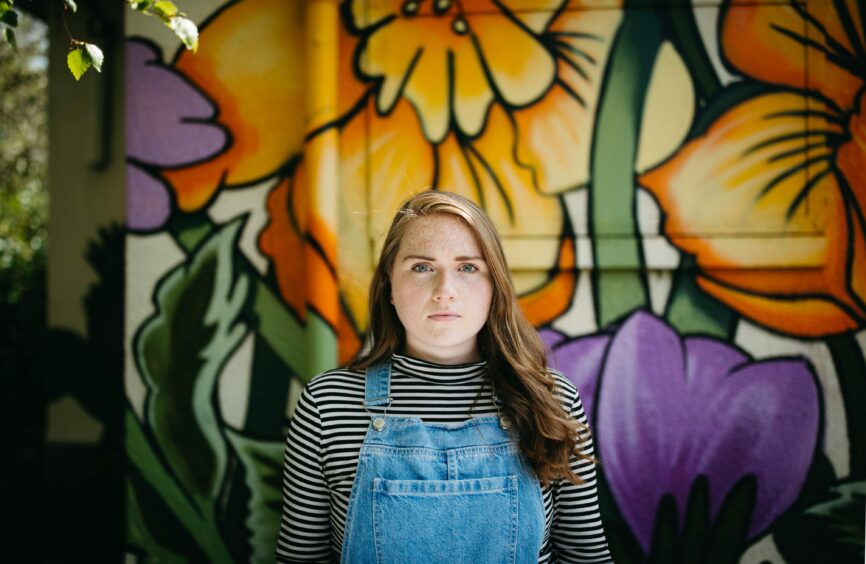 By Ross Crae
Activist and environmental scientist Laura Young uses her following on social media to help promote ways of living more sustainably.
Inspired by Blue Planet and walks along the increasingly cluttered shorelines of Scotland, she made a resolution to change her way of living to try to make a difference.
Under the name LessWasteLaura, the 25-year-old has documented her journey to thousands of followers on Instagram.
She's featured in TEDx talks and has a slot on Radio Scotland, advocating for environmental education and climate justice.
"I hope to use my place in the world to encourage people to make better choices," she said.
"That's as small as the people I live with making better choices about what we eat, what we wear, how we travel, but also thinking bigger, to think about the workplaces I sit in.
"Can I make the company I work for a better place, can I influence my MP, my government? I want to use my spot to push for people to do better and I hope to see that change around me, but I also see other people taking the opportunity to do that."
Young believes Cop26 is the "most urgent and important" climate summit the world has ever had.
"For years we've known the science," she said. "It's undeniable that we are on track for a catastrophe. It's so urgent we get it right.
"These conferences started before I was even born and we're still talking about it. In my whole lifetime we've still not got it right.
"World leaders need to get on with it. I'm doing everything I can in my little life, but they can do so much more."
Young will be attending Cop26 inside the Blue Zone through her work with international development charity Tearfund.
She hopes to share with her followers what's going on inside and allow people a peek behind the security fence.
"There's a lot of responsibility," she said. "I want to bring people along with me by documenting as much of it as possible, showing what it looks like to be in there, what the sense is, trying to show what's going on.
"The two weeks that I'm there I'll be taking up the opportunities that I can to bring people in and help them understand what's going on."
Young also hopes that there is a long-lasting legacy in Glasgow and beyond from hosting such a huge event.
"The Commonwealth Games in 2014 fizzled out really quickly," she said. "My worry is that we've got the banners, stuff popping up at the SEC, more bins being put out… these kind of things are happening but what is the legacy that will be left? What is Glasgow or Scotland going to keep doing?
"I hope we take this really seriously. This big thing came to our doorstep, but what are we going to continue to do to keep this legacy on?
"It's really important that we have an honest conversation about public transport, green travel, how we make our city more cycle friendly, make homes more energy efficient."
---
---
Farming for tomorrow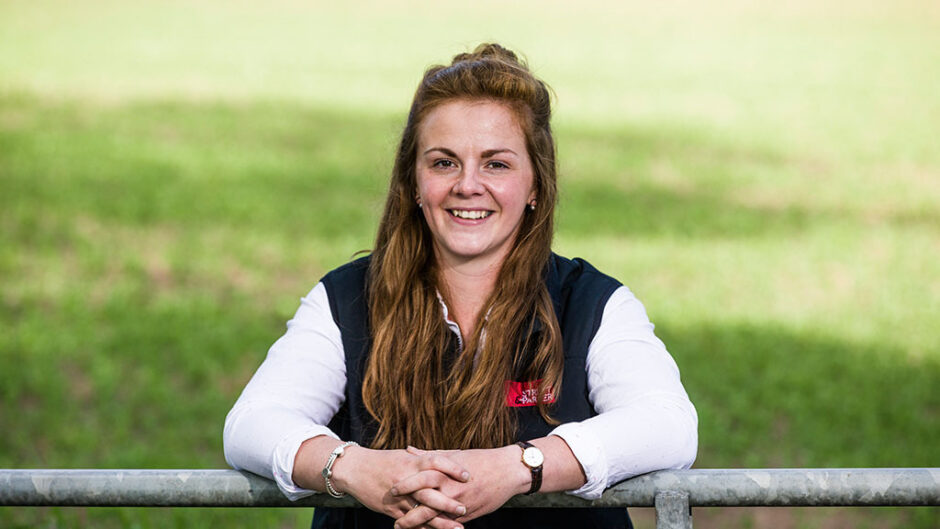 By Patricia-Ann Young
During her time as a private farm consultant, Harriet Ross toured farms and took note of everything she wanted to change for the better.
Only a few years later, Ross co-owns three farms with her husband Ben and is part of environmental farming charity LEAF's Resilient and Ready programme, a three-year training and mentorship scheme that will help the couple make their farms sustainable and eco-friendly. Their farms will become demonstration farms, meaning others in the industry can also learn to make their businesses more sustainable.
"It's all about farming the good parts of the farm better, and turning the poorer parts into wildlife habitats to improve biodiversity. We are trialling different drills and variety of crops, reducing our diesel and nitrogen usage, and now that we have the pig farm, it's much more sustainable as our crops are mostly feed. We can close the loops that it's a whole farm approach. We're hoping to be LEAF-mark accredited by next year," she said.
"Farmers are unique as there's something we can do to improve the environment, and not everyone can do it on the same scale. Even if it's a tiny thing, it's going to have an effect, and if you improve the soil's pH it won't just benefit us, but the next generation too."
Ross' efforts to improve sustainability and future proof her business was recently recognised by her industry, and she took home the award for Young Farmer of the Year at this year's Farmer's Weekly awards. "I feel very lucky to have won, and very proud to be part of the industry."
---
If you love something then you want to protect it

– Finlay Pringle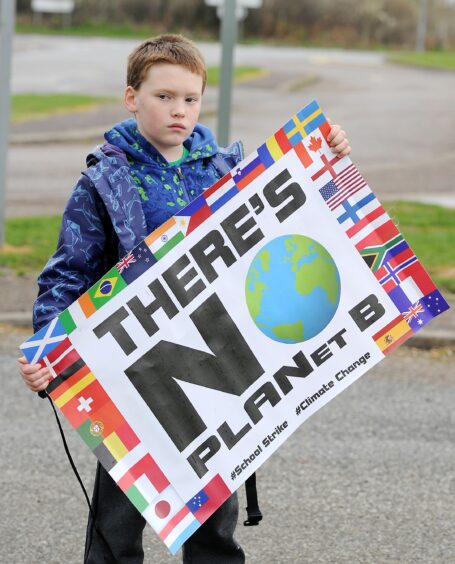 By Ross Crae
Just 14, Ullapool Shark Ambassador Finlay Pringle has been making some big waves in the conservation world.
He was the first school striker in the UK, has helped clean up the area's beaches and even took on TV adventurer Bear Grylls for keeping sharks in tanks at his adventure park.
Pringle began eco-campaigning when he started to notice the waters he loved to spend time in were taking a turn for the worse.
"I go snorkelling all the time and look at the fascinating underwater life around," he said. "If there's something wrong, you can always see it. I started seeing more rope and netting. I've seen certain things move north as the temperatures rise.
"When you're in the water, actually in nature itself, there are no politicians' words, confusion, or beating about the bush. In nature it's black and white, no in between.
"When there's something that you love and love to enjoy and spend time in, and it's being destroyed because of our activity, it just seems like the obvious choice to try to do something to protect it."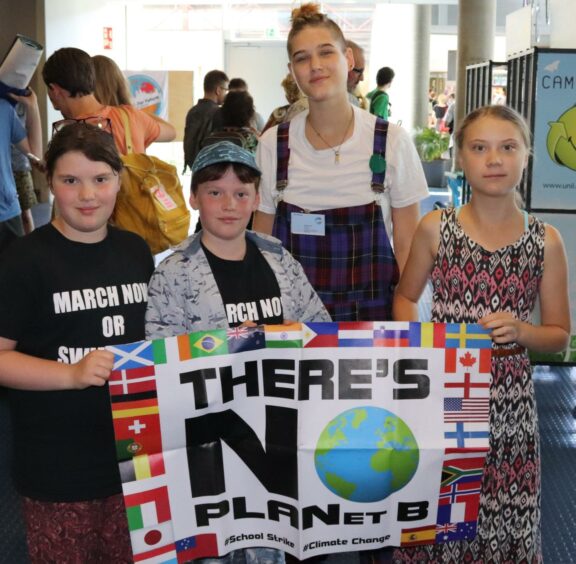 Pringle, a global shark ambassador for the Sea Shepherd Conservation Society, has won awards for his campaigning and has spoken at Scottish Wildlife Trust and World Wildlife Fund events.
Sharks, he says, are his biggest love. They're part of what drives him to try to make a difference, whether it's by speaking out against the eating of their fins or encouraging people to use less plastic.
"We have 59 species in the UK, some migrate, some stay here all year round.
"In my opinion sharks aren't something to be scared of, they're majestic and beautiful, and it's incredible that we have such wildlife in Scotland.
"Often people think they have to go to Africa to see wildlife, but we've got incredible, vast amounts of biodiversity in the UK and people just don't know it's there."
A big believer in small actions making a big difference, Pringle said social media had helped make his voice heard from his little corner of Scotland.
He's received backing from some big names, including Greta Thunberg, whom he met when representing Scotland at an international summit of young climate activists with his younger sister Ella in 2019.
And after Pringle's criticism of Grylls, BBC presenter Chris Packham said: "Finlay's courage to stand up for what he believes in is a joy in an age where most people are scared to say boo to a goose."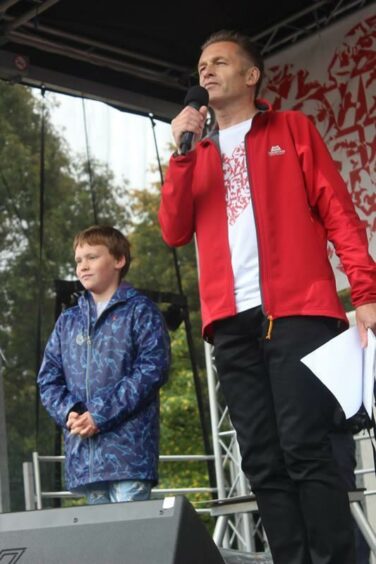 Pringle said: "My first campaign was helping out at Gairloch where they were doing a protest against sewage being put into the loch. We managed to get it overturned. It's things like that, small community action.
"Even if you don't have the courage to go out and be an activist and talk to other people about it, start in your own life.
"There's no point in saying things like people should eat less meat if you aren't doing it yourself. It's completely pointless."
He fears that kind of meaningful action may be sadly lacking at COP26, but hopes to be able to take in some of the events surrounding the summit.
When asked what his message to world leaders would be, he said he'd decline the platform as they "wouldn't listen to a word I said".
But if they did listen? "If I had to say something to Boris and Nicola, I'd just say it's time for the talking to stop and for the action to happen," he said.
"We've had long enough of talking about net zero by 2050, smooth transitions, it's time to get your hands dirty and do something."
He added: "I was asked before if I'd like to be a politician and I told them I'd rather do something useful. Marine biology is the way I want to go and see where that takes me."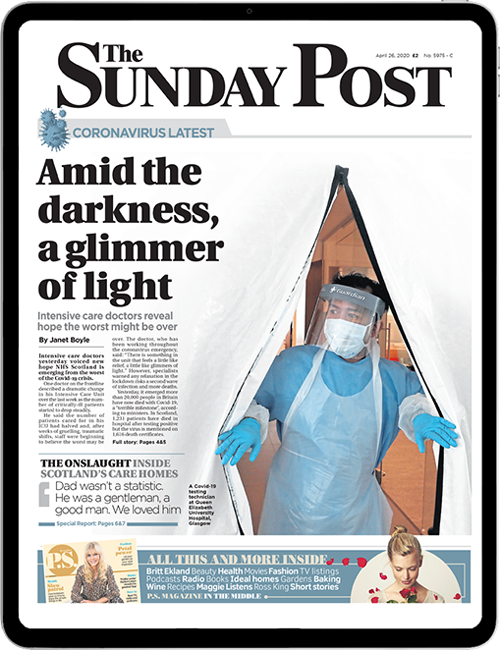 Enjoy the convenience of having The Sunday Post delivered as a digital ePaper straight to your smartphone, tablet or computer.
Subscribe for only £5.49 a month and enjoy all the benefits of the printed paper as a digital replica.
Subscribe